Emil Georg Engert was born on the 6th of November 1895 in Unterschwartzbach, Eberbach in Baden. His profession is listed as "Salesman".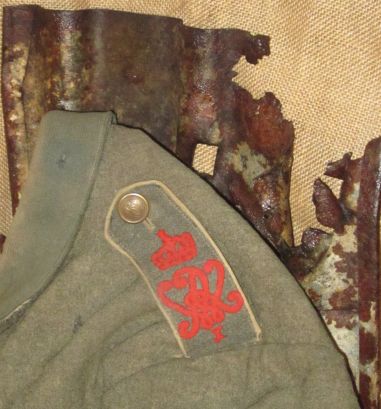 On the 1st of May 1915 he joined the army as an Ersatz Rekrut, 1.Rekruten-Depot, II.Ersatz-Bataillon, Inf.-Regt. Nr. 111 Rastatt, transfering to the die 3.Ersatz-Komp., II.Ers.Btl., IR 111 Rastatt in June, then joining the 6th Company of the Gren.-Regt. Nr. 110 in the field on the 2nd of August. The 110th Grenadiers (28th Infanterie Division) were on the Champagne front between the Betheny and the Sillery-Beine Road. On the 19th-20th of October the division took part in an attack in the La Pompelle-Prosnes sector.

In December the division went into the line in the Tahure-Butte du Mesnil area where it spent the Winter. Engert was hospitilised in Mid December with fever and returned to his unit in early March 1916. In April the Division left the Butte du Mesnil sector and took up position in the Maison de Champagne where it underwent intensive training. From July to the beginning of October 1916 the Regiment fought on the Somme, between the Somme and Barleux rivers. During their time on the Somme the Division suffered many losses. Engert was promoted to Gefreiter in August 1916.

The Division was transfered to a sector to the east of Tahure where they recovered from their stint on the Somme, Engert had home leave during the last week of October 1916.

Above: NCOs of the 2nd Machine Gun Company, Grenadier Regiment 110 at Verdun in June 1917. The 2nd Company was part of Engert's Battalion.
At the end of January the Division was sent to Verdun where it fought in the Caurieres Wodd sector from the beginning of February until mid September 1917. Engert was awarded the Iron Cross on the 26th of February 1917.

During an attack in the Caurieres wood, accompanied by members of the Sturmbataillon Nr. 5 (Rohr), Emil Engert suffered bullet wounds to the head and chest. On the 19th of August 1917 he was buried on the military cemetry at Mangiennes.

Emil Engerts tunic, shredded by a French Mortar on the 6th of June 1917 can be found here

An account of the attack in which he died can be found here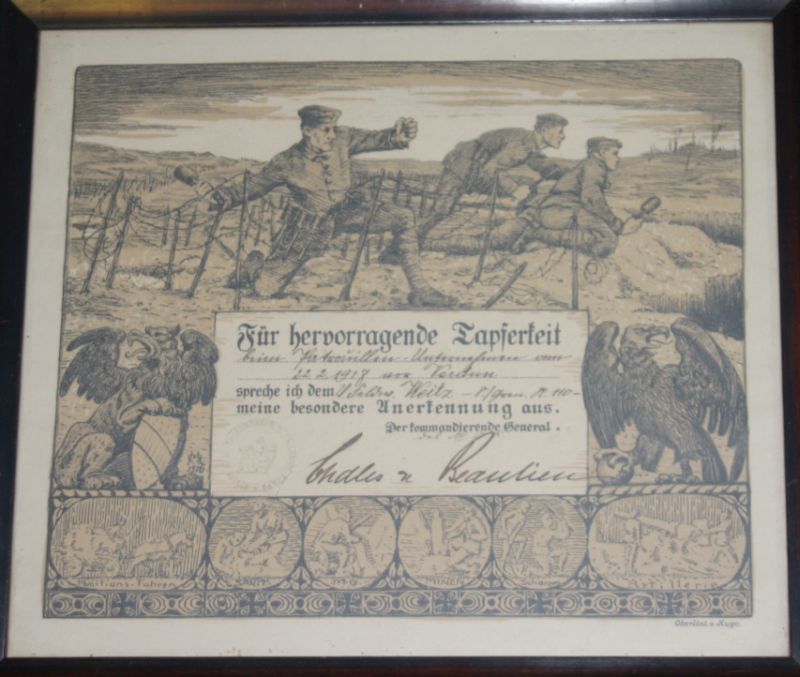 During the early part of 1917 the 110th Grenadiers carried out a series of raids on the French positions in their sector. At 11am on the 22nd of February Vizefeldwebel Weitz and Gefreiter Häusler led a raid that captured a French soldier of the 71eme Bataillon de Chasseurs a Pied. During the raid Häusler suffered his 3rd wound and was promoted to Unteroffizier for his bravery.

The document above is a commendation certificate for Bravery for Vize Feldwebel Weitz for his part in the Patrol. Although nothing to do with Engert, it just seems to "fit" here...

For further information on certificates of this type please see here