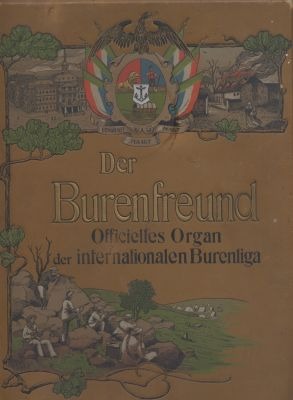 German Publications began to appear right at the outbreak of the war. In the end there would be more books available in German than any other language, with the exception of English.


German Volunteers who had fought for the Boers, German historians, staff officers and simply "Boer fans" would produce publications that ranged from propaganda to excellent analytical studies of the fighting.


Below is a small random selection of books.

To return to the page on the Boers and the kaisers men click HERE


Above- Der Burenfreund: Officielles Organ der internationalen Burenliga
A bound collection of the official newsletter of the International "Friends of the Boers" league. The league had members in various European countries.





Christian de Wet: Josef Stolzing

General Christian de Wet was one of the most famous Boer generals and one that continued to grab the German imagination after WW1 as he had gone into open rebellion in 1914, unwilling to support a war against Germany. This novel, published in 1924, deals with de Wets part in the Boer war and takes a negative view of Boer leaders that would support Britain in 1914.


Der Kampf zwischen Bur und Brite: General Chr.R. de Wet

(The war between the Boers and Britain) A youth version of de Wets classic "Three Years War", originally published in English in 1902. De Wet remained a hero in Germany and this copy originally belonged to the library of the National Socialist "Deutsches Jungvolk" group in Reinickendork




Der Kampf zwischen Bur und Brite: General Chr.R. de Wet

(The war between the Boers and Britain) A special deluxe version of de Wets classic published soon after the end of the war.
Christian de Wet, Der Held von Transvaal: F. Klinck-Lütetsburg

A biography of de Wet in dramatic novel form. No publishing date but it was given as a X-mas gift (presumably 2nd hand) in 1946.




Südafikanische Gestalten: Hans Grimm

A booklet published in 1931 that reads a bit like a western it is part of the series of Christian youth booklets.
Der Buren Freiheitskampf: E. von Barfuss

This book seems to have been published during the war. It deals with events up to the fall of Pretoria and has a mix of historical events with dramatic "Eye witness accounts"




Burenblut: Friedrich Meister

Published in 1901 this western style novel follows a Boer family as they fight the British and natives. It is written for the German youth.
Der Freiheitskampf der Buren: E. von Enzberg

Published in 1900 this book mixes some fact, some fiction and a healthy dose of drama as it follows a couple of fictitious German volunteers through the first year of the war.




Gedenkblätter aus dem Burenkrieg: Articles collected by J. Kammerer.

Published in 1903 this collection of sometimes not to objective writings was sold to raise money for the Boer widows and orphans.
Eindrucke und Beobachtungen aus dem Boerenkriege: Robert Trimmel.

Published in 1901 this 21 page booklet has the observations of hauptmann Robert Trimmel and are the published notes to a lecture he held for the Austro Hungarian military studies group in Vienna.
To continue to the next page of books click HERE