Military Operations in Muscat

October 1914 to January 1915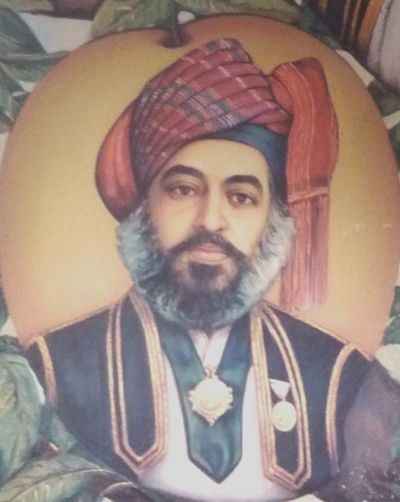 German intrigue and Turkish ambitions in the Middle East

(To see Maps and Photographs relating to the article, please go HERE)

Before August 1914 Germany had positioned agents, often disguised as archaeologists or managers of commercial companies, in locations around the Persian Gulf. These men were well supplied with funds and they were tasked with promoting dissidence amongst tribes inhabiting British areas of interest. Kaiser Wilhelm had publicly displayed affection and understanding towards Islam as he saw such activity as a prelude to fomenting disorder against British rule in India, Afghanistan and Egypt. When Turkey entered the Great War as an ally of Germany, Jihad or Holy War was declared by the Islamic authorities in Constantinople against Turkey's enemies. German intrigues combined with Turkish ambitions to form a larger nation of Turkic peoples were to provide Britain and Russia with considerable military problems in the Middle East, many of the consequent operations passing almost unnoticed at the time.

Right: Sultan Taimur of Muscat

Muscat in 1914

In August 1914 Muscat and Oman were in effect two separate states, both with very rudimentary forms of rule. Oman, the mountainous interior, was purportedly led by a newly-elected Imam or religious leader named Salim bin Rashid al Kharusi. Muscat was the coastal region ruled by Sultan Taimur who had succeeded his deceased father in 1913. Britain had signed three treaties with former Sultans that had been designed to halt the East African slave trade, whilst the Royal Navy regarded Muscat and other Omani harbours as being strategically important. Britain ostensibly did not interfere in Muscat's internal affairs but it financed the Sultan as required, and in return expected other foreign powers to be kept out of the state. A Political Agent and a small British military garrison were maintained in Muscat.

Muscat owned an enclave on Indian (now Pakistani) territory at Gwadur, and Omani and Muscati traders prospered by shipping rifles across the mouth of the Persian Gulf for sale in volatile areas such as Mekran, Afghanistan and Persia. These rifles were then often used by tribesmen contesting British authority. Whilst sporting rifles were very popular with those who could afford them, most of the weapons were European surplus items but some shipments were modern replicas of weapons that were popular in the region. The Martini-Henry drop-down loading lever and large calibre bullet made this rifle a popular choice.

In 1912 Britain attempted to centralise the rifle trade in Muscat where some form of control could be exercised. But this British action inflamed passions in the poverty-stricken interior and plans were laid to attack Muscat. In 1914 this presented an ideal situation where the Turkish Jihad and German gold could combine to seriously damage British interests.

Left: Omani sword, shield and Martini Henry rifle


The battle of Bait Al Falaj, Muscat, Sultanate of Oman

Sultan Taimur possessed a small army of loyal tribesmen that was based in a fort named Bait Al Falaj (House of the Water Channel). This fort lay in a valley that provided an exit down a wadi (valley) to the coast and on to the adjacent towns of Muttrah and Muscat . A ridge of stark and barren hills lay to the west of the fort. Bait Al Falaj fort, constructed and improved from 1845, was the key to the defence of Muscat.

In October 1914 a small detachment of the 102nd King Edward's Own Grenadiers, Indian Army, was garrisoning Muscat when two unsuccessful attacks were mounted on the picquet line located on the ridge west of Bait Al Falaj. The Grenadiers were commanded by Lieutenant Colonel S.M. Edwardes DSO. As information had been received that the Imam and many local tribal leaders intended to attack Muscat, Colonel Edwardes requested reinforcements from India in October, to prevent the small Sultan's army and the British garrison from being overwhelmed. The reinforcements arrived in the form of six companies of the 95th Russell's Infantry, Indian Army, with two machine guns, under the command of Lieutenant Colonel F.F. Major; this brought the Muscat British garrison strength up to 1,000 men.

Above: Fort Mirani perched above Muscat harbour
In early January 1915 news arrived that the Imam's army was forming up, and mounted riders could be observed on the plain west of the picquet line. Some men carried modern rifles but others carried swords and protected themselves with breastplates and small but thick shields made from rhinoceros or hippopotamus leather; the material for these shields had been obtained due to Oman's strong historical links with East Africa. The warriors were incited by religious fervour.

During the 10th of January large groups of armed Omanis advanced to within two kilometres of the picquets which were each defended by about 20 men, some being the Sultan's soldiers and the remainder being Indian Army sepoys. All the picquets received extra stocks of water and ammunition. During the early hours of darkness the defenders heard below them the movement of large numbers of men. At 0200 hours the moon rose followed by a heavy fusillade of enemy rifle fire; No. 1 Picquet located north-west of the fort received the heaviest enemy attention.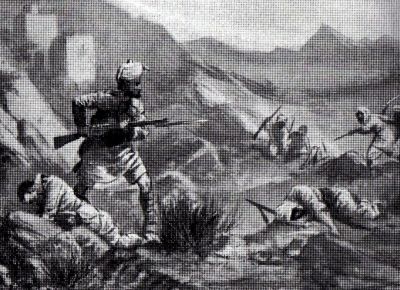 Havildar Gangaran Singh commanded No. 1 picquet and when his ammunition stocks were expended, and three of his men had been killed and two others wounded, he decided to withdraw; Colonel Edwardes supported this action. Because of the steep hillside down which the withdrawal was being fought the mortally wounded Private Bala Ram had to be left behind. But Private Nand Ram, who had already killed several attackers with his rifle and bayonet, refused to leave his dying comrade and so he stood and fought alone over Bala Ram's body until the Imam's men cut him down with their swords. For this act of gallantry 2813 Private Nand Ram (Right), 102nd Grenadiers, was posthumously awarded an Indian Order of Merit (Second Class) with the citation: For conspicuous courage during the operations in the vicinity of Muscat on the 11th January 1915, in staying behind alone at a picquet post in order to protect a comrade who was badly wounded. During this plucky act, Sepoy Nand Ram was himself overpowered and killed by the enemy.

The British counter attack

The Imam's men jubilantly occupied No. 1 Picquet and closely invested the other picquets along the ridge to the south, but did not capture them. At dawn Colonel Edwardes decided to seize the initiative and he ordered a general advance to clear the hills of the enemy. Concurrently a vigorous counter attack from Bait Al Falaj was launched against the enemy surrounding No. 2 Picquet. These actions were supported by fire from the two machine guns commanded by Captain Oliver. The frontal attack was led by Captain S.B. Coates who took a wound in the thigh but still pressed on.

Major A.C. Edwardes led the successful attack to relieve No. 2 Picquet, and then fought stiff actions whilst advancing northwards along the ridge line towards No. 1 Picquet. On this terrain natural cover from view was negligible and Edwardes' men were constantly exposed to fire as they moved.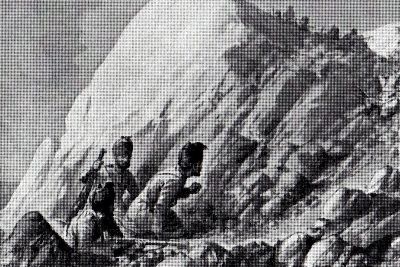 During this advance Subadar Jafar Ali, 102nd Grenadiers, displayed bravery that led to the award of an Indian Order of Merit (2nd Class) with the citation: For conspicuous gallantry during the operations at Muscat on 11th January 1915, in conducting and leading a small party of men under very heavy fire along a very difficult path on a precipitous hillside to dislodge a party of the enemy who were impeding the advance, during which for a short time, he with Sepoys 2936 Sultan Ahmed and 3129 Karamdad Khan, was isolated with the enemy immediately above him. By his exceptional skill in handling his men, his personal courage and absolute disregard of his life, this Indian officer set an example of the highest soldierly quality. Sepoys 2936 Sultan Ahmed and 3129 Karamdad Khan each received an Indian Distinguished Service Medal.

Above: Subadar Jafar Ali and his team at Muscat

By noon the tenacity of the sepoys and Sultan's soldiers, supported by well-targeted machine gun fire, had won the battle. The Imam's tribesmen withdrew having lost an estimated 300 or more warriors killed or wounded. The Indian sepoys and the Sultan's soldiers had triumphed over a tough, aggressive enemy whilst operating over very steep and difficult ground, and Muscat was saved for Sultan Taimur.

Above: British troops on parade in Muscat 1914.
The Battle of Muscat was not the last time that the Sultanate would be threatened by internal dissent, but experience of being at the receiving end of modern machine gun fire made the hard-core dissidents regroup to revise their tactics and weaponry. The experience also led to many of the tribes seeking to establish peace with the Sultan. For the British this was just a preliminary round in the long fight against German and Turkish intrigue in the region.

Mentions in Despatches for operations in the Gulf of Oman

102nd King Edward's Own Grenadiers.

Christie, Capt. R. C.
Coates, Capt. S. B.
Edwardes, Maj. A. C.
Liston, Lt. R. C. C.
May, Capt. J. P.
Subadar Jafar Ali, I.O.M.
No. 2813 Sepoy Nand Ram.
No. 2936 Sepoy Sultan Ahmad.
No. 3129 Sepoy Karamdad Khan.
No. 2289 Havildar Ganga Ram.
No. 1811 Havildar Karan Singh.

95th Russell's Infantry.

Major, Lt.-Col. F. F.
Maltby, Lt. C. M.
No. 4195 Havildar Masnad Ali.
Jemadar Ram Persihad Singh.
No. 4324 Lance-Naick Babu Singh.
No. 4584 .Sepoy Bhairon Singh.
No. 4836 Sepoy Bhagwant Singh.
No. 4823 Sepoy Sewa Singh.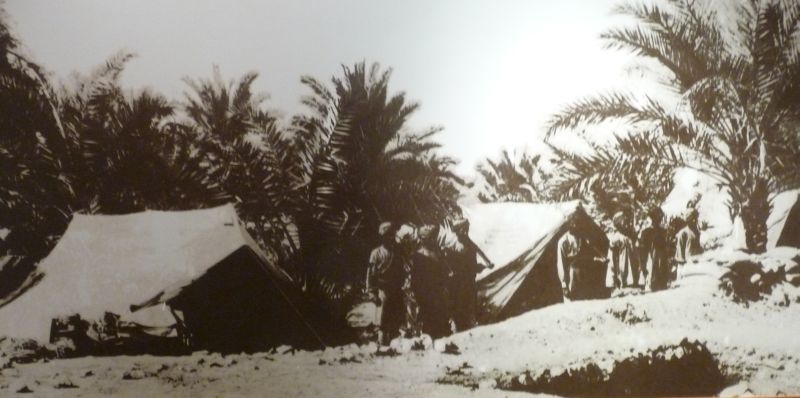 Above: British Army camp site Muscat 1914
Some of the above-listed 95th Russell's Infantry were mentioned for commendable behaviour displayed on operations across the Straits of Hormuz, at Jask and Chahbar in Persia, during April and May 1915. Lieutenant Christopher Michael Maltby, 95th Russell's Infantry, was awarded a Military Cross for gallantry displayed when defending the British post at Chabhar on the night of 2nd-3rd May 1915. Major W.H. Lane, 95th Russell's Infantry, repulsed an attack on the Jask post on 16th-17th April 1915.

Colonel Edwardes also brought to notice the very valuable assistance rendered by Lieutenant Colonel R.A.E. Benn, Political Agent, Muscat.

SOURCES:
Ø Official History. Operations in Persia 1914-1919, compiled by Brigadier General F.J. Moberley CB CSI DSO psc.
Ø London Gazette Issue No 29652 dated Tuesday 4th July 1916.
Ø Displays in the Museum of the Sultan's Armed Forces, Bait Al Falaj, Muscat.
Ø Peter Duckers, Reward of Valour: The Indian Order of Merit 1914-1918. (Jade Publishing Ltd, Oldham, 1999).
Ø Maj. J.T. Gordon, 2nd Battalion 4th Bombay Grenadiers (King Edward's Own), formerly The 102nd King Edward's Own Grenadiers, Historical Record of the Regiment 1796 - 1933 (Lawrence Bros., Western-Super-Mare, 1933).
Ø K.C. Praval, Valour Triumphs, A History of the Kumaon Regiment (Thompson Press, Faridabad, 1976).

Above: Sultan Taimour and his Courtiers
(Interested visitors to Oman are encouraged to visit the excellent Museum of the Sultan's Armed Forces in Bait Al Falaj Fort, Muscat. The fort and grounds are a pleasure to walk around, and the exhibits both inside and outside the fort are displayed and explained admirably. Information provided covers Omani history as a whole, including seafaring, and is not confined to purely military events.)

To Return to Harry's Sideshows please click HERE