58th Vaughan's Rifles (Frontier Force) in Egypt, Palestine, Somaliland and Portuguese East Africa

1916 - 1918

Please see HERE for the Maps


Introduction

58th Vaughan's Rifles (Frontier Force) sailed from Karachi for France on 21st September 1914 where it stayed until December 1915; the regiment was in the Bareilly Brigade of the 7th Meerut Division. The pre-war class composition of the regiment was 3 companies of Sikhs, 1 company of Dogras, 3 companies of Pathans, and 1 company of Punjabi Mohammedans. On the battlefield the regiment re-organised into: No I Company: Sikhs; No. II Company: Two platoons Yuzafsais and two platoons Punjabi Mohammedans; No. III Company: Two platoons Sikhs and two platoons Dogras; No. IV Company: Afridis.

During hard fighting in France the battalion lost 6 British and 11 Indian officers and 348 men killed[i], plus 5 British and 30 Indian officers and 1,163 men wounded. Gallantry awards received by members of the regiment included 3 Distinguished Service Orders[ii], 4 Military Crosses[iii], 1 Indian Order of Merit, 1st Class[iv]; 12 Indian Orders of Merit, 2nd Class[v]; and 21 Indian Distinguished Service Medals[vi]. The Afridis fought bravely and were adept at night patrols and trench raids, but sadly on the night of 2nd/3rd March 1915 Jemadar Mir Mast[vii], IDSM[viii] (later forfeited), and fourteen Afridis deserted to the German lines.


When the Indian Corps left France at the end of 1915 most units were re-deployed to Mesopotamia, but battalions with strong Pathan contingents went to East Africa or Egypt where it was hoped that Turkish co-religionist subversion would not be effective. 58th Vaughan's Rifles went to Egypt and from there fought its way northwards through Palestine for the duration of the war. But a sub-unit of the regiment was also deployed from India to East Africa in 1918, and it was used on local security duties in Porto Amelia (now Pemba) in Portuguese East Africa (now Mozambique). This detached company did not do anything dramatic, but its story, which does not appear either in the Condon regimental history or the draft official history for East Africa, deserves to be placed on record.

Egypt 1916-1917

From January 1916 to September 1917 the 58th Rifles served as part of the force defending the Suez Canal, being mainly located in the southern sector. The Turks had unsuccessfully attempted to seize the Canal in 1915[ix] but after that failure they withdrew eastwards across the Sinai Desert, leaving only outposts and raiding parties behind. Drafts arrived from the Depot and from the linked battalion, 55th Coke's Rifles (Frontier Force) and the established strength for an infantry battalion was restored. Route marching over the sand and trench digging maintained physical fitness after the debilitating hardships of winter months in the French trenches. Each section carried a stretcher on the marches and was responsible for carrying its own men home if they fell out; as Condon's history puts it: 'This had a most salutary effect'.

Commanding Officers (COs) changed in February 1917 when Lieutenant Colonel E.R.B. Murray[x] was moved upwards to command 49th Indian Infantry Brigade; Major A.G. Lind took over the CO's appointment which he was to hold for the next nine years. As Commanding Officer Colonel Lind promoted physical training (PT) throughout the battalion, and often took volunteer officers' squads on PT himself. During this period in Egypt leave to India for the Indian ranks was opened and detachments were temporarily posted elsewhere. Major R. de W. Waller (108th Infantry attached to 58th Rifles) and Captain G.R. Dowland took the Sikh company to Somaliland for nine months, building a coastal fort at Lashkorai, and garrisons were maintained on the Red Sea Sinai coast at Abu Zenima, where there were manganese mines, and Tor[xi]. From Tor Captain E.B. Kitson and a party escorted a British Mission to the Convent of Saint Catherine at the foot of the Mount of Moses.

Also during this period, and in preparation for the commencement of operations against the Turks, the remaining loyal Afridis were posted to 55th Coke's Rifles in East Africa, under Subadar Anar Gul of that regiment who had been attached to the 58th. The only major operational activity occurred on 18th February 1917 when the 58th Rifles accompanied Yeomanry detachments of 6th Mounted Brigade in a march across the Sinai Desert to capture Nekhl. However local Bedouin alerted the Turkish post commander who quickly withdrew, leaving only a field gun and eleven men who quickly surrendered when the British reached Nekhl Oasis.


Above: 58th Vaughan's Rifles reserve position, Palestine
Palestine, September to December 1917

On 12th September 1917 58th Vaughan's Rifles moved forward to the trenches facing Gaza to join the 234th Brigade of the 75th Division. The battalion had been re-organised again and its companies were:

'A' Company (Captain R.B. Kitson): two platoons Dogras and two platoons Yusafzais.
'B' Company (Acting Captain G.R. Dowland): 4 platoons Punjabi Mohammedans.
'C' Company (Major R. de W. Waller): four platoons Sikhs.
'D' Company (Lieutenant R.G. Ekin[xii]): two platoons Punjabi Mohammedans, one platoon Khattaks and one platoon Yusafzais, all attached from 55th Coke's Rifles.

The Adjutant was Captain D.B. Mackenzie. On the Canal four Vickers medium machine guns had been issued, but they were replaced with 16 Lewis light machine guns[xiii] during the move to Gaza. Unfortunately a murder occurred within the Yusafzai ranks on 16th September, and although this did not appear to have political or religious significance it led to most Pathans being withdrawn from the battalion. A replacement company of Punjabi Mohammedans from the 101st Grenadiers, commanded by Lieutenant B. Douglas, was attached to the battalion.

When Gaza was captured on 10th November 1917 the 58th was not involved in the advance but some Lewis gun mules of an adjacent British battalion bolted under shell-fire and were retrieved by the jawans; to the joy of some the ammunition panniers were found to contain bottles of beer and not Lewis gun magazines.




Left: The defile of the Bab El Wad, Palestine


Three days later the 58th was in brigade reserve when a company was urgently needed to plug a gap on the brigade right flank that occurred during the British attack on Junction Station. The 101st Grenadiers' company was sent forward with Captain Kitson in overall command; the Grenadiers joined the right of the brigade advance but got well ahead of it. It then appears that Captain Kitson observed a Turkish counter-attack forming-up against the brigade, and so he forestalled it by immediately attacking the enemy himself. During the fierce fighting that followed both Captain Richard Buller Kitson and Lieutenant Bryce Douglas were killed along with 23 Grenadiers, additionally three Indian officers and 42 jawans were wounded. The company had bought time for British mounted troops to appear, and the British operation succeeded.

On the following day the battalion moved up to Junction Station and on the way the Sikhs managed to acquire a flock of sheep that they immediately milked. Some light relief now occurred for the jawans as, despite being told that the area was clear of Turks, whenever Colonel Lind appeared in his trademark 'pig-sticker' topi[xiv] and carrying his pointer staff[xv] he was engaged by a distant Turk who sniped him with a light field gun. The enemy then broke contact and the 58th enjoyed a quiet few days.


In recognition of the superior hill-fighting qualities of Frontier Force regiments the commander of the British 75th Division, Major General P.C. Palin CB[xvi], attached 58th Vaughan's Rifles to 232nd Brigade for a special operation on 19th November. 232nd Brigade, also with the South African Field Artillery Brigade attached, was ordered to advance through the narrow defile named Bab el Wad (Mouth of the Pass) on the road to Jerusalem. Colonel Lind deployed Captain Dowland and Subadar Muhammad Arabi[xvii] IOM with the Punjabi Mohammedans on the right ridge, and Major Waller with the Sikhs and Dogras on the left ridge.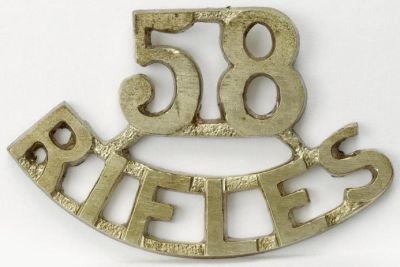 During a wet night and day of intense and rapid action the defile was cleared of ambush from above. The citation for the award of the Military Cross to Captain Roy Dowland describes his tactics: He took his platoon right up to a hill, whence he came under fire of some hostile picquets. Driving back one picquet, he rushed the second, capturing seven prisoners. Remaining in this position all night, at dawn the next day he captured a further nine prisoners, the position he took up being essential to the safe passage of the division through the pass. His endurance and courageous determination were of the highest order.

For gallantry and leadership displayed on the right ridge during the following day two Indian Orders of Merit were awarded. Subadar Muhammad Arabi IOM was elevated to the Indian Order of Merit, 1st Class: This Indian officer occupied a post on a hill with a small detachment in action on the 19th November 1917. The party was heavily shelled and was attacked three times. The position was an important one and it was due to the courage, skill and initiative of Subadar Muhammad Arabi that it was held.

Subadar Lal Khan received an Indian Order of Merit, 2nd Class: This officer was associated with Subadar Muhammad Arabi in the action on the 17th November 1917 (sic), described above, and shared with him the success in seizing and retaining the position mentioned.

Meanwhile on the left ridge Major Waller's Sikhs and Dogras drove back a large enemy body that was waiting on the heights to ambush British troops in the pass. During this operation six jawans were killed and 34 were wounded, Major Waller being seriously wounded.

For the next few days the 58th Rifles was not in action whilst the 75th Division fought for and took Nabi Samweil; the division then moved down the coast to rest and refit. On 9th December Jerusalem was surrendered to the British and immediately a detachment of 50 Mohammedans from the battalion under the command of Subedar Major Tikka Khan was sent to guard the Mosque of Omar[xviii]. Here the Sheikh of the Mosque ate a tin of 'bully' beef with the Subadar Major in confirmation of his statement that it was lawful food for a Mohammedan to eat on the battlefield, even if the cattle had not been slaughtered by a brother Mohammedan.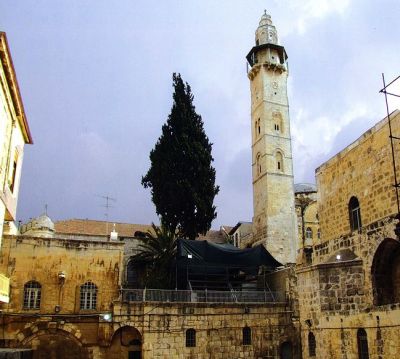 Right: Minaret of the Mosque of Omar, Jerusalem

The final action of 1917 was a brigade attack with good artillery support against light enemy opposition on the 180-metre-high Khurbet Ibbaneh Ridge that dominated the plain around Lydda. The 2nd Battalion of the 5th Hampshire Regiment attacked on the right alongside the 58th Rifles on the left. The Sikhs and Dogras led, fortified by a double rum ration, and the ridge was swiftly ascended in style and in good formation. The brigade took 18 casualties but captured 15 Turkish prisoners and a machine gun, the other enemy guns having been withdrawn before the attack went in. After this action the 58th was employed on road-making in the severe winter months whilst the heavy losses in Lewis gunners and signalers were made up by internal training cadres. Tin hats were issued and worn to the amusement of all, but when instructions arrived from Amritsar stating that these were unlawful headwear, the Sikhs reverted to wearing safas.

Palestine, 1918

In mid-March 1918 the company from the 101st Grenadiers left to rejoin its own regiment. A replacement company from the 98th Infantry[xix], commanded by Captain D.R. Montford, was attached to the 58th Rifles; its jawan were Rajputs and Ahirs[xx]. Many men in this company were recent recruits and there were no specialists such as signalers, stretcher bearers and Lewis gunners; these specialists had to be provided by the other companies.

Although at this time two Divisions and 42 units were being hurriedly sent from Palestine to France to meet the German threat on the Western Front, an offensive planned to straighten his line by General Sir E.H.H. Allenby KCB GCMG, the Palestine theatre commander, went ahead on 30th March. Due to ignorance and intransigence on the part of the Divisional staff this operation did not go well for the 58th Rifles. Also and very unfortunately the plan of attack was captured by the enemy on the first day as it had been improperly carried into action by an officer of another unit who was killed. The battalion was tasked with seizing El Kefr village[xxi]. Observation posts manned by the 58th Rifles had reported that El Kefr was strongly held by the enemy but the staff would not accept this and ordered an attack with two companies only. Lieutenant J.T.R. McKay and his Punjabi Mohammedan company attacked the village, and at the specific request of Captain Montford his attached company from the 98th Infantry attacked a small rocky hill 200 metres distant from the village.

The Punjabi Mohammedans got into the village but the other company did not hold the ridge and dominate the ground below it, and the Turks surrounded the village. Both Lieutenant John Thomas Ralph McKay and Captain Douglas Raymond Montford were killed, along with 12 jawans, whilst Jemadar Mirza Khan and 63 men were wounded. A further 34 men were missing believed killed; reports indicated that after the sepoys who were cut-off in the village surrendered, those that were Sikh and Hindu were killed by the villagers. The supporting British artillery fired concentrations that broke up the Turkish counter-attack, allowing those men who could to return to the British lines.


Above: Water ration, Palestine, 58th Rifles
Jemadar Diwana received an Indian Order of Merit, 2nd Class, for his gallantry and leadership at El Kefr: On the 30th March 1918, he was the only Indian Officer present in a very trying situation when the enemy made two counter-attacks advancing under a heavy cross-fire barrage from machine-gunners. He behaved throughout with great coolness and gallantry, directing the fire of the Lewis gunners, and by his fine example and entire disregard of his own personal safety was instrumental in saving a critical situation. Four other men were awarded Indian Distinguished Service Medals for bravery at El Kefr on that day, and a fifth medal was awarded for similar conduct the following day.

A Military Cross awarded around this time to Lieutenant George Gregory Hills (Indian Army Reserve of Officers attached to 58th Vaughan's Rifles) was probably earned during the El Kefr operations: For conspicuous gallantry and devotion to duty during an advance. His platoon came under very heavy cross fire from machine guns, and after going about 150 yards was unable to advance or retire. He got the survivors back to the top of a hill, which was then counter-attacked by the enemy, who advanced under an extremely heavy machine-gun barrage to within 25 yards of the top. With great gallantry and steadiness he beat off the attack with Lewis guns and bombs. The enemy then tried to capture the hill by coming in on his left flank, and was again beaten back. Owing to his courage and example the hill was retained.

On 9th April, after a preliminary bombardment by 6-inch howitzers, El Kefr was attacked again by two other battalions with the 58th Rifles in support. The village was captured and then the Punjabi Mohammedans of the 58th under Subadars Tikka Khan and Mohammed Arabi enthusiastically fought for and seized a ridge 1,400 metres beyond the village.

Right: Gas sentry, 58th Rifles, Palestine


Major Waller was overseeing the evacuation of his wounded Sikhs after El Kefr and was impressed by their conviviality. Further investigation discovered that a 15-gallon[xxii] 'fantassi' (camel-borne water tank) accompanying the wounded was full of rum. When the battalion entered theatre the British Army Service Corps units that supplied it were unaware that not everyone in an Indian Army unit automatically qualified for a rum ration, and nobody in the battalion had been in a hurry to advise them. No doubt those in the battalion who did not imbibe alcohol received adequate compensation in one form or another of military barter. Before the British army units sent back to France left the theatre many of them attached cadres of experienced soldiers to the Indian Army units remaining in Palestine. The aim of these attachments was to spread technical expertise, especially in areas such as Lewis gunnery and quarter-mastering, throughout the Indian battalions. The 58th Rifles received eight senior Non-Commissioned Officers (NCOs) from the British Territorial Army 2nd Battalion of the 4th Devonshire Regiment. These British attached personnel were of great value, most of them quickly learning sufficient Urdu to communicate usefully.

After the El Kefr action the battalion stayed in the line in the hills, operating from stone-built sangars[xxiii], but experienced a fairly quiet summer whilst General Allenby planned his final offensive. A comedy moment occurred when the Bugle-Major was lightly hit in the stomach by a bullet. A Pathan bugler beside him extracted the still-protruding round with his teeth, leading to a Sikh bugler exclaiming: "Now he'll need to put his finger on the hole before he can blow his bugle".


The last battle – Tabsor, 19th September 1918

On 19th September the final set-piece battle of the Palestinian Campaign started, and it became known as the Battle of Megiddo. The 75th Division operated in a unique role on the left and coastal flank of the British force, having as its limited objective the seizure of Et Tire which was defended by a Turkish Division. The 58th Rifles was still in 234 Brigade and it led the left flank of the Brigade assault on Tabsor Village with the 1st Battalion of the 152nd Infantry, Indian Army, alongside it on the right flank. Two companies of the 5th Somerset Light Infantry were positioned between the two Indian battalions with the task of dealing with the initial enemy positions whilst the Sepoys advanced straight through the enemy lines. The artillery support, a creeping barrage, was very effective but it raised clouds of thick dust that disorientated the infantry who were reliant on compass bearings for direction. Enemy resistance encountered during the assault was swiftly subdued with the bayonet and eventually Captain Ekin and Subadar Thakur Sing with a handful of men came across Tabsor Village in the dust and seized it. The enemy Second Line was then advanced to and seized but it contained only dead and wounded Turks.

However some of the 58th Rifles saw stiff fighting, as this citation for the award of the Military Cross to Temporary 2nd Lieutenant Alfred Henry Charles Allen (2nd Battalion of the 4th Devonshire Regiment, attached to 58th Vaughan's Rifles) shows: For gallantry and great devotion to duty in the attack on the Tabsor defences on September 19th, 1918. He was in command of the moppers-up immediately in rear of the first wave. Throughout the operations he showed great zeal and entire disregard for his personal safety. He was shot through the shoulder before the first objective was reached, and although disabled and in great pain refused to quit the firing line until the final objective had been reached—a distance of 9,000 yards approximately from the starting point. His zeal and personal example had a most inspiriting effect on those near him.

The casualty figures for the 58th Rifles at Tabsor were: 7 men killed, plus 2nd Lieutenant Allen, Subadar Mohammed Arabi, 2 British NCOs and 37 men wounded. Most of these casualties were caused by enemy artillery fire as the assault commenced. The battalion captured around 100 prisoners, six machine guns, two 77-mm guns, a 5.9-inch howitzer, many animals and much material. The 75th Division now moved into Corps Reserve. During September and October much of the Turkish force in Palestine crumbled away into British captivity and an Armistice was signed at the end of October.

Other Palestine awards

As well as the names already mentioned the following other awards for service in Palestine were received by members of the 58th Vaughan's Rifles:

Distinguished Service Order

Lieutenant Colonel Alexander Gordon Lind; and Major Robert de Warrenne Waller (108th Infantry attached to 58th Rifles).

French Croix de Guerre

Lieutenant Colonel Alexander Gordon Lind.

Order of British India, 2nd Class

Subadar-Major Tikka Khan.


Indian Distinguished Service Medal

3323 Havildar Fazal Dad; 3885 Lance Naik Rahim Ali; 2927 Lance Naik Bagh Singh; 3374 Naik Dewa Singh IDSM; 2841 Naik Badhawa; 3291 Sepoy Kapura; 4143 Sepoy Jaimal; 4141 Sepoy Damodar; 3704 Lance Naik Diwan Singh; 4778 Sepoy Bhola Singh; 2938 Lance Naik Pritham Singh; 651 Sepoy Pheru; 4263 Sepoy Baru Singh; 4387 Sepoy Amar Singh; and 4707 Sepoy Hakam Singh.

The following men of the 101st Grenadiers also received the Indian Distinguished Service Medal for bravery displayed in actions when they were attached to the 58th Vaughan's Rifles in Palestine:

Subadar Ahmed Din; 1873 Temporary Havildar Muhammad Yusaf; 1893 Temporary Lance Naik Muhammad Khan; 1177 Temporary Lance Naik Gowhar Ali Khan.[xxiv]

Right: Sepoy Damodar's IDSM

Palestine and Egypt, 1919

58th Vaughan's Rifles stayed in Palestine until March 1919, suffering casualties from the Spanish Influenza epidemic that swept around the world. The battalion then moved to Egypt expecting swift repatriation to India, but it was required to stay in the Middle East until January 1920 because of security concerns involving the rebellion that occurred in Egypt[xxv] from 1919 to 1920. However during this time 52 Mohammedan officers and men went to Mecca on pilgrimage. Also Acting Subadar-Major Indar Singh MC IDSM, 3336 Havildar-Major Mir Mohammed, 3921 Lance Naik Kapura (a Dogra) and Langri (cook) Ugarsain travelled to London to attend the Peace Celebrations. Finally the battalion sailed and landed at Karachi in February 1920, and then moved to the Depot in Multan. A 48-hour 'Tamasha'[xxvi] followed.


Portuguese East Africa, 1918

On 4th February 1918 a company of 58th Vaughan's Rifles (Frontier Force) from India landed at Dar Es Salaam, German East Africa (now Tanzania). The war diary does not state the point of origin but it probably was the Regimental Depot in Multan. The British officers were Captain B.A. Solano (46th Punjab Infantry) and Captain L. Brilliant (1st Battalion 129th Duke of Connaught's Own Baluchis). The Indian officers were Subadars Hamid Khan and Huqmat Khan of the 58th Rifles and Jemadar Juma Khan of the 55th Cokes Rifles. The company, designated No.1 Company, contained 196 other ranks. During the voyage all prizes for sports competitions except boxing had been won by the company.

Right: Beach near Porto Amelia


The troops landed, received vaccinations for smallpox and pitched their own camp. Straight away guard details were required for railway facilities, the Royal Flying Corp depot, and for German prisoners of war whilst they were in their prison camp and when they were outside on road construction tasks. On 18th February the theatre commander, the South African General Sir J. van Deventer KCB, inspected the company and decided to send it to Porto Amelia in Portuguese East Africa (PEA). The company was tasked to perform local security duties with the possibility of a deployment later onto operational duties in the bush-warfare that was taking place across northern PEA.

Exactly why the company had been sent is not known because at that time all other Indian Army combat units except two[xxvii] were being withdrawn from the theatre because of the associated health problems; however Indian Army logistical and administrative units remained. It is probable that the unpredictable and disturbingly successful tactics being used by the German commander in PEA, General Paul von Lettow-Vorbeck, had rattled the British headquarters, and had led to a request for more infantry from India[xxviii].

In late February training for bush warfare commenced and the fighting scale of equipment and weapons was issued, including Lewis guns. Local African porters were taught how to be gun and ammunition carriers. The Young Mens' Christian Association (YMCA) provided welfare occasions such as sessions of recorded Pushtu music played on a gramophone and cinema films. But the local climatic conditions started affecting the health of the company and by 1st March Captain Solano and 30 men were sick. Three days later the company embarked on a three-day voyage on a very over-crowded ship; due to galley limitations only one meal a day could be prepared and served. On 7th March the company was disembarked at Porto Amelia in heat much more intense than that experienced at Dar Es Salaam, and a camp was pitched; but every day men trickled away to the sick-bay with fever and other tropical ailments such as jigger-fleas that burrowed under toenails.

The sepoys were employed on security tasks around the town and port where pilfering by local inhabitants was endemic, or on collecting firewood and fencing-in their own camp. It was now the Monsoon season and violent rain and thunderstorms fell on most days whilst strong winds sometimes blew tents down. Captain Solano and ten sick sepoys were returned to India and Lieutenant Brilliant became Company Commander. Reinforcement drafts arrived from Egypt and India. At the end of April the company paraded a Guard of Honour for the PEA Governor General, and that change of routine was doubtless welcomed by many of the men.

In May the weather had improved and much use was made of the football pitch that the company had made; the sickness rate was 14%, and even the company Sub-Assistant Surgeon had been ill. On 20th May a Court Martial sentenced No. 29 Sepoy Umar Khan to 20 lashes, the sentence was carried out four days later but the nature of the offence was not recorded in the war diary. At the end of May the company at last saw combat, but with the wrong opponents! A guard detachment was attacked by 70 Ruga-Ruga, the name given to local African irregular militia employed by the British. The Ruga-Ruga were armed with sticks and bayonets, and perhaps they were objecting to their pilfering activities being interrupted by the sepoys. No shots were fired but two sepoys went to hospital with bruises.

The final entry in the war diary on 31st May 1918 states: News received that company is to return to India as soon as relief can be effected. No further details are known, and the account of 58th Vaughan's Rifles after its brutal sojourn in France ends here. The sepoys tasted oranges in Palestine, dates in Somaliland and coconuts in East Africa. Throughout the travels and travails of this single-battalion multi-class regiment, the sepoys always performed to a high professional standard, earning praise and respect from their peers.

Shahbash Sikhs, Dogras, Pathans, and Punjabi Mohammedans of Vaughan's Rifles – together you did all that was asked of you!


Awards for East Africa

Two awards for service in East Africa can be identified for 58th Vaughan's Rifles' sepoys. No. 2446 Havildar Major Yar Khan was awarded an Indian Distinguished Service Medal whilst he was attached to 55th Coke's Rifles, and No. 2708 Havildar Khitkhwab was awarded an Indian Meritorious Service Medal. It is not known whether the latter award was gained for service on attachment to another unit or as a member of No. 1 Company in Porto Amelia.

Commemorations in the Middle East and East Africa

The Commonwealth War Graves Commission records list 418 deaths of members of 58th Vaughan's Rifles (Frontier Force) during the Great War. That number includes fatalities in France but 86 names can be found on the Heliopolis (Port Tewfik) Memorial in Egypt. More names are on the Kantara Indian Cemetery Memorial and graves can be found in the Ramleh, Suez War Memorial and Gaza War Cemeteries. Two sepoys[xxix] are commemorated on the Berbera Memorial in Somalia and in East Africa one name[xxx] is inscribed on the Dar Es Salaam British and Indian Memorial, Tanzania.

SOURCES:

Chhina, Rana. The Indian Distinguished Service Medal. (InvictaIndia 2001).
Condon, Brigadier W.E.H. OBE: The Frontier Force Rifles. (Gale & Polden 1953 and a Naval & Military Press re-print).
Duckers, Peter. Reward of Valour. The Indian Order of Merit 1914-1918. (Jade Publishing Limited, Oldham 1999).
Hayward J.B. & Son. Honours and Awards Indian Army 1914-1921.
Jarvis, S.D. & D.B. The Cross of Sacrifice Volume 1. (Roberts Medals Ltd, Brighton 1993).
MacMunn, Sir George and Falls, Captain Cyril. History of the Great War. Military Operations Egypt & Palestine, three volumes. (Imperial War Museum and The Battery Press 1996).
Sandes, Lieutenant Colonel E.W.C. The Indian Sappers and Miners. (Institution of Royal Engineers, Chatham 1948).
Wavell, Lieutenant General A.P. The Palestine Campaigns. (Constable, London 1941).
London Gazette entries and Medal Index Cards.


[i] These numbers will include some attached personnel from other regiments.

[ii] Lieutenant Colonel C.E.D Davidson-Houston, later killed in action; Major A.G. Thompson, wounded; and Captain S.B. Pope.

[iii] Captain G.S. Bull, wounded and later died; Captain S. Gordon, Indian Medical Service; Jemadar Indar Singh IDSM; and Jemadar Hawindah IDSM (Afridi).

[iv] Subadar Suhel Singh, later killed.

[v] Jemadar Harchand Singh; Havildar Karam Singh, wounded; Naik Kashmir Singh; Lance Naik Lal Badshah; Jemadar Muhammad Arabi; Lance Naik Phangan Singh; Havildar Roshan Khan, killed; Havildar Saidak; Havildar Santa Singh; Lance Naik Sher Khan; Jemadar Sihel Singh, later killed; and Sepoy Isar Singh.

[vi] Subadars Hamid Khan, Indar Singh, Phuman Singh, and Raj Talab, later OBI; Jemadar Mir Mast (later forfeited); Havildars 3404 Baidullah, 2164 Sundar Singh, 3212 Lashkar, 2763 Ajun, 3136 Sarfaraz, 2008 Hawindah, 3066 Sardar, and 2198 Fazal Dad; Naiks 2758 Dewa Singh, 3083 Zar Baz, and 2634 Sergun Shah, later OBI; Lance Naiks 3567 Said Asghar, and 2934 Muhammad Amin; Sepoys 3097 Azam Khan (later forfeited), 3374 Dewa Singh, and 3133 Maluk Singh.

[vii] Brother of Subadar Mir Dast of 55th Coke's Rifles (Frontier Force) who won the Victoria Cross at Ypres when attached to and fighting with 57th Wilde's Rifles (Frontier Force).

[viii] Indian Distinguished Service Medal.

[ix] For details of the initial Turkish attack on the Suez Canal refer to the article Turks Across the Canal in Durbar Volume 27, No. 1, Spring 2010.

[x] Attached from 89th Punjabis.

[xi] Further details of Tor can be seen in the article 2nd Bn 7th Gurkhas in the Action at Tor, Sinai 12th February 1915 that appeared in Durbar Volume 30, No 3, Autumn 2013.

[xii] During the Second World War he became Major General R.G. Ekin CIE.

[xiii] One for each platoon in the battalion.

[xiv] A pith helmet worn for protection against sun and heat.

[xv] A hand-carried wooden rod that folds out into two parallel sticks so that the holder can point out ground features to another person, who looks along the second stick.

[xvi] Formerly 14th Sikhs.

[xvii] Arabi is the spelling used in the regimental history, whilst official documents and notifications use Arbi.

[xviii] Traditionally the place where Abraham was ordered to sacrifice his son Isaac, and formerly the site of Solomon's Temple.

[xix] Class composition: Rajputs, Hindustani Mohammedans and Ahirs from the eastern Punjab.

[xx] A community of traditional cow herders.

[xxi] The only possible reference to this operation found in the Official History is a footnote on page 352 of Volume II that states: "the 58th Rifles had captured the village of Deir Ghussane".

[xxii] 56.8 litres.

[xxiii] A semi-circular unroofed firing position, usually made of stone or filled sandbags.

[xxiv] The 58th Rifles' regimental history states that there were three more men from the 101st Grenadiers who received the award, but their names are not readily identifiable.

[xxv] Some useful information is here: http://en.wikipedia.org/wiki/Egyptian_Revolution_of_1919

[xxvi] Celebration usually involving traditional dancing.

[xxvii] 22nd Derajat Mountain Battery (Frontier Force) and 14th Company, Madras Sappers & Miners.

[xxviii] At the end of 1917 General von Lettow-Vorbeck had marched a small but very proficient force into PEA from southern German East Africa, and he immediately captured Portuguese garrison posts to re-supply his force with weapons, ammunition, food and clothing.

[xxix] No. 4349 Sepoy Ranak Singh and No. 3477 Sepoy Nihal Singh, who were doubtless on the detachment that built the fort at Lashkorai.

[xxx] No. 3542 Sepoy Babur who died on 6th July 1918.