Indian Military Transport Units in Macedonia



The Macedonian Campaign

Between October 1915 and September 1918 the Allies engaged Bulgarian, German and Turkish forces in an area of Macedonia north of the Greek port of Salonika in the eastern Mediterranean Sea. The Allied effort was promoted by France and the initial aim was to rescue the Serbian Army that was being driven southwards by the Central Powers. The intervention initially failed as after a brief campaign in severe winter conditions Bulgarian troops drove the Anglo-French force back towards the Mediterranean coast. Britain then advised withdrawing from the theatre but France, Russia and Italy disagreed so Salonika was prepared for defence and another inland advance was made in 1916.

Russian and Italian troops entered the theatre, as did a reconstituted Serbian Army, and the town of Monastir fell to Franco-Serbian troops in November 1916. Despite aggressive action little else was gained by the Allies for the next two years as the Bulgarians held the vital ground on the mountain tops inland. In 1917 Greece joined the Allies and Greek troops fought in Macedonia in 1918. Finally an Allied offensive in September 1918 led to a Serbian break-through west of the River Vardar; the enemy forces crumbled and Bulgaria surrendered to the Allies on 30th September 1918.

Britain regarded Macedonia as an unnecessary 'Sideshow' but at its height the British force in the theatre comprised six divisions organised into two corps. Although you have to search hard in the British Official History of the campaign to find the word 'Indian', transport units from both the Indian Army and Indian Imperial State Forces were active in the theatre from January 1916 to the conclusion of hostilities, and their details follow.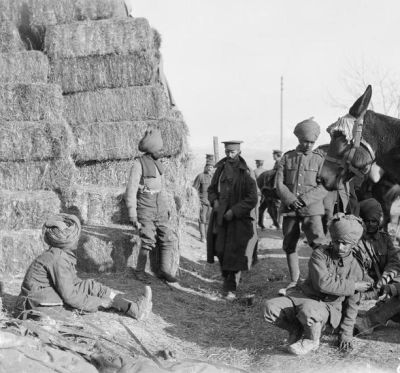 Left: Indian muleteers at a forage dump, Macedonia


3rd (Cavalry Brigade) Mule Corps


The unit was mobilised as a draught sub-division at Dalhousie, Punjab, on 20th October 1915. Captain G.H. Wilkinson, Supply and Transport Corps, Indian Army, was appointed as the Officer Commanding the Corps. 22nd Mule Corps at Ambala transferred 100 mule carts, personnel and animals into the unit. The unit strength was 1 British officer; 1 Indian officer; 4 British senior ranks; 557 Indian ranks; 15 riding ponies; 864 mules; and 400 carts. The Corps concentrated at Lahore and departed in late October on three trains for Karachi where it loaded men, animals, carts, gear, tentage and stores on the transports Taroba and Umeta. The transports departed from Kiamari Docks on 2nd November and arrived at Suez twelve days later where the Corps disembarked and entrained for Ismailia. After working for two weeks on station duties at Ismailia, Suez, Port Said and Tel-el-Kebir the Corps received orders to embark for Salonika. The transports Haverford and Karoo carried the Corps and departed from Alexandria on 27th December arriving at Salonika Port on 1st January 1916. Disembarkation was completed the following day and the Corps moved into a camp on Monastir Road; 200 carts were immediately employed on duties and the camp came under an enemy air attack on 6th January, fortunately the bombs landed 200 metres north of the camp. Hostilities had commenced for the 3rd (Cavalry Brigade) Mule Corps and in early February the soldiers observed an enemy Zeppelin air-ship that bombed Salonika.

31st Mule Corps

On Mudros Island on 28th December 1915 Captain A.E.E. Sargent MC, Supply and Transport Corps, Indian Army, was appointed Commandant of the 31st Mule Corps and ordered to form four troops each containing 108 mules and 50 carts for service in Salonika. British troops had almost completed their withdrawal from Gallipoli and several Indian mule units were on the island which was a main base. To make up the Corps to eight troops, Imperial Service units from the princely states of Bharatpur and Indore were attached to the Corps for operations, however the Imperial Service troops remained under the command of their respective commandants for internal administration. Lieutenant G.B. Roger, Indian Army Reserve of Officers, was posted as a junior officer in the Corps. The enhanced Corps embarked at Mudros on 8th January 1916 and disembarked at Salonika four days later, losing two mules drowned during the disembarkation. Operational deployments commenced on the 14th January.


Bharatpur Imperial Service Transport Corps

The unit had first served in France and then at Suvla Bay, Gallipoli, where it used pack mules to resupply the trenches of the British 10th Division, losing 110 mules to enemy shell fire. After evacuation to Mudros it was reconstituted into two troops for service in Salonika. Lieutenant Colonel Kishen Singh was the Commandant and Major J.H. Watson, 13th Duke of Connaught's Lancers (Watson's Horse), was the Indian Army Special Service Officer (SSO) who was there to offer advice when the Commandant requested it. The unit strength was 172 all ranks, 9 horses and 216 mules. The Bharatpurs moved to Salonika attached to 31st Mule Corps, disembarking from the transport S.S. Haverford and moving into Kalamaria Camp on 12th January 1916. Two weeks later pack mule deliveries commenced from Kalamaria Camp to Hortachoi. In early February 100 carts were received and cart transport operations commenced.

Above: Mule Corps gymnastic display Salonika

Indore Imperial Service Transport Corps

The Indore Corps had served alongside the Bharatpurs in France and at Suvla Bay, and it was also reconstituted on Mudros Island in late December 1915. Major Lutf Ali Khan was Commandant and the SSO was Major Nawab Mohamed Akbar Khan. On strength were 5 Indian officers, 132 Indian ranks, 12 artificers, 23 followers, 14 riding ponies and 216 mules. During the embarkation from Mudros Driver Onkar argued with Daffadar Sirdar Ali Khan and wounded him; Onkar later received a sentence of five years rigorous imprisonment and was returned to India. After moving to Salonika with 31st Mule Corps the Indore Corps spent ten days in Kalamaria Camp and then marched as a pack mule unit to Hortachoi. On 22nd January the Corps moved to Aivasil and commenced supporting the 27th Division. In February the Indore Corps also received 100 carts and began cart transport duties.


The duties of the Mule Corps units

The Mule Corps units were designated as Army Troops and were deployed by the British Salonika Force headquarters both in the British sector and sometimes in support of Allied troops in other sectors. The transport duties were carried out in rear areas but attacks by enemy aircraft and Zeppelin air ships were a major risk. The carts were in constant use moving rations, forage, baggage, ammunition, coal and other supplies forward to divisional locations. Occasionally road stone was the cargo as engineers constructed more all-weather roads running inland. A lighter load sometimes was charcoal.

Right: Mule Corps mule-back wrestling Salonika

The British members of 3rd (Cavalry Brigade) Mule Corps were often used to run courses on pack-mule handling for divisional personnel who then used their own pack-mules within their divisional areas. After battles with the Bulgarians the return loads of many of the carts were wounded Allied soldiers. Often a Mule Corps would have camps in two or three different locations, dependant on the taskings received for the Corps; unit quartermasters, veterinary assistants, farriers, carpenters, artificers, saddlers, shoeing smiths, medical dressers, tailors, cooks, barbers and sweepers manned the camps. Hutted camps were erected in base areas but in forward locations the camps were tented.

When a mule was sick or wounded and could not be satisfactorily treated by the Veterinary Officer or Assistant in the unit it was sent to a Veterinary hospital for treatment and convalescence. When Corps needed fresh mules to replace casualties these were drawn from Remount units; however war diaries show that the number of remounts needed was low because of the excellent care and grooming that the Indian mule units practised. Because of forage shortages, off-duty mules were allowed to graze freely in safe areas. Unit artificers and saddlers maintained and repaired the carts and equipment.

As the campaign progressed the British set up agricultural units in Macedonia to grow produce for food supplies, and mule teams were employed on ploughing with both Punjabi ploughs made within the Corps and Greek iron ploughs bought locally. The Mule Corps ran its own vegetable gardens and produced substantial amounts of crops.




The men and their recreation

Whilst the Indian State Forces units were usually reinforced with drafts from their princely states, the Indian Army Mule Companies received drafts that included many different castes. The 31st Mule Corps war diary for 25th June 1917 records the following castes or types as being on strength: Christian, Parsi, Pathan, Punjabi Musulman, Madrasi Musulman, Tamil, Telegu, Sikh, Mahratta, Gurkha, Brahman, Rajput, Hindustani Musulman and Sweeper. Hardly any instances of serious disciplinary action are recorded in the war diaries, and two weeks imprisonment in a local military jail is the severest sentence recorded.

Hardly any home leave was granted because there were never enough men on the ground to keep all the carts running, which was the military priority. That led to the men becoming exhausted as the work was strenuous, and this contributed to higher sickness rates. By late 1918 the 3rd (Cavalry Brigade) Mule Corps war diary is noting that: "The question of leave for both British and Indians during the three years and three months during which the unit has been on Active Service has been very unsatisfactory, one British officer and one serjeant and less than 100 Indian other ranks only have as yet proceeded on leave, and this entirely owing to reinforcements not being available to make up the requisite number of men to work the 400 carts of this unit."

Above: Mule Corps sports meeting, Salonika 1916
A telling entry in the same war diary after the Armistice comments: "The type of reinforcement being received from India is very unsatisfactory, physique poor, weak and not up to the hard work and climatic conditions of Macedonia. In many cases, on the line of march, they were too weak to be able to saddle up their animals, which work had to be done for them by the older hands. They are received from India absolutely untrained."

Civilian charitable organisations such as the Young Men's Christian Association organised secular recreational facilities such as film shows and units established canteens or relaxation areas in base areas. The Imperial War Museum has archived some interesting photographs of the Mule Corps men at sports meetings showing athletic events and displays plus mule-back wrestling and tug-of-war matches. However a popular off-duty activity for the sepoys must have been to wander the ancient streets of Salonika, observing the cultures and customs of the polyglot community that lived there.

Above: A British Artillery position in Macedonia


The medical situation on the Macedonian Front

Macedonia was not a healthy theatre for British soldiers. Winters that could be brutally cold were followed by summers that were very hot and debilitating. The low plains occupied by many British soldiers contained several malarial swamps. Troops that moved from Gallipoli to Macedonia were already weakened by the insanitary field conditions that they had endured on the peninsula, and many of those soldiers soon suffered from dysentery and other enteric diseases in Macedonia. If mosquito nets were not used to sleep under then malaria could strike quickly, and sometimes also Sand Fly Fever; over 160,000 cases of malaria were recorded. Poor sanitation discipline could lead to Black Water Fever. However once the scale of the problem was realised the British went to great lengths to ensure that Hygiene and Sanitation standards were maintained, nevertheless the British force suffered over half a million non-combat casualties during the campaign. In 1918 the world-wide influenza epidemic struck Macedonia and caused casualties.

No. 137 Indian Field Ambulance was deployed to Salonika along with the Mule Corps, and unit Sub-Assistant Surgeons would refer casualties that could not be treated in the units to that Field Ambulance. If the casualty needed hospitalisation he was sent to a British Army hospital in Salonika from where serious cases would be shipped to Egypt or India.

Above: Looking south west across the Doiran battlefield from the main Bulgarian position

Monastir Road Indian Cemetery and Indian Memorial, Salonika, Greece

From 1916 deaths of Indian soldiers occurred in Macedonia, mainly from disease or other medical reasons. An Indian cemetery was located on Monastir Road, Salonika, the southern plot was used for burials and the northern plot for the over 200 cremations that took place. A Memorial in the northern half commemorates the deaths of those with no known graves. A total of 358 Indian soldiers are commemorated by the Commonwealth War Graves Commission in a well-maintained little cemetery.

Of the listed casualties 58 are Mule Corps, 10 are Bharatpur Imperial Service Transport Corps and 7 are Indore Imperial Service Transport Corps.

One hundred and ten men are from the Royal Horse and Field Artillery, Indian Army, as from 1918 that regiment provided drivers for the ammunition columns of the British horse-drawn artillery in Macedonia. The remaining commemorations are mainly for sepoys whose units were employed after the Armistice in the British Army of the Black Sea.


An Indian in the Bulgarian Flying Corps

The war diary for 3rd (Cavalry Brigade) Mule Corps records an interesting event. No. 622 Driver Santa Singh had been reported missing on 16th August 1917 and he reported back for duty on 10th November of the same year. Santa Singh had followed a mule that he believed belonged to his unit but he was captured by Bulgarian troops and kept in a prisoner of war camp near Fort Rupel for about five weeks. Then he was employed as a cook and orderly for Captain Kishen Singh of the Bulgarian Flying Corps, and Kishen Singh related his story to his new orderly. Kishen Singh was born in Calcutta and had two brothers working on the railways in Lahore. Kishen became a tramway driver in Bombay but then took work afloat as a lascar and later as a cleaner in the engine rooms of ships. In 1912 he sailed for Europe in a French vessel and landed at Salonika where he married a Macedonian lady and settled down in Rupel Pass. When Bulgaria entered the war Kishen Singh joined the Bulgarian Army. After five weeks working as an orderly Santa Singh found an opportunity to escape and made his way across country to the British lines. Nothing more was heard of Kishen Singh.


Above: Monastir Road Indian Cemetery and Memorial, Salonika

Further deployment

In 1919, when shipping space was secured, the Indian State Forces units returned to India, both Corps serving in the Third Afghan War. Unfortunately Major Lutf Ali Khan, Commandant of the Indore Transport Corps, was killed in an air crash near Salonika in April 1919 just before his unit embarked. Major Gopal Puri took over as Commandant. The Indian Army units, although tired out and receiving untrained reinforcements of poor quality, were redeployed into the Army of the Black Sea, 3rd (Cavalry Brigade) Mule Corps being shipped to the Georgian port of Batum in the south-east of the Black Sea.

Although in Macedonia the British built roads for motor transport and railways for the movement of large numbers of men and stores, the mule-cart units were in great demand from January 1916 to the Armistice and beyond. The Mule Corps were flexible and reliable assets for the logisticians, needing no petrol or coal to power them. The sepoys were used to living in basic conditions in hostile climates and their administrative requirements were minimal. The mules did not need spare parts nor skilled mechanics to repair them. The artificers and saddlers in the mule-cart units were adept at keeping the carts and equipment in excellent working order, and the veterinary staff, shoe-smiths and drivers understood their mules and took great care of them. It is unfortunate that the contribution of the Indian Mule Corps to the Macedonian Campaign is not more widely recognised.

It is appropriate to end by quoting Major Wilkinson's closing comment in the war diary of the 3rd (Cavalry Brigade) Mule Corps as it prepared to embark for Batum:

"In spite of these adverse conditions and the fact that nearly all the original transport drivers left in the unit have had no leave whatever since embarking at Karachi on 2nd November 1915, they are and have all along been behaving like 'TRUMPS', there is no other word to describe their work."

Above: Mule Carts
Awards made to members of Indian Mule Corps and Supply and Transport units serving in Macedonia

Companion of the Distinguished Service Order (DSO)
Majors A.E.E. Sargent MC and G.H. Wilkinson, both Supply and Transport Corps, Indian Army.

Companion of the Indian Empire (CIE)
Lieutenant Colonel (Sirdar) Kishen Singh, Bharatpur Imperial Service Transport Corps.

Order of British India (OBI)
Major Lutf Ali Khan (Bahadur); Captain Santuji Bapuji; Lieutenant Colonel Gopal Puri, all of the Indore Imperial Service Transport Corps.

Indian Distinguished Service Medal
Jemadar Muhammad Ismail and No. 216 Daffadar Fazal Elahi, both Supply and Transport Corps, Indian Army.

Meritorious Service Medal
Sergeant F. Rowell, Supply and Transport Corps, Indian Army.

Indian Meritorious Service Medal
MULE CORPS awards: No. 438 Saddler Allah Ditta; 3rd Grade Veterinary Assistants No. 1604 Hari Singh and No. 1246 Mir Zaman; Kot Dafadars No. 288 Nazir Ahmad, No. 508 Ali Murid and No. 1170 Muhammad Kasim; No. 501 Quartermaster Daffadar Roshan Khan; Lance Naiks No. 861 Saif Ali, No. 980 Ghulam Muhammad, No. 1205 Muhammad Qasim and No. 1338 Abdul Jaheel; Drivers No. 1383 Mohmin Shah and No. 1234 Phinoo.

BHARATPUR IMPERIAL SERVICE TRANSPORT CORPS awards: No. 907 Kot Daffadar Bashir Ahmed; No. 855 Lance Daffadar Sukkha; No. 671 Driver Chand Khan.

INDORE IMPERIAL SERVICE TRANSPORT CORPS awards: Kot Daffadars No. 18 Alladin, No. 18 Aladin Khan, and No. 9 Bane Singh; No. 14 Farrier Major Nabi Baksh.


Croix de Guerre (French)
Lieutenant Colonel (Commandant) Sardar Kishen Singh, Sirdar Bahadur, CIE, Bharatpur Imperial Service Transport Corps.

Mention in Dispatches
MULE CORPS: Major A.E.E. Sargent DSO MC; No. 1338 Lance Naik Abdul Jaheel; No. 1253 Lance Naik Michael; No. 1383 Driver Mohmin Shah; No. 501 Quartermaster Daffadar Roshan Khan; No. 938 Lance Naik Samander.

BHARATPUR IMPERIAL SERVICE TRANSPORT CORPS: No. 688 Daffadar Ganpat Singh; No. 671 Driver Chand Khan; No. 855 Lance Daffadar Surkha.

INDORE IMPERIAL SERVICE TRANSPORT CORPS: Risalder Wali Mahomed Khan; Veterinary Surgeon Moladad Khan; No. 20 Quartermaster Daffadar Abdul Latif; No. 9 Kot Daffadar Bane Singh; No. 14 Farrier Major Nabi Baksh.

SUPPLY AND TRANSPORT CORPS: Staff Serjeant (Local Sub-Conductor) H. Cooper; No. 508 Kot Daffadar Ali Marid; No. 474 Driver Fazal Khan; No. 1408 Kot Daffadar Khul Ahmed.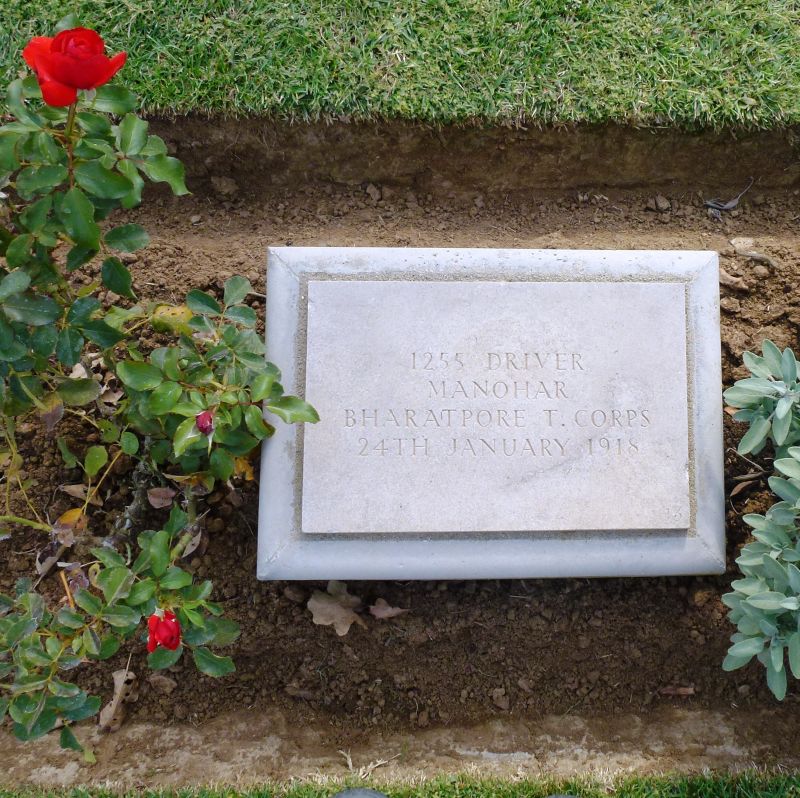 SOURCES:

Falls, Cyril (compiler): History of the Great War. Military Operations Macedonia. Two Volumes. (Battery Press reprint 1996).

Head, Richard and McClenaghan, Tony: The Maharajas' Paltans. A History of the Indian State Forces 1888-1948, Part 1. (Manohar, India 2013).

J.B. Hayward & Son (publisher): Honours and Awards Indian Army August 1914 - August 1921.

Indian Army List 1919. (Naval & Military Press reprint).

London Gazette Supplement dated 28th November 1917, page 12490.

Nicholls, Brian. The Military Mule in the British Army and Indian Army. An Anthology. (D.P. & G. Military Publishers, Doncaster 2006). Wakefield, Alan and Moody, Simon. Under the Devil's Eye. The British Military Experience in Macedonia 1915-1918. (Pen & Sword Military 2011).

War Diaries: 3rd (Cavalry Brigade) Mule Corps; 31 Mule Cart Corps Bharatpur Imperial Transport Corps; Indore Imperial Transport Corps. (All WO 95/4813).


RECOMMENDED BACKGROUND READING:

Major H.M. Alexander DSO: On Two Fronts. Being the Adventures of an Indian Mule Corps in France and Gallipoli. Download at: http://www.archive.org/stream/ontwofrontsbeing00alexrich#page/n7/mode/2up

The website of the Salonika Campaign Society may also be of interest: http://www.salonikacampaignsociety.org.uk/index.php/campaign/76-campaign

To return to Harry's Sideshows click HERE