Raising the Karens- Force 136 parachute insertions into the Karen Hills, Burma, 1945

By Harry Fecitt MBE TD (ex-17 PARA)



The Karen Hills

As Britain developed its authority over Burma during the late 19th Century contact was made with the Karens, a group of Indo-Chinese people who did not wish to be dominated by lowland Burmans. The Karens were hill people living in an area of over 1,600 square kilometres, mostly consisting of rugged, jungle covered mountain ranges in between the Sittang and Salween Rivers in Central Burma; many Karens also lived east of the Salween in Siam. The Karen area became known as Karenni. The scattered inhabitants in the Hills were subsistence farmers but the area did possess mineral wealth, as during the 1930s the Mawchi Mine in Bawlake was the most important source of tungsten in the world. Some Karenni rulers asked Britain for protection from the lowland Burmese and this was granted; these protected areas were later incorporated into the Federated Shan States that were administered separately from lowland Burma, and this arrangement survived until the Japanese invasion of the country in 1942.


Left: Location of Karen Hills

For further Maps and Photos please click HERE


The British retreat from Burma and Operation HARLINGTON Before hostilities with Japan commenced Britain had established an Oriental Mission in the Far East; this was the regional headquarters of the Ministry of Economic Warfare, and it was designed to conduct espionage, sabotage and reconnaissance in British territories that might be occupied by an enemy. The Oriental Mission was the forerunner of the Special Operations Executive (SOE) in the Far East, which was to use the title Force 136 to cover many of its activities. However the Oriental Mission itself was usually sabotaged by British military commanders in the Far East who objected to arms caches and 'left behind parties' being trained and prepared outside normal military channels.

In Burma some ground was gained when the Army agreed to the raising of the Burma Levies in the Karen Hills, but as the Army refused to loan military officers the Levies were raised and prepared by British civilian officers from organisations such as the Burma Frontier Service that administered the hill country, and the Forest Service; however the Army insisted on retaining control of the Levies. Noel Stevenson (1) of the Frontier Service was appointed to command all Levies and given the rank of Lieutenant Colonel; the Karen Levies were strengthened by a number of Karens specially released from the Burma Rifles (2). During the British retreat 2,000 Karens fought the Japanese and their Burmese collaborators in the Burma Independence Army, delaying the enemy advance for a critical couple of days; they also provided tactical information and protected the left flank of British troops retreating up the Sittang Valley. After achieving what was possible with their limited weaponry the Karen Levies were ordered to hide their arms and await the eventual return of the British. The Burma Independence Army then took revenge on some Karen villages, often seizing girls to sell to Japanese military brothels.


One British officer stayed behind with the Karens when the British forces withdrew into India. He was Captain (Temporary Major) Hugh Paul Seagrim, 19th Hyderabad Regiment, Indian Army, who had previously served in the 1st/20th Battalion, Burma Rifles. For this early work behind the lines he was recommended to be appointed an Officer of the Order of The British Empire (OBE) but the then theatre commander (3) reduced the award to Membership of that Order (MBE).

His citation read: "It was to this officer's faith in the Karen that the formation of the Karen Levies was largely due. For weeks he sat several days march behind the Japanese forward positions and trained Karen irregulars. His presence and training maintained Karen morale to us long after the civil administration had ceased to exist and our armies had retreated north. His actions in this living behind the enemy will prove of great benefit to us when we counter attack, for he built up a useful number of guerrillas, who on several occasions resisted incursions by pro-Jap Burmese rebel bands. (4)"

But by 1943 it was not known in India if Hugh Seagrim was alive, and if so whether his Karen resistance movement had survived. In February 1943 Operation HARLINGTON was planned by Force 136 to make contact with the Karens, and on the 18th of that month a Karen officer, Lieutenant Saw Ba Gyaw, 1st Battalion The Karen Rifles, was dropped by parachute with three men into paddy fields east of Shwegyin. Ba Gyaw's wireless/telegraph (W/T) set was supposed to follow immediately but over the next seven months nine separate attempts to drop it failed – seven due to bad weather, one through aircraft engine trouble and one when the dropping zone (DZ) was not identified.

Above: Typical Karen country in the Salween District
Finally in October Major James "Jimmy" Russell Nimmo (5), Burma Regiment (6), jumped in with a W/T set, met up with Ba Gyaw who had joined Seagrim, and reported back by wireless that the Karens were eagerly awaiting the return of the British. As a result of this and further reports being received in India Hugh Seagrim was appointed to be a Companion of the Distinguished Service Order (DSO) with the citation:

This officer has remained 380 miles within enemy-held territory ever since its occupation by Japanese forces in April 1942. During this period he has sustained the loyalty of the local inhabitants of a very wide area, and thereby has provided the foundation of a pro-British force whenever occupying forces arrive, in that area. This officer has now been contacted by Major Nimmo A.B.R.O. and is passing valuable military intelligence by wireless. The fact that he has remained alone in constant danger, and has maintained pro-British sympathies in such adverse circumstances, has proved his determination, courage and devotion to duty to be of the highest order. (7)



Above: A Lysander on an improvised jungle airstrip
Jimmy Nimmo also received a Distinguished Service Order: On the 12th October 1943 this Officer was dropped by Parachute 380 miles inside Burma for the purpose of establishing wireless communication with India and collecting personnel who remained after the Japanese invasion and who were believed still to exist under the leadership of Major SEAGRIM. Captain (Acting Major) NIMMO has since succeeded in both these tasks, which present an earnest to British intentions to reconquer Burma, until which time he is committed to remain within it. The fact that this officer has had to undergo the strain of preparing himself to carry out this hazardous mission each moon period since February 1943 owing to bad climatic conditions, coupled with the skill with which he has fulfilled his task, reflects determination, courage and devotion to duty of a very high order. (8) At the time the citations for these two DSOs were not released for security reasons.

On 9th December another British officer, Captain Eric John McCrindle, Army in Burma Reserve of Officers (9), parachuted in to join Operation HARLINGTON. However the Japanese now reacted decisively and an enemy force 300 strong moved into the area, tracking down and killing both Jimmy Nimmo and Eric McCrindle (9). The Japanese military police corps responsible for counter-intelligence and rear area security was the Kempei Tai, and elements of this corps systematically arrested and tortured hundreds of Karens because of their support for the HARLINGTON team.



This distressed Hugh Seagrim and in an effort to deflect Japanese brutality away from the Karens he gave himself up in March. Ba Gyaw and other members of Operation HARLINGTON were captured. Hugh Seagrim attempted to take all the blame onto his own shoulders but to no avail, as on 14th September 1944 he, Ba Gyaw (10) and seven others were executed in Rangoon (11). The eight Karens had insisted on sharing Hugh Seagrim's fate. The remainder of the prisoners were sentenced to eight years' imprisonment.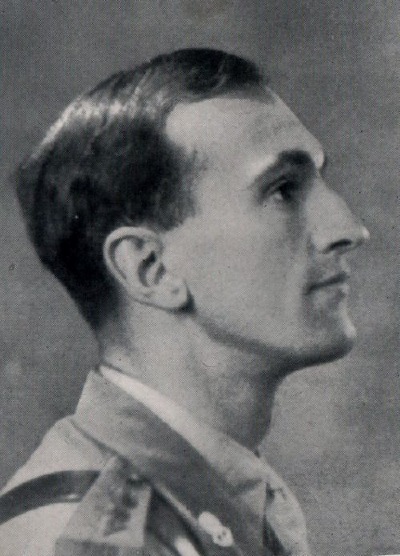 After the war a posthumous George Cross was awarded with the citation: Awarded the George Cross for most conspicuous gallantry in carrying out hazardous work in a very brave manner. Major Seagrim was the leader of a party which included two other British and one Karen officer working in the Karen Hills of Burma. By the end of 1943 the Japanese had learned of this party who then commenced a campaign of arrests and torture to determine their whereabouts. In February 1944 the other two British officers were ambushed and killed but Major Seagrim and the Karen officer escaped. The Japanese then arrested 270 Karens and tortured and killed many of them but still they continued to support Major Seagrim. To end further suffering to the Karens, Seagrim surrendered himself to the Japanese on 15th March 1944. He was taken to Rangoon and together with eight others he was sentenced to death. He pleaded that the others were following his orders and as such they should be spared, but they were determined to die with him and were all executed. (13)




Left: Hugh Seagrim





The plethora of secret forces operating in Burma in 1944


In June 1944 Lieutenant General W.J. "Bill" Slim, the commander of the British Fourteenth Army in the Burma theatre, became exasperated with the lack of sound intelligence on Japanese intentions. Although SOE was not tasked in an intelligence role Slim's complaints led to a review of which secret organisations were doing what, and the findings were:


· SOE – (Force 136) raised clandestine forces and reported tactical information (14). Reported to South East Asia Command (SEAC).

· "Z" Force – gathered intelligence (15) up to 60 miles into enemy territory; a military organization.

· Inter-Services Liaison Department (ISLD) – The British Secret Intelligence Service (SIS) in the Far East.

· Combined Operations Pilotage Parties (COPP) – commandos engaged in marine sabotage. (16)

· Air Sea Rescue detachments.

· Psychological Warfare Division (PWD).

· Deception Division (D. DIV).

· "E" Group – the prisoner of war escape organization.

· Burma Intelligence Corps (BIC) – provided guides and interpreters for forward patrols.

· "V" Force – operated fighting patrols and collected intelligence deep in enemy territory; a military organization.

· The USA Office of Strategic Services (OSS) whose functions combined those of the British SIS and SOE.

· The USA Office of War Information (OWI) that corresponded to the British Political Warfare Executive in disseminating propaganda.


Each of these twelve organisations competed for suitable personnel and resources, particularly air support, but the quality of the results obtained varied considerably across the theatre. Meanwhile effort was being needlessly duplicated. General Slim maintained that whilst the OSS was



Above: Japanese officers in Burma
providing good value for money, SOE was not, and he wanted SOE activities subordinated to and directed by military formations. An attempt to combine operational and administrative aspects of the secret organizations failed because basically it was 'too difficult' for the staff officers involved. The final compromise reached was that the administrative status quo remained but SOE's primary function was intelligence provision, and in the battle area SOE came under the direct command of Fourteenth Army and XV Corps. From then on SOE parties were specifically tasked to directly support advancing British formations, with a priority being the provision of accurate information leading to successful airstrikes on suitable enemy targets.

The Anti-Fascist Organization and the Burma National Army

A problem that SEAC now had to face up to was how to deal with two Burmese military nationalist organisations that could be of use in the fight against the Japanese, but which also could create significant problems when the British Civil Affairs Service (Burma) took over the administration of the country, and when the Government of Burma returned from exile in India. A policy was needed to enable Force 136 commanders to know how to deal with these organizations on the ground. The Anti-Fascist Organisation (AFO), a collection of anti-Japanese groups, was the easiest to deal with as it agreed to support the Allies with the expectancy that Burma would gain its independence from Britain soon after the end of the war (17). The AFO philosophy was communist, and once Russia entered the war as an Ally the AFO showed little hesitation in supporting Britain and thereby Russia.

The Burma National Army (BNA) presented a more difficult problem. This organization had decided that independence should be obtained by cooperation with the occupying power, Japan. Before the war in Burma commenced Japan had militarily trained 30 Burmese dissidents led by Thakin Aung San (18); after the Japanese invasion these men returned to form the Burma Independence Army (BIA) that was sponsored by Japan. Aung San (19) was appointed to command the BIA and was admitted to the Japanese Order of the Rising Sun, Third Class, with Middle Cords. The BIA actively and brutally supported Japanese military operations in Burma, being re-titled the Burma Defence Army and finally the BNA.


However Eric Seagrim had reported back before his death that Aung San was reconsidering his support for the Japanese, and this led to discussions between General Slim and Aung San (20). Rather late in the day, on 27th March 1945, the BNA, now allied with the AFO, declared for the Allies and attacked Japanese forces in Burma (21). The comments of observers indicate that the AFO put more energy into its aggression than did the BNA (22), which appeared to often operate like bandit gangs. By this time British forces had made such progress that the potential operational contribution of the BNA had greatly diminished.


Planning and communications for Operation CHARACTER

As Fourteenth Army planned its advance south through Burma the decision was made to reach Rangoon before the 1945 monsoon broke; therefore Toungoo had to be taken first in order to split the Japanese forces in Burma and thus prevent an enemy stand north of Rangoon. Force 136 was given its tasks in the Karen Hills under the title Operation CHARACTER:

§ To keep Fourteenth Army informed about Japanese dispositions.

§ To harass the retreating enemy, when called upon to do so.

§ To keep under surveillance from the Karen Hills the road and railway running south from Pyinmana to Pegu.

§ To observe the road from Toungoo in the Sittang Valley through the Karen Hills to Bawlake and Loikaw.

§ To be prepared to oppose Japanese reinforcements coming up from the south or Japanese forces moving down from north and central Burma.


Operation CHARACTER was divided into three zones, north, central and south; in each zone a Special Group reinforced by a Jedburgh Team (23) was to raise guerrilla groups. The strength of a Special Group was between 20 and 25 men and it was designed for offensive action; a Jedburgh Team was usually two officers with a W/T operator and on Operation CHARACTER these teams added leadership and communications support to the activities of the Special Groups that they reinforced. It had been anticipated that the Special Groups would operate under a single command but when the difficulties of command and control were appreciated on the ground this idea was abandoned; also the large south zone was divided into two.

Right: Traffic on a path in the Karen Hills

Wireless communication was a big problem in the field, and although Operation CHARACTER had 26 W/T stations, messages between them often had to be sent by runner with the obvious risk of enemy interception. In Charles Cruikshank's very readable history of SOE operations in the Far East he includes a comment from a Force 136 leader in Karenni: "If the dumbhead responsible for issuing us with Mark II wireless sets for intercom in the field had managed to tear himself away from his club long enough to test them he might have discovered that they would be absolutely bloody, and useless to us."

Another leader in a different area, when commenting on the statement that the W/T sets had been tried out and were equal to the work they would have to do, was more articulate: "This was either a deliberate misstatement or gross incompetence. . . . the B2 was excellent at long ranges and at short ranges up to 15 miles; but that was no help to me when the majority of my out-stations were between 30 and 40 miles away . . . I must draw attention to the fact that the emergency link to Calcutta functioned only so long as the operator (in Calcutta) remained awake. Speaking from memory I do not remember a single occasion when we succeeded in getting through between the hours of 10pm and 7am." However reports from elsewhere in Burma were more positive about SOE W/T communications.

Pre-insertion briefings for Karenni were also widely criticised, and Cruikshank records these comments: "Briefing was entirely inadequate and amateurish." "It is a pity that the briefing staff were not honest enough to admit that they knew nothing and were too damned lazy to find out. Briefing was done from an out-of-date Baedeker to Burma." "Briefing. I hardly know where to begin. Several hours of verbose nothingness left us with the impression that those responsible had not the courage to admit that they had no knowledge of our area or tasks and that they were too lazy to make the necessary effort." However at least one briefer was realistic about the lack of knowledge that he possessed, leading to the comment: "(he was) exceedingly frank about the lack of information concerning the area, and therefore we went into the field realizing that we had to feel our way forward, and find out local conditions as we went along." It is probable that most of the comments recorded by Cruikshank came from men who had recently arrived from SOE operations in Europe, where probably both equipment and tactical information about target areas had been of a higher quality (24).





Parachute insertions and air support in Burma

The Royal Air Force (RAF) provided Special Duties squadrons to support parachute insertions and re-supply drops for Force 136 and the other clandestine organizations. Dakotas were initially flown but as Liberators became available that plane was used but generally for longer-range missions beyond Burma. When simple landing strips could be prepared in Burma, sometimes by using split bamboo as an all-weather surface, light Lysander aircraft were used to deliver individuals and to take out casualties. Of the 27 aircraft lost by 357 and 358 (SD) Squadrons in the Far East during the war only one was brought down by enemy action (25); climatic conditions, mechanical failures and navigational problems on nights when the moon was obscured by cloud probably accounted for the other losses.


Parachutists could be dropped into areas prepared by reception parties or they could be dropped blind; the most secure drops were made in moonlight. Blind drops could face hazards such as fields full of sharpened panji sticks planted by the enemy. At night reception parties would signal by using agreed patterns of lights on the ground; nevertheless unsuspecting villagers would sometimes find themselves receiving drops of food, arms, equipment, and sometimes personnel when their village fires had been mistaken by aircrew for reception signals. If supporting aircraft flew overhead in daylight then a white panel code on the ground could signal requirements; examples were: the letter 'I' requested a W/T set, 'II' requested a W/T operator and 'III' requested a doctor. Bombing targets were indicated by two panels making an arrowhead pointing at the target whilst horizontal strips below them indicated the distance to the target.

Right: A dangerous DZ - protruding burned tree stumps


Whilst British officers commanded the Special Groups other officers in the groups were Gurkhas or Burmese from the Hill Tribes Levies. Indian officers were often selected as Medical Officers. The men were volunteers from Gurkha and Burma Army units and from the Assam Rifles. The soldiers appear to have cheerfully accepted the hazards of parachuting and the RAF methods of parachute training were often very simple. In his book Undercover in the Jungle John Bowen describes how he and his men from a "V" Force unit in Shillong, India, volunteered for Operation CHARACTER and after one day of training that culminated in a successful jump the RAF passed the group as fit to go. The younger men wanted to do more training jumps but the officers realistically decided that further non-operational jumps could lead to injuries and a weaker group. Handguns such as the Colt .45 were worn whilst jumping with longer weapons being dropped in containers. Overall the number of parachuting fatalities during operations in Burma was low.




The CHARACTER jumps and subsequent operations


Charles Cruikshank's history and John Bowen's book allow us to follow the activities of some men who jumped into Operation CHARACTER, whilst gallantry citations available in The National Archives provide descriptions of operational conditions. This allows us to see how some Burmese and Gurkha non-commissioned officers and privates acted very courageously when operating behind enemy lines, as contributions from junior ranks are generally overlooked when histories are written.


Zone WALRUS

In Karenni north zone, known as WALRUS, Lieutenant Colonel John "Pop" Cromarty-Tulloch (26), Corps of Royal Engineers, jumped in with 19 men on 24th March 1945, having departed from Jessore in India. Tulloch had with him in his first wave two majors, a 2nd Lieutenant, three sergeants and 14 men from the Burma Sappers and Miners. Observing that the blindly-selected DZ had been cleared by burning, leaving dangerous tree stumps projecting upwards, Tulloch selected an alternative DZ 13 kilometres south of Loikaw. The pilot went in at 400 feet above ground level which was operationally acceptable, but this presented problems for most of the men jumping as they had little time under their parachute canopies to assess their situations and prepare for landing. One of the Burmese sappers was killed on the DZ and Major P.V. Lewes (27), Army in Burma Reserve of Officers, broke a foot whilst landing. As most of the remainder of the group had suffered minor injuries morale was not high, so the parachutes and stores were hastily cached in adjacent jungle and the group set off for the foothills carrying one week's rations.

Tulloch quickly gained the confidence of local chiefs who promised support. On 26th March his second wave jumped in – three majors, three captains and two sergeants accompanied by a large quantity of weapons. One of the Sergeants, W/T operator Donald Gibbs, later described his landing: "I landed in a tree. The parachute caught in the upper branches and I was left suspended a few feet above the ground and I couldn't get out. Suddenly it all gave way and I fell on my back and into a ditch and lost my pistol. I also broke my glasses. Villagers led me back to the rest of the party and it turned out that the advance party had had casualties. One of the Burmese had been strangled to death. He'd landed in a tree and had been strangled by his kit coming up round his neck (28)."




Above: Sketch of OP CHARACTER Zones
Tulloch quickly established a screen of information providers and his group trained resistance fighters; by early April they were killing Japanese and by the middle of that month 2,000 Karens were under arms and following Slim's order to block enemy movement on the Loikaw-Bawlake road. The WALRUS zone became very active and proved its worth when it slowed down the Japanese 15th Division for a week (combined with the activities of Zone OTTER to its south), allowing the Fourteenth Army to seize Toungoo and block Japanese exits from the hills.


"Pop" Cromarty-Tulloch was awarded a Distinguished Service Order with the truncated citation: In recognition of gallant and distinguished services whilst engaged in Special Operations in South East Asia. (29) However after the war he achieved notoriety by actively supporting Karen resistance to the independent Burma government (30), and ignominy by receiving a civil prison sentence for fraud.



Zone OTTER

In the Karenni centre zone, named OTTER, Lieutenant Colonel Edgar Henry William Peacock MC, a former game warden and Burma Forest Service officer, jumped in with his first wave on 20th February. The story of operations in the OTTER area is encapsulated in the citations for gallantry awards that Edgar Peacock subsequently received.

His Military Cross had been awarded for gallantry whilst on a long-range patrol in the Kabaw Valley as the Japanese advanced in March 1944. (31) Edgar's first award for activities during Operation CHARACTER was a Bar to his Military Cross: In March 1945 Lieutenant Colonel Peacock, after having been parachuted into enemy territory, raised and commanded a group of Karen guerrillas operating in the mountainous country north-east of PEGU. On 14 April he was warned that a Japanese division was moving along an axis running close to his base. The enemy's objective was to link up with the main enemy forces in order to deny us a vital airfield and communication centre. Within twenty-four hours Colonel Peacock had established a number of roadblocks. During the following ten days, by skilful handling of his guerrillas and a nicely timed series of demolitions, he succeeded in preventing the link-up of the Japanese forces. The objective was now in our hands. In this short period his guerrillas killed 114 of the enemy, destroyed a large amount of transport and blew six bridges. Credit for this outstanding performance must go largely to Colonel Peacock whose gallant leadership and sound tactical judgement have been important contributory factors in the success of the main operations. (32)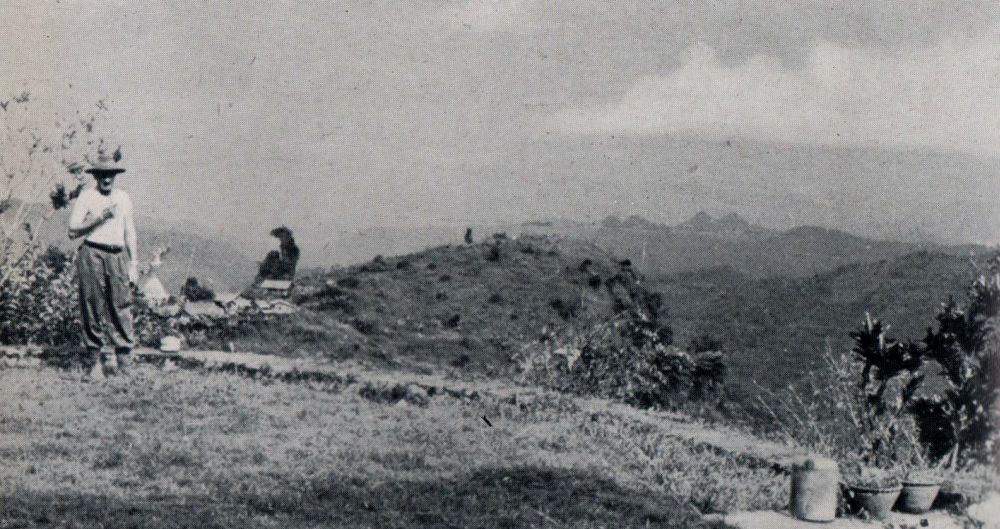 Above: Colonel Peacock at Mawchi.
A Distinguished Service Order was later awarded: During the period under review this officer, who parachuted with a party into the PYAGAWPU QB 63 area in February 1945, has been in command of Operation OTTER operating on the TAUNGOO MAWCHI (33) road which has raised local levies who have killed 2,743 enemy troops and destroyed 94 motor transport (vehicles) besides giving much intelligence of great value to 14 and 12 Army Headquarters. Lieutenant Colonel Peacock has displayed leadership, organising ability and tact in handling the locals, worthy of very high commendation. The outstanding courage and resource of this officer within two months turned a small hunted party into the controlling force over a wide area. (34)



Above: Major Saw Butler DSO MC on the battlefield (courtesy of Chindit Chasing website).
Major Saw Butler (35)MC, a fearless and widely respected Karen officer, jumped in with Edgar Peacock and acted as second in command of Zone OTTER, and his abilities were also recognised by the award of a Distinguished Service Order initiated by Lieutenant General Sir Montagu Stopford, GOC-in-C 12th Army: This officer, who parachuted into the Central Karen area with a Force 136 party for which there was no reception at the end of February 45, has acted as second in command of Operation OTTER. He has shown consistent devotion to duty and, on the numerous occasions in which he has been in action, high qualities of leadership and a cool courage which has been an example to all ranks. A Karen of great influence, he has contributed more to the success of this operation than any other single Officer except the Commander, and I recommend him very strongly for the Distinguished Service Order. (36)




Zone HYENA

Major Rupert Guy "Tough Tim" Turrall MC, Intelligence Corps, commanded Karenni zone south that was named HYENA. He led his first wave in late February 1945 on a jump into the Pyagawpu area (37). Whilst jumping on the second wave at night Captain Duncan Guthrie, a Jedburgh Team officer who had operated in Europe, and a Shan tribesman Rifleman Lu Dan, both broke ankles when landing. Then a British Sergeant W/T operator named Jack Moore burned his hand badly with a phosphorous flare when destroying out of date classified papers. The Japanese heard of the parachute insertions and patrolled into the area, interrogating villagers who quickly hid their women and livestock in the jungle before the Japanese arrived. Turrall arranged for Guthrie, Moore and Lu Dan to be hidden on nearby Mount Plakho whilst he led the remainder of the group off to Kyaukkyi in the Sittang valley, which he attacked and briefly seized. Turrall was wounded in this attack and withdrew his group into the hills to continue recruiting and training.

Duncan Guthrie later described his jump injury: "I was coming down into trees and I remembered somebody saying to me once that if you find yourself falling into trees, you'd be very wise to cross your legs, for obvious reasons. And I thought, 'Yes, I've crossed my legs certainly' and I sailed down. But they weren't trees. In the moonlight they looked like trees but they were little shrubs, about two foot six high, I landed on the ground with my legs crossed and my ankle went just like that. I was in incredible pain and I lay there for a bit and I heard people vaguely shouting for me, and one wondered whether the Japs, who must have heard or seen the parachute operation, were on their way. Then somebody turned up and I gave a shout and said, 'Look, I've broken my leg'.

We all had a little phial of morphine and I found mine and stuck it in my arm, which helped a little bit because the pain was considerable. They made some sort of stretcher and carried me out of the paddy field into the jungle where I was under cover, so to speak, and I was all rather jolly with the morphine by that time. Then as the morphine wore off I became a little more rational, I said to myself and the others, 'You can't carry me, you've got to hide me somewhere. I know you can't carry me. It's quite impossible to lumber yourself with carrying a man flat on his back when the Japs will be up in no time looking for us. You must hide me somewhere and hope for the best'. I was very fortunate that I landed in this part of Burma where the Karens came from and the headman of the village said, 'We will look after him for you'. And for the next three months they looked after me. (38)" Duncan Guthrie's and Lu Dan's broken ankles were roughly set, but imperfectly, and the village headman, Saw Paw Doe, kept moving them on stretchers to hiding places in the jungle where he sent them food and water in hollow bamboo sections. Jack Moore was able to walk with his arm in a sling. Meanwhile the Japanese were scouring the area.



Above: Old and young Karen Levies
The Japanese moved away on 20th April letting Saw Paw Doe organise an elephant to carry Guthrie and Lu Dan to Pyagawpu village where Guthrie received a radio set sent by Turrall, this set was used to arrange a weapons supply drop from three Liberator aircraft. This enabled Guthrie, who could now hobble on his damaged leg, to arm and train a few hundred 'static' levies for area defence and 50 'mobile' levies who were prepared to fight the Japanese anywhere.

On 6th May Guthrie handed over his levies to a "V" Force group of Gurkhas who jumped in led by Lieutenant Colonel C.H. "Jerry" Hayter (39). John Bowen (40) and his men were part of this group and they had expected to land at Pyagawpu, but in fact they landed at Lipeykhi which was four hours walk from Pyagawpu. The pilot made two runs over this DZ, dropping a stick of parachutists on each run; apart from the location being unexpected the jump was uneventful. The RAF's 'one day, one jump' training course had been vindicated. Sixteen days later, after constructing a light airstrip at Lipyeki village a Lysander aircraft landed and lifted Duncan Guthrie and Lu Han out of the Karen Hills (41). Bowen took over command of the 'mobile' levies.



This citation for a Military Medal awarded to one of Bowen's junior non-commissioned officers (NCOs) shows the ability and quality of some of the "V" Force men who volunteered for Operation CHARACTER.

No. 43716 Lance Naik Manbahadur Chetri, 4th Battalion Assam Rifles attached "V" Force: During the period under review 15 May – 15 Aug (1945) this junior NCO was operating with a party of 14 on Parachute operations in the KAREN HILLS in enemy occupied territory. Throughout this period he showed courage and initiative above that normally expected of an NCO of his rank, and under very adverse monsoon conditions, often on short rations. On 5th June at HIKHOLAWDO he ambushed a party of 300 Japs who were attempting to pillage the village, causing them to withdraw leaving 14 dead on the ground. Prior to the ambush he and 4 men had laid up all night at a distance of 200 yards from the Jap bivouac. His cheerfulness and leadership, his loyalty to "V" Force since 1942 has made him one of the many outstanding Assam Rifles we have had under command over a long period. (42)

No. W.785 Signalman Han Chin Lian, Burma Signals, was a tribesman from the Chin Hills of Burma, and therefore eligible to receive the infrequently-awarded Burma Gallantry Medal. His citation reads: . . . this Signalman was operating a wireless with a party of 14 men on Parachute operations in the Karen Hills . . . On 18th June this Signalman was separated from his officer at TIMUKHI when he learned of the approach of a party of approximately 500 Japs. He organised a party of armed villagers on the track in front of the village, buried his wireless set, and ambushed the leading Jap elements, killing 13 and causing the main body to make a diversion onto another track avoiding the village area entirely. On this occasion he showed initiative, resource and offensive spirit much above that which is normally expected of a signalman of his rank. (43)




Above: L-Nk Manbahadur Chettri MM, front 3rd from left, and Karen Levies.
No. 44032 Havildar Bombahadur Gurung, 4th Battalion Assam Rifles attached "V" Force, was recommended for the prestigious Indian Order of Merit but on review by higher authority he received an Indian Distinguished Service Medal: . . . this NCO was in charge of a party of 14 Assam Rifles on Parachute Operations in enemy occupied territory in the KAREN HILLS and was mainly responsible for the protection of a clandestine airstrip at LIPEYKHI. On June 5th and 18th large forces of Japs attempted to cross the airstrip and on both occasions by skilful tactical bluff this Havildar succeeded in giving the impression that the strip was very strongly held and induced the Japs to withdraw. On the first occasion he prevented the capture and destruction of a Lysander aircraft which was stranded with engine trouble. Owing to the British Officer being recalled this NCO was in sole charge of the area from 1 July to 25 August, leading his men and 500 local levies in all their attacks on the enemy. One instance of this was on July 18th when a force of approximately 900 Japs approached this area by an unexpected route. Havildar BOMBAHADUR GURUNG quickly laid over 500 feet of Cordtex line with explosive charges, grenades and booby traps at frequent intervals along a narrow mountain track. As a result approximately 57 Japs were killed and many wounded. The Japs then withdrew and attacked in force causing our party to withdraw. This NCO buried or saved all the equipment and fought a running battle for two days without suffering any casualties, leaving the area very heavily booby trapped. This NCO has been operating with "V" Force in the Field since April 1942. His experience and knowledge in training levies, his leadership, resource and cheerful devotion to duty under all conditions have been outstanding over the whole period. (44)

"Tough Tim" Turrall had been awarded his Military Cross when attached to the Sudan Defence Force in Ethiopia. (45) After Operation CHARACTER he was awarded the Distinguished Service Order: "This officer, who, at the age of 54, commanded the original 'blind' parachute jump of Force 136 personnel to PYAGAWPO on 25 February 1945, organised the reception of operations OTTER and FERRET a few nights later in spite of Japanese forces having arrived in the area from PAPUN. He also organised and trained several hundred Levies who eventually became the hard core of Operation HYENA. On 15 April 1945, he personally led the successful attack on KYAUKKYI which resulted in enemy supplies, spare arms and a W/T set being destroyed. Later he operated in the area East of KYAUKKYI and with his Levies killed over 500 Japanese and gave intelligence for air strikes and artillery which resulted in 924 estimated enemy casualties. For his outstanding powers of leadership and great gallantry shown on numerous occasions I recommend very strongly that this officer be awarded the Distinguished Service Order." (46)


To the east of Zone HYENA a lot of hard work had been performed by a group near the Salween River under Major Saw Ba Chit (47), but he had found it difficult to operate easily against the numbers of Japanese troops moving through the area. Major Roy Wilson moved over with a group of 'mobile' levies to assist in the area, but after a number of successful ambushes Wilson's group was dispersed by the Japanese and had to hide in the jungle. Saw Ba Chit later was awarded Membership of the Order of the British Empire (MBE) and Roy Wilfred Wilson received a Military Cross; neither of the citations have been located.




Zone MONGOOSE


As previously mentioned Zone HYENA was divided into two, and the southern part was named MONGOOSE and commanded by Lieutenant Colonel Ronald Asheton "Ronnie" Critchley MC (48), 13th/18th Royal Hussars. "Ronnie" Critchley later received a Distinguished Service Order with the same truncated citation as did Pop Cromarty-Tulloch (49). An anecdote about a MONGOOSE jump was supplied by W/T operator Sergeant Roger Leney: "I came down and landed with a bit of a bang and I then noticed there were quite a lot of bamboo sticking up in the air from the ground, because the Japanese had stuck these sharpened bamboo spike up all over the field to stop parachute drops. (50)"

One of the Jedburgh Team officers who jumped into MONGOOSE, Captain Anthony Alwyn Edgar "Troff" Trofimov, Royal Artillery, was awarded a Military Cross, and his citation indicates the intensity of some of the fighting experienced on Operation CHARACTER: On 28 Apr 45, during an attack on strong Japanese positions covering the supply base at PAPUN, Captain TROFINOV showed such sustained courage and initiative throughout, that it was an inspiration to all. In spite of the preliminary airstrike being ineffective in reducing heavy enemy fire, he led his half-trained levies in repeated charges, with complete disregard for his own safety, and himself killed 5 Japanese in close combat. Towards the end of the action the enemy succeeded in placing 3 medium machine guns to a flank and enfilading his force. This caused panic amongst the levies, many of whom fled in disorder; but Captain TROFIMOV Rallied those nearest to him, and fought so successful a rearguard action that he succeeded in withdrawing his party without further loss. The success of the entire action which caused the enemy over 50 casualties, was due entirely to Captain TROFIMOV's magnificent example of bravery and dash. (51)

In fact Trofimov's tasking had been too ambitious as his men were not equipped and trained as infantrymen, and when he readjusted his tactics to ambushes and minor operations he was much more successful.




Air strikes and intelligence

It is worthwhile quoting in full the penultimate paragraph in Charles Cruikshank's chapter on Burma: "At first the RAF was critical of the intelligence supplied by Operation CHARACTER, but it quickly improved. A report from 224 Group recorded that in the week before the fall of Rangoon (2nd May 1945) almost all their long-range fighter-bombers were employed on Force 136 targets, and that so many high-grade reports came in that it was impossible to act on them all. There were many notable successes, the principal being an attack on the railway station at Pyu which coincided with the arrival of a troop train and caused over 1,000 casualties. The Group was so impressed with Force 136's later intelligence (52) that they proposed that when operations began in Malaya at least one squadron should stand by to carry out immediate strikes when a mobile target was reported – something that had not been done in Burma. Force 136 for its part said that the RAF could not be praised too highly for its skill in dropping the Special Groups and Jedburghs, in keeping them supplied, and providing arms for guerrillas."

Earlier General Slim had dismissed the SOE sabotage role, stating that unless it was coordinated closely with 14th Army movements it would lose impact; he preferred that targets for airstrikes be provided by Force 136 for the RAF to evaluate and prioritise in the light of current British tactical intentions. Bill Slim's policy was correct, and it worked, thanks to some very courageous information gathering on the ground by Karens and other Burmans.


The end of Operation CHARACTER,

The Force 136 Special Groups and Jedburgh Teams had not enjoyed everything going their own way all the time as Japanese responses had been fierce; WALRUS had surrendered control of the important Bawlake-Mawchi road, OTTER had to limit itself to minor hit-and-run attacks, HYENA had been forced to go to ground after some bitter attacks, and MONGOOSE was driven into the hills after its headquarters near Papun was attacked several times. Also shortage of supply-dropping aircraft had threatened Operation CHARACTER's survival, as 12,000 guerrillas were eventually in the field, multiplying the supplies needed. In early May the monsoon had broken, resulting in miserable living conditions for the Europeans operating in the hills, with consequent exhaustion, physical illnesses and mental strains connected with operating behind enemy lines.

But Operation CHARACTER produced dividends for Fourteenth Army, as in June the guerrillas killed more Japanese than did the regular forces. The last serious military action occurred at the end of July in zone MONGOOSE when remnants of the Japanese 28th Army made determined attempts to raft across the Sittang River from the west and march southwards to Moulmein. MONGOOSE forces had been waiting for this move and they pinned-down the Japanese from trenches on the opposite bank of the Shwegyin Chaung (river), a tributary of the Sittang, fighting very hard for several days and calling in airstrikes that decimated the enemy. The combined Japanese losses to airstrikes and guerrilla actions were well over half of the 3,000 men trying to cross the Chaung.

Despite information leaflets being dropped on the enemy in mid-August advising of the Japanese Government's surrender, fighting around Shwegyin and in other parts of the Karen Hills continued into September. On 16 August 1945 "Tough Tim" Turral walked into his nearest enemy headquarters to tell them that the war was over. He was not believed and the Japanese treated him as a prisoner, roughing him up and marching him south for a couple of days. The Karen who had accompanied Turrall was shot in the back; after a week fresh evidence was dropped by British planes that convinced the Japanese that their Emperor had stopped the war, and Turrall was released. An example of an action occurring in late August can be seen in the citation for an immediate Military Cross awarded to Subedar Major and Honorary Lieutenant Saw Kan Choke BGM (53), 1st Burma Rifles, attached to

Force 136: At DAWRAKHU south-west of LOIKAW, between 23rd and 27th August 1945, Honorary Lieutenant KAN CHOKE commanding one company of Levies withstood repeated attacks by a force of 500 Japanese backed by artillery and mortars. During this action Honorary Lieutenant KAN CHOKE displayed leadership of a high order and a complete disregard of personal danger, which had a most heartening effect on the Levies' morale. On two occasions he rallied his men under heavy fire and it was undoubtedly his example and determination which was mainly responsible for the defeat of the enemy. I recommend him very strongly for the award of the Military Cross.

Operation CHARACTER is credited by SOE as having directly killed 10,964 Japanese, wounded 644, and taken 18 prisoners; many thousands more of the enemy were indirectly killed or wounded in air strikes called by Force 136 (54). General Slim reported: "Our own levies led by their British officers were a most valuable asset and had a real influence on operations. They were tactically controlled by wireless from Army Headquarters, told when to rise, the objectives they should attack, and given specific tasks. They could not and were not expected to stand up to the Japanese in pitched battles but they could and did in places harry them unmercifully. Their greatest achievement was the delaying of the 15th Japanese Division on the Loikaw-Mawchi area, thus enabling IV Corps to reach Toungoo first, but they have rendered almost equally valuable services. They had an excellent jitter effect on the Japanese, who were compelled to lock up troops to guard against attacks on the lines of communication (55)."

And the end of hopes of independence for the Karens

But what is missing from the triumphalism of British histories, reports and books of personal experiences is an accurate account of what resistance to the Japanese cost the Karen people – and not just in combat casualties (56). The withdrawing Japanese were not looking for trouble, but when the Karens decided to fight for the British it was on or adjacent to Karen soil, and the Japanese riposte was to loot and burn villages and to kill the inhabitants. The withdrawing enemy was not a beaten force, and 50,000 Japanese entered the Karen Hills moving in well-organized convoys protected by tanks and armoured vehicles, which the guerrillas found hard to destroy because of a lack of suitable weaponry. The fighting was often intense but the Karens rarely flinched.

It is difficult to ignore the fact that the Karens, and the other hill tribes who rose when requested, were regarded as expendable by the British hierarchy including Force 136. W/T operator Sergeant Glyn Loosmore later commented on a zone MONGOOSE supply drop: "Another group came in a couple of days after us, and we had an accident then. The Japanese weren't far away and we mined the path that they would have to come along if they hoped to attack us. When the containers came floating over, one of our helpers, a villager, went charging up this path and of course a mine blew up and blew his leg off. We didn't know quite what to do about this. The poor chap was desperately injured. He wasn't one of ours, he was just a helper, and if the Japanese heard about this they could interrogate him. We just couldn't spend much time looking after him and we had an Indian doctor with us and the officer in charge of the drop wanted the doctor to kill this chap, to put him out of his misery. The doctor was saying, 'No, no, my oath, my oath, I can't do that kind of thing.' The poor chap died while we were arguing about him, so that was the end of the problem." (57) Compare that incident with the spontaneous reaction of a Karen headman to look after the injured Duncan Guthrie in Zone HYENA.

Whilst the above incident was a battlefield situation where pragmatism had to be applied before sentiment, the feelings of the Special Group are clearly described. The post-war British government also made its feelings clear when it negotiated Burmese independence with Aung San in London for the Aung San-Attlee treaty, as none of the ethnic minority groups were included in the meetings. London did not want issues of autonomy or separatism to be raised, and the former British guarantees of protection from the lowland Burmese counted for nothing. The following month at the Panglong Conference (58), when an agreement was signed between Aung San as head of the interim Burmese government and the Shan, Kachin and Chin leaders, the Karen were present only as observers. In January 1949 the Karen National Union rebelled against the Burmese government, and warfare returned to the Karen Hills.

Both the Naga hill-tribesmen of northeast India and the Karen of Burma fought shoulder to shoulder with the British against the Japanese. Many others did not or else collaborated with the enemy. After the independence of India and Burma both tribes found themselves dumped into alien cultures that regarded them as inferior. In some cases, particularly for the Karen, they suffered at the hands of former enemy sympathisers or collaborators, and rebellion was not long in coming to both tribes.

Britain's ignominious scuttle away from its Imperial obligations saw the hasty and often dubious dismantling of protectorate arrangements from Barotseland to Burma – there were no limits to the perfidy of Albion.




Endnote

Readers may be interested in the activities of Help for Forgotten Allies, see: http://www.h4fa.org.uk/about-us and its Facebook page, see: https://www.facebook.com/Help4ForgottenAllies as this appears to be a very worthy and well-administered organization. The annual visit report for 1915 is well worth reading in full. This charity is supported by the Special Forces Benevolent Fund.

SOURCES: (the most economically priced are shown)

Bailey, Roderick. Forgotten Voices of the Secret War. An inside history of special operations during the Second World War. (Ebury Press, 2008).

Bowen, John. Undercover in the Jungle. (William Kimber, 1978).

Clifford, Francis. Desperate Journey. (Hodder and Stoughton 1979).

Cole, Kevin and others. History of Military Operational Parachute Jumps. Available at: http://kdcnova.com/CJR_2013_Files/Combat_Jump_Record_03.07.2013.pdf

Cruikshank, Charles. Special Operations Executive in the Far East. (Oxford University Press, 1983, paperback edition).


Grehan, John and Mace, Martin. The Fall of Burma, 1941-43. Despatches from the Front. (Pen & Sword Military, 2015).

Guthrie, Duncan. Jungle Diary. (Macmillan, London 1946).

Kirby, Major General S. Woodburn. History of the Second World War. The War Against Japan. Volume IV. The Reconquest of Burma. (Paperback Naval & Military Press reprint.)

Latimer, John. Burma. The Forgotten War. (John Murray, 2004).

London Gazette No. 37780 pages 5465-8. Recognition of Gallantry and Distinguished Services whilst engaged in Special Operations in South East Asia. https://www.thegazette.co.uk/London/issue/37780/data.pdf

O'Brien, Terence. The Moonlight War. The Story of Clandestine Operations in South-East Asia, 1944-5. (Collins, London 1987).

Thompson, Julian. The Imperial War Museum Book of War Behind Enemy Lines. (Sidgwick & Jackson 1998).

Tillotson, Michael (editor). SOE and The Resistance. As told in The Times Obituaries. (Continuum International Publishing Group, 2011).

(An edited version of this article appeared in a recent edition of Durbar, the journal of the Indian Military Historical Society: http://imhs.org.uk/ ).

1- H.N.C. Stevenson. Formerly a Captain in the Army in India Reserve of Officers. He wrote a war-time information booklet titled The Hill Peoples of Burma (Longmans Green & Co. London, 1945) which is available on ABE Books website.
2- 'In 1939 the Burma Defence Force included only 372 Burmans but 3,197 Karens, Chins and Kachins.' (Jon Latimer's Burma. The Forgotten War page 20.)
3- Lieutenant General The Honourable Sir Harold Alexander.
4- WO 373/79 Pt.2
5- James Nimmo was a member of the Army in Burma Reserve of Officers with the regimental number ABRO/ 274. He walked out of Burma in 1942 – see footnote 11 below.
6- The Burma Regiment was formed in India on 1st October 1942, mainly from non-Burmese survivors of the retreat from Burma. See: http://homepages.force9.net/rothwell/burmaweb/BurmaRegt.htm
7- WO 373/31/239
8- WO 373/31/240
9- His regimental number was ABRO/441.
10- The Commonwealth War Graves Commission records the date of death for both men as 15th February 1944. Both officers were later Mentioned in Despatches.
11- In 1942 Saw Ba Gyaw had walked up to Fort Hertz in northern Burma with Jimmy Nimmo – see Desperate Journey by Francis Clifford, the pseudonym of Captain Arthur Leonard Bell Thompson who commanded the walk-out party and received a DSO for his gallantry. In December 1944 Subedar Saw Ba Gyaw, 1st Battalion Burma Rifles seconded to Burma Levies, was awarded a Burma Gallantry Medal posthumously with the citation: This officer was in command of a platoon and company. Throughout the whole period referred to (April 1st – 5th 1942) from Toungoo to Mawchi he was almost continually in action, and displayed the highest courage and tenacity of purpose at a very critical time. He was always to be seen urging his men on to greater efforts and was entirely responsible for the very fine showing of his platoon when it was much reduced in strength through casualties. At the Chi Chaung on the night of April 3rd-April 4th he personally directed the fire of his platoon onto two enemy mortars which were causing the company much concern and put them out of action. Later the same night he remained in position with his two remaining sub-machine gunners and engaged the enemy whilst the company withdrew to another position, rejoining his platoon the next morning. I recommend this award very strongly. The delaying action of which the actions noted herein were part, was of critical importance to the whole Burma campaign and unquestionably saved the British and Chinese armies from encirclement. This Governor's Commissioned Officer's courage and leadership were outstanding in a small and heavily outnumbered and out-gunned group whose actions as a whole were of the highest order. The consequence of his bravery was enormous, and the time at which he displayed it, when death or capture seemed to be the only alternative left, enhances his resolution and leadership. This Governor's Commissioned Officer belonged to a Burma Rifles company of Karens transferred to the Burma Levies under the command of Captain Thompson. Signed H. Stevenson, Late Lt Col Commandant Burma Levies.
12- Grave markers for Hugh Seagrim, Saw Ba Gyaw and Jimmy Nimmo are in Rangoon War Cemetery. Eric McCrindle is named on the Rangoon Memorial.
13- https://www.thegazette.co.uk/London/issue/37720/supplement/4573/data.pdf
14- In a footnote on page 186 Cruikshank states that there were misgivings in the SOE Council in London about the Force 136 Special Groups raising guerrilla bands on the grounds that this task was not genuine special operations. However the Head of SOE, General C. McV. Gubbins, ruled that the task was relevant when it made use of previously acquired knowledge and contacts.
15- Intelligence cannot be easily gathered or collected as it is usually a product of the collation and analysis of various pieces of graded information.
16- A brief history can be seen here: http://www.combinedops.com/COPPs.htm
17- The British policy at this time was to offer to grant self-government to Burma within the British Commonwealth.
18- Aung San's daughter, Aung San Suu Kyi, is a current Myanmar politician and a recipient of the Nobel Peace Prize. After the war Aung San became the Burmese political leader, successfully negotiating a full independence agreement from Britain, but he was assassinated on 19th July 1947 before independence had been achieved.
20- During the Japanese occupation Aung San had allegedly knifed a restrained village headman to death in front of a large crowd, and the Governor in exile of Burma, Sir Reginald Dorman-Smith, was of the opinion that after the war Aung San should be arrested for murder. The military leaders in SEAC and 14th Army saw such legal niceties as impediments to the current war effort.
21- Force 136 personnel dropped in teams to support the BNA/AFO rising found that the AFO got on with the job but the BNA would not make a move without Aung San's prior approval.
22- The Burma National Army and the Anti-Fascist Organization are credited with having killed 4,000 Japanese (Cruikshank, footnote on page 190). How this figure was arrived at is not explained.
23- The Jedburgh Teams had been recently transferred from Europe where they had taken part in a number of SOE operations behind enemy lines.
24- Some of the frustrations felt by the Jedburgh officers on arrival in India are recorded in Chapter12, Burma and South-East Asia: Small Operations, in Julian Thompson's War Behind Enemy Lines.
25- Shot down in a daylight flight over Siam.
26- "Pop" Cromarty-Tulloch, like several of his contemporaries, had first fought in Ethiopia. Doubtless his nickname derived from his age, as he had served as a Sapper officer in World War I.
27- His regimental number was ABRO/28. Major Lewes was later Mentioned in Despatches.
28- Extracted from Roderick Bailey's Forgotten Voices of the Secret War. An inside history of special operations during the Second World War.
29- https://www.thegazette.co.uk/London/issue/37780/supplement/5466/data.pdf
30- John Cromarty-Tulloch DSO was caught in Calcutta in 1948 organizing an arms shipment to Karen rebels (refer to The National Archives FO 643/119, and Pol Ext 6239/49). On 9th September 1952 he was removed from the Army on conviction by a Civil Power as he had been convicted of the fraudulent conversion of money entrusted to him for the education of a Karen boy in the UK, and he was sentenced to 18 months' imprisonment (refer to The National Archives KV 2/3862, KV 2/3863, KV 2/3867, KV 2/3868 and KV 2/3869).
31- WO 373/34/230
32-- WO 373/41/10
33- Mawchi was east of Toungoo near the Salween River.
34- https://www.thegazette.co.uk/London/issue/38079/supplement/4516/data.pdf
35- Saw Butler's ABRO Number was 626.
36- Saw Butler received the Military Cross when working out of Fort Hertz with the North Kachin Levies. The citation read: During the period 16th November 1943 to 15th May 44 Captain Saw Butler has commanded the forward troops on the main road sector. During this period he has displayed courage initiative and leadership of a high order. He has led offensive patrols against the Japs and personally killed four and he has conducted ambushes which have resulted in some 100 casualties to the enemy.
37- Terence O'Brien, a flight commander in one of the RAF SD squadrons, vividly describes this and several other Operation CHARACTER drops in his book: The Moonlight War.
38- Extracted from Roderick Bailey's Forgotten Voices of the Secret War. An inside history of special operations during the Second World War.
39- "Jerry" Hayter's Daily Telegraph obituary is here: http://www.telegraph.co.uk/news/obituaries/military-obituaries/gurkha-obituaries/5250592/Lieutenant-Colonel-CH-Jerry-Hayter.html
40- In Guthrie's book Jungle Diary he appears to refer to Bowen as 'Major Gebhard'.
41- The reason for Bowen being dropped on the wrong DZ was that Guthrie had instructed the Lipyeki headman to lay out DZ markers for a drop of tools, and those markers were the same letters as were used at Pyagawpu.
42- WO 373/43
43- WO 373/43
44- WO 373/43
45- https://www.thegazette.co.uk/London/issue/35269/supplement/5207/data.pdf
46- See information from the Military Intelligence Museum: http://www.militaryintelligencemuseum.org/displays/displays-content/?sectionID=9
47- Saw Ba Chit's ABRO Number was 763).
48- "Ronnie" Critchley had been awarded his Military Cross when serving with Mission 101 in Ethiopia. https://www.thegazette.co.uk/London/issue/35059/supplement/614/data.pdf
49- https://www.thegazette.co.uk/London/issue/37780/supplement/5466/data.pdf Both original citations appear to have been mislaid although "Tough Tim" Turrall's has been acquired by the Museum of Military Intelligence, and he appeared in the same London Gazette Supplement.
50- Extracted from Roderick Bailey's Forgotten Voices of the Secret War. An inside history of special operations during the Second World War.
51- WO 373/41/23
52- Refer to pages 314-5 of John Master's The Road Past Mandalay (Cassell Military Paperbacks, 2012) for details of an extremely detailed intelligence report submitted by Force 136 during Operation CHARACTER.
53- Saw Kan Choke had marched up to Fort Hertz in 1942 with Saw Ba Gyaw and Jimmy Nimmo – see footnote 11 above. He parachuted back in to Karenni with OPERATION CHARACTER. In November 1946 he was Mentioned in Despatches. The citation for his Burma Gallantry Medal reads: This officer was 2nd-in-command of a company. Throughout the period of action referred to (April 1st – 5th 1942) he was in the forefront of the battle, and at a time when British and Chinese troops were everywhere in retreat, he set an inspiring example to the whole company and was very largely responsible for the high morale of this small and greatly outnumbered unit during its withdrawal along the TOUNGOO-MAWCHI road. At the Pathe Chaung on the night of April 1st/2nd he took personal command of the 3 forward platoons and and successfully engaged a force of some 800 Japs supported by armoured cars for 4-5 hours in spite of heavy casualties, thereby gaining sufficient time for the preliminary road demolitions to be blown. I recommend this award very strongly. Captain Thompson and his company were transferred to the Burma Levies, of which I was then Commandant, at the beginning of the Japanese attack on Toungoo. The delaying action, of which this particular action was a critical part, was of critical importance to the whole Burma campaign, since it gained sufficient time for the Chinese forces in the Southern Shan state to regroup to regroup to meet the enemy's encircling move via LOIKAW-TAUNGYYI aimed at cutting off the British and Chinese forces in Central Burma. I cannot praise too highly the courage and leadership of this Governor's Commissioned Officer during one of the blackest periods of the Burma campaign. His action was of the highest consequence to our effort. Signed H. Stevenson, Lt Col, late Lt Col Commandant Burma Levies.
54- Charles Cruikshank on his page 190 quotes these figures as a summary of casualties inflicted IN THE WHOLE OF BURMA by Force 136: 16,879 Japanese killed, 995 wounded and 285 prisoners taken. Thus Operation CHARACTER personnel were responsible for roughly two thirds of the casualties inflicted on the enemy in the theatre during Force 136 operations.
55- The National Archives CAB 106 48 page 29. Account of operations of Fourteenth Army 1944-1945, by Lieutenant-General Sir W. J. Slim, General Officer Commanding.
56- This writer has been unable to find Karen casualty statistics. The Karen guerrillas recruited during Operation CHARACTER do not appear to have been eligible for British war medals, and the Commonwealth War Graves Commission does not appear to record Karen guerrilla dead.
57- Extracted from Roderick Bailey's Forgotten Voices of the Secret War. An inside history of special operations during the Second World War.
58- In the Shan States, Burma.