The Indian Ocean 1942


Introduction

In 1942 two unrelated mutinies occurred on remote British islands in the Indian Ocean. In both cases the mutineers were Asian artillery gun crews who in one incident killed all the British European soldiers with them, and in the other incident killed one of their own countrymen. Whilst the first mutiny appears to have been motivated by self-interest, the second mutiny appears to have been a result of successful anti-Imperial propaganda expressed by the ringleader. In both incidents British military justice was applied, but in only one of the events was capital punishment carried out.


Christmas Island

Eleven hundred kilometres (700 miles) south of Singapore lies Christmas Island, which in 1942 was known principally for its phosphate deposits. The inhabitants, mainly Chinese with some Malay, numbered around 1,300 and were mostly employed in extracting phosphate for a London-based company. The island was part of the Straits Settlements of Malaya and a British Colonial Officer, T.P. Cromwell, was in charge supported by a few armed Sikhs of the Straits Settlements Police.

The Heavy Battery, 7th Coast Regiment, Hong Kong and Singapore Royal Artillery, posted a detachment to the island consisting of one British and one Indian officer, four British Non-Commisioned Officers (NCOs) and gunners, and 27 Punjabi NCOs and gunners. The British officer was Captain L.W.T. Williams and the Indian officer was Subadar Muzaffar Khan. The detachment manned a 6-inch gun manufactured in 1900 that had been mounted on the island in 1940.

In early March 1942 a passing Japanese naval squadron bombarded Christmas Island with 15-inch guns. Little damage was done but Captain Williams decided that resistance was futile and he displayed a white flag and ordered the stripping down of the gun; however on that occasion the Japanese were not interested in landing and after using the island for gunnery practice the squadron sailed away. Williams quickly re-assembled the gun and re-displayed the Union flag, but his actions had unsettled the Punjabi gunners who began to discuss their future when the Japanese returned to occupy the island. By then Singapore was in Japanese hands.

On the evening of 10 March Williams and his four British artillerymen (Sergeant W. Giles, Lance Sergeant G.H. Cross and Gunners J. Tate and G.S. Thurgood) attended a party with other Europeans on the island and then went to bed before midnight. At around 0230 hours on 11 March a group of Punjabi mutineers, probably with the tacit support of some or all of the Sikh police, shot and killed the five Europeans and threw their bodies into the sea. Subadar Muzaffar Khan and other unarmed non-mutineers ran into the bush on hearing the firing, but the mutineers called them back threatening to kill the runaways if they did not return. The following day the inhabitants of Christmas Island were ordered by the mutineers to not interfere in any way until Japanese troops arrived. Colonial Officer T.P. Cromwell and the civilian expatriates were imprisoned in Cromwell's house.

It appears that the mutineers, led by Havildar Meher Ali and Naik Ghulam Qadir, wished to ingratiate themselves with the Japanese. However when Japanese troops did occupy the island on 31 March they congratulated the mutineers but were not overly impressed by the mutinous actions, and all the Punjabis were treated as prisoners of war and shipped to Surabaya in Java.



Cocos-Keeling Islands

Meanwhile 900 kilometres (550 miles) to the southwest trouble was brewing in a gun battery on Horsburgh Island, one of the Cocos-Keeling Islands. Here a detachment of No 1 Coast Regiment of the Ceylon Garrison Artillery was manning two 6-inch guns. Captain George Gardiner, a wartime-commissioned former Colombo accountant, commanded around 75 soldiers of the Ceylon Defence Force. An infantry platoon of the King's African Rifles was nearby as was a Ceylon Light Infantry detachment, and around 1,400 mainly Malay civilians inhabited the islands.

Both Gardiner and his second-in-command, Lieutenant Henry Stephens, practiced authoritarian leadership styles that appear to have been based on issuing formal orders and then using strict disciplinary measures to ensure compliance. This caused dissatisfaction and frustration amongst the war-time volunteer gunners, and when Japanese propaganda broadcasters such as Tokyo Rose used slogans stating "Asia for the Asians" feelings of resentment towards the officers built up amongst some of the Singhalese gunners.

Bombardier Gratien Hubert Fernando was a Singhalese independence activist influenced by the Trotskyist Lanka Sama Samaja Party, which sought an end to British rule over Ceylon. Fernando soon established a following amongst some of the gunners on Cocos Island who liked his rhetoric. He planned a non-violent mutiny that would capture Gardiner, Stephens and the Singhalese non-mutineers and then use the 6-inch guns to seize military control of the neighbourhood. Then a signal would be sent to the Japanese on Christmas Island inviting them to come and take over. The difficulties attached to achieving all these aims were not seriously queried by Fernando's co-conspirators, who blindly followed him.


On the night of 8 May 1942 the mutineers acted and started disarming the gunners not in the plot. However during this activity one non-mutineer, Gunner Samaris Jayasekera, was shot dead; Fernando then tried to shoot down other resisting non-mutineers with a Bren gun but the gun had a stoppage that Fernando could not or did not remedy. The mutiny ended at this point and Fernando and his mutineers negotiated a surrender to Lieutenant Stephens.

The Christmas Island mutiny trials

After the defeat of Japan and the release of both the Punjabi murder suspects and of military and civilian witnesses, legal proceedings commenced in Singapore against the Christmas Island mutineers, except for Havildar Meher Ali who was never found. However the accused could not be charged with murder as over three years had elapsed since the event, and so the charges were of mutiny with violence. The initial defence argument was that mutiny could not have occurred because Captain Williams had previously raised a white flag which was an act of unconditional surrender, and so Captain Williams had ceased to be the lawful military authority. This argument failed.

After many affirmations and challenges over which gunners actually killed the British soldiers, on 13 March 1947 five of the Punjabis were found guilty and sentenced to death by hanging. One other man was convicted and sentenced to two years imprisonment without hard labour plus discharge with ignominy. The Punjabis sentenced to death appealed from Tanglin Detention Centre, Singapore, claiming that in fact the prosecution witnesses were the murderers, and that the evidence presented by these witnesses was only circumstantial anyway. The appeals failed.

Subsequently another alleged Punjabi mutineer, Sultan Mohammed, was apprehended in October 1947. He was tried by separate Court Martial, found guilty, and also sentenced to hang.

Although His Majesty the King confirmed the death sentences on 13 August time had run out for the hangings to take place before Pakistan and India gained independence. Politics now took over and on 8 December the death sentences were commuted to penal servitude for life. After further legal arguments between Britain and Pakistan about where the imprisonments should take place (Britain demanded that a full nine years had to be served) the six prisoners were transferred to Pakistan in June 1955, and British interest in the matter then officially ceased. Meher Ali remained at large.


The Cocos-Keeling Islands mutiny hangings

There was no delay in trying the Singhalese mutineers on Horsburgh Island by a local Court Martial, and on 16 May seven men were found guilty on three charges, including causing a mutiny or conspiring to cause a mutiny in His Majesty's Forces, and were sentenced to death; four others were sentenced to penal servitude or imprisonment with hard labour. Captain Gardner wished to immediately execute the condemned men but Ceylon Army Command ordered the return of the seven to Ceylon. There the Court Martial findings were adjusted so that three men were confirmed to die whilst the other four received extended jail sentences.


Left: Cocos Island Atoll

Leading local political figures in Colombo and family members pleaded for clemency to both the Governor, Andrew Caldecott, and the Commander-in-Chief, Admiral Geoffrey Layton, but on 5 August 1942 Bombardier Gratien Hubert Fernando was hanged at Welikada Prison and shortly afterwards so were Gunners Carlo Gauder and Benny de Silva. It appears that these three Singhalese gunners were the only British Commonwealth troops to be executed for mutiny during the Second World War.


Conclusion

There is little doubt that the speedy and successful Japanese invasion of European colonial territories in Asia freed many Asians of feelings of fear and awe towards their colonial rulers, and sometimes inspired them to use violence against those rulers. There is also little doubt that on both Christmas and Horsburgh Islands the British officers in command could have usefully worked towards appreciating the apprehensions, doubts and general feelings of their own gunners; but they did not, and the result in both cases was unexpected and violent mutiny.

Captain L.W.T. Williams, Sergeant W. Giles, Lance Sergeant G.H. Cross and Gunners J. Tate and G.S. Thurgood are commemorated on the Singapore Memorial in Kranji War Cemetery, Singapore. Gunner Mahadura Samaris De Silva Jayasekera is buried in Kranji War Cemetery.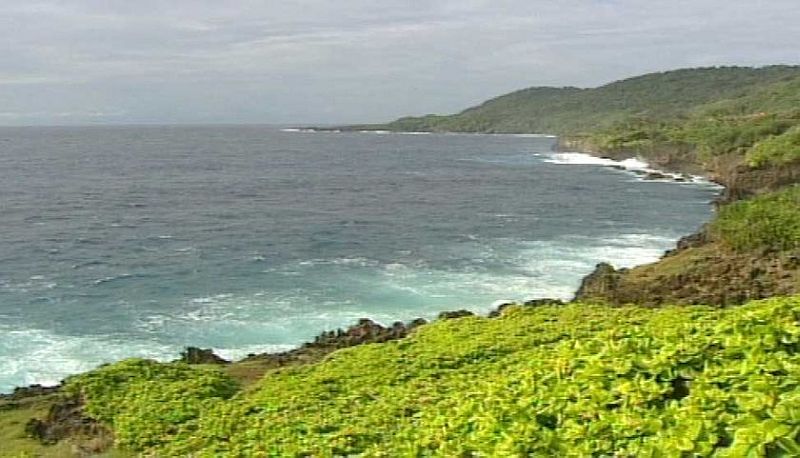 Above: Christmas Island Coastline

Footnote:

The gun and gun position on Christmas Island have been recently re-furbished, see:

http://www.defence.gov.au/news/armynews/editions/1059/topstories/story28.htm

(An edited version of this article appeared in a recent issue of Durbar, the journal of the Indian Military Historical Society, see: http://imhs.org.uk/ )

SOURCES:
--Gerry R. Rubin. Murder, Mutiny and the Military (Francis Boutle Publishers 2005).
--Noel Crusz. The Cocos Islands Mutiny. (Fremantle Arts Centre Press 2000).
--Barry Renfrew. Forgotten Regiments. Regular and Volunteer Units of the Far East. (Terrier Press 2009).
--General Sir Martin Farndale KCB. History of the Royal Regiment of Artillery. The Far East Theatre 1941-46. (Brassey's 2000).

To return to Harry's Sideshows click HERE