To return to part 1 HERE

Marching into northwest Dutch Borneo

The slimmed-down Sarfor marched along jungle tracks towards Sanggau, arriving there on 29th December. At Sanggau the first of many uncomfortable and unfriendly encounters with the Dutch armed forces occurred when Sarfor had to wait several hours before it was permitted to cross the final river. (11) However at the Singkawan II airbase good accommodation was found in barracks built for RAF personnel, and food and clothing could be obtained. Sadly the Dutch troops on the airbase appeared lax, one Punjabi observer reporting that the locally enlisted men looted buildings whilst the Europeans drank heavily. Colonel Lane signalled Singapore requesting that the Punjabis be withdrawn from Borneo and employed on operations elsewhere but the response received stated that from now on the Battalion was under Dutch command. The civilians and surplus administrative troops in Sarfor were ordered to proceed to Pontianak for evacuation to Java. (12) The local Dutch commander, Lieutenant-Colonel Mars, agreed that the Punjabis could remain in their barracks until 4th January to recuperate after their strenuous march.

An inventory of the Battalion weaponry made at Singkawan II listed 603 rifles, 21 Bren guns, 21 sub-machine guns, 2 Lewis guns, 2 Browning machine guns taken from a crashed Dutch plane, 31 revolvers, 54 hand grenades and 53,000 rounds of small-arms ammunition. All the support weapons had been dumped in the river at Batu Kitak. Lieutenant-Colonel Ross-Thompson re-organised the remaining Punjabis as far as he could, using the previous four class-company composition. Captain Chapman commanded 'B' Company whilst the Adjutant, Captain Temple, took over command of 'C' Company.


Left: Subedar Kartar Singh k.i.a. Sanggau 26 Jan. 1942


Relations with the Dutch chain of command remained difficult, with Colonel Lane often receiving conflicting orders from two different commanders. The Dutch did not wish to disclose their own deployment details to the British, and in small operations that took place as the Japanese pushed through the border area there were criticisms from the Punjabis that the previously agreed support required from Dutch troops did not appear. Perhaps one reason for the perceived Dutch failings was that their tactics were based on counter-insurgency operations rather than general warfare. However it is fair to say that insofar as confusion reigned along the Dutch chain of command, it was matched by the British in Malaya and Singapore. Very few Allied commanders and their troops were physically or mentally prepared to fight effectively against the Japanese in 1941.

One useful piece of support provided for the Battalion was that on 31st December three Blenheim aircraft from Singapore dropped 400 kilograms of rations for the Punjabis onto Singkawan II.


The defence of Sanggau

From 5th January the Dutch command deployed detachments of Punjabis along the tracks that led to the Sarawak border. Captain Philip Crosland, commanding 'D' Company, and 2/Lieutenant R.W. Large (ex-Sarawak Rangers) commanding a platoon of 'A' Company, fought rear-guard actions as the Japanese advanced. Japanese casualties were numerous but Punjabi casualties were light as the Punjabis had the advantages of surprise when patrolling and ambushing and prepared positions to fight from when defending. Jemadar Badlu Ram was killed during one of these contact. 2/Lieutenant Reginald William Large, formerly commanding Sarawak Rangers with the local rank of captain, was later awarded a Military Cross:


"This officer led a patrol of the 2/15 Punjab Regt against the Japanese at Jagoi Babang, on the Sarawak – Dutch West Borneo border, on the 19 January 1942. His patrol reached to within 50 yards of the enemy, on whom over thirty casualties were inflicted. The Indian officer with the patrol was killed (13) and after a time the patrol was forced to retire. It was not until later that 2/Lieut. Large became aware that the Indian officer's body had not been recovered. This officer, then, at the risk of his life returned to the scene of the action. Not only by this but by his gallant conduct throughout the fight, he earned the admiration of all. He is recommended for the award of the Military Cross." (14)


Above: Allied map of Borneo
By the end of January the Japanese had reached Paling, located just before Sanggau. Captain Fairburn's Sikh 'A' Company put in an attack that seized the first enemy trenches but which ultimately failed when the planned Dutch flanking movement fell apart in a Japanese ambush that killed the Dutch commander. Badly sited and poorly controlled Dutch heavy mortars wounded Dutch soldiers and Punjabis alike and killed Subedar Kartar Singh. The son of Kartar Singh was serving in the Battalion and he performed his father's funeral rites.

During the next day the Japanese tried to break through to Singkawang II airfield. Their progress was blocked by Subedar Faramurz Khan and two platoons of Punjabi Musalmans from 'B' Company. Faramurz Khan exhorted his men to fight to the end. After an all-day action the Punjabis were finally overrun in the early evening, having expended their ammunition. Faramurz Khan and many of his men were already dead but the Japanese were angry and vengeful because of the 400 or more casualties that they themselves had suffered. Only three Punjabis from these two platoons were seen again, and one of them, Lance-Naik Sher Khan, later reported that the Japanese wired together the prisoners taken, doused them in petrol and burned them to death.


Japanese landings on the west Borneo coast

Right: Japanese troops with commandeered bicycles Singkawang, Dutch West Borneo (Kalimantan) 1942

Whilst Faramurz Khan and his men fought to the death at Sanggau the Battalion and remaining Dutch forces completed the demolition of Singkawang II and withdrew to the south-east towards Sampit. Meanwhile Japanese landings took place on the coastline to the west, causing the Dutch command to issue wild and impossible orders to Colonel Lane. From now on the Punjabis fought rear-guard actions mostly by themselves, as the Dutch units tended to pull out before contact with the enemy was made. On 28th January Captain Temple's Khattack 'C' Company fought a delaying action on the Penaring Pass, killing many Japanese troops who advanced on bicycles to within 125 metres of the Punjabis' positions. However the position could not be held as the Dutch troops initially located there had already left the scene. 'C' Company withdrew in good order.

The situation was slightly better at Bengkajang that evening where 'C' Company was joined by a Jat platoon from 'D' Company and a Dutch platoon. The Japanese attacked and were repulsed, having suffered heavy casualties; the surviving enemy soldiers were bogged down in rice fields under the Punjabis effective Bren gun fire. But the Dutch platoon withdrew without good reason and full advantage could not be taken of the enemy's disorganisation. 'C' Company withdrew again and joined the remainder of 2/15th Punjab Regiment at Ngabang. The ammunition state of the Battalion was 60 rounds per man and one fully charged magazine for each Bren gun; there were no reserves of ammunition and the clothing and boots of the sepoys were worn out. At Ngabang Colonel Lane decided to withdraw the remaining men of Sarfor to the south Borneo coast with a view to arranging an evacuation to Java. Colonel Lane had been seriously ill with malaria since mid-January and he was not fit to march further, and so the Dutch agreed to evacuate him by air to Java along with some senior Dutch officials. However the seaplane took off before Colonel Lane reached its river mooring, leaving the Colonel to make his own way to the south coast.



The march to south Borneo

Although the Punjabis did not yet know it, they had fought the last of their major actions against the Japanese; what lay ahead of them was an exceedingly tough march through wet and often inhospitable jungle. Lieutenant-Colonel Ross-Thompson visited Lieutenant-Colonel Mars and stated his plan to withdraw to the south Borneo coast. This was not part of the Dutch scheme, as it appeared to Ross-Thompson that Mars wished the Punjabis to draw the Japanese after them inland, whilst the Dutch troops marched to Ketapang on the west coast along a route previously stocked with supplies. Ross-Thompson declined to follow Mars' advised route and organised Sarfor into two columns that were to march separately to Sampit and Pangkalanboen respectively:

West Column
'A' and 'B' Companies and part of Headquarters Company under Major Milligan, with eight other British officers, eight Indian officers and 344 other ranks.

East Column

'C' and 'D' Companies and remainder of Headquarters Company under Lt-Colonel Ross Thompson, with nine other British officers, five Indian officers and 349 other ranks.

There was also a 'Blitz Party' commanded by Captain N.S. MacArthur, of another officer and four other ranks whose task was to move rapidly to Sampit and make contact with the British HQ in Java either by radio or small boat. These men achieved their mission by marching over 160 kilometres in five days and then finding a useable radio, but in the event the seaplane that had taken off without Colonel Lane had forewarned Java of the Battalion's intentions.

Nearly a month later, after epic treks and river crossings, both East and West Columns reached their destinations. Apart from a lack of rations, foraging in villages having produced very little spare food, mosquitoes, leeches, soldier ants, snakes and wild bees attacked the men. Many weapons were lost on river crossings when homemade rafts capsized. By now most of the sepoys were physically shattered and debilitated by lack of food, and those who fell out on the march faced an uncertain future as many villagers were unfriendly towards Europeans. In the larger towns anarchy reigned. Local members of the Dutch forces deserted and armed civilians attacked the remaining Europeans and looted offices and stores.

Both columns travelled down rivers when possible on rafts or launches supplied by co-operative Dutch officials. When near the coast at Sampit a Japanese force landed ahead of East Column and two Khattack patrols fought a delaying action to allow the remainder of the column to withdraw, but even so many men were left behind, some too exhausted to move quickly. The Japanese soon rounded them up. The remainder of East Column then marched westwards to join West Column near Pangkalanboen.

A staff officer arrived from Java to advise that the Punjabis were not to be evacuated but were initially to defend Kotawaringen airfield and then to operate in the interior as guerrillas, along with a Dutch unit. The troops were to 'live off the land'. But this plan came too late to be viable. The Battalion was no longer physically capable of facing the exertions and privations that jungle-living would impose upon it. This staff officer also broadcast the intentions of East and West Columns throughout the area, perhaps in a misguided attempt to make contact with everybody, but his efforts only resulted in the Japanese becoming aware of Sarfor and its intended movements. Events had moved rapidly and disastrously for the Allies, and the Netherlands East Indies capitulated to the Japanese on 8th March.

Six courageous officers from the Sarawak State Forces, now commissioned into the British or Indian Army and posted to 2/15th Punjabis (Captain C.L. Newman, Lieutenant C.S. Sergel, 2/Lieutenants W. Harnack, D.B. Stewart, A.E.A. Edwards and F.H. Wright) decided to march back into Sarawak and continue operating there. Sadly all six were ambushed and killed by hostile villagers before they reached Sarawak.

A boat did actually arrive from Java for Sarfor bringing welcome rations; it also brought weapons and ammunition, but the cargo had been incorrectly loaded as Bren guns were without magazines, grenades were without detonators and much of the ammunition was for Dutch 6.5-milimetre carbines. Colonel Lane met up with the Battalion at Pangkalangboen and assumed command of Sarfor again. Concerned about the physical condition of the men Colonel Lane and Lieutenant-Colonel Ross-Thompson decided that further resistance would be futile and Sarfor surrendered to a Japanese Naval Brigade on 3rd April 1942.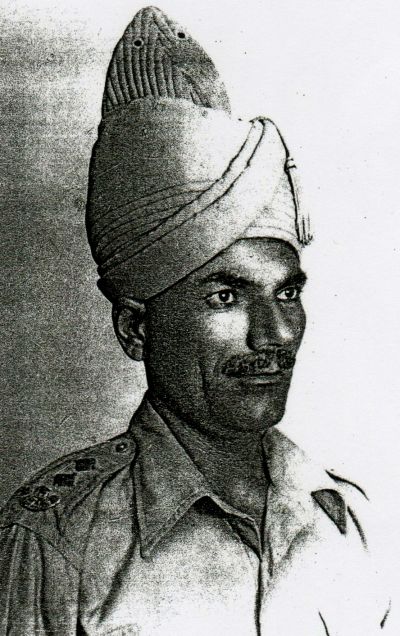 Left: Subedar Makhmad Anwar IDSM murdered by the Japanese Kula Belait 21 Apr. 1945

Captivity and atrocities

In captivity Sarfor was split up and placed in several camps in South-East Asia. All the British officers of the 2/15th Punjab Regiment survived captivity. Some were held in the Batu Lintang camp, Kuching, and mention is made of them in Don Wall's book Kill the Prisoners. It was the Indian officers and soldiers who suffered the most from Japanese atrocities in the camps. Most men, led by their Indian officers, refused to join the Japanese-sponsored Indian National Army led by the collaborator Subhas Chandra Bose. This infuriated the Japanese, and in the Kuala Belait camp in Brunei Subedar Makhmad Anwar IDSM (15) was flogged and hung by his heels until he was dead. Four jemadars in Kuala Belait camp (Akram Khan, Mohamed Anwar, Nazir Hussain and Lachman Singh) were made to dig their own graves before they were beheaded. It appears that fifty sepoys who had refused to collaborate were tied up and bayoneted or otherwise murdered.

One personal account of a sepoy in captivity can be found in Mark Felton's The Final Betrayal. Mountbatten, MacArthur and the Tragedy of Japanese POWs. Naik Changdi Ram, 2/15th Punjabis, gave formal evidence after his release from captivity by Australian troops; the evidence records beatings, tortures and acts of cannibalism by Japanese soldiers performed on Allied European and Indian troops.

Sarawak Ranger Suhail Ali stayed with the Battalion throughout its time in Borneo and went into captivity with it. The Japanese offered him repatriation to Sarawak but he chose to stay with the Punjabis. He was a tower of strength in captivity, and after release from a camp in Rabaul he went with the Punjabi survivors back to Ambala in India where the Battalion was re-raised, returning to Sarawak a year later. Captain Philip Crosland later wrote of him: 'A braver and more honourable man you could not find anywhere.' (16)

The toll of 2/15th Punjab Regiment personnel who were killed in action or died of wounds in Borneo, or who died or were murdered in Japanese prison camps was overwhelming:

British officers 9
Indian officers 8
Indian other ranks 434


These men are commemorated by the Commonwealth War Graves Commission in various cemeteries and on monuments around South-East Asia. On Labuan Island Captain John Harold Cavendish Brown and thirty sepoys are buried in the Labuan War Cemetery, and thirty-one Hindu and Sikh sepoys are listed on the Labuan Cremation Monument.





Awards


On returning to India, Colonel Lane recommended rewards for a number of 2/15th Punjab Regiment personnel in recognition of their services in the field and in prison camps, but the response was hardly gratifying. (17) Only the following awards were published:


Military Cross 2/Lieutenant Reginald William Large Member of the Military Division of the Order of the British Empire (MBE) Subedar-Major Sher Dil Khan, Sardar Bahadur, OBI (18) Subedar Mohammad Hasham Order of British India (1st Class) Subedar Labh Singh. Mention in Despatches (including posthumous mentions)


Lt-Colonel G.R. Thompson
Major F.G. Anderson
Major F.G. Milligan
Major A.W.D. Slatter
Capt. Sher Dil Khan, OBI, MBE
2/Lieutenant W. Harnack
Subadar Labh Singh, OBI
Jemadar (Local) Makhmud Sanam
9197 Naik Ghazan Khan
9260 Naik Kirpal Singh
10398 Sepoy Ali Mohammad

Jangi Inam (includes posthumous) (19) 44 awards.

Additional recommendations for an Indian Order of Merit (Subedar Faramurz Khan) and an Indian Distinguished Service Medal (Jemadar Badlu Ram), as well as Distinguished Service Orders, a Military Cross and admissions to the Order of the British Empire were not approved or were downgraded to Mentions in Despatches. (20)


Above: Indian officers of the 2/15th Punjab Regiment who were granted awards. Sub.-Major Sher Dil Khan MBE OBI, Subedar Labh Singh OBI, Subedar Mohammed Hasham MBE

Labh Singh is prominently displaying the neck badge of the 1st Class Order of British some time after the bestowal parade for this award. The grant of the MBE to the two other officers had probably been published by this time but the decorations and the ribbons had not yet been received.


The drums of the 2/15th Punjabi Regiment

When the Battalion withdrew from Kuching the drums were left behind. The band had been very popular in Kuching, and loyal civilians seized the drums before they could be looted and buried them in the jungle. After the war the drums were recovered and returned to the Battalion.
Appendix I

Hony Captain Sher Dil Khan, Sardar Bahadur, MBE, OBI

Subedar-Major Sher Dil Khan commenced his military career in July 1908 when he joined the 29th Punjabis. In 1922 he was transferred to the 2/15th Punjab Regiment. He was promoted Jemadar in June 1921, Subedar in March 1928 and Subedar-Major in July 1938. During his service he has held the appointments of Head Clerk on active service with the 29th Punjabis, Q.M. Jemadar 2/15th Punjab Regiment and Q.M. 2/15th Punjab Regiment on active service in Borneo in 1941. He was admitted to the O.B.I. 1st Class in January 1941, and was promoted Honorary Lieutenant in August 1940, and Honorary Captain on 1 January 1942.

Subedar-Major Sher Dil Khan served with "B.E." Force during the last war, Wazir Force June 1922 to May 1923 and served in the Burma Rebellion, Loe Agra and Mohmand Operations 1935. He went overseas with the 2/15th Punjab Regiment in October 1940 and served in Singapore, Sarawak, and Dutch West and South Borneo, being made a prisoner of war following the capitulation of the unit on 3 April 1942. At the age of 55 he fought a rearguard action with the Battalion through the swamps and mountains of Borneo for about 900 miles, and by his courage and devotion to duty set a fine example to all ranks.

As a prisoner of war, Subedar-Major Sher Dil Khan together with some 500 men of the Battalion. left Java for Singapore in July 1942 where he went into Saletar Camp. Being one of the most senior Punjab Musalman officers, every effort was made by the leaders of the I.N.A. to get him to join the movement. Captain Sher Dil Khan resisted all persuasions and in August 1942 was taken to the I.N.A. Detention Camp, Bida-Dari, where he was subjected to every form of menial indignity, mental and bodily torture and starvation. In January 1943, Sher Dil, since it was obvious that he did not intend to join the movement, was sent with 149 men of the Battalion to Rabaul, New Britain, remaining there as a prisoner of war until the end of the Far East War.

Captain Sher Dil Khan has just been awarded the M.B.E. in recognition of his loyalty. He is well known in A.R.A. circles as being one of the finest rifle and revolver shots in the Indian Army, and it was largely due to his efforts that the 2nd Bn. achieved its splendid record in the years immediately prior to the 1939-45 war.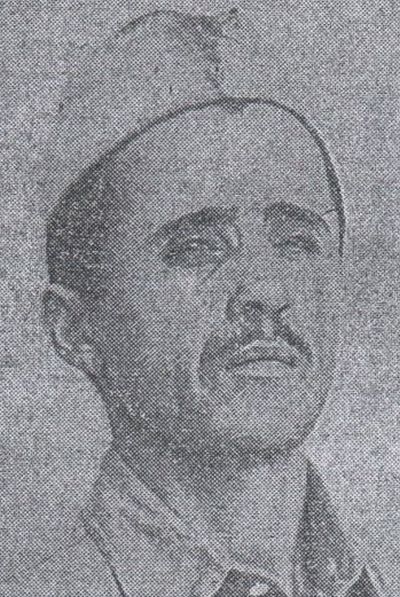 Appendix II

Odyssey of Mohd Sharif who Twice Escaped from a Japanese P.O.W. Camp (21)

Mess Waiter Mohd Sharif, of the 2/15th Punjab Regiment, arrived in Calcutta the other day on the last stage of a hitchhike from Bangkok to his Regimental Centre in Ambala, Punjab.

Hitchhiking is almost second nature to this 34-year-old Chitrali who, before being captured by the Japanese in Southern Borneo in April 1942, tramped with his regiment from Kuching, Sarawak, through the heart of Borneo after the Japanese invasion of 1941.

After capture by the Japanese, Mohd Sharif, with a party of officers and men of his regiment, was taken to Java on the deck of a Japanese naval ship. Officers and men remained together for a month and were then separated from each other by their captors.

Within a few months he was taken to Singapore where, at the beginning of 1943, he escaped from Bidadari Camp. For eight months he lived with local Chinese, Malays and Indians until recaptured by the Japanese military police. Modh Sharif was sent to a punishment camp, but made up his mind to escape again which he did seven months later.

He slipped outside the barbed wire of his camp late one night and, although he injured his leg badly, succeeded in making his way to the mainland at Jahore Baru. On the mainland he hitchhiked to Ipoh and Taiping, finally reaching Bangkok. Here he lived with the local people and although he was in daily contact with the Japanese his identity was never discovered.

Then the war ended, but not for Mohd Sharif. His injured leg became so bad that he went into hospital in Bangkok for treatment. He was operated on and discharged after eight months. It was then that his odyssey began in earnest.

Reluctant to report himself to the military police without his pay book which he had destroyed, or any other means of identification, he set out on his long trek to Ambala.

His journey took him from Bangkok to Moulmein and from Moulmein to Rangoon. In Rangoon he boarded a ship and finally reached Calcutta.

While acting as a chowkidar at a shop in Chowringhee. (21) Mohd Sharif was recognized by a former officer of his regiment who had been in a POW camp with him in Java.

A cheerful, indomitable little man, he sees nothing out of the ordinary in his amazing adventures. He sums up his experiences thus: "I did not like being a prisoner-of-war with the Japanese so I escaped. When I left hospital after the war was over, I knew that I would have to get to my home on my own."

The military authorities are now looking after him, and soon Mohd Sharif will be entering the village in Chitral which he has not seen for so many years.

As I said goodbye to him the other day, I thought I caught a look of regret in his eye.Perhaps for a moment this sturdy individual was sorry that the final stage of his epic journey was the be spent uy=under the shepherding wing of authority.




Appendix III

Since writing this article several more awards for 2/15th Punjabis have come to light. They are published in the London Gazette Supplements No. 37822 dated Thursday 19th December 1946 and No. 38079 dated Thursday 25 September 1947. The latter Supplement was published after the independence of Pakistan and India but it appears that the awards were issued and received as though they had been gazetted prior to independence, however they were subject to the new ranking systems of awards determined by the two new nations.

The citations for these awards are very interesting in that they tell us much more of the battlefield conditions prevailing during the fighting in Borneo. Colonel Lane wrote the initial short citations and Colonel Milligan, who was appointed Commanding Officer when the Battalion reformed, expanded the submissions by adding his personal comments. His Excellency the Viceroy of British India approved the awards.

A recent book of Indian Army and Indian National Army sepoys' personal narratives sheds more light on those Battalion sepoys who joined the INA, and details can be seen in endnote V below. The list that now follows is believed to be the final list of Battalion awards.


A. FOUR POSTHUMOUS AWARDS OF THE INDIAN ORDER OF MERIT

Jemadar Badlu Ram

This officer as a 2nd-in-Command of a fighting patrol with great courage and skill led his men within 50 yards of the enemy at BJAGOE BABANG on the Sarawak and Dutch West Borneo border on the 10th January 1942. The gallantry displayed by this officer considering the climatic conditions and the nature of the country, was of the highest possible order though consistent with his actions and courage on previous occasions. He was thus able to surprise the enemy and to inflict considerable loss on them, though they were treble the number of his patrol. His supreme effort cost him his life but the knowledge of this most courageous deed was an inspiration to all ranks of the battalion. He is most strongly recommended for an award.

Remarks by Lieutenant Colonel F.G. MILLIGAN

Following the withdrawal of SARFOR from Kuching to Dutch West Borneo 26.12.41 to 1.1.42, two Jat platoons of the 2/15th were sent back from SANGU-LEDO to the Sarawak border to provide fighting patrols in a harassing role to impede the enemy's advance by jungle track on to SINKAWANG II aerodrome. These platoons left 4.1.42 and were joined 7.1.42 by a Sikh platoon and on 8.1.42 by a Khattack platoon. They were continuously in action against a large enemy force until 18.1.42 operating in the early days of the month some 35 to 40 miles ahead of the aerodrome position. Due to the 2/15th commitments further reinforcements were not available.


Subadar Framurz Khan

This officer was in command of the Battery of Field Guns of the Battalion at KUCHING in 1941-42. His exceptional courage in action was most valuable on several occasions during the action against the Japanese at the Kuching aerodrome in December 1941. Later at SANGGAU-LEDO on the Sarawak and Dutch West Borneo border he showed great gallantry in command of his men in action and when last seen was urging his men on under most distressing conditions. He was missing after the action.

Remarks by Lieutenant Colonel F.G. MILLIGAN

This officer was commanding the 18-pounder Field Guns at the PENDING position, 24.12.41 and successfully checked the Japanese advance up river by sinking six landing craft. He remained in position with his guns until all of his positions had been completely over-run after which he successfully effected a withdrawal under cover of darkness over a distance of some 8 miles through plantation tracks to the main aerodrome defences. Throughout the night 24/25th when the enemy were surrounding the force on the aerodrome and were subjecting it to heavy shell and mortar fire, this officer maintained his guns in action in a most skilful manner. During the withdrawal of the force from the aerodrome on the evening of the 25th he covered a river crossing and a ferry position in a most efficient manner which was largely responsible for the successful withdrawal of the bulk of the force. In Dutch West Borneo, Subadar Framurz Khan was 2nd-in command of 'B' Company covering the SANGGAU-LEDO roadhead. He had supported his flanks with one platoon of 'D' Company and one platoon of 'C' Company, two light tanks and an armoured car. The SAMBAS river crossing included in his position was further covered by 12 Medium Machine Guns. At 0645 hours on 27th January 1942 the Japanese attacked in force estimated at more than one battalion on the right flank. The light tanks and armoured car were put out of action and by 0800 hours the enemy was was heavily pressing the two platoons of 'C' and 'D' Companies. By 0900 hours the enemy had put in a second heavy attack on the left flank and as the demolition of SINGKAWANG II aerodrome had been completed, the Dutch gave orders for a withdrawal from the SANGGAU position. The enemy were by this time closely engaged with 'B' Company which had been given the task of covering 'A' Company off the aerodrome and the two platoons of 'C' and 'D' out of SANGGAU. This officer realising that the enemy were about to over-run the position, held back two platoons of this Company and fought the enemy off until late in the afternoon and until the expenditure of his ammunition. The enemy casualties are reliably reported as between 400-500. There is no doubt but that the action of this officer prevented the annihilation of the remnants of the Force. When finally overwhelmed, the Japanese tied up the survivors including this officer and burnt them to death. I most strongly recommend that this officer be considered for the Highest Possible Award.


Subadar Kartar Singh

Subadar Kartar Singh on two occasions displayed magnificent qualities. Firstly during the attack on BJAGOI BABANG on the SARAWAK border on January 10th 1942 he led his fighting patrol with such indomitable courage that he and his men were able to approach to within 50 yards of the enemy, and completely surprise them, inflicting on them heavy loss. Secondly during the attack on the Japanese positions at PALING in DUTCH WEST BORNEO this officer showed complete disregard for his personal safety in aiding the direction of Dutch Mortars. Owing to his vast knowledge of Mortar work fire was thus brought to bear on the enemy positions and the enemy were driven from their trenches. He was killed in the act of directing the fire of the Mortars.

Remarks of Lieutenant Colonel F.G. MILLIGAN

This officer, commanding the Mortar platoon in the Kuching area did extremely well during the Japanese initial attack and in conjunction with the field guns did much to account for the very heavy enemy casualties. In Dutch West Borneo he was in command of the Sikh platoon sent up to the Sarawak border 7.1.42 on a harassment role. His platoon remained in action against heavy odds under the most appalling climatic conditions until 18.1.42. He was killed in action 27.1.42 during the 2/15th counter-attack on a strong Japanese entrenched position at PALING. He is very strongly recommended for the above mentioned award (Indian Order of Merit).


Subadar Makhmad Anwar IDSM

After capture by the Japanese Subedar MAKHMAD ANWAR and other Viceroy's Commissioned Officers were imprisoned in Kuching, where they were separated from their troops and locked in local cells. The treatment was very bad and they were beaten regularly as they refused to co-operate with the Japanese.

Subedar MAKHMAD ANWAR, due to his seniority and persistent refusals to cooperate, received extra punishments, which in the end caused his death.

He was strung up by his feet and beaten twice daily. The wounds caused by these thrashings became septic and he finished up in such a bad state that when he died, during one of these thrashings, maggots had already infected his wounds.

The courage, fortitude and extreme devotion to duty displayed by this Viceroy's Commissioned Officer was in keeping with the highest traditions of the Indian Army.


A. ONE AWARD OF THE INDIAN DISTINGUISHED SERVICE MEDAL

No. 9732 Naik Harnam Singh

This Non-Commissioned Officer was in command of a section of 3-inch mortars in the PENDING defences at KUCHING in December 1941. On 24 December the Japanese attacked and the PENDING position was seriously threatened. Naik Harnam Singh using cool courage and exercising perfect control over his men was able to manoeuvre his section so that fire was brought to bear on enemy landing boats, several of which were sunk or damaged. His conduct at this vital stage of the attack by the enemy made it possible for the main system of defence at PENDING to be re-adjusted accordingly.

Remarks by Lieutenant Colonel F.G. MILLIGAN

This Non-Commissioned Officer (NCO) was one of the most outstanding of the 2/15th Mortar commanders. The Mortars alone in the PENDING action accounted for at least four enemy landing craft. Later in action in Dutch West Borneo, this NCO did very well particularly on long range fighting patrol work. During the withdrawal to South Borneo over nearly 1000 miles of jungle, he set a magnificent example to his men of endurance, and devotion to duty. He refused to join the Indian National Army despite every form of persuasion and died on 1st March 1945 as a Prisoner of War in New Britain. He is strongly recommended for the above award (IDSM).


B. TWO AWARDS OF THE MILITARY CROSS

Jemadar Rakhmat Ullah

This Viceroy's Commissioned Officer in the Kuching defence scheme was in charge of a very isolated post in the LOBAS network of mangrove swamps to the west of Kuching. During the withdrawal to Dutch West Borneo he and his platoon were cut off from the Battalion, nevertheless, by marching 30 miles through jungle he arrived safely with his men, at Headquarters in Dutch West Borneo. He was at this time the senior Khattack left in the Battalion. He showed the greatest courage in action at MOMONG and at SANGGAU in Dutch West Borneo and again at SUNGI SAMPIT in South Borneo.

Remarks by Lieutenant Colonel F.G. MILLIGAN

This Viceroy's Commissioned Officer was in command of a Khattack platoon and a platoon of Sarawak Rangers on the extreme west flank of the Kuching position some 14 miles away from Headquarters. When the Japanese had penetrated the position and captured the town this officer successfully withdrew having given valuable information concerning the enemy strength. Despite the fact that the Sarawak Ranger platoon being newly raised, and untried native troops were defecting, he was able to control his men over a most arduous withdrawal through thick jungle and swamp to rejoin the Battalion. At SANGGAU-LEDO he did extremely well on the right flank during the Japanese attack on 27 Jan 42. His platoon remained in position under fire against overwhelming enemy odds and inflicted very heavy casualties. He had also been sent forward on a special fighting patrol mission to MOMONG on 26 Jan 42 and had shown great courage and outstanding leadership. Following the Kuching action where the 2/15th lost three Khattack Viceroy's Commissioned Officers, Jemadar Rakhmat Ullah was the senior Pathan left. In this capacity he also acted as Company Second in Command throughout the operations in Dutch Borneo. At the PENARING PASS action in Dutch North Borneo he did extremely well showing great courage under fire and spared no effort on achieving for his company the signal success that marked this action. Later at SAMPIT he again showed leadership and power of command of an outstanding quality. He proved to be cool and extremely unperturbed under fire. The Pathan Company in East Column did very well indeed and despite the arduous withdrawal came through with fewer casualties and no losses in arms, an achievement unsurpassed by other Companies of that Column. As the Indian Distinguished Service Medal is no longer admissible to Viceroy's Commissioned Officers I strongly recommend this officer for the award of the Military Cross.


2nd Lieutenant Reginald William Large

This officer led a patrol of the 2/15 Punjab Regiment against the Japanese at Jagoi Babang, on the Sarawak – Dutch West Borneo border, on the 19 January 1942. His patrol reached to within 50 yards of the enemy, on whom over thirty casualties were inflicted. The Indian officer with the patrol (Jemadar Badlu Ram) was killed and after a time the patrol was forced to retire. It was not until later that 2/Lieut. Large became aware that the Indian officer's body had not been recovered. This officer, then, at the risk of his life returned to the scene of the action. Not only by this but by his gallant conduct throughout the fight, he earned the admiration of all. He is recommended for the award of the Military Cross.


C. TWO AWARDS OF THE MILITARY MEDAL

No. 9847 Lance Naik Sant Singh

Lance Naik SANT SINGH was attached to 'A' Company in December 1941 and due to the role and dispositions of that Company he had to act on his own initiative at all times. He was responsible for the line telegraph and visual signalling in his area. The length between posts of telephone wire was 18 miles and during the Japanese attack he surveyed all lines and kept communications intact. All forward posts were able to send and receive information without delay. On 24 Dec 1941 he traced a fault to Tabusn Dysk, a distance of 7 miles away with the knowledge that the enemy were breaking through our lines. He was a perfect example to all his men and is strongly recommended for an award.

Remarks by Lieutenant Colonel F.G. MILLIGAN

This is another case of a very junior NCO being called upon to shoulder considerable responsibility. Due to the very extensive area of operations, the close nature of the country and natural difficulty in maintaining contact, Lance Naik SANT SINGH's effort was above average. He remained loyal as a Prisoner of War and died as a Prisoner of War in Balikpapan, South Borneo, 4 May 1944.


No. 10055 Lance Naik Beant Singh

This Non-Commissioned Officer volunteered to proceed in disguise on an important mission from Dutch West Borneo to Sarawak, when in January 1942 the British forces were operating in Dutch West Borneo. Although after going a considerable distance he was forced to return, though no fault of his own, he was able to bring back valuable information. Soon after at Siloeas, in Dutch West Borneo, he showed most marked devotion to duty by reporting by telephone to Force HQ the movements of the enemy and our own troops. This duty he carried out under fire at times and by extreme energy transmitted valuable information at a critical period in operations.

Remarks by Lieutenant Colonel F.G. Milligan.

This NCO, who was one of the 2nd Bn 15 Punjab Regiment's Clerks, was one of the 2 men to volunteer for the extremely perilous task of going some 60 miles behind the Japanese lines back to Kuching to ascertain the enemy's activities and the strength of the forces with which he was advancing into Dutch West Borneo. He was also given the task of finding out what was happening to our men who became missing in Kuching on 26 Dec 1941, and particularly in connection with the disappearance of Captain Mata-ul-Mulk. No praise is too high for the courageous manner in which he attempted to carry out this task. He is strongly recommended for the above mentioned award (MM).


D. ONE AWARD OF THE ORDER OF BRITISH INDIA (1st Class)

Subedar Labh Singh

The citation is not available but Colonel Lane's comments were: His services as senior Sikh Officer were of the highest order in action, and his control over his men was responsible for the magnificent way in which they carried their arms and large quantities of ammunition over hundreds of miles of bad country in Borneo. Recommended for OBI First Class.


E. TWO AWARDS OF MEMBERSHIP OF THE MILITARY DIVISION OF THE MOST EXCELLENT ORDER OF THE BRITISH EMPIRE (MBE)

Honorary Captain and Subedar-Major Sher Dil Khan, Sardar Bahadur, OBI.

For his outstanding personal example, loyalty and fortitude whilst in captivity.

Owing to his rank and position and the influence he possessed over his juniors he was singled out for special ill treatment but he continuously resisted the pressure both physical and mental put on him by Japanese and members of the I.N.A. to join and persuade others to join the I.N.A.

His splendid example and bearing under all circumstances was an inspiration to his juniors and held them loyal to their oath despite the brutal and inhuman treatment meted out to them.

(When this award was approved by His Exellency the Commander-in-Chief in India the middle paragraph was amended by hand to read: Owing to his rank and position and the influence he possessed over his juniors he was singled out for special ill treatment but he continuously resisted the pressure both physical and mental put on him by the Japanese.)


Subedar Mohammad Hashem

For his outstanding personal example, leadership and endurance of ill treatment whilst in captivity.

This Viceroy's Commissioned Officer was one of the two senior Indian Prisoners of War in Kuching Camp, Sarawak, of a party sent there after having refused to join the INA.

Although all were subjected to continuous ill treatment of a particularly severe nature, this officer was singled out for special attention.

By his courageous endurance and by resistance to Japanese demands and encouragement he preserved the loyalty of those imprisoned with him. His example is also reported to have encouraged and fortified the British Prisoners of War in the Camp in their resistance to ill treatment.


F. MENTIONS IN DESPATCHES

Colonel (temporary) C.M. Lane MC.
Lieutenant-Colonel G.R. Thompson (a).
Major F.G. Anderson.
Major F.G. Milligan (b).
Major A.W.D. Slatter (c).
Captain Sher Dil Khan, Sardar Bahadur, OBI, MBE.
Lieutenant D.A. Hodges.
2nd Lieutenant W.D. Harnack (d).
Subadar Labh Singh OBI.
Jemadar Gul Badshah.
Jemadar (Local) Makhmud Sanam.
9197 Naik Ghazan Khan.
9260 Naik Kirpal Singh.
10398 Sepoy Ali Mohammed.
12970 Sepoy Naroz Khan (e).


G. OTHER RECOMMENDATIONS

Recommendations that did not result in awards were:

Major R.E. Edwards MC recommended to be an Officer in the Military Division of the Most Excellent Order of the British Empire (OBE) for 'his excellent work in raising the Sarawak Volunteers and the supervision of the demolition of Kuching aerodrome by night'. He appears to have been commissioned into the regiment in Sarawak and went into captivity with it.

Captain M.W. Chapman also recommended for an OBE for 'great resource and initiative in leading a column of 200 men through dense jungle after the action at Batu Kitang on 25th December 1941 for four days and for his excellent conduct in the operations at Sanggau'. He was wounded in action at Sanggau and went into captivity with the Battalion.

2nd Lieutenant Carl Scott Sergel also recommended for an OBE for 'leading a reconnaissance party from the Sarawak border to Sampit, thereby enabling contact with General Headquarters Java. Later he showed skill and ability in leading a column through dense jungle for six days, arriving at his appointed destination'. He was the Adjutant of the Sarawak Volunteer Force and was murdered by villagers in Dutch Borneo as he attempted to march back to Sarawak; he is also commemorated on the Singapore Memorial.

No. 7251740 Sergeant J. Feeley, Intelligence Corps, recommended for a MBE for 'his untiring efforts in cypher work, most times under fire, and for the example he showed in the long march to South Borneo'.



(a) Lieutenant-Colonel Thompson had been recommended for admission to the Distinguished Service Order (DSO) for 'the courageous manner in which he conducted the operation at Sanggau and thereafter on the march to South Borneo'. (b) Major Milligan was also recommended for a DSO for 'his magnificent efforts under the greatest possible difficulties in Borneo throughout the year. His ability and perseverance were of the highest order'. (c) Major Arthur William Donat Slatter, killed in action on 14th December 1941, had been recommended for 'the highest possible award'. He is commemorated on the Singapore Memorial. (d) 2nd Lieutenant Waldo Harnack was the SARFOR Intelligence Officer and he had been recommended for a Military Cross for 'bravery in action at Sampit on 7th March 1942. He was murdered by villagers in Dutch Borneo as he attempted to march back to Sarawak and he is also commemorated on the Singapore Memorial. He appears to have also been recommended for an OBE for 'excellent work in spite of opposition by a local organisation' that probably did not wish to see its infrastructure demolished. (e) Interestingly Naroz Khan is listed in the Scotts' No Gongs for Heroes (spelt Niwaz Khan but with the same regimental number) as having joined the Indian National Army (INA) whilst in captivity. Four other sepoys who had been recommended for awards are also listed by the Scotts as joining the INA, however there are no supporting documents or statements to prove this. It appears that more than a few sepoys, mostly Sikhs, did join the INA or did collaborate with the Japanese and some of these sepoys joined the Singapore Changi Prisoner of War Camp guard force, where they came into contact with Major Milligan who was incarcerated there. These INA sepoys were weeded out and dismissed when the battalion reformed after the war ended. However it appears that Colonel Milligan took an enlightened view of their conduct because of their loyalty during combat actions against the Japanese, and he dismissed them from the Regiment and the Army but he did not register them as being banned from taking up other government positions such as in the police. This information comes from an account provided by Sepoy Singh Malvi that appears in the book AS TOLD BY THEM. Personal Narratives of Indian Soldiers Who Fought During the World War II compiled by Ravi Inder Singh Sidu (Quills Ink Publishing, May 14, 2014). The independent governments of Pakistan and India did not retain former members of the INA in their new national armies, but both governments did use some of them as irregular forces on certain operations where the normal standards of military chivalry, decency and honour were dispensed with.

[11] An observer's comment that might explain the friction between Sarfor and the Dutch troops was that some of the Dutch resented the British for bringing the war into Dutch territory.
[12] This group had a long wait at Pontianak, being evacuated on 25 January 1942, just two days before the Japanese seized the port.
[13] This officer casualty was Jemadar Badlu Ram who had served in the ranks from December 1924 and only quite recently been commissioned on 21 March 1941.
[14] London Gazette, 1 August 1946. The original recommendation for award of the MC to '2nd Lieut. Reginald William Large, 2/15 Punjab Regt (late Capt. Comdg. Sarawak Rangers)' was submitted on the standard Army Form W.3121 (The National Archives at Kew).
[15] This officer had been awarded the Indian Distinguished Service Medal for gallantry during operations against Mohmand lashkars on the Northwest Frontier of India in 1935 (GGO No. 309 of 8 May 1936).
[16] After the war, Philip William John Crosland returned to his job as a journalist with The Statesman, first in Delhi and later in Calcutta. His obituary was published in "The Times" of the 7th August 2012.
[17] By this time the gallantry of these soldiers, and the severe hardships they had endured, no longer had any immediacy, and this may account for the short thrift given to Colonel Lane's recommendations.
[18] Later granted the honorary rank of Captain. See Appendix I for biographical details of his services etc.
[19] A grant of land or money.
[20] References to the award of one Indian Meritorious Service Medal with Gratuity and two without Gratuity have been found but cannot be confirmed as the notifications publishing the awards have not been traced. If they were indeed granted, it would be nice to think that Mess Waiter Mohd Sharif was one of the recipients (see appendix II for this tenacious man's story).
[21] Contemporary newspaper report by Sean Farrel.
[22] He was evidently a watchmen or chowkidar in a neighbourhood of central Calcutta (Chowringhee)..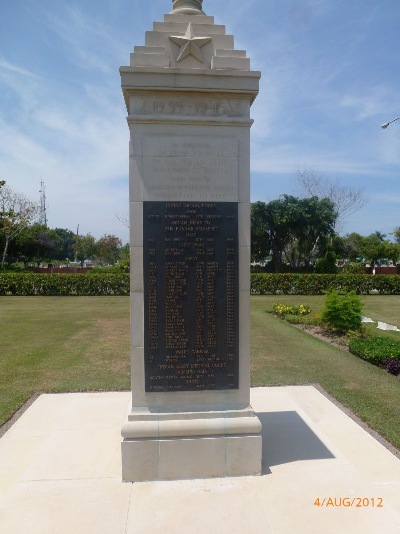 Sources

Major-General S. Woodburn Kirby, The War Against Japan. Volume 1. The Loss of Singapore. History of the Second World War, United Kingdom Military Series (reprint by Naval & Military Press 2004).

K.D. Bhargava MA & K.N.V. Sastri PhD, Campaigns in South-East Asia 1941-42. Official History of the Indian Armed Forces in the Second World War 1939-45 (reprint Pentagon Press, New Delhi 2012).

Lionel Wigmore, The Japanese Thrust. Australia in the War of 1939-45 (Australian War Memorial Canberra 1957).

J. Lee Ready, The Massacre of ABDACOM. The Destruction of the United States, British, Dutch and Australian Forces by the Japanese in World War II (Monticello Publishing 2013).

War History 2/15th Punjab Regiment (unpublished manuscript document, private collection).

John and Helene Scott, No Gongs for Heroes (unpublished manuscript document National Army Museum, London).

Colonel J.J. Nortier, An Indian Battalion's Grim Journey Across Borneo (unpublished manuscript document, private collection).

2nd Bn. 15th Punjab Regiment. Battalion Letter for the Period November 1940 to the 31st March 1946 (private collection).

Steven Runciman, The White Rajahs. A History of Sarawak from 1841 to 1946 (Cambridge University Press 1960).

Don Wall, Kill the Prisoners! (Don Wall Publications, Australia 1997).

Mark Felton, The Final Betrayal. Mountbatten, MacArthur and the Tragedy of Japanese POWs by (Pen & Sword 2010)

Captain C.G.T. Dean MBE, The Loyal Regiment (North Lancashire) 1919-1953 (Regimental Headquarters The Loyal Regiment, Preston 1955).

"The London Gazette" – several dates of publication.

Documents, papers and cuttings from a private collection.

Left: The CWGC Cremation Memorial at Labuan commemmorating Sikh and Hindu casualties



(This article appeared in a recent edition of Durbar, the Journal of the Indian Military Historical Society: http://imhs.org.uk/ )