The 1st Battalion The Northern Rhodesia Regiment (1 NRR) in 1944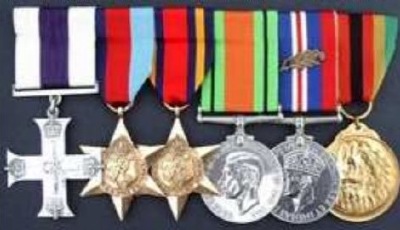 After its epic fight at Tug Argan in Somaliland in August 1940 the Battalion moved to Kenya via Aden and was involved in the advance into Italian territory in 1941. Garrison duty then followed in Abyssinia and Kenya, but the Battalion was shipped to Ceylon in March 1942 and for the next two years it performed more garrison duties and underwent thorough training for jungle operations. In the Autumn of 1944 the Battalion, commanded by Lieutenant Colonel H.P.L. Glass MC (Sherwood Foresters), was part of the 21st (East African) Brigade (Brigadier J.F. Macnab) in the 11th (East African) Division (Major General C.C. Fowkes), and it deployed to Tamu on the border between Burma and the Indian Princely State of Manipur. At Tamu the 21st Brigade went into Corps Reserve. The two other battalions in 21st Brigade were 2nd (Nyasaland) King's African Rifles (KAR) and 4th (Uganda) KAR.


Left: the medals awarded to Peter Bomford, including the Military Cross

The Kabaw Valley

The task of the 11th (East African) Division was to clear the two tracks running south to Kalewa of Japanese troops and to then establish bridgeheads over the Chindwin. The main route ran down the Kabaw Valley which the KAR historian, Hubert Moyse-Bartlett, has described:

"At the height of the Monsoon, which did not end until October, the Kabaw Valley was a windless depression of thick teak forest and seething mud, continuously drenched with perpetual downpours of torrential rain. It was infested with malaria and scrub typhus, and was known locally as the Valley of Death. The floor of the valley was from ten to twenty miles wide, hemmed in by high mountain ranges. Beyond the eastern wall lay the Chindwin, running parallel to the valley from north to south. From the mountains on either side several rivers and numerous chaungs ran across the track, which they intersected every few hundred yards. All were full at this season of the year. In the forest the teak stood close, often limiting visibility to a hundred yards. When undergrowth ocurred it was usually thick."

The enemy defenders in the Kabaw Valley were Japanese and renegade Indian National Army (recruited from Japanese prisoner of war camps after the fall of Malaya) troops who had been decisively beaten in the recent heavy fighting around Imphal and Kohima. They were recovering from their ordeals and they did not expect to be attacked during the Monsoon. Allied commanders had chosen the East African Division to fight down the Kabaw Valley believing it to be the most resistant to malaria and to contain the most physically strong soldiers capable of operating in Monsoon conditions. In the event the Askari mostly resisted diseases and coped well with the climatic conditions and the Japanese, but the Europeans in the Division were far less resistant to malaria.


Road maintenance during the Monsoon
The Northern Rhodesians were issued with mules as first line transport and their first task was maintenance of a nine-mile stretch of road on the main supply route; this was carried out in appalling weather as the Monsoon rains pounded down. Resupply by road was too difficult and air drops were used when the planes had sufficient visibility. Flooding occurred regularly and campsites were quickly inundated. The Official History states:

"The weather began to improve in early October but the track down the Kabaw Valley was still a sea of mud six to eighteen inches deep. Although the divisional engineers rebuilt the bridges washed away by the heavy rains of the latter part of September and, with the help of the infantry, constructed miles of corduroy road along which jeeps and six-wheel drive lorries could bump, conditions were so bad that an advance of five miles in twenty-four hours for a convoy was considered to be outstanding, and guns had frequently to be winched forward from tree to tree."


First contact with the Japanese
After a month of heavy road-mending work the Battalion was suddenly ordered forward on 10th October 1944 and it trudged through the mud passing a helpless column of trucks and guns that was deeply bogged down. At Brigade HQ it was learned that the other two Brigades in the Division were advancing south down the Kabaw Valley towards Kalewa but 21st Brigade was to capture Mawku which lay on a track running to the east. The Battalion advanced on the Mawku track to Chinmagale and experienced Japanese "Jitter patrols" who appeared every night hoping to draw fire so that the Northern Rhodesians' automatic weapon positions could be located. 'A' Company under Major Arthur Leonard Bagshawe MC (Northern Rhodesia Regiment - the award was won in Somaliland) received most of the grenades thrown and rounds fired by the enemy and a few casualties were taken including some from friendly fire, but the soldiers were learning the realities and routines of jungle operations.

At Chinmagale the Dropping Zone for supplies was tight as it had been cut out of thick teak forest and the felled trees had been rolled to the sides. Some men were killed when free-dropped sacks of supplies went through the roof of a field hospital. The medical lines were hit again shortly afterwards when a storm uprooted a tree which fell across tents, killing more Askari.

During daylight patrols went out and on one Lieutenant Peter Bomford of 'C' Company captured an elephant and its mahout who were working for the enemy. However later one night during a Jap jitter attack the elephant broke its shackles and escaped. Some time later further down the Chindwin River the beast was encountered again and it immediately charged 'C' Company!

Near Chinmagale the Battalion took over from the Ugandans who had experienced a challenging time, losing 19 men killed and 102 wounded during the capture of Japanese positions on Leik Ridge. Whilst supporting a 4 KAR attack Lieutenant K.L. Mortlock of the 1 NRR Mortar Platoon acted as a mortar fire controller and was wounded by a Japanese sniper. An immediate task for the Battalion was to support 2 KAR in an attack on Hill 500 that lay east of Leik Hill and nearer to the Chindwin River. When coming under fire near the hill-top objective the first fatal casualty in action occurred when Private Chisimba of No. 12 platoon was killed; this was followed by Colonel Glass being wounded by a grenade that the enemy rolled down the hill. Major C.H.C. Beresford (Worcestershire Regiment) immediately assumed command.

Advances up the track to the hill were met with showers of grenades and accurate bursts of machine gun fire. Finally 'A' Company worked its way to the summit and Lieutenant R. Hogg's platoon came into close contact, Hogg being wounded by a grenade splinter. Arthur Bagshawe came forward to see the situation and was wounded by another grenade before being shot dead by a sniper concealed behind a tree root. At that point the enemy troops withdrew abandoning most of their equipment. When it was thought that the action was over firing suddenly occurred to the Battalion rear, but this was Lance Corporal Mwanawina killing an enemy straggler; he was to kill seven more Japanese during the campaign, earning a Military Medal during the process.


Hills 825 and 752, the Pimples and Star Hill

1 NRR was then tasked with clearing the Japanese from a long ridge line which had Hill 825 at one end and Hill 752 at the other end; in between those hills were smaller features named the Pimples and Star Hill. Japanese positions on the ridge dominated movement on the tracks below. The seizure of this ridgeline was to cost the Battalion nearly 120 casualties.

The first point to be attacked was Hill 825 and the difficulties of approaching and attacking this feature are best described in the citations for the immediate awards of the Military Cross made to two subalterns from 1st Gurkha Rifles who were attached to 1 NRR:

Major J.G. Shields (Leicestershire Regiment) commanding 'D' Company first sent Lieutenant Reginald Maynard Featherby's No. 18 Platoon onto the hill.

A feature known as Point 825 North of MAWLAIK, BURMA, consisting of a high pinnacle overlooking the surrounding knife edges ridges, and strongly held by the Japanese, dominated the route by which the Brigade was to advance. To enable the advance to continue, it became vital to liquidate the feature.

On 2 Nov 44 Lieutenant FEATHERBY was ordered to attack. He led his platoon up the steep sides of the feature under heavy fire, but a shower of grenades and a hail of automatic fire forced him to withdraw when within fifty yards of the objective, considerable casualties having by this time been inflicted on the platoon. His batman who had been wounded was lying further up the hill. Lieutenant FEATHERBY, his sten gun having been shot out of his hand, returned up the hill, again under heavy fire, to recover his batman. The next day he again assaulted Point 825 from a different angle but was forced to withdraw.

Between 2 and 5 Nov this officer led four attacks against this very strong and dominating feature, against which it was impossible to deploy more than one platoon.

This officer's splendid coolness, calm courage and dogged determination was an inspiration to his men, and a fine example over a prolonged period of the offensive spirit.

Lieutenant Peter Bomford's platoon from 'C' Company was then committed.

Lieutenant BOMFORD's platoon attacked a very strongly held Japanese position on 3 NOV 44. The position was accessible to our troops from one direction only and was on the crest of a precipice. Utterly disregarding his own safety he led the charge and personally killed 3 Japanese in face of accurate fire from 3 light machine guns and countless grenades. The position attained, he grenaded the enemy who then launched a counter-attack. Just then an air-strike came in, and to avoid casualties from our own aircraft, he was obliged to withdraw.

After the strike he attacked again but the enemy had reinforced and, owing to casualties, Lieutenant BOMFORD was ordered to withdraw. He was the last man back having covered the withdrawal of his platoon with a Bren gun.

Lieutenant BOMFORD displayed the greatest gallantry in face of heavy odds and set a magnificent example to his men.

One of Peter Bomford's outstanding junior non-commissioned officers was No. NRA.251 Lance Corporal Nkaka. He later received a periodic

al Military Medal that described his heroic actions on Hill 825:

During the period under review this African non-commissioned officer showed ability far above his post in the training and instruction of his section.

In the operations in the KABAW Valley L/Cpl NKAKA proved himself to be a fearless and gallant section commander. One case in particular is as follows:

On 3rd November 1944 L/Cpl NKAKA's platoon was ordered to attack Point 825, a very strong enemy position on a steep hill with precipices on two sides. The only approach was across open ground covered by enemy light machine guns, and the position had been holding us up for some days.

L/Cpl NKAKA, with his Platoon Commander led the attack in the face of fierce opposition from enemy light machine guns, rifles and grenades.

The attack was successful and the summit gained, but just then an air strike came in and the position had to be abandoned. When the air strike was over both sides raced for the summit, but the enemy having less distance to go, reached it first and in larger numbers.

The position was again attacked, and L/Cpl NKAKA crawled forward under heavy light machine gun fire to within 15 yards of an enemy position and endeavoured to knock it out with grenades.

Throughout the action this L/Cpl displayed complete fearlessness and great gallantry and his coolness was an example to all. He was immediately promoted to Corporal and subsequently to Sergeant.

'B' Company was given the mission of seizing the Pimples and Lieutenant H.L. Willman's (General List Infantry) platoon was ordered to demonstrate frontally whilst Lieutenant Ian Flashman Hunt's platoon attacked from the rear. Willman did his job, getting up onto the ridge where Bren gunner Sergeant John van Plaster (Kenya Regiment) was killed. Ian Hunt, attached to 1 NRR from The Buffs, seized the first pimple but came under fire from both flanks and his bravery led to the immediate award of a Military Cross with the citation:

For outstanding and conspicuous gallantry on the 6 NOV 44 on the CHINDWIN River Front.

On Nov 6, 1944, Lieutenant Hunt, with his Platoon attacked the PIMPLES between Points 825 and 752. The position was precipitous, approachable on a narrow front only. On approaching the objective heavy fire was met from the Front and both flanks. The men became unsettled, but Lieutenant Hunt, although wounded rallied them into the attack and was again hit. Nevertheless he continued to lead and inspire his troops by his gallantry and was wounded for the third time.

The enemy overran his leading section, killing five and wounding three and the Platoon was ordered to withdraw. Lieutenant Hunt was carried back by his men.

Despite his loss of blood Lieutenant Hunt displayed magnificent courage and fortitude and was an outstanding example to all ranks.

Meanwhile the Hill 752 area was being attacked by 'A' Company now under Captain E.P. Sharman (The Northamptonshire Regiment). The attack succeeded primarily due to the brave initiative of No. NR.970 Lance Corporal Chashi who received an immediate Military Medal:

Lance Corporal CHASHI on 6 Nov 44 was in charge of his Section when his platoon was ordered to attack a feature known as STAR HILL, BURMA, which dominated the enemy Line of Communication to higher features known as Points 752 and 825.

Star Hill consisted of a number of spurs intersected by steep ravines. Lance Corporal CHASHI's Section was sent up one of the spurs while the other two sections attacked up an adjacent spur.

With great coolness and admirable judgement, he ordered the fire of his section to give covering fire to the other two sections, continually changing his position under heavy fire from grenade and light machine guns, to help and encourage his men. When all possible covering fire had been given and the time came to rush and take the objective, he himself seized a Bren gun and firing from the hip dashed up to the summit of Star Hill and with a complete disregard for his own safety, enabled the other two sections to make their final assault.

Lance Corporal CHASHI's courage, calmness and leadership contributed very largely to the capture of this important position.

At roughly the same time as Hill 752 was taken there was a similar success on Hill 825, as another air strike using bombs and cannon fire was called which caused the Japanese to run off the hill, and before they could re-occupy it 'C' Company dashed up to hold the summit. Eric Paul Sharman later received a periodical Military Cross for his efforts and commitment:

During the operations in September – November 44 on the Chindwin Front on Burma this officer, first as second in command of his company, and later when his company commander was killed in action, as Company Commander, has shown himself to be an outstanding example of leadership and devotion to duty.

After assumption of duties as Company Commander in October, Captain Sharman led his company in several operations against the Japanese and in every action in which he took part, he was an inspiring figure of courage and determination. He came to be looked upon not only by his company but by all his Battalion as an example of what a courageous and determined officer can achieve in the face of difficulties.

The Japanese withdrew under the cover of darkness and their former HQ location was found in a cave near the Pimples; they left 22 bodies behind. 1 NRR casualties were one officer wounded, one British non-commissioned officer and 19 askari killed, and 62 askari wounded, 35 of them seriously. The terrain had been extremely difficult and the enemy had fought skilfully, but excellent leadership at platoon and section level had brought the Battalion through a tough test.


Advancing to Kalewa

21st Brigade was then tasked with advancing south to seize Mawlaik which was achieved easily thanks to the town being "softened up" by Mitchell bombers. 4 KAR was left to garrison Mawlaik whilst 2 KAR advanced and killed 30 Japanese defenders near Paluzawa. 1 NRR then passed through the Nyasas to take the lead, encountering many dead enemy without hands; this had been caused by them clutching grenades to their chests to kill themselves when surrounded by 2 KAR.

The advance continued down a narrow track with a river on one side and a steep bamboo-covered slope on the other side. To reduce the mental strain the lead platoon was regularly changed but ambushes were frequent, with the enemy melting away afterwards. An area ambush was mounted by 'B' Company to prevent a Japanese withdrawal from a hill feature on the Matu Plain; however the Japanese withdrew at a distance and the only contact was made by Lieutenant K.E. Smallpage (The King's Regiment) and his platoon who killed one enemy corporal with hand grenades. The following day, 23rd November, 'C' Company advanced to attack and mop up any remnants in the old enemy position but this initiative was halted when the 4 KAR mortars firing at supposed Japanese stragglers started hitting 'C' Company's route.

Colonel Glass returned from hospital, having contracted malaria as well as being wounded by the grenade incident previously mentioned. In the Nanmawke area on 25th November an 'A' Company patrol led by No. 4196621 Sergeant J.J. Hobart (Royal Welch Fusiliers) was moving in the direction of Kalewa when it was ambushed in an open stretch of land and John Hobart was killed. Enemy machine gunners prevented recovery of the body until the following day when the Japanese had withdrawn.

Eric Sharman MC led a good reconnaissance patrol on 26th November and was later cited for a periodical award which led to his receiving a Bar to his Military Cross.

During the period under review 16 Nov 44 to 15 Feb 45, this Officer proved himself an outstanding leader in every respect. It was largely due to his efforts that the features Point 752 and Point 825 near Mawku village were captured. The enemy who were dug in on those two features repelled our attacks for over a week. Eventually, due to the determined leadership of Captain SHARMAN Point 752 was captured and thus Point 825 nullified.

Again on Nov 26 it was due to an excellent reconnaissance patrol carried out by Captain SHARMAN, that enabled two Companies to reach their first objective and drive the enemy off the second objective on Point 635, which was holding up the Battalion advance some 8 miles from Kalewa Township.

Throughout this period of Active operations, after his Company Commander was killed on 29 October, Captain SHARMAN led his Company with distinction and has shewn outstanding qualities of leadership, courage and devotion to duty.

During this period No. NRA.10869 Corporal Mwanawina was awarded an immediate Military Medal:

Hill Feature 828787 South of PAGYIZU Village. For outstanding and conspicuous bravery on the CHINDWIN River Front.

Corporal MWANAWINA's section was the leading element of his Company, which had been ordered to attack and secure Hill Feature 828787 on Nov 28. The feature commanded the main road and the enemy's occupation of it was holding up the Battalion's advance.

Corporal MWANAWINA led his section to the attack with great determination and personal courage, and himself killed four Japanese with his Sten gun as the enemy withdrew to the summit of the feature. Pressing on and making skilful use of cover he led his section to within 200 feet of the summit, when it was held up by intensive light machine gun fire and showers of grenades.

Corporal MWANAWINA held on to his position for an hour until his platoon was ordered to withdraw, and eventually evacuated this position after he had seen a wounded comrade and the dead body of one of his section removed to safety.

This African Non-Commissioned Officer by his leadership and personal bravery showed a magnificent example to his section and platoon which is worthy of meritorious recognition.

Brigadier Macnab then split the brigade, taking his HQ, the Ugandans and the Nyasas across to the east bank of the Chindwin where 5 KAR, the Divisional Reconnaissance Battalion, was operating. Macnab's role was to cut Japanese withdrawal routes. 1 NRR was ordered to continue advancing down the west bank to Kalewa but without its mules who went with Brigade HQ, however elephants and jeeps were provided. Five jeeps were air-dropped and others were rafted down the river from Sittaung. The elephants were useful at bridging work but in their civilian forestry roles they had not worked in the afternoons because of the intense heat, and they disliked marching after noon.

On 1st December Colonel Glass was again evacuated with malaria and Major Beresford took command. That day the Battalion reached Kalewa to find that 26 KAR had arrived 15 minutes earlier. Due to the very difficult country east of the Chindwin that Brigadier Macnab was operating in contact had been lost with the remainder of 21st Brigade, and 1 NRR was sent to locate Brigade HQ, which it eventually did. The 2nd British Division then moved on towards Mandalay whilst the 11th (East African) Division remained to secure the Kalewa bridgehead.

Two junior Askari were awarded periodical Military Medals for their prowess during the previous few months.

No. NR.839 Private Kampamba's citation read:

Private Kampamba has throughout the operations in September – November 44, against the Japanese, on the Chindwin Front in Burma, shewn himself to be a fine and courageous soldier. He has used considerably more initiative than is expected from one of his rank, and has often brought back to his platoon commander valuable information. He has on several occasions volunteered for hazardous patrols, and on the numerous times he has been subjected to enemy fire, he has proved an outstanding example of courage and devotion to duty.

No. NR.600 Corporal Fumbelo's citation showed how many Northern Rhodesian Askari had successfully adapted themselves to jungle warfare tactics:

Corporal Fumbelo has shewn himself to be an outstanding section commander during the operations against the Japanese on the Chindwin Front in Burma, September – November 1944. His platoon has on many occasions been put in to attack difficult and precipitous enemy positions and on every occasion Corporal Fumbelo has handled his section cleverly and courageously. He has shewn a complete disregard for his own safety and his personal bravery has been a source of inspiration to Europeans and Africans alike of his Company.


Subsequent activity

By the end of 1944 the 1st Battalion The Northern Rhodesia Regiment had ceased to be employed operationally but it remained in theatre preparing for the planned invasion of Malaya. After the Japanese surrender the Battalion was moved back to Ranchi in India and then on to East Africa, arriving there on 29th January 1946.

The Battalion had lost 3 Europeans and 29 Askari killed in action and 5 Europeans and 95 Askari wounded in action. Apart from fighting and winning against a formidable enemy the Battalion had marched 150 miles, laid 50 miles of telephone line, constructed 6 airstrips and repaired 12 miles of road.


The African Warrant Officers

The last word must go to the men who held the battalion together and who often dispelled the doubts and fears of the younger Askari – the African Warrant Officers. Two awards were made:

No. NRA.444 WO I (Regimental Sergeant Major) Hezekiah Manzula was awarded a British Empire Medal:

During the period under review, 16 May – 15 August 1945, and previous to that in the operations in the KABAW Valley this African Warrant Officer proved himself to be a man of exceptional soldierly qualities. Throughout the operation he commanded a platoon with ability and leadership.

After the Battalion returned from operations as a result of his record he was promoted Acting Regimental Sergeant Major. This period was an extremely difficult one of unsettlement and waiting and his personal example and powerful personality had a far reaching effect on safeguarding the morale of the African ranks in the Battalion.

No. NRA.464 WO II (Company Sergeant Major) Chaenda was awarded a Mention in Despatches:

In the period under review, 16 May – 15 August 1945, NRA.464 WO II (CSM) CHAENDA was an invaluable help to his Company Commander, in training the Company for war.

He was Sergeant Major of 'D' Company in the operations along the Kabaw Valley. In the various engagements, wherever the fighting was most difficult, there was Company Sergeant Major CHAENDA in the forefront steadying the men, in a way far beyond normal duties of a Sergeant Major.

His exemplary aggressive spirit and utter disregard of personal danger were repeatedly demonstrated in the series of attacks which eventually took Hill 825 on November 3rd 1944.

This outstanding will to fight inspired his men both during the action and later, in the difficult period of waiting, when his confident, cheerful and aggressive example, above all else, maintained the fighting morale of the Company, at the high standard he demanded in action.

SOURCES:


· The Story of the Northern Rhodesia Regiment by W.V. Brelsford. (Government Printer, Lusaka 1954).
· The King's African Rifles by H. Moyse-Bartlett. (Gale & Polden Ltd 1956).
· History of The Second World War. The War Against Japan. Volume IV. The Reconquest of Burma by S. Woodburn Kirby. (Naval & Military Press softback re-print).
· London Gazette and The NationalArchives records.

To return to Harry's sideshows click HERE