Military Operations in Mesopotamian Kurdistan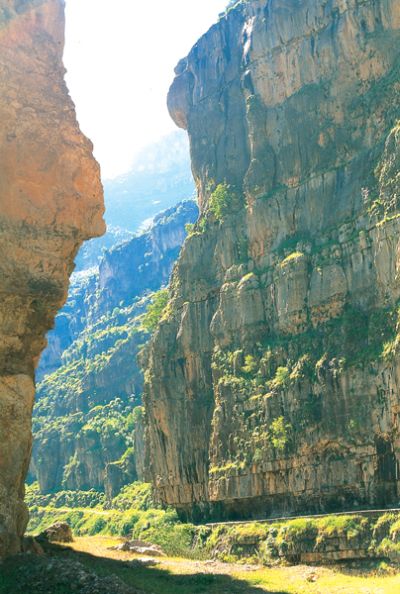 South Kurdistan, May–June 1919

During Turkish rule the Kurdish peoples of Mesopotamia had not been firmly administered, the Turks preferring to govern loosely whilst demanding tax revenue from crops such as tobacco.

Military intervention in Kurdistan only occurred sporadically when tribal uprisings broke out; one reason for the reluctance to intervene militarily was the difficulty of the terrain, with mountain ranges rising up to nearly 2,500 metres, hillsides covered in trees that provided ample cover for snipers, narrow gorges that invited ambushes and a lack of roads, pack-mules being the method of transporting supplies and goods. In late 1918 when British forces replaced the Turks as administrators in Mesopotamia, Britain also garrisoned Kurdistan lightly because of the rapid run-down of its military forces in the region. In Southern Kurdistan the leading chief and a minor religious leader, Sheikh Mahmud of Sulimamieh, was appointed by the British administration to control the area and he was supported by a handful of British political and military officers.

However most of the Kurds had no enthusiasm for seeing Turkish rule replaced by British rule and they schemed to obtain independence. Across the adjacent border in Persian Kurdistan an accomplice of Mahmud's, Chief Mahmud Khan Digli, advanced on Sulimanieh in late May with his Persian Kurds and seized the town; this was the signal for Sheikh Mahmud's supporters to rise. The Muslim Kurdish Levies that British officers and senior ranks were training mostly joined the uprising, and the Kurds successfully attacked and seized a British convoy of arms and ammunition on its way to Sulimanieh.

A Canadian serving in the 13th Hussars, No. 6240 Squadron Quarter Master Sergeant F.A. McBride, was serving with the Levies near Sulimaniah on 20th May when his camp was attacked.

He received a Distinguished Conduct Medal: For conspicuous gallantry on the 20th May 1919 near Sulia Aniyah, whilst with the Kurdish Levies in charge of a camp. When the camp was attacked and the men of his party dispersed, he collected the Indian and Armenian personnel and under heavy fire escorted them to a place of safety. His conduct throughout the operation was exemplary.

Sheikh Mahmud took control of the insurgents and called for a jihad (holy war) against the British, but some of the more powerful of the tribes in Southern Kurdistan failed to join him, preferring to first observe the British military reaction. Two British senior ranks with the levies were killed and the remaining British officers were captured and imprisoned.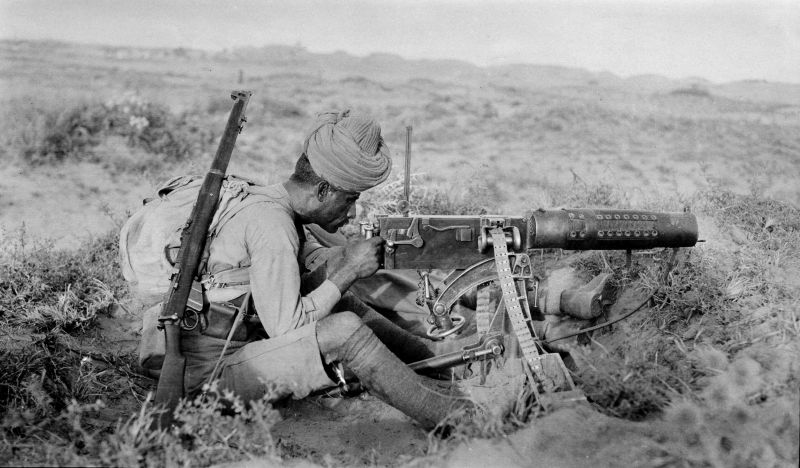 Above: Indian machine gunner 1916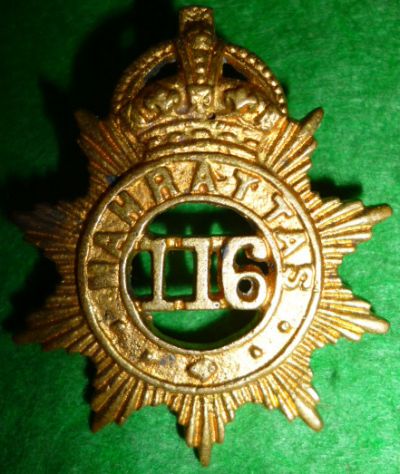 The response of the 116th Mahrattas

Stationed in Kirkuk was the 1st Battalion, 116th Mahrattas, less two companies that were at Altun Khopri and Erbil. Lieutenant Colonel A.H. Bridges DSO commanded the battalion which was composed of two companies of Konkani Mahrattas, one of Dekhani Mahrattas and one of Dekhani Mussulmans. Also in Kirkuk were two troops of the 32nd Lancers, two armoured cars of 8th Light Armoured Motor Battery (8th LAMB) plus several Lewis light machine guns transported in Ford cars driven by Burman drivers of 1024 Burma Mechanical Transport Company, Royal Army Service Corps. Colonel Bridges, who reported to a brigade headquarters at Baiji, a railhead on the River Tigris and five days march from Kirkuk, acted swiftly and impetuously. Although the theatre commander, Major General Sir George F. MacMunn KCB, KCSI, DSO, both in his book Behind the Scenes in Many Wars and in his despatch states that Colonel Bridges acted without orders, the Mahrattas' regimental history is adamant that the Colonel did not receive timely orders and so he used his initiative.

On 23rd May 1919 Colonel Bridges marched most of his Kirkuk garrison towards Sulimanieh in an attempt to rescue the captured British officers. Leaving a company and a troop of Lancers at Chemchamal, 50 kilometres short of Sulimanieh, Bridges pushed on, halting for the night at the Taslujeh Pass. Meanwhile Brigadier General G.M. Morris CB, DSO, (late 62nd Punjabis) commanding 55th Brigade at Baiji, despatched a force to assist Bridges and ordered him not to proceed past Chemchamal; but Bridges had already moved on to Taslujeh.

At dawn on 25th May Bridges found his force at Taslujeh was surrounded by hostile Kurds on higher ground and fierce fighting broke out. The Lancers were easy targets for the Kurds and the horsemen suffered several casualties including Lieutenant E.R.L. Poole who was killed. Colonel Bridges fought a withdrawal action back to the Bayzan Pass 20 kilometres in his rear, which he had to reach before the Kurds seized it; the two armoured cars and the Ford cars were abandoned. Captain D.K.J. Chisolm, 114th Mahrattas attached to 116th Mahrattas, commanded two Lewis guns during the withdrawal and although severely wounded he kept the Kurds at bay whilst the force withdrew; for his gallantry Captain Chisolm was awarded the Military Cross.

For further maps click HERE

The reinforcements from 55 Brigade arrived at Bayzan Pass just in time to secure it before hostile Kurds did, and Bridges' weary survivors were sent back in Ford cars as the reinforcements held off the pursuing Kurds. The 55 Brigade men then withdrew to Chemchamal, abandoning two more armoured cars of 14th LAMB. The crew members of these vehicles were captured by the Kurds and one was murdered by an aggressive youth, but the remainder were stripped and released, joining Bridges' force at Chemchamal. Altogether British troops had lost one officer and 8 men killed, two officers and 12 men were wounded and 14 men were missing.



Subsequent operations in Southern Kurdistan

Colonel Bridges returned to Kirkuk and Lieutenant Colonel H. Marr OBE, MC, South Wales Borderers attached to the Machine Gun Corps and commanding the 13th Machine Gun Battalion, took over command of the Chemchamal garrison which was surrounded by hostile Kurds. Now that the seriousness of the uprising was evident British aircraft were sent up from Baghdad to support operations.


Left: A 32nd Lancer depicted in 1912




On 29th May an escorted convoy of supplies trying to reach Chemchamal was ambushed and destroyed in a 5-kilometre long gorge. Meanwhile another column of British troops under Major J.D. Fraser, 32nd Lancers, had moved on 28th May to Qara Anjir which was located on the Line of Communication to Chemchamal from Kirkuk. Sheikh Mahmud and his Persian ally Mahmud Khan Digli surrounded this column and fiercely attacked it for three days. A Mahratta section in Fraser's force became separated from the cavalry; the section commander, Havildar Usman Khan, stood his ground with his men and fought until the entire section had been killed.

Ressaider Rewat Singh, 32nd Lancers, was later awarded a Military Cross: 'For marked gallantry and good work on the 30th May 1919. At Qara Anjir his squadron was heavily attacked. He took a Hotchkiss gun to a flank, and used it with such effect that it delayed the enemy for a considerable time. Though wounded in the thigh he continued in action, withdrawing his gun to various positions and thereby enabling his squadron to retire.'


No. 1389 Dafadar (acting Kot Dafadur) Jawahir Singh, 3rd Skinner's Horse attached to 32nd Lancers, won an Indian Order of Merit, 2nd Class, in the same action: 'For conspicuous gallantry and devotion to duty on the 30th May 1919 when this non-commissioned officer was working with his Hotchkiss gun troop covering the retirement of the regiment. On one occasion whilst withdrawing his gun, when the enemy were within 50 yards, the gun pack horse was shot. Under very heavy fire this non-commissioned officer dismounted, took the gun off the dead horse, and retired with it some 300 to 400 yards.'


Right: Indian Order of Merit 2nd Class


Major A.F.V. Jarrett MC, Royal Garrison Artillery, came to Major Fraser's assistance with a relieving column at a critical moment on 31st May. Jarrett's 25th Mountain Battery accurately engaged the Kurdish sangars forcing an enemy withdrawal towards Bina. Major Fraser later received a Distinguished Service Order: 'For marked gallantry and good leadership when in command of a small force heavily attacked for twenty-four hours on 30th-31st May 1919 at Qara Anjir. He inspired all ranks to greater efforts, and maintained a stout defence until the arrival of reinforcements.' Major Jarrett received a Mention in Despatches and a Brevet Promotion to Lieutenant Colonel.


A Private holding the Acting rank of Serjeant, No. 292273 W. Axe, 1st Battalion the 9th Surrey Regiment, was fighting at Qara Anjir and he received a Distinguished Service Medal: For conspicuous gallantry and devotion to duty throughout the 30th and 31st of May 1919 at Kara Anjir. He commanded his picquet in a most gallant manner, and on the 31st May displayed a fine example to his men when leading in an attack on the enemy.

'A' Company of the Mahrattas was in the force that relieved Major Fraser and platoon commander Jemadar Goving Sakpal, 116th Mahrattas, led a successful bayonet charge that resulted in him being awarded the Indian Distinguished Service Medal. As the Mahrattas withdrew, having achieved their aim of relieving Fraser's force, a pack mule broke loose from the column. No. 6022 Sepoy Gopal Chowan, 116th Mahrattas, chased after the mule and caught it; he then loaded two abandoned boxes of ammunition onto the mule and rejoined the column. Gopal Chowan was also awarded the Indian Distinguished Service Medal. British retribution was delivered to the local hostile Kurds by Brigadier Morris who destroyed Qara Anjir village on 1st June, and by the Royal Air Force who bombed Bina.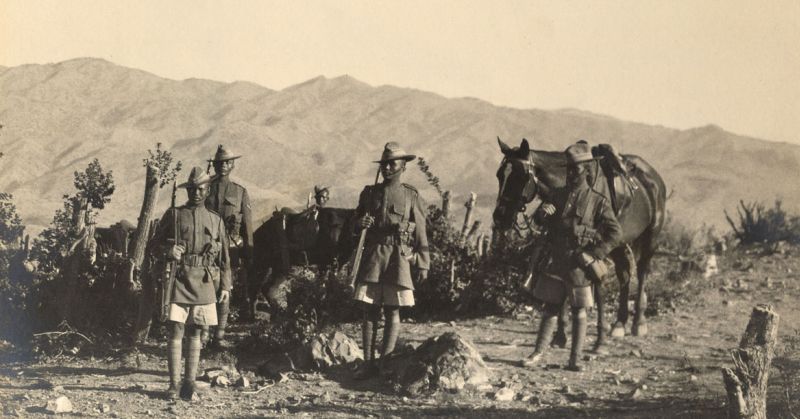 Above: Gurkha Rifles

The decisive action in the Bayzan Pass

The British now had to show the Kurds who had not yet joined the insurrection, especially the powerful Jaff tribe, that Britain would win any confrontation and would heavily punish rebel activity. General MacMunn ordered Major General T. Fraser CB, CSI, CMG (formerly Royal Engineers), the commander of the British 18th Division, to take a strong punitive force of two brigades to relieve Chemchamal, defeat Sheikh Mahmud's dissident Kurds, and to free the British prisoners held in Sulimanieh.

General Fraser assembled his force from within Mesopotamia and selected some of his most mobile units for a 'Striking Force' that would thrust through to Sulimanieh. The remaining units secured the lines of communication to prevent further attacks on supply convoys and prepared to execute punitive missions. Whilst the 'Striking Force' assembled a company of the 1st Battalion of the 5th East Surrey Regiment ventured out of Chemchamal with a section of Sappers and Miners and a few mounted troops; the mission of this force was to co-operate with Brigadier Morris' men at Qara Anjir in clearing the Gorge Pass of dead British bodies, wrecked Ford vans and supply carts and animal carcases, all being a result of Kurdish ambushes. After only a few hours work in the gorge a body of mounted Kurds cut off the East Surrey men from Chemchamal, and a desperate fighting withdrawal had to be made to Qara Anjir, ten kilometres away. Fortunately Brigadier Morris heard the sound of the firing and brought a force out to rescue the East Surreys; during the fighting the Brigade Major of 55 Brigade, Captain N.H. King-Salter, 6th Gurkha Rifles, was killed by a shot through the heart.

In mid-June the 'Striking Force' was ready and General Fraser relieved Chemchamal and by 17th June was confronting Sheikh Ahmed's rebels who held the strategic Bayzan Pass. In the 'Striking Force' was the 85th Burman Rifles that had been formed in July 1917 from sepoys serving in the Burma Military Police. This battalion was composed of one company of Kachins, one company of Burmans and Karens, one company of Sikhs and Punjabi Mahomedans and one company of Gurkhas. Bayzan was the Burman Rifles' first fight and they were selected to climb both sides of the pass during the hours of darkness. At dawn the East Surreys attacked through the pass but met determined resistance that slowed them down; British artillery and concentrated machine gun fire then engaged all visible enemy positions. Up on the heights the Burman Rifles attacked enemy sangars from the flanks, and bayonets, kukris and Burman dahs (tribal swords) flashed in the early morning sunlight as the sangars were cleared in fierce hand-to-hand fighting and the surviving Kurds were pushed back.

Left: Armed Kurdish men



The East Surreys and 116th Mahrattas, with the the 1st Battalion 87th Punjabis in support, then put in an assault supported by artillery and machine gun fire that cleared the pass. Around 50 Kurds were killed, 120 were captured and a large number were wounded. The survivors fled towards Sulemanieh or the Persian border. Sheikh Mahmud was discovered amongst the wounded Kurds in the pass, shot through the liver; he was medically treated and imprisoned to await trial.

General Fraser then ordered the 32nd Lancers to ride on to Sulimaniah to release the British prisoners there. It was thought that the Kurds might rally at the Taslujah Pass but the Lancers moved so swiftly that they entered Sulimanieh and seized the town before further Kurdish resistance had been organised. This rapid advance saved the lives of the British prisoners and a local community of Chaldean Christians whose massacre had been planned by the Kurds. General Fraser entered Sulimanieh on 20th June and remained there until October whilst his troops marched throughout South Kurdistan, burning rebel villages, breaking up water channels, felling shade and fruit trees and enforcing the British administration. It has to be said that these punitive actions, ordered by British Political Officers, were not always popular with the troops and at least one British officer received an official reprimand for disobeying such orders. However the severity of the punitive measures achieved the desired result and ensured future peace in South Kurdistan.



Left: Indian Distinguished Service Medal



An Indian Order of Merit, 2nd Class, was awarded to Subadar Vishram Rao Chowan, 116th Mahrattas: 'For conspicuous gallantry on the 17th June 1919, when in command of the advance guard. By his skilful dispositions he intercepted the line of retreat of a considerable body of the enemy, inflicting casualties on them. On the 29th July 1919, when this Indian officer was in command of a convoy he was heavily attacked by tribesmen, and fought an extremely gallant action for two and a half hours against heavy odds, extricating his convoy with a loss of two killed and two wounded. He set a fine example of leadership and courage to his men.'


In his book General MacMunn describes making an award to a Kachin for gallantry displayed in the fighting for the Kurdish sangars, and this was probably the Indian Distinguished Service Medal received by No. 858 Rifleman Maji Gam, 85th Burman Rifles. Lieutenant Colonel C.E. Morris, Corps of Guides attached to 85th Burman Rifles, later received a Distinguished Service Order. The General also mentions that he deployed 250 selected sepoys from the the 49th Bengalis, a unit also raised in 1917, into South Kurdistan; this unit had achieved notoriety when the Subedar Major and another officer had been murdered by a sepoy. The Bengalis arrived too late for the fighting but displayed 'commendable endurance' in marching around the region in intense heat whilst on punitive missions.


Central Kurdistan, August – October 1919

Further north in Kurdistan, 130 kilometres north of Mosul, a separate insurrection had broken out in July 1919. Here Kurdish Muslims and Christians lived in adjacent villages, but the Armistice line with the Turks ran through the north of the region and Turkish propaganda and intrigue prevailed in encouraging Muslim rebellion against the British administration. In April the Goya tribe, inhabitants of very inaccessible terrain, murdered the Assistant Political Officer at Zakho, Captain A.C. Pearson, Royal Warwickshire Regiment, after inviting him for a visit. Three months later on the night of 14th July at Amadia the Muslim Gendarmes mutinied and murdered the British Gendarmerie commander, Lieutenant H. MacDonald MC, 13th Hussars, the Assistant Political Agent, Captain R.H.D. Willey, Royal Engineers, the Political Clerk Sapper R.A. Troup, Royal Engineers, an Indian signaller whose name has not been recorded, and all the Christian Gendarmes. The Political Officer, Lieutenant Colonel G.E. Leachman CIE, DSO, Royal Sussex Regiment, accompanied by an escort from the 1st Battalion 39th Garhwalis attempted to reach Amadia on the 16th July but his party was fiercely attacked and forced to make a fighting withdrawal. The insurgents then attacked and looted Christian villages in the Amadia Valley. Firm British action now had to be delivered.

General MacMunn ordered one brigade to be formed at Sowaira, 40 kilometres from Amadia, under Brigadier General M.R.W. Nightingale CMG, DSO (formerly 5th Royal Gurkha Rifles), and a second brigade to be formed at Zakho under Brigadier General W.H. Wooldridge (formerly 126th Baluchistan Infantry). Major General R.A. Cassels CB, DSO (formerly 32nd Lancers) was the operational commander.


NIGHTCOL advances


By 30th July NIGHTCOL as the Sowaira column was named consisted of these fighting units:

· 34th Mountain Battery (less one section);
· Two sections No. 8 Company, 1st Sappers & Miners;
· Two companies 1st Battalion 39th Garhwal Rifles;
· 52nd Sikhs (Frontier Force);
· 1st Battalion 7th Gurkha Rifles;
· Assyrian Battalion (less one company);
· No. 238 Machine Gun Company (less one section).

A force of cavalry, artillery, infantry and pioneers formed a second column dedicated to protecting NIGHTCOL's lines of communication. The Assyrian battalion consisted of Christians recruited in Persia from refugees fleeing Turkish persecution; the battalion had a complement of British officers and senior ranks and the men were used to fighting in mountainous terrain.

The first operation of NIGHTCOL on 31st July was reasonably successful. The mission was to capture two hostile leaders, Sheikh Bahaddin and his brother Raouf, and a difficult night march over thickly wooded and broken country led to unit separation and delays, but by 0500 hours the column concentrated and surrounded the target village. Bahaddin was captured but Raouf had left the previous day; the houses were demolished and 50 rifles, 900 sheep and goats and 50 mule-loads of grain were confiscated. Sixteen Kurdish snipers operating on the rocky hillsides were killed without loss to the column, mainly due to the Sikhs holding the ridgeline above the snipers.

Above: Assyrians
The ambush in the Mazurkha Gorge

An operation on 2nd August failed due to incorrect intelligence reports, but by 7th August NIGHTCOL was at Bedabi Village, three kilometres from Amadia and at the mouth of the Mazurkha Gorge that passes through the Sher Amadia range of hills that rose to a height of 600 metres. The gorge was steep, less than 100 metres wide, strewn with huge boulders and flanked on both sides by caves that were ideal positions for snipers. The 52nd Sikhs was a Frontier Force unit and should have been alert to the need for the picqueting of high ground, but patrols and intelligence reports indicated that there was no enemy force in the area.

On 8th August Major J.D. Shepherd, Royal Engineers, led a column consisting of one section of Sappers & Miners; one section of 34th Mountain Battery; 'B' Company 52nd Sikhs (Dogras and Pathans), and a Medical Detachment up into the gorge; this force was too weak to picquet the heights on either side. The local Kurdish insurgent leader Rashid Beg was waiting for the column with his followers. The two leading platoons of 'B' Company were shot down by large numbers of Kurds firing from the front and both flanks. Major Shepherd and 'B' Company Commander Captain A.M. Lewis were killed, as were Lieutenant B.W.P. Dodds MC, Indian Army Reserve of Officers attached to the battery, and Jemadar Abdulla of 'B' Company. Confusion reigned and the gunners were unable to bring their guns into action as many of the men and mules were shot down. Captain W.R. Mathewson, Royal Army Medical Corps, survived by hiding in a cave until dusk. The two rear platoons under Jemadar Sahnu of 'B' Company and the surviving gunners under Captain R.J. Sims, Royal Garrison Artillery, extricated themselves and occupied a position covering the mouth of the defile.

At Bedabi Brigadier Nightingale heard the firing and ordered the Sikhs' commanding officer, Lieutenant Colonel C.P. Wynter, to move swiftly to the gorge with his 'D' Company, a section of 34th Mountain Battery and two guns from No. 238 Machine Gun Company. Colonel Wynter reached Jemadar Sahnu's position before noon but there was a dead silence from the gorge. The Brigadier then sent Lieutenant Colonel G.L. Cattell DSO, commanding officer of 1st Battalion 7th Gurkhas, to the gorge with two of his rifle companies. They made an immediate impact by fighting for and seizing Mazurka Hill, the vital ground to the west above the gorge, for the loss of two Gurkhas killed and eight wounded, two of whom subsequently died. During this fighting Colonel Cattell was wounded but was avenged by one of his Riflemen, No. 1792 Adipal Chettri, who was notorious for being a poor shot on the rifle range; but now he quickly shot three Kurds including the one believed to have shot his Colonel. Adipal Chettri was awarded an immediate Indian Distinguished Service Medal.

The eastern heights were well defended by Kurdish snipers but were engaged by the mountain gunners. Heartened by the Gurkhas' success, at around 1630 hours 'D' Company 52nd Sikhs, under Captain H.C.S. Heath accompanied by Captain Sims, rushed the mouth of the gorge and advanced to where most of the bodies lay. However Kurds in the caves pinned down 'D' Company and caused fresh casualties, preventing a withdraw until nightfall; even then some severely wounded men had to be left in the gorge as attempts to move them attracted heavy enemy fire. Subadar Sansar Chand, 52nd Sikhs, was wounded twice during this fighting but refused attention; he was later awarded an Indian Distinguished Service Medal as was No. 2622 Havildar Hakim Shah, 52nd Sikhs. Captain Sims received a Military Cross and Colonel Wynter was awarded a Distinguished Service Order. Two Naiks of 34th Mountain Battery, No. 85 Naik Nader Ali and No. 18 Naik Fazal Dad also received the Indian Distinguished Service Medal.

At dawn the next day reconnaissance patrols found that the Kurds had withdrawn and the British bodies were recovered from the gorge. Besides the four dead officers already named 34 sepoys had been killed, along with 11 mules killed and 10 wounded. The Sikhs had suffered 42 Indian officers and men wounded. Strong permanent picquets were placed above the gorge and the British troops withdrew with their casualties to Bedabi.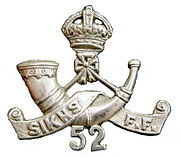 Left: Badge of 52nd Sikhs (Frontier Force)


The attack on Sowaira

Emboldened by their success in the Mazurka Gorge, at 0400 hours on 14th August the Kurds mounted a serious attack on NIGHTCOL's base camp at Sowaira. Two companies, one of Yusufzai Pathans and the other of Sikhs, of the 1st Battalion 128th Pioneers were working near the camp supported by a gun of 34th Mountain Battery. The camp was surrounded by steep bush-covered hills and the seven picquet posts outside and surrounding the camp were manned by sepoys of the 1st Battalion 8th Rajputs. Major D.S. Graham, 128th Pioneers, commanded the troops.

Around 1,000 Kurds, mainly Gulis and Goyans, made a determined attack and overran No. 3 Picquet and the crest line on which it was situated; this allowed them to throw grenades and to fire into the camp. Insufficient defensive work had been done on No. 3 Picquet and it was shrouded by undergrowth and trees. Another group of Kurds got into the camp and rushed the mountain gun position. The gun was commanded by Jemadar Harnam Singh; whilst the gun was being dragged into a suitable firing position eight of the ten gunners on the drag ropes were hit by enemy bullets. The drag ropes had been fixed by Gunner Natha Singh whilst he was under enemy fire. Jemadar Harnam Singh came into action firing shrapnel with a fuze setting of zero (instantaneous), this killed eight of the attackers and restored the situation in the camp. Jemadar Harnam Singh and No. 456 Gunner Natha Singh later both received the Indian Distinguished Service Medal.

A Havildar from 1st Battalion 7th Gurkhas, No. 1739 Gopi Thapa, was in Sowaira Camp when the attack occurred. He saw an opportunity to push a group of Kurds overlooking the camp back, and he made a plan with the gunners. Taking three men with him he climbed the ridge, signalled to the gunners to cease fire, and charged the group of Kurds, killing or driving them off. Havildar Gopi Thapa also received the Indian Distinguished Service Medal.

An Australian signaller, No. 20597 Sapper (Temporary Serjeant) A.T. Rodd, 1st Wireless Squadron, Australian Engineers, later received a Distinguished Conduct Medal: For conspicuous gallantry and devotion to duty during the attack on Suwara Atika on 14th August 1919. Under very heavy fire particularly directed towards his wireless mast, he personally kept open wireless communication without a break, and thus made possible the early arrival of aeroplanes, which were largely instrumental in restoring the situation.

Left: Medals of Lt. J.P. O'Shea, 1024 Burma MT Company

The Pioneers then deployed men outside the camp to reinforce the picquets and to retake No. 3 Picquet. Lieutenant W.R. Lloyd-Jones took a reinforcement party of pioneers up onto the East Ridge and Lieutenant C.H. Stewart moved out to retake the West Ridge and No. 3 Picquet. Stewart was quickly wounded and his mission was taken over by Subadar Karam Singh, Bahadur, IDSM. A party of Rajputs under Lieutenant H.A. Pattullo MC joined Karam Singh and together they drove the Kurds off the West Ridge, counting eight dead enemy corpses in No. 3 Picquet. On the East Ridge Jemadar Hakim Khan and his Pathan platoon fought fiercely to keep the Kurds out of No. 6 Picquet. The gallantry of Jemadar Hakim Khan and No. 4403 Naik Ladha Singh, both 128th Pioneers, and of No. 2160 Havildar Jagarnath Singh, 8th Rajputs was recognised by the award of the Indian Distinguished Service Medal to all three men.

British aircraft arrived overhead but experienced difficulty in identifying enemy targets because of the thick undergrowth that concealed the Kurds. Two Pioneer platoons of Pathans under Subadar Musa Khan, Bahadur, IOM, were sent to the next camp to bring back a section of two mountain guns, and when these arrived around noon the battle turned against the attackers. By 1430 hours the Kurds were withdrawing. The British units had lost 19 men killed and 67 men wounded. Several of the casualties were previous casualties from the Mazurka Gorge action who were convalescing at Sowaira. The Pioneers' Adjutant, Captain E.N. Goddard OBE, 107th Pioneers attached to 128th Pioneers, was awarded a Military Cross: For conspicuous gallantry and devotion to duty during the attack on Suwari Camp on 14th August 1919, when he displayed the most untiring zeal and contempt of danger. Throughout the day he controlled his command most ably, and it was almost entirely due to his foresight that the hostile attack failed.

That night at Bedbadi everyone in NIGHTCOL was on edge, and a Garhwali patrol leader was shot in error by a Sikh sentry. This started a pattern of defensive shooting, although no Kurds were in the vicinity, which rose to a crescendo before gradually dying away; panic had taken over the camp until discipline was restored.


Cooperation between the Sowaira and Zakho Columns

On 18th August Brigadier Wooldridge was ordered to advance from Zakho against the Guli tribe and he moved his column to a base at Dergali from where punitive measures could be applied to Guli villages. Bernuna, 50 kilometres distant, was an important Guli village but it was strongly defended and General Cassels ordered NIGHTCOL to move to support Brigadier Wooldridge. This led to an intermingling of the units in the two columns depending upon the operational requirements at any particular time, and finally General Cassells ordered both columns to move on one line of advance.

The 126th Baluchistan Infantry was in the field as part of the Zakho Column, and the battalion saw some tough fighting as the Goyans and Gulis were pursued into their homelands. Jemadar Lal Shah Gul, 126th Baluchistan Infantry, was awarded a Military Cross: For conspicuous gallantry and devotion to duty at Sheranis on 17th September 1919, when with two sections he attacked and captured a point within close range of the enemy sangars at Khantur. Although heavily fired on he maintained his position unsupported for two hours until ordered to withdraw. Whilst holding this position he showed great gallantry in moving wounded men, and controlled his command most skilfully throughout. Jemadar Arz Muhammad and three Naiks, No. 3676 Ahmed Din, No. 2550 Fazal Khan and No. 4175 Malik Shah, all of the 126th Baluchistan Infantry received the Indian Distinguished Service Medal for the Central Kurdistan campaign.

Whilst traversing the Guli area to evict Kurds from Christian villages which had been seized, patrol commander Jemadar Gurul Sing Gurung, 1st Battalion 7th Gurkha Rifles, discovered that he was being followed by the enemy, so he made a feint retirement and set an ambush, killing two Kurds. On 28th September Colonel Cattell was ordered to attack a well-sited enemy position north-east of Qavrek whilst the Assyrian battalion attacked an adjacent ridge. Supporting fire came from 34th Mountain Battery and 238 Machine Gun Company whilst 'B' Company under Lieutenant C.B. Ford, 103rd Mahratta Light Infantry attached to 7th Gurkha Rifles, and 'C' Company under Captain C.W. Saunders, 108th Infantry attached to 7th Gurkha Rifles, attacked. The enemy position was taken but both Gurkha company commanders were killed. Jemadar Lalbir Sunwar and No. 2074 Havildar Purandhoj Rai received the Indian Distinguished Service Medal for gallantry displayed in action, as did Jemadar Gurul Sing Gurung. Meanwhile the Assyrian Battalion attack also succeeded and drove the Kurds off their ridge.




The conclusion of operations in Kurdistan

By mid-October 1919 every remote valley in Central Kurdistan had been visited by British troops and severe punishment had been inflicted on all villages that had rebelled. In particular the village of Robojek where the Goyans had murdered Political Officer Captain A.C. Pearson in March was burnt to the ground by the Gurkhas, as was the adjacent chief town of Keroar. The Goyans and Gulis asked for terms of submission that were negotiated by the Political Department, and most of the British troops marched back to their barracks in Mesopotamia. General MacMunn had insisted on painful reprisals against insurgents and his policy was vindicated during the serious Arab Insurrection in Mesopotamia in 1920, when Kurdistan remained peaceful and calm.

The British total casualty figures for operations in Kurdistan list 10 British officers, 4 Indian officers, 8 British other ranks and 115 Indian sepoys and Assyrians as killed in action. Seven British, 12 Indian, 14 British other ranks and 207 Indian sepoys and Assyrians were wounded. Some of those men would have died of their wounds. Nine sepoys and Assyrians were reported missing.

Campaign clasp

A clasp titled KURDISTAN to the British General Service Medal (1918-1962) was authorised to be awarded to military personnel who had served in relevant areas of Kurdistan during the periods of fighting.



Other major gallantry awards for the 1919 Kurdistan campaigns


Bar to the Distinguished Service Order
Captain & Brevet Major D.G.J. Ryan DSO, 1st Battalion 6th Gurkha Rifles.

Military Cross
Captain S.S. Bond, Special List attached Political Department.
Lieutenant N.W. Clarke, 11th Battalion Bedfordshire & Hertfordshire Regiment attached 1st Battalion 5th East Surrey Regiment.
Captain F.P.G. Denehy, attached 32nd Lancers.
Lieutenant E.L.W. Fox, attached 39th Garhwal Rifles.
Captain C.H. Gowan, 13th Hussars.
Lieutenant A.W.W. Holworthy, 1st Battalion 3rd Gurkha Rifles.
Lieutenant S.P.H. Moorhead, Bedfordshire & Hertfordshire Regiment attached 184th Machine Gun Corps, attached Assyrian Battalion.
Lieutenant C.F. Pyett, Indian Army Reserve of Officers attached 1024 Burma Motor Transport Company, Royal Army Service Corps.

Appointment to be Brevet Lieutenant Colonel

Amongst the appointments to Brevet rank for distinguished service in Kurdistan was Major (Temporary Lieutenant Colonel) C.J.E. Auchinleck CBE, DSO, 62nd Punjabis. This officer rose to be Field Marshal Sir Claude John Eyre Auchinleck GCB, GCIE, CSI, DSO, OBE, who later became Commander in Chief India on two occasions, an appointment that he held at Partition.

Endnote

Many more units than those mentioned in the above text served in the 1919 Kurdistan campaigns but this article has concentrated on the major actions and the units involved in those actions. Information on other units involved can be obtained by studying page 2882 to the Supplement to the London Gazette dated 8 March 1920, and by reading page 517 of British Battles and Medals.


SOURCES:

§ Army Headquarters India (compiler). Indian Army List January 1919. (Naval & Military Press reprint).
§ Chhina, Rana. The Indian Distinguished Service Medal. (InvictaIndia 2001).
§ Condon, Brigadier W.E.H. The Frontier Force Regiment. (Gale & Polden, Aldershot 1962).
§ D'Souza, Major General E. Valour to the Fore. A History of the 4th Battalion, The Maratha Light Infantry. (ARB Communications, India 2000).
§ Graham, Brigadier General C.A.L. The History of the Indian Mountain Artillery. (Naval & Military Press reprint and on Internet Archive).
§ Hayward, John, Birch , Diana and Bishop, Richard. British Battles and Medals. (Spink, London 2006).
§ Hypher, P.P. (compiler). Deeds of Valour Performed by Indian Officers and Soldiers During the Period from 1860 to 1925. (Liddell's Press, Simla, India 1927).
§ Jones, Reverend J. Cethin MC. Article: The Campaign In South Kurdistan, 1919 published in the Army Quarterly.
§ Macmunn, Sir George F. Behind The Scenes In Many Wars. (John Murray, London 1930).
§ Macmunn, Sir George F. Despatch in London Gazette Supplement dated 8th March 1920.
§ Mackay, Colonel J.N. (compiler). History of 7th Duke of Edinburgh's Own Gurkha Rifles. (William Blackwood & Sons, Edinburgh and London 1962).
§ Townshend, Charles. When God Made Hell. (faber & faber 2010).
§ Tugwell, Lieutenant Colonel W.B.P. History of the Bombay Pioneers 1777-1933. (Naval & Military Press reprint.)

To go to Harry's Sideshows click HERE