German East Africa, January 1915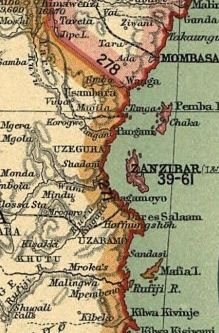 On 30 October 1914 the Royal Navy had established that the German cruiser KONIGSBERG was in the Rufiji Delta south of Dar Es Salaam in German East Africa.

Mafia Island at the mouth of the Rufiji had been purchased from the Ruler of Zanzibar by Germany, but now it was needed as a British base for operations against the KONIGSBERG.

As the Schutztruppe garrison on Mafia was thought to total only 30 men plans were made to seize the island. On New Year's Day 1915 the four companies of 1st King's African Rifles (1KAR, the Nyasaland battalion) that were in British East Africa were concentrated at Nairobi under Major L.M. Soames (East Kent Regiment), and were organized and refitted for this task.

The Askari were practiced in advancing under fire by squads in file at 20 paces interval with local supports and reserves. Thick bush was used for this training, which culminated in practicing attacks across open ground. Lt Col B.R. Graham (Corps of Guides, Indian Army), Commanding Officer 3 KAR (the British East Africa battalion), gave a lecture on the general situation to the four companies, a half-battalion photograph was taken, and on 7th January the troops departed by rail for Mombasa.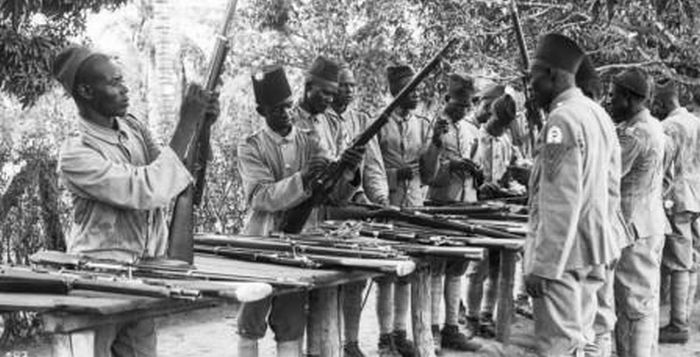 Above: Men of the German East African Police cleaning their rifles
On 8th January the four 1 KAR Companies and a section from 4 KAR (the Uganda battalion) of the KAR Maxim Gun Battery embarked on the armed merchant cruiser KINFAUNS CASTLE along with a company of 101st Grenadiers, Indian Army. Lt Col L.E.S. Ward KAR commanded the force. At 0630 hours on 10th January the cruiser HMS FOX and the KINFAUNS CASTLE bombarded the Ras Kisimani area, the western tip of Mafia Island, whilst the troops were put ashore unopposed.

Left: Maxim Gunners of the KAR


KAR reconnaissance patrols moved towards Ngombeni where the German defenders were thought to be positioned whilst a defensive perimeter was formed at Ras Kisimani and secured by the 101st Grenadiers.


At 0630 hours on 11th January the British force advanced towards Ngombeni, Lt G.M. Dean's 1 KAR scouts making contact at 0830 hours & identifying the enemy defensive position by 0900 hours.

The Schutztruppe defenders consisted of 15 Police Askari, 11 recruits & three Germans under Reserve Lieutenant Schiller. They vigorously opposed 1 KAR's advance, Lt Schiller effectively using the branches of a mango tree to fire from. Major Soames ordered Captain G.T. Giffard (Royal West Surrey Regiment) to hold the enemy in front with "B" Coy and the machine-gun section whilst "E" Company under Lieutenant L.G. Murray (Gordon Highlanders) moved round the enemy's left flank. "A" and "C" Companies were initially held in reserve but as the hours passed both companies were sent to work round the enemy's right flank.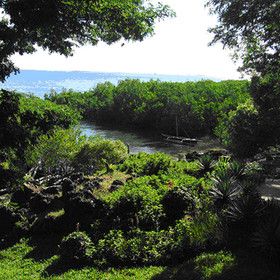 Right: A creek on Mafia Island


"E" Company's flank-move eventually forced the enemy to retire from Ngombeni Village across a valley, giving the KAR machine-guns and Askari a good shoot. Lieutenant Schiller was severely wounded, two defenders were killed and five others wounded and after resisting for nearly four hours the enemy force surrendered, apart from a party under Landsturmmann von Delling that escaped in a dhow to Kilwa on the mainland. KAR casualties were Major Soames and Lieutenant Joyce severely wounded, Captain Gifford slightly wounded, one Askari killed and seven wounded.

Lt Schiller's wife tended to the British casualties before her husband was found. After being wounded Lt Schiller could not be easily seen and he had to fire shots from his pistol to attract attention from stretcher bearers. (Lt Schiller was taken to the British hospital in Zanzibar, and later he and Frau Schiller were released in return for the release on parole of the two British officer prisoners captured soon afterwards at Jasin, north of Tanga.)

"C" Company then proceeded to the main town Kilindoni and hoisted the British flag at 1423 hours. ""A", "B" and "E" Companies marched to Chole Bay on the island's southeast coast, meeting no opposition. The German civil authorities surrendered Mafia Island and "A" and "B" Companies returned to Ngombeni.

On 13th January a company of 63rd Palamcottah Light Infantry took over garrison duties on Mafia Island under Lt Col J.D. Mackay, an ex-KAR officer who had served 14 years in various parts of East Africa. The next day all 1 KAR troops moved to Mombasa via Zanzibar aboard SS ELLENGA. Arriving at Mombasa on 16th January all four companies were quickly trans-shipped to SS BARJORA which immediately sailed south along the British East African coast to where an important action was being fought at Jasin.

Lt Col Mackay developed an intelligence operation in German East Africa from his base on Mafia Island, sending agents to and from the mainland by local dhows. The British Royal Naval Air Service sited an airstrip at Kilindoni and a hangar, pre-fabricated in Zanzibar, was erected there on 20 June 1915. From this base, but not without several problems, British aviators were to fly observation missions over the KONIGSBERG in support of the Royal Navy monitors (shallow-draught gun ships) that finally incapacitated the German warship.

The British Army recruited Askari from the inhabitants of Mafia Island and formed a unit named the Mafia Armed Constabulary. In late 1916 this unit was merged with the Zanzibar African Rifles and on 1st May 1917 the merged unit was re-titled the 7th (Zanzibar) King's African Rifles (7KAR). From 1st August 1917 until the end of hostilities 7KAR was employed as Lines of Communications and Coastal Garrisons Troops. In April 1919 7KAR disbanded, the Askari who wished to continue to serve being posted to 6KAR (Tanganyika) as No 1 Company of that Regiment.

SOURCES:

1 KAR (Northern Half) War Diary for January 1915
Deutsch-Ostafrikanische Zeitung, 23 January 1915.
Official History of the War Military Operations East Africa August 1914 to September 1916
The King's African Rifles by H. Moyse-Bartlett
VOI DISTRICT War Diary August 1914 to January 1915
My Reminiscences of East Africa by General Paul von Lettow-Vorbeck
The Infantry of East Africa Command 1890-1944 by East Africa Command and the Ministry of Information, Nairobi, Kenya.

To Return to Harry's Africa click HERE