The 3rd Battalion of 2nd King's African Rifles in German East Africa in 1917


The 2nd Regiment of the King's African Rifles (1)

When the Great War commenced in August 1914 four companies of the Nyasaland- (now Malawi) based 1st King's African Rifles (1KAR) were stationed in British East Africa (BEA, now Kenya) and employed on border security duties in north-eastern BEA. These four companies, half of 1KAR, were retained in BEA and played a full but little-publicised part in defending the Uganda Railway from German attacks. During the spring of 1916 these companies took part in the advance into German East Africa (GEA) where it was decided to increase the size of the unit to full-battalion status and title it 2nd King's African Rifles (2KAR). Recruits were obtained from Nyasaland and shipped up to Mombasa and then railed to Mbgathi Camp outside Nairobi. There a full battalion was raised but almost immediately a decision was made to form a sister battalion. More recruits came from Nyasaland and the two battalions were titled 1st Battalion and 2nd Battalion 2nd King's African Rifles (1/2KAR and 2/2KAR).

By the end of 1916 British commanders could see that Indian and British troops were suffering severely in GEA from the effects of the climate and from tropical ailments that their bodies could not resist. In contrast the KAR battalions could cope well with both the environment and the German Askari, so a considerable expansion of the KAR was authorised. Major C.G. Phillips MC (2) (West Yorkshire Regiment) toured Nyasaland and recruited men to meet the casualty replacements needed by 1/2KAR and 2/2KAR and to form a new battalion titled 3rd Battalion 2nd King's African Rifles (3/2KAR). Major Phillips was promoted to command 3/2KAR and he trained his new battalion at Mbgathi until it was shipped down the GEA coast and landed at Lindi on 4th June 1917.


On disembarkation the strength of 3/2KAR was: ·

British officers 29 ·
British senior ranks (RSM, RQMS, OR C/Sgt (3) 3 ·
African other ranks (Nyasas) 920 ·
African clerks and hospital dressers (Nyasas) 10 ·
Machine gun porters (4) (Nyasas) 122 ·
Syces (grooms for horses) (Nandis from BEA) 10 ·
Stretcher bearers (Wateita from BEA) 23 ·
Personal servants for officers (from BEA tribes) 30 ·
Cooks (from BEA tribes) 5 ·
Battalion porters (from BEA (5) and Uganda tribes) 1320



Above - A KAR group in German East Africa


Operations near Lindi in June 1917

Colonel Phillips had been hoping for time to train his men locally in patrolling but the British commander in Lindi, Brigadier General H. De C. O'Grady (52nd Sikhs), did not believe in wasting either time or opportunities to act aggressively. An operation was mounted on 10th June that involved 3/2KAR, 1/2KAR, the 25th Royal Fusiliers (Frontiersmen) (25RF) (6), the Indian 5th Light Infantry (5LI), two sections (4 guns) of 259 Company Machine Gun Corps (7), one section (2 guns) of the Indian 27th (Bengal) Mountain Battery, a company of the Indian 61st (King George's Own) Pioneers and two trench mortars manned by the 2nd West India Regiment. Various naval craft were placed in support of the operation.

Whilst O'Grady's brigade held the coastline around Lindi the Germans held the interior with seven field companies, and used a gun salvaged from the German cruiser Konigsberg to shell Lindi and British ships anchored off-shore. The Konigsberg gun was moved around on an agricultural trolley line that linked plantations in the interior with a landing stage at Mkwaya, where before the war produce had been loaded onto light vessels. Whilst one British column marched inland to cut off any enemy troops withdrawing from the area of Schaeffer's Farm, Colonel Phillips led an amphibious operation in the hours of darkness that used a high tide to move 3/2KAR, 25RF, the pioneers and the mortar men up the Lukuledi River to Mkwaya where enemy movement on the trolley line could be blocked.



Above- Map of Lindi area
Naval steam boats were used to tow six barges and rafts carrying the troops up-river and an exciting evening was had whilst the suspicious enemy fired illuminating flares, but the British troops did not move or respond and they reached Mkwaya safely. An enemy picquet then fired on the barges but Captain Spencer Tryon (East African Mounted Rifles) of 3/2KAR leaped ashore with a platoon, scrambled up the muddy river bank and drove the enemy picquet away. The battalion landed followed by the other units and much credit was due to the professionalism of the Royal Navy boat crews who had been operating under the direct supervision of Rear Admiral E.F.B. Charlton, Commander-in-Chief, Cape Station.

Colonel Phillips advanced frpm Mkwaya at 2300 hours 10th June and reached the vicinity of Tandamuti Hill at dawn. During this night-time advance Lieutenant Charles Going (2nd Rhodesia Regiment) came across an enemy rearguard and shot two enemy Askari. Reconnaissance patrols were then sent out towards Schaeffer's Farm and Mrweka. During the morning 3/2KAR was constantly bumped by enemy foraging parties looking for food, and prisoners were taken from the German 16 Field Company. Meanwhile after daybreak Brigadier General O'Grady changed his operational plan and decided to advance directly on Schaedel's Lower Farm in order to get in touch with the enemy and to protect the Mrweka landing place. A message was sent to 3/2KAR ordering the battalion to conform with the new plan, but it was not delivered until 1130 hours when a British aeroplane dropped it on 3/2KAR's location. Meanwhile 25RF occupied Ziwani Ridge and attracted fire from several German machine guns that were positioned along the trolley line. General O'Grady wanted 3/2KAR advancing on Schaedel's Lower Farm before he attacked across very broken ground to the same objective, but 3/2KAR, isolated near Tandamuti Hill, did not know that its brigade commander had changed his orders.

Above - KAR Askari marching
Once the early morning mists had cleared from Lindi Bay the Konigsberg gun was directed by its observers to engage British naval vessels and the gunboat HMS Thistle was hit and badly damaged. During the damage control activities that followed the gallantry of members of the ship's crew resulted in the awards of a Distinguished Service Cross and three Conspicuous Gallantry Medals. Two British cruisers, HMS Hyacinth and HMS Minerva joined in the battle, the latter ship being heeled over 12.5 degrees in an attempt to gain maximum range for her guns. However the German gunners preferred to duel with the monitor HMS Severn who had assisted in the destruction of the Konigsburg in the Rufiji River Delta. But there were no more dramatic moments and the gunfire from both sides did little or no further damage except to the African bush.

Up on Ziwani Ridge at 1330 hours the German 16 Field Company of Askari and the Tanga Company of mobilised European settlers attacked 25RF, but General O'Grady brought up reinforcements including the company of Indian Pioneers who counter-attacked with the Fusiliers and drove the Germans back with the bayonet, capturing two machine guns in the process. Germans were not the only enemy as swarms of infuriated wild bees heavily stung the British troops, leaving some men barely able to see past their swollen faces.

Colonel Phillips, having finally received his new orders by air-drop and having written and given his own new battalion orders, advanced 3/2KAR through very thick bush towards Schaedel's. Around 1430 hours the battalion was attacked from the south-west by the German 19 Field Company and 'S' Company under Captain Loof, the former Captain of the Konigsberg. Numbers 1 and 3 Companies of 3/2KAR immediately charged the enemy without orders being given, and Loof's men hastily withdrew. It was learned later in conversation that none of the 3/2KAR Askari involved wished to miss-out on a close contact with the Germans and so they charged spontaneously.

Above - Sketch map of operations around Lindi
As dusk approached Colonel Phillips, having not been able to locate General O'Grady's headquarters or any other British unit, decided to make for Mkwaya where much-needed water and food would be available. As 3/2KAR changed direction in the bush Loof's men attacked the rear company, No. 2 Company, but did not close with it. In the darkness and confusion Lieutenant Frank Alcock (2nd Rhodesia Regiment) and two machine gun teams became separated from No. 2 Company. The gun porters dropped the two guns and fled from the incoming enemy fire, followed by the recent recruits in the gun teams. Frank Alcock became separated from everyone else and wandered in the bush for four days until he was found in a very disturbed condition; he was then evacuated but he died in hospital a few weeks later.

One of the guns was dropped beside a wounded 3/2KAR Askari who dragged it into a nearby farmer's hut where he lay beside it for around ten days until he was found; this loyal Askari also died in hospital. The second gun was picked up by No. 3319 Lance Corporal Saiti Mwazungu, 3/2KAR, who walked in the darkness until he heard the sounds of British troops. He hid the gun under bushes and went forward to identify himself; unfortunately the sentry who challenged him was a 1/3KAR Askari who fired immediately after his challenge, killing the very conscientious Saiti Mwazungu. A few weeks later local farmers found this second gun and it was returned to 3/2KAR.

By 12th June the Germans had broken contact and withdrawn down their trolley line with the Konigsberg gun. General O'Grady occupied Schaedel's Lower Farm without a fight and then withdrew most of his troops to Lindi. Colonel Phillips had introduced his new battalion to the complexities, frustrations and confusion of bush warfare; 3/2KAR had taken 25 casualties and temporarily lost two machine guns, but most of the new Askari had shown that they wished to close with the enemy and fight. The battalion now occupied Schaedel's Lower Farm and Ziwani Ridge and actively patrolled the area. On 21st June a 3/2KAR reconnaissance in force under Major Robert Cecil Hardingham MC & Bar (8) turned the enemy out of their trenches at Schaedel's Upper Farm; no British lives were lost but Captain A.E. Evans and eight Askari were wounded.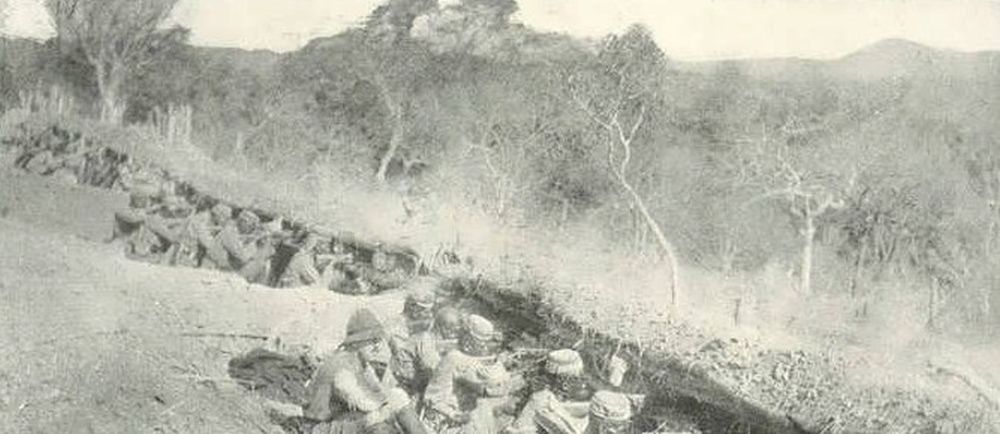 Above - A KAR trench line in East Africa
For bravery and use of initiative whilst patrolling near Upper Schaedel's Farm No. 106 Sergeant Tom, 3/2KAR, was awarded an African Distinguished Conduct Medal with the citation: Whilst in charge of a standing patrol of ten rifles he went forward with one man to investigate some talking which he had heard ahead of him in the bush, he came upon an enemy party passing along a winding path which would eventually lead them to his standing patrol. He counted the enemy party of 3 German whites and 79 German askaris. He then hurried back to his patrol by a short cut and arranged his men to receive the enemy. He opened fire at close range and knocked over one German white and 2 German blacks. He was then forced to retire 100 yards by the enemy outflanking him. Just at this time his relief of 10 rifles arrived, he thereupon advanced causing the enemy to retreat, capturing 3 rifles, sets of equipment etc, and 400 rounds of ammunition. This native NCO has previously done fine work.

No. 415 Sergeant Edward, 3/2KAR, also received an African Distinguished Conduct Medal: 30/6.17 near MKWAYA. For gallantry in action. At 1630 hours on 30th June 1917, near Mkwaya, with 27 rank and file, he met and successfully engaged an enemy Company with two machine guns. For one and a half hours he fought the enemy and kept his men under complete control throughout. He then advanced and forced the enemy – three or four times his strength – to retire hurriedly.



The fight for Tandamuti Hill

During the remainder of June and July 3/2KAR patrolled against German positions and mounted small operations during which several junior non-commissioned officers (NCOs) displayed both professionalism and the ability to use personal initiative. Other units suffered from aggressive enemy actions, particularly 5LI which took 110 casualties in one fight, including the commanding officer who died of wounds. But General O'Grady wanted to advance from Lindi and the British theatre commander, the South African General J.L. Van Deventer, sent reinforcements. These were the Uganda-based 3/4KAR, the Indian Army 30th Punjabis, the 8th South African Infantry, the 3rd South African Field Battery (two 13-pounder guns), a mountain battery from the Indian Princely State of Jammu & Kashmir, and 1,200 porters. 3/2KAR received an issue of Lewis light machine guns and several British NCOs were posted into the unit to work in the rifle companies.

General O'Grady mounted an operation on 2nd August splitting his newly-enlarged command into four columns. The immediate objective was to advance up the Lukuledi River to capture Tandamuti Hill which was occupied by the enemy; the hill was overlooked on both flanks by other enemy machine gun posts. Colonel Phillips advanced on the British right with the objective of attacking and seizing German defended locations along the trolley line; his route lay through dense bush and rubber-tree plantations. Contact was soon made with enemy positions that had to be out-flanked before the Germans withdrew to their next fall-back position.

At dawn on 3rd August 3/4KAR attacked towards Tandamuti Hill whilst 3/2KAR continued its advance on the right, but German machine guns on both sides of the valley fired effectively on the Askari of both battalions. 3/2KAR began to take casualties without being able to respond satisfactorily.

Four African Distinguished Conduct Medals were later awarded. To No.121 Company Sergeant Major Longalora, 3/2KAR: For gallantry under fire. Under heavy fire he walked up and down the firing line of his Company encouraging the recruits especially of one platoon, whose officers, British NCOs and senior native NCOs had all become casualties, with the good result that the men remained all day steady under trying conditions.

And to No. 3565 Lance Corporal Matras Dinali, 3/2KAR: He has set an excellent example to his comrades at the actions at Lower Schaedels and Maumbika, by running up and down the firing line giving encouragement regardless of danger. For such a young soldier he has set a fine example.

And also to No. 159 Quarter Master Sergeant Mwenyedawa, 3/2KAR: Maumbika and Lower Schaedel's. Steadiness under fire, and maintaining good control over the men of his platoon. By his excellent example he has improved the bearing of the recruits under fire. He has always done good work.

And to No. 636 Sergeant Abelu, 3/2KAR: For conspicuous gallantry on 3rd August 1917 at MAUNBIKA. During the advance of his platoon in the firing line, it came under heavy fire from in front and cross fire from both flanks. During the morning the British NCO and 35% of the platoon became casualties (there was no officer with the platoon). Sergeant Abelu kept his men well in hand and remained in action where he was. Two hours later our rifle, machine gun and gun fire so shook up the enemy that they tried to retire up a steep place. Sergeant Abelu got his men into a kneeling position so that they could see and then fired volleys into the enemy, causing casualties. He then remained in position until nightfall.

Above - German Askari signallers
The Kashmir Mountain Battery came into action in support of 3/2KAR, firing 100 rounds at the enemy positions immediately in front of the battalion. In the centre 3/4KAR and 25RF fought up Tandamuti Hill but could not take the German position near the summit (9); the British artillery could not fire onto the hill as the opposing forces were too close together. On the left the 30th Punjabis became surrounded by German companies and fought alone, taking over 250 casualties until morale collapsed and the remnants of the battalion broke, fleeing to the rear (10). This was the final straw for the terrified British porters in the vicinity who dropped their ammunition loads in the bush and also fled rearwards. The German 4th Schutzen Company counter-attacked and over-ran the British advanced field hospital but respected it, removing quinine from the hospital stores but protecting the patients from blood-thirsty German Askari. These Germans then met 1/2KAR advancing from its position as force reserve, and prevented that battalion from becoming involved in the main battle.

Running out of water on Tandamuti Hill, hearing of the punishment inflicted on the 30th Punjabis, and receiving a message from Colonel Phillips stating that 3/2KAR was hard-pressed, General O'Grady broke off his action and withdrew his force in relatively good order to Lindi. During the two days of fighting 3/2KAR had lost 13 Askari killed, and 3 officers, 4 British NCOs and 45 Askari wounded. Lieutenant G. Williams (Special List) and Sergeant Thomas Arthur Allen (2nd Bn London Regiment), both attached to 3/2KAR, died of their wounds.


The action at Narunyu

General Van Deventer had been an observer during the fighting for Tandamuti Hill and before he left Lindi on 5th August he instructed General O'Grady not to make further frontal attacks, but to out-flank German defended locations and take up blocking positions in the enemy's rear. Such a plan was put into operation on 17th September 1917 when the commanding officer of the 8th South African Infantry took out a column consisting of his battalion, 1/2KAR, and 25RF. The column moved covertly past German defences on the trolley line and Tandamuti Hill to occupy a position further west at Narunyu. General O'Grady had placed 3/2KAR in reserve but elements of the battalion were used to escort supply convoys to Narunyu and to reinforce 1/2KAR.

The German theatre commander, General Paul von Lettow-Vorbeck, concentrated two of his companies to attack the Narunyu position but he could not break into the British defences. Meanwhile outside the defended position, where it had been ordered to remain in reserve by the column commander, the 3/2KAR reinforcement company was suddenly attacked. Lieutenants T.E. Robb (Argyll & Sutherland Highlanders) and C.O. Gilbert (East African Mounted Rifles) and Sergeants J.C. Clark (20th London Regiment), H.A. Walker (20th London Regiment), and B.H. Hubbard (Machine Gun Corps) were wounded. A recently arrived British officer had been ordered to deploy a rearguard, but as he did not know what a rearguard was he did not deploy it, and the Germans took advantage of that lack of action. This incident demonstrated the difficulty of quickly familiarising new officers from Britain with the techniques of bush warfare whilst a battalion was committed on operations.



Above - German strong point in East Africa
Meanwhile a 3/2KAR ammunition resupply convoy under Major Hardingham, with two other officers, attempted to get through with ammunition and supplies. The machine gun and company porters of 3rd/2nd KAR were used to carry the loads with two platoons of No 2 Company provided for escort. The convoy was badly ambushed near the Narunyu perimeter after German Askari had misled it by calling out that they were KAR. Robert Cecil Hardingham MC & Bar was mortally wounded, Lieutenant Charles Henry Bernard Going (2nd Rhodesia Regiment) was killed and Lieutenant C.E. Lane (King's African Rifles) was wounded. The escort NCOs rallied their men and fought back but most of the porters had by then returned to the 3rd/2nd KAR camp with their loads; 13 loads that had been discarded were found in the bush during the following day. For gallantry displayed with the ammunition resupply column Captain Spencer Tryon, 3/2KAR, was awarded a Military Cross.

Two African Distinguished Conduct Medals were awarded. To No. 627 Sergeant Malemu, 3/2KAR: Great gallantry under fire when his platoon formed advance guard for a convoy of ammunition being sent through to Colonel Taylor's column, was ambushed by the enemy. The three British officers all became casualties. This NCO at once took charge, got his men into suitable formation and replied to the enemy's fire. Through the action of this NCO the surprise of the enemy's ambush was quickly counteracted and the enemy driven off. Sergeant Malemu eventually helped to evacuate a British Officer under fire.

And to No. 2907 Private Kalima, 3/2KAR: NARUNYU 18/8/17. Coolness under fire and though wounded, he continued to fire his machine gun and helped to get it out of action until he dropped.

But despite the losses in casualties the British tactics worked and the enemy companies on Tandamuti Hill silently withdrew past the Narunyu position and moved to overlook it from the west. The casualty figures for 3/2KAR for the Narunyu action were: 1 British officer and 9 Askari killed, 4 British officers, 3 British NCOs, 31 Askari and 9 porters wounded. The death of Major Hardingham from his wounds on 18th September was a sad loss, as he was one of the original 1KAR officers who fought in BEA from August 1914. As death, wounds and sickness had depleted the officer ranks of 3/2KAR six new officers led by Major A.L. Tribe (2nd Rhodesia Regiment) were posted into the battalion on 6th October.

The NCOs of 3/2KAR were involved in constant patrolling and No. 91 Sergeant Maliyire, 3/2KAR, received an African Distinguished Conduct Medal: For excellent work whilst in charge of a patrol to Mtua – behind the enemy's lines – during the operations from Lindi. He brought back useful information and prisoners.


Strenuous fighting in the Nengedi area

General O'Grady pushed his troops further up the Lukuledi Valley and at the end of September 3/2KAR was in action alongside the 3rd Nigeria Regiment (3NR). The Nigerians proved to be sound fighters who were prepared to stand their ground with determination when attacked. During the fighting for Chirumaka Hill on 29th September 3/2KAR worked in support of 3NR and 1/2KAR, and took around 20 casualties, most of them wounded. On the following day 3/2KAR led an advance to contact and soon found German defended positions. At 1400 hours Colonel Phillips attacked whilst the Nigerians were also fighting heavily on the other side of the hill. By the end of the day Chirumaka Hill was in British hands but 3NR had lost over 60 men killed or wounded whilst 3/2KAR's casualty figure was around 50 men. Captain Arthur Francis Rayner Dyer (General List) and Company Sergeant Major Devrill (11), both 3/2KAR, were amongst the dead.

The African Distinguished Conduct Medal was awarded to 3174 Private Jonathan Amnoni, 3/2KAR: Near Nyengedi on 30/9/17. Took control of his section and advanced with them on the left flank of the enemy causing them to retire at a time when the enemy was endeavouring to turn our right flank. He has done very good work as a scout.

No. 186 Company Quarter Master Sergeant Yasini fought well during the action and was awarded a Military Medal.

Seven days later No. 1 Company of 3/2KAR was ordered to advance and hold high ground that lay across the Nengedi stream whilst the remainder of the battalion stayed in reserve. No. 1 Company achieved its objective and on 8th October the Indian Bharatpur Imperial Service Infantry advanced beyond the Askari and entrenched on a previous enemy position. The German Tanga Company and the Abteilung von Liebermann counterattacked just as the Battalion Headquarters and No. 2 Company of 3/2KAR, plus a machine gun section, were moving up the high ground to reinforce the position.

As Colonel Phillips moved up the slope he saw that the Bharatpurs had withdrawn followed by two platoons of No. 1 Company, 3/2KAR. Discipline amongst 3/2KAR was restored by Regimental Sergeant Major Madi and the fleeing Askari were turned around and taken back up the slope. On the crest Colonel Phillips found Lieutenant George Steinson Stewart (Seaforth Highlanders) holding the position with 10 men. Lieutenant Stewart was awarded a Military Cross with the citation: For conspicuous gallantry and devotion to duty. When almost all of our troops had been withdrawn from the high ground, he remained on the ridge with a small party of men and maintained the position against great odds and under the most trying circumstances until the arrival of reinforcements. His great courage and determination cannot be too highly praised.

Colonel Phillips used No. 2 Company to clear the high ground of enemy and he advanced towards the plateau that lay beyond; with his 4 machine guns and 3 Lewis guns he deterred further enemy aggression. The fighting had been severe and intense and Sergeants Kachinda, Ngala and Lipondo had been killed along with 11 Askari. Colonel Phillips and Lieutenant T.G. Malpas (Reserve of Officers) were wounded along with 34 Askari. The officer commanding No. 2 Company, 3/2KAR, Lieutenant Frederick Keith Campling, also received a Military Cross: For conspicuous gallantry and devotion to duty. He led his company up to the high ground where the enemy were driving back our troops by a strong counter-attack. With the utmost disregard for danger he re-established our position, walking up and down the firing line inspiring his men by his fine example. He showed splendid courage and coolness.

Two African Distinguished Conduct Medals were awarded. To No. 2697 Private Subairi, 3/2KAR: Nyengedi. 8/10/17. Handled his Lewis gun with great valour and after his NCO and team had become casualties, continued to fire his gun although several of his escort had retired (12).

And to No. 223 Sergeant Misesa, 3/2KAR: 8/10/17. Nyengedi. Under exceptionally heavy fire and when his escort had retired he advanced with his section and supported Lieutenant Stewart who was left with very few of his company. His example was beyond all praise.

Awards of the Military Medal were made to Regimental Sergeant Major Madi, Sergeant Sumani, and to Company Sergeant Major Longolora DCM. Colonel Phillips was evacuated as a casualty and Major M.W. Whitridge took over as battalion commander.

At this time serious personnel problems emerged in all three battalions of 2KAR. Many of the old 1KAR soldiers who had been serving in BEA in August 1914 were now time-expired, and they wished to be discharged and to return to Nyasaland before they became casualties. However these men were now mostly in senior positions throughout the three battalions, and they were needed in their military roles. The three battalion commanders decided on a common policy that basically used compulsion to keep the time-expired men serving. It was expected that the war in GEA would be over soon, and as the November rains were expected to curtail military operations the men were told that they must serve on for a month but that they would be released on 15th November. This situation was accepted by the men concerned who were soon to be preoccupied by battlefield activities.


Nyangao. The bloodiest battle of the East Africa campaign

3/2KAR had just lost its commanding officer but by now it was a combat-hardened battalion with excellent NCOs, ready for anything that might be thrown at it; that was just as well as the most brutal battle of the East Africa campaign was impending. British troops were advancing on the Lukuledi Valley from Kilwa to the north-east, planning to work tactically with the British forces operating from Lindi. General van Deventer hoped that the German Schutztruppe could be finally forced to stand and fight instead of, as usual, causing attrition to its British opponents and then slipping away. General Paul von Lettow-Vorbeck was of the same mind – he decided that this was the correct moment to stand and fight, as by bringing the battle to the Schutztruppe the British themselves could be significantly weakened; the German commander was not wrong.

General Van Deventer sent another South African, General P.S. Beves, to command the Lindi Force which was split into two columns, titled No. 3 and No. 4. General O'Grady commanded No. 3 Column that comprised 1/2KAR, 3/2KAR and the Bharatpur Imperial Service Infantry. General Beves' operations lacked subtlety as he wanted to attack, attack and then attack again. On 17th October both his columns confronted enemy units near Nyangao. At 1445 hours 3/2KAR was ordered to support 1/2KAR and the Bharatpurs who were heavily engaged; Major Tribe went forward with Nos. 1 and 3 Companies and held back enemy thrusts near the Nakadi River, allowing the other two battalions to disengage and form a new defensive line. The remainder of 3/2KAR came up and the unit was the centre of this line with the Bharatpurs on the left and 1/2KAR on the right. The Germans attacked heavily until last light, but the British line held. At the end of the day 3/2KAR had taken 33 casualties, including the officer commanding No. 3 Company, Captain J.L. Giffard, who was wounded. John Lawrence Giffard was later awarded a Military Cross for gallantry displayed on the battlefield.

Next morning, 18th October, No. 4 Column quickly became heavily engaged and at 0830 hours 3/2KAR was ordered to advance to attract enemy companies away from No. 4 Column. Major Tribe advanced with Nos. 2 and 3 Companies but after gaining 200 metres of ground heavy machine gun fire, especially from the right flank, stopped the advance. There was no cover available either from view or from enemy weapons, as during the previous night a fire had burned down the grass, trees and shrubs. The Nigerians from No. 4 Column had been expected to appear on the right flank, and so Major Tribe was concerned as to whether the machine gun fire coming from that flank was friendly fire. 25RF was located about 200 metres to the left and two platoons of No. 3 Company were sent to plug the gap, but before that could happen a fierce enemy attack on the Fusiliers overwhelmed that battalion, which was now down to less than 50 men, and the surviving Fusiliers withdrew rapidly. No. 1 Company, 3/2KAR, deployed to the left to fill the now large gap, and two companies of 1/2KAR moved to extend the line even further left. No. 4 Company 3/2KAR had already been deployed onto the right flank, so the battalion was in line without reserve companies behind it. That state of affairs could not last and after close fighting had caused heavy casualties the left of the British line crumbled, and 3/2KAR with the two 1/3KAR companies fell back to a line just in advance of where Major Tribe's advance had started from.

3NR and the Bharatpurs then advanced on the left, taking some of the pressure off 3/2KAR; another Nigerian battalion came up to reinforce 3NR and the left of the line was stabilised. At 1600 hours four shells from a British mountain battery landed amongst the 3/2KAR Askari, causing 13 casualties and shaking the men's resolve; 5 NCOs were amongst the casualties. By 1700 hours the battle was dying down as both sides had exhausted both their soldiers and their immediate ammunition and supply stocks. 3/2KAR had lost 13 men killed and 93 wounded, and at 1845 hours the survivors were formed into close order and ordered to march back to Nyangao River; this was achieved without incident. The remainder of No. 3 Column and the Nigerians withdrew during the night.

During the two days of the Nyangao fighting 3/2KAR had done nothing particularly dramatic, but it had held its ground whilst under very effective close-range enemy fire when other British units had not been able to do so. The Nyasaland Askari had shown that they were amongst the best of the excellent bush-fighting infantry that Africa then produced, and the NCOs had been very effective in taking over command and in restoring deteriorating situations when officers had been killed or wounded. The 3/2KAR war diary commented that both the Kavirondo machine gun and 1st Line porters and the stretcher bearers had stayed in the fight and performed their arduous tasks very bravely. It was doubtless because of the courage and dedication of these porters and stretcher bearers, who swiftly evacuated casualties, that the killed to wounded ratio did not reflect more deaths.

British casualties in 3/2KAR included Lieutenant Hans Gerald Hodgkinson (Duke of Wellington's Regiment) and No. 701257 Sergeant W. Ballard (1st Surrey Rifles) who were both killed in action. No. 20 Sergeant Chisali was awarded a Military Medal for displaying gallantry in action at Nyangao. (13)

Perhaps the spirit of some of the young Nyasaland NCOs is best illustrated by the citation for the award of an African Distinguished Conduct Medal to No. 3900 Lance Corporal Mwanaboye, 3/2KAR: This NCO is a recruit who has now nine months service. He is an Awemba, for 200 soldiers of which tribe only two old soldiers were available – one of them being his platoon sergeant, who has proved useless in action. L/Cpl Mwanaboye has proved himself exceptionally stout-hearted and has in reality commanded the recruits of his tribe since he came into the field and has led them on every occasion with great credit to himself and is causing his men to follow his example with excellent result. He is good on patrol, doing exactly what he is ordered to do.


Temporary amalgamation

As both 1/2KAR and 3/2KAR had taken heavy casualties and could only man four rifle companies between them, on 21st October 1917 the two battalions were amalgamated under the command of Lieutenant Colonel G.J. Giffard DSO (Royal West Surrey Regiment), the commanding officer of 1/2KAR. Major Whitridge became second-in-command of the amalgamated battalion. However this temporary amalgamation was not to last long, and soon new intakes of recruits allowed the reforming of 1/2KAR and 3/2KAR; both battalions being destined to serve energetically in Portuguese East Africa during 1918.

SOURCES:

· 3/2KAR War Diaries (WO95 5323, 5324 and 5325).
· The King's African Rifles by Lieutenant Colonel H. Moyse-Bartlett MBE.
· The African DCM by John Arnold.
· The Award of the Military Medal to African Soldiers of the West African Frontier Force & the King's African Rifles from 1916 to 1919 by John Arnold, William Spencer & Keith Steward.
· Tip & Run by Edward Paice.
· Battle for the Bundu by Charles Miller.
· The London Gazette, Army Lists and Commonwealth War Graves Commission archives.


(1) The first unit titled 2KAR was a Nyasaland battalion that was disbanded at the end of 1912 for economic reasons. Most of the redundant Askari walked over into German East Africa and enlisted in the Schutztruppe, as the local German army was called. The Germans were most pleased to recruit these well-trained and experienced former British Askari and used many of them in senior positions in the Schutztruppe.

(2) The Military Cross was awarded for gallantry displayed at Mbuyuni, BEA, on 14 July 1915 when covering the British withdrawal from a failed attack.

(3) Regimental Sergeant Major, Regimental Quarter Master Sergeant, Orderly Room Colour Sergeant.

4) The machine gun porters had been trained as part of their gun teams and they were promoted to Askari within the gun team when vacancies occurred.

(5) The most common tribe for portering duties was the Kavirondo from the Lake Victoria region.

(6) The 25th Royal Fusiliers had just returned from medical recuperation in South Africa and was only 250 men strong.

(7) 259 Machine Gun Company, Machine Gun Corps, had been formed from the remaining fit men in the 2nd Battalion The Loyal North Lancashire Regiment before that battalion was re-deployed to Egypt on medical grounds.

(8) The first MC was probably awarded for gallantry displayed at Jasin, GEA, in January 1915 and the second one was probably for similar conduct at Kibata, GEA, in December 1916.

(9) The Germans had planted sharpened 'panji' stakes around a concealed redoubt, with thorn branches entwined within the stakes.

(10) The Punjabis had lost most of their experienced men through medical evacuations earlier in the East Africa campaign, and the battalion consisted mostly of recent recruits.

(11) No further details known.

(12) Private Subairi was destined to receive a second DCM before the East African campaign ended.

(13) Several 3/2KAR officers received awards during the next few months, and it is more than likely that some of these reflected gallantry displayed at Nyangao. However a lack of both citations and detailed entries in the unit war diaries prevents attribution of these awards to specific actions.