The Special Reserve Companies of the BSAP

Southern Rhodesia responds to German aggression on the Northern Rhodesia border

Southern Rhodesia

(For the relevant maps please see HERE)

In August 1914 Southern Rhodesia (now Zimbabwe) was a British colony administered by a privately held chartered company, the British South Africa Company (BSAC). The BSAC board of directors sat in London, and its functions were to achieve dividends for the numerous shareholders whilst financing and administering the territory. On the ground in Salisbury, Southern Rhodesia, the BSAC-nominated Administrator was appointed by the Colonial Office and he reported to the British High Commissioner of Southern Africa who was based in Cape Town. The white settlers in the territory held a majority of the seats on the Legislative Council that proposed legislation; the Administrator forwarded such proposals to the High Commissioner for his approval. A British Resident Commissioner sat on the Legislative Council in a non-voting capacity, and his duty was to report directly to the High Commissioner with comments as to what consequences proposed legislation might have for the African population of Southern Rhodesia.(i) In practice the Imperial Government tended to accept legislative proposals without demur, but the Department of Native Affairs in Southern Rhodesia was controlled directly by the British High Commissioner.

This system of government had allowed Britain to colonise various African territories whilst limiting direct British costs because chartered companies were providing the necessary administration on the ground. But by 1914 many white settlers in Southern Rhodesia were pressing to break with the BSAC and introduce self-government, which the Royal Charter, granted in 1899, allowed for after 15 years of BSAC administration. The declaration of war put such political considerations into the pending tray, and the BSAC offered its support to the Imperial Government in London for any special defensive steps that might be needed.(ii) However the BSAC directors were not offering to pay for wartime costs from Company revenue, and negotiations about re-imbursements were to slow down Southern Rhodesia's official participation in the war, much to the frustration of many white settlers who sailed to England to volunteer for British Army units.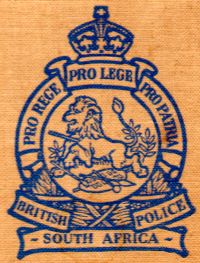 Available military manpower in Southern Rhodesia

In 1914 population estimates for the colony were 750,000 Africans and between 30,000 and 35,000 Europeans.(iii) The Company was not permitted to raise an army but it had developed a force titled the British South Africa Police (BSAP) which used mounted policemen to patrol rural areas. The BSAP was armed with 20 machine guns and an artillery section and could undertake military operations against tribal dissidents; the overall strength in 1915 was 1,150 meniv of whom around 550 were Europeanv, the remainder being African policemen of the British South Africa Native Police (BSANP). A European Reserve, the Southern Rhodesia Volunteers, was formed with an effective strength of over 850 men.

In September 1912 the BSAC had appointed Colonel A.H.M. Edwards as Commandant-General of the forces in both Southern and Northern Rhodesia (now Zambia). This appointment had been suggested by the Committee of Imperial Defence and agreed with by the British War and Colonial Offices.(vi)

On 10th August 1914 the Company put the BSAP on a war footing. On the 21st of the following month the BSAP mounted a joint operation with the Northern Rhodesia Police (NRP), another BSAC-administered unit, to bloodlessly seize the German post at Schuckmannsberg in the Caprivi Strip of German South West Africa (GSWA - now Namibia) that stretched almost to Victoria Falls.(vii)

Below Left: General Edward Northey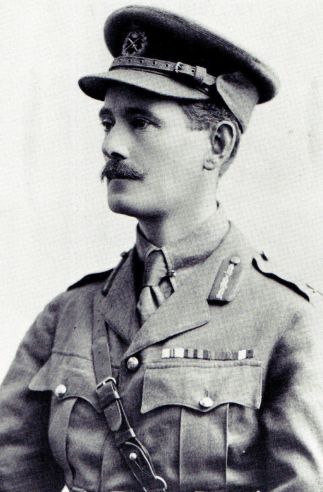 Meeting the clamour from Europeans who wished to fight in the war, the BSAC offered a 525-man (viii) contingent to the British government. Twenty one messages and several weeks later Britain diverted this gesture towards the South African government to assist in the invasion of GSWA, and the South Africans accepted the offeri (x). The contingent was then raised as the 1st Battalion the Rhodesia Regiment (1RR) and dispatched to South Africa on 14th November. 1RR was used in South Africa on anti-rebel operationsx and then employed in GSWA in a minor capacity, losing three men killed and five wounded. On the conclusion of the GSWA campaign in 1915 1RR returned by sea to Cape Town where this fine unit was disbanded. The reasons for the disbandment decision are not clear but were probably due to procrastination between Britain, South Africa and the BSAC about where to employ the unit and responsibilities for paying for it.

The men themselves got fed up with waiting and demanded disbandment (xi). The European war called and some 1RR soldiers went there individually or else joined South African units that were destined for France and Flanders.

Meanwhile in Southern Rhodesia a second 500-man white unit was sanctioned and raised. This was the 2nd Battalion the Rhodesia Rifles which was dispatched to British East Africa (now Kenya) in March 1915. The BSAP had been deployed within Southern Rhodesia on patrols against possible rebel incursions across the South African border, but the Company had so far refused to let its policemen leave the service and enlist elsewhere. Fears that the unprotected white population would be at the mercy of native insurgents were powerful factors in the retention of all ranks of the BSAP at their internal posts (xii).

However one small detachment of BSAP artillery gunners had been in action against enemy troops from GEA since late 1914. This was a 7-pounder muzzle-loading mountain gun detachment consisting of 4 BSAP Europeans and 6 African BSANP policemen. The men and their gun had been railed to Broken Hill (now Kabwe) in Northern Rhodesia (now Zambia) and then had marched in very arduous conditions 840 kilometres in 30 days towards Lake Tanganyika. The BSAC authorities in Northern Rhodesia provided 600 African porters to assist by carrying the dismantled gun, 200 rounds of black powder ammunition, and the rations and camp equipment for the BSAP detachmentxiii.

| | |
| --- | --- |
| | |
| Above: The Great Ruaha River and the Rungwe area | |
Raising troops to reinforce the Northern Border

The small forces of Northern Rhodesia, another BSAC-administered territory, had been fighting defiantly against German aggression with the assistance of Belgian Congolese troops since September 1914 (xiv). In August 1915 the Northern Rhodesia border with German East Africa (now Tanzania), known to the British living south of it as the Northern Border, urgently needed reinforcing due to the impending withdrawal of the Belgian troops. (xv)

The British High Commissioner in Cape Town authorized Colonel Edwards to raise two companies of European infantrymen in Southern Rhodesia. Each company was to have a strength of 125 men, and to be a self-contained unit including artillery and medical staff. Both companies included a small number of BSAP, the other recruits being reservists who transferred from the Southern Rhodesia Volunteers, some men with recent service in 1RR and men recruited from the civilian population. The recruits were enlisted under the Police Ordinance for the duration of hostilities (xvi) and the two units were titled 'A' and 'B' Special Reserve Companies of the British South Africa Policexvii.

As the companies were needed on the Northern Border as soon as possible training consisted of drill and a shooting test. The men received five shillings pay per day, five times more than recruits in the British Army received. Uniform was khaki shorts and jacket with a BSAP shoulder flash in blue cotton. Mounted infantry pattern boots and dark brown puttees protected feet and lower legs. Equipment issued included cavalry water bottles and cloaks, mess tins, haversacks and two bandoliers, one of which could be worn as a beltxviii. Later all men received British 1908 pattern webbing equipment with ammunition pouches. Various patterns of sun helmet were issued. The rifle was the standard BSAP issue, the Short Magazine Lee Enfield No 1, Mark III, with a 45.7-centimetre (18-inch) bayonet (xix).

'A' Company under Major J.S. Ingham, BSAP, left Salisbury by train for Northern Rhodesia on 17th August 1915. With non-combatants added the company strength was 142 men plus 20 donkeys. At Victoria Falls Lieutenants F.T. Stephens and G. Parson joined with 21 other ranks (xx). At Broken Hill Ingham and half the company detrained; Parson and the other half detrained further north at Ndola. Both parties now marched to the Northern Border reaching Abercorn on 4th October (xxi). The Northern Rhodesian authorities provided porters. A BSAP 12.5-pounder Maxim-Nordenfelt field gun and detachment joined 'A' Company later; the 7-pounder mountain gun also moved to Abercorn after seeing action during an enemy siege of Saisi defended post (xxii)

'B' Company under Major W. Baxendale, Southern Rhodesia Volunteers, took a different and less arduous route. His two officers were brothers, Captain A.G. and Lieutenant J.B. Hendrie, both of them also from the Volunteers as were the most of the men. 'B' Company took a train to Beira in Portuguese East Africa (now Mozambique), and then travelled by ship, river steamer, rail, road and lake steamer up to Karonga near the head of Lake Nyasa. From there the 'B' Company marched the final 160 kilometres to Fife on the Northern Border, arriving on 18th Octoberxxiii.
But one other individual was sent, and he was to exert a lot of influence over the operational activities of the BSAP companies on the Northern Border. Major R.E. Murray DCM (xxiv), BSAP, was ordered by Colonel Edwards to move with 'B' Company and to report to the British commander on the border, Colonel F.A. Hodson, Northern Rhodesia Police. Edwards sent a letter with Murray to Hodson appointing Murray as Hodson's Chief Staff Officer. Whether operational circumstances prevented Murray from giving the letter to Hodson is not known, but Murray did not take up the staff appointment. Instead Murray determined to command the Southern Rhodesian troops himself. After abrasive communications between Hodson and Murray, Edwards supported Murray. Ingles and Baxendale were soon relegated to other appointments by Murray (xxv). Ostensibly for health reasons Hodson was moved backwards to be Officer Commanding Lines of Communication, (xxvi) and in February 1916 Murray was promoted to Lieutenant Colonel to command the two Southern Rhodesian companies and attached companies from the NRP. The new unit became known as 'Murray's Column'. Captain F.T. Stephens, BSAC, became Murray's Staff Officer.

Below Right: British South African Police march in single file on the Northern Border

Initial skirmishes

The Belgian Congolese Askari now withdrew and the BSAP troopers were soon skirmishing with German troops. Joint patrols were made along the border with the NRP and the white Volunteers of the Northern Rhodesia Rifles. The first BSAP casualties due to enemy action occurred on 22nd December 1915 at Sinyanta Hill, Nakonde which was 50 kilometres from Fife. A German force positioned itself to intercept a British convoy of porters, perhaps hoping to seize the Christmas rations and mail. Baxendale went out with 36 of his BSAP soldiers and 28 NRP men plus a machine gun and engaged the enemy. After a couple of hours Lieutenant C.E. Mills, Northern Rhodesia Rifles, with 21 of his Volunteers and 16 NRP men who had been part of the convoy escort joined Baxendale. The Germans had by now established that the convoy was in Fife and so they withdrew. Whenever possible the enemy removed their casualties and they did so on this occasion, but seven pools of blood remained in their abandoned position. The only British casualties were two BSAP men wounded. (xxvii )

During one action at the end of January 1916 Ingles with half a company of NRP, 50 BSAP and 2 machine guns drove off an enemy group near Ikomba, 110 kilometres south-east of Abercorn. On the following day Lieutenant G.A. Debenham, NRP, followed up the enemy spoor and fired on the Germans as they crossed a flooded open area. Seven of the enemy troops were killed and when Ingles and his men arrived to lay more fire down, 9 enemy surrendered, 3 of them being badly wounded. Gerald Anthony Debenham was awarded a Military Cross for his conduct in this action (xxviii).

However illness caused the first deaths. 196 Sergeant E.C. Selfe died of dysentery at Fife in December 1915. 1368 Sergeant Major W.W. Jones and Privates 1853 J.E. Bullock, 60 M.G. Cummings and A/11 J. Christopher died of enteric fever at Abercorn between December and February 1916. A/76 Private J. Sinclair was drowned whilst crossing a flooded river in late February (xxix). The enteric fever had probably been caused by heavy rains flooding contaminated water out of an area previously held by the Belgians and into the BSAP drinking source. After this incident annual inoculations prevented further outbreaks of the deadly fever.

The invasion of German East Africa

On the Northern Frontier the activities of the BSAP and NRP companies were constrained by the fact that their employer, the BSAC, could only order the defence of Rhodesian territory and BSAC property (xxx). The Charter of the BSAC prevented military excursions into other territories. But in November at the instigation of the British High Commissioner in Cape Town, a new leader appeared on the Northern Border. He was the British Brigadier General Edward Northey, and for the first time one commander controlled all the military activity in Northern Rhodesia and Nyasaland. Northey was appointed as commander of the Nyasaland-Rhodesia Field Force, and by securing the approval of the High Commissioner he could order the BSAP and the NRP into German territory.

An invasion of southern German East Africa was planned for late May 1916, when the seasonal heavy rains had ceased (xxxi). This action would coincide with a much larger invasion of GEA's northern border from British East Africa (now Kenya) led by the South African General Smuts. The 260 men of the BSAP Special Reserve Companies were to be part of Murray's Column operating from Abercorn. The other fighting units in the column were 540 men of 'A,' 'B,' 'C and 'D' Companies of the NRP, a two-gun artillery section of 75-mm mountain guns (xxxii), the 12.5 pounder and 7-pounder BSAC guns plus 10 machine guns (xxxiii).

Above: A German fortified post
The abortive attack on Namema

In the last week of May 1916 Northey had four columns poised to attack different enemy fortified locations just across the border in GEA. Murray's Column was the westernmost one and was tasked with attacking the enemy position at Namema, which consisted of two forts 35 metres apart on dominating ground.

Well-constructed underground stores ensured that British artillery fire could not destroy ammunition, food and water stocks. The position was manned by the German 29th Field Company with an estimated strength of 200 Askari and 30 European officers and non-commissioned officers (xxxiv).

Murray divided his column into four sub-units (xxxv):

* 'A' Force under Captain C.H. Fair, NRP – 'A' Company NRP, half of 'A' Company BSAP, with 2 machine guns.
* 'B' Force under Captain G. Parson, BSAP – 'D' Company NRP, half of 'A' Company BSAP, with 2 machine guns.
* 'C' Force under Captain H.C. Ingles, NRP – 'C' Company NRP, half 'B' Company BSAP, with 2 machine guns.
* The Reserve under Captain F.S. James, NRP – half 'B' Company NRP, a section of 'B' Company BSAP, with 2 machine guns, the 12.5-pounder BSAP artillery gun, and a section of two 75-mm mountain guns manned by the 5th Battery, South African Mounted Rifles (xxxvi).

The Column departed from Abercorn at 1400 hours on 23rd May 1916. The Lumi River, which acted as the border, was crossed by portable boats and an advanced base camp was established nine kilometres west of Namema. A section of the Reserve manned the base camp with a machine gun. At 1400 hours on 24th May 'A' and 'C' Forces marched out to the south-west and an hour later 'B' Force marched out through the Liambi Hills to the north-east.

When the enemy position came in sight Murray realized that it was too strong to assault, so he ordered his Force commanders to surround and besiege the enemy. The guns were placed on a high feature to the north-west whilst the infantry closed up to within 400 metres of the forts and sniped at the defenders. Before dawn on 28th May the German commander, Oberleutnant von Francken, led a group of his Askari out on a sortie. However Lieutenant John Hendrie, BSAP, skirmished individually with von Francken and shot him in the head. The German commander was then taken prisoner but he died two days later (xxxvii). The German Askari withdrew when they saw that their commander was hit. However four BSAP soldiers had been killed in the fighting: 202 Corporal Francis Garner Hoal, 1660 Trooper Hubert A. Cornish, 164 Private H.J. Kemp, and 168 Private John Short; three other men were wounded.

Below: A detachment of the Northern Rhodesia Police

Realizing how thin his cordon was around the forts Murray called up James and the Reserve, but even so the enemy garrison managed to exfiltrate through the British lines on the night of 1st June. Murray's men were only able to seize two wounded and one fit European, three Askari and 50 porters' loads. Blaming James for the enemy's escapexxxviii, Murray sent 'B' Company NRP back to Abercorn to prepare for duties in the newly-occupied parts of GEA. The artillery guns returned to Abercorn also, as they were too cumbersome to be easily transported over difficult terrain (xxxix).

After dawn on 2nd June Captain J.J. McCarthy MC, NRP, who commanded a group of scouts, tracked the Germans. Murray and Forces 'A', 'B' and 'C' followed in the afternoon after re-organising. On the Kalambo River the enemy damaged the bridge and sniped from the far bank before setting off for Bismarckburg. 603 Private Wazia NRP was killed before the enemy broke contact. Murray got 25 men across the broken bridge and pursued the enemy, leaving Parson to follow with the remaining troops when they had all crossed.

The abortive siege of Bismarckburg Fort

The German fort at Bismarckburg (now Kasanga) was strongly built and situated on a promontory; again Murray did not have the strength to either reduce or assault it. On 7th June Murray bluffed by threatening the German fort commander, Lieutenant Hasslacher, that 'as soon as my guns arrive I will blow you into the Lake' (xl). Hasslacher was not impressed and replied that he had been reinforced by the Namema garrison and that he had no intention of surrendering.

A scuffle then occurred due to a misunderstanding about whether the fort had surrendered or not, and a British group led by the Medical Officer, Captain J.M. Harold, Northern Rhodesia Medical Corps, attempted to seize Hasslacher. This led to Lieutenant Edward Lucian Ingpen, NRP, being mortally wounded by a shot in the groin. Two BSAP troopers were also wounded and the British agreed to Hasslacher's suggestion that they call the incident a draw. The British returned to their own lines and Hasslacher returned to his command (xli).

Murray's troops had surrounded the fort except where it faced Lake Tanganyika, but on the Lake were three Royal Navy vessels that were expected to block any enemy withdrawal by water. However all the British column commanders on the Northern Border still had a lot to learn about how the Germans could quickly and silently withdraw from defensive locations.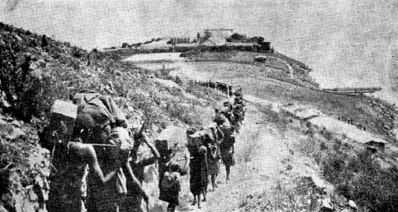 Right: British porters approach the German fort at Bismarckburg

That evening Hasslacher quietly withdrew his men and what equipment he could take and used a concealed dhow and fleet of canoes to move up the Lake (xlii). At the time the flotilla, which had fired a couple of shells into Bismarckburg on 5th June, was elsewhere on the water. The only way that Murray had of communicating with the flotilla was to send a runner through enemy territory to wave from the shore, and the Lake is massive (xliii). The flotilla commander was wary of being attacked by enemy canoe-borne troops, so he moored at different locations each eveningxliv. Ship-to-shore military co-operation was difficult to establish and maintain in these circumstances.

On 8th June a British patrol found that Bismarckburg fort was empty, and so Murray's men occupied it. The flotilla returned on to Bismarckburg on the following day (xlv). Murray could not move north in pursuit because he needed his supply chain to catch up with him, and the supplies were being laboriously carried forward on the heads and shoulders of hundreds of Northern Rhodesian porters, who themselves needed to consume food supplies they were carrying in order to keep working. Murray was quickly learning some hard lessons about commanding an offensive column in GEA. On the other side the German troops nearly always withdrew onto interior lines of communication where food and supply dumps were waiting for them.

Murray's Column moves eastwards

Northey did not want Murray out on a limb in the west, as he needed to concentrate all his columns at the eastern end of the British advance. Although Northey's columns had signals wireless detachments, it often took 48 hours for a message to reach Murray because when his signalers were on the move they were not set up to transmit or receive signals. On 14th June Murray received an order telling him to move east to Rungwe near Neu Langenburg (now Tukuyu) where he would act as a reserve for the other three columns in Northey's command. Tasked with rounding up enemy stragglers Baxendale was left to garrison Bismarckburg and Namema using some BSAP detachments and 'B' and 'D' Companies NRP under Captains James and C.C. Hornsbyxlvi. The remainder of Murray's column marched hard arriving at Fife on the 23rd June, and then on to Rungwe which was reached six days later (xlvii). The routes of the toiling porters in the Column supply convoys were adjusted and became longer and more arduous.

Northey was advancing on Iringa and he moved Murray's Column to Buhora on 9th July from where it could march either towards Malangali or Madibira (xlviii). Murray's men reconnoitered to Ulema, 32 kilometres west of Buhira, and observed that a German bridge being built across the Ruaha River had been abandoned. On 11th July a BSAP patrol skirmished with and drove off an enemy patrol at Kiwere, 24 kilometres north-east of Buhora.

In mid-July Northey ordered Hawthorne's Column to advance on and attack Malangali, with Roger's Column in support (xlix). Murray's two mountain guns from the 5th Battery, South African Mounted Rifles joined Roger. Murray was ordered to advance on and contain any enemy troops who may have been occupying Madibira. This was accomplished on 25th July, a day after the stiff fight experienced further south at Malangali by the 1st Kings African Rifles and the South African Rifles. Three days later Captain E.G. Dickinson, NRP, and his men drove the enemy out of Lutego. It was obvious that the German unit on Murray's axis of advance, which was probably a detachment of the 5th Field Company under Vizefeldwebel der Landwehr Grau (l), had not been tasked to stand and fight.

Above: A German field company on the march

The seizure of Iringa

Murray now sent Captain C.H. Fair and his 'A' Company NRP 50 kilometres to the north to Kiganga where there was a crossing point on the Great Ruaha River. Fair ambushed the area, intercepting enemy mail runners moving between Iringa and Tabora to the north and seizing mail packages containing useful intelligence details. On 9th August Fair's men captured a German Petty Officer from the naval Konigsberg detachment along with three enemy Askari. Before Fair re-joined Murray he halted the work on an enemy bridge being constructed across the Great Ruaha and destroyed the canoes that had been collected at the site (li).

Northey wanted Iringa attacked but only if the garrison was so weak that British success could be guaranteed. After a couple of weeks spent patrolling towards the town Murray was ordered to seize it. Roger's Column to his south, consisting of the 2nd South African Rifles and 'E' Company NRP plus four mountain guns, deployed on a parallel route in a more sedate fashion; but Murray drove his men forward and captured three enemy Askari on 25th August. The following day at Weru, 24 kilometres short of Iringa, Murray's advance guard encountered Hauptman Braunschweig's force withdrawing from the Malangali action. Again the Germans were not interested in fighting on that ground, but the Column captured two enemy Askari and 1,000 head of cattle (lii). The fresh meat would have been more than welcome to all members of the column.

At 1100 hours on the 29th August 1916 Dickinson's 'C' Company NRP seized Iringa without a fight. In the town the Column released 16 Indian Army prisoners of war captured by the Germans during operations against Smuts' advance from British East Africa. Forty two Allied civilians were released from internment, most of them being Indian traders or craftsmen. Around 50 German women and children had been left in the town. In the hospital was a German doctor treating 3 German and 4 wounded African soldiers who had been too ill to be moved during the enemy withdrawal (liii).

Right: A German Askari

Murray's men enjoyed four days in Iringa but there was no food there as the enemy had removed or destroyed all stockpiles. Although the Column was now only 160 kilometres from Smuts' troops to the north, the Germans had no intention of being trapped between Northey and Smuts, and they had moved eastwards towards Mahenge. On 3rd September Murray's Column marched again, pursuing the enemy withdrawal. The seasonal rains started, bringing cold weather that was to depress the troops now cutting their way through thick bush in steeply-ridged terrain. The cold winds and rain were to kill many of the overworked, under-nourished and inadequately clad porters trudging faithfully behind the column.

Since its formation Murray's Column had besieged fortifications, pursued enemy withdrawals, skirmished occasionally and marched long distances repeatedly and strenuously. But there had been no serious combat with the enemy. That was now to change, as a significant action was approaching.


Mentions in Despatches

Two BSAP men of the 7-pounder mountain gun detachment were mentioned in the High Commissioner for South Africa's despatch from Cape Town dated 10th March 1917. These mentions were for professionalism displayed under fire during the second siege of Saisi post:

No. 1709 Trooper Hadath, British South Africa Police (gun layer).
Mentioned for good gun-laying, coolness, and ability; also for working the heliograph (a signalling device using sun light) under heavy Maxim fire.


No. 4267 Private Kavuti, British South Africa Police.
Mentioned for sponging out a gun under heavy Maxim and rifle fire at night under no cover.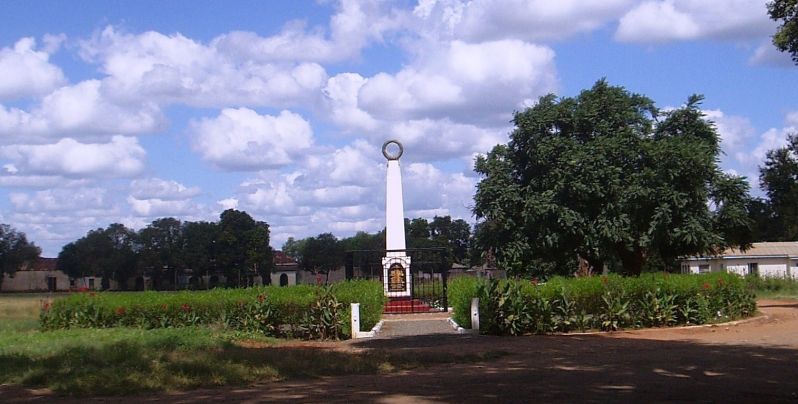 Above: Livingstone Camp Memorial, Zambia

Commemorations

The dead were buried where they fell. After the war the Commonwealth War Graves Commission (CWGC) re-buried the European dead in Ndola (Kansenshi) Cemetery, Zambia. The African dead remain in unmarked graves in the bush. The dead British South Africa Native Police are commemorated on the CWGC Harare Memorial, Zimbabwe. Dead Northern Rhodesia Police Africans are commemorated on the CWGC Livingstone Camp Memorial, Zambia.
i Stapleton, 13.
ii McLaughlin, 1.
iii Lucas, 315.
iv McLaughlin, 4.
v Hordern, 168.
vi Edwards was well experienced in both military and civilian police duties, in southern Africa and England. (Hordern, 168).
vii Hordern, 194.
viii One officer and 25 of these men came from Northern Rhodesia (Hordern, 175).
ix Harding, 216.
x Elements of the white Afrikaaner community rebelled when South Africa invaded GSWA (Lucas, 377-432).
xi McLaughlin, 17-18.
xii A brief native insurrection had occurred in Nyasaland in January 1915 (Hordern, 179-180).
xiii Sillitoe, 30-31.
xiv See article by this writer: The Northern Rhodesia Front 1914-1915.
xv The Northern Border also included at its eastern end the border between Nyasaland (now Malawi) and GEA. This stretch of the Northern Border was reinforced with Imperial Service troops from South Africa, paid for by Britain (see article by this writer at HERE).
xvi Gibbs and Phillips, 162.
xvii Harding , 256 and Wright 110. Hordern, 188 footnote 4 titles them Special Service Companies.
xviii Gibbs and Phillips, 162.
xix Hamley, 51-52.
xx Gibbs and Phillips 163.
xxi Wright, 110.
xxii See article by this writer: The Northern Rhodesia Front 1914-1915.
xxiii Wright, 110.
xxiv Sergeant Ronald Ernest Murray, BSAP, was awarded his Distinguished Conduct Medal on 27th September 1901 for gallantry displayed in the South African War.
xxv Gibbs and Phillips, 166.
xxvi Harding, 259.
xxvii Further details of such incidents involving the NRR can be seen HERE
xxviii Wright, 111-112.
xxix Harding, 259.
xxx McLaughlin, 26.
xxxi For an outline of Northey's invasion plan see HERE
xxxii These guns had been captured in German South West Africa, see HERE

xxxiii Hordern, 486.
xxxiv Hordern, 487.
xxxv Wright, 119.
xxxvi See the article HERE
xxxvii Langham, Part 2 page 86.
xxxviii Langham Part 2 page 87.
xxxix Wright, 120.
xl Wright, 120.
xli Brelsford, 58-59.
xlii Wright, 120-121.
xliii The Lake covers 32,900 square kilometres.
xliv Brelsford, 59.
xlv Hordern 467, footnote 3.
xlvi Wright, 121.
xlvii Hordern, 467.
xlviii Hordern, 474.
xlix See the article HERE
l Boell, 205 and 208.
li Wright, 122.
lii Wright, 122.
liii Hordern 484, footnote 3.


SOURCES:
> HORDERN, Charles, Lieutenant Colonel (compiler). History of the Great War. Military Operations East Africa, Volume I, August 1914 – September 1916. (Her Britannic Majesty's Stationary Office, 1941).
> HARDING, Colonel Colin, CMG DSO. Frontier Patrols. A History of the British South Africa Police and Other Rhodesian Forces. (Bell, London, 1938).
> GIBBS, Peter and PHILLIPS Hugh. The History of the British South Africa Police 1889 – 1980. (Something of Value Pty Ltd, Australia, 2000).
> LUCAS, Sir Charles, KCB KCMG. The Empire at War, Volume IV. (Oxford University Press, 1925).
> STAPLETON, Timothy J. No Insignificant Part. The Rhodesia Native Regiment and the East Africa Campaign of the First World War. (Wilfred Laurier University Press, Canada, 2005).
> McLAUGHLIN, Peter. Ragtime Soldiers. The Rhodesian experience in the First World War. (Books of Zimbabwe Publishing Co, 1980).
> SILLITOE, Sir Percy, KBE. Cloak Without Dagger. (Abelard-Schuman, New York, 1955).
> HAMLEY, Richard. The Regiment. A History and the Uniforms of the British South Africa Police. (Covos Day, South Africa, 2000).
> WRIGHT, Tim, Colonel. The History of the Northern Rhodesia Police. (British Empire & Commonwealth Museum Publishing, 2001).
> BRELSFORD, W.V. (editor). The Story of the Northern Rhodesia Regiment. (Government Printer, Lusaka, Zambia, 1953).
> BOELL, Ludwig. Die Operationen in Ostafrika. (Privately published, Hamburg, Germany, 1951).
> LANGHAM, R.W.M. MC. Article in the Northern Rhodesia Journal.

(Gratitude is expressed to Per Finsted of Denmark who accurately translated the German details from Boell's book.)