Operations against Fodi Kabba and Suleiman Santu and the award of a Victoria Cross to Lance Corporal W.J. Gordon.

In 1888 the British administration of Gambia had been separated from that of Sierra Leone, and in 1891 the British and French authorities began work on plotting the boundary between their territories. The basic agreement between the two nations was that Britain could control the first 200 miles of the Gambia River but the strip of British land was to be only 30 miles wide. All the territory outside the strip was to be French. Needless to say this move did not impress many of the local inhabitants of the area and a Gambian Chief named Fodi Kabba strenuously objected to this foreign division of tribal land.

The British began to feel uneasy about the security situation along the Gambia River, and in July 1891 two officers and 50 men of the 2nd West India Regiment (2WIR) arrived in Bathurst from Freetown in Sierra Leone. Undeterred Fodi Kabba's men attacked and wounded several Europeans employed on the Boundary Commission.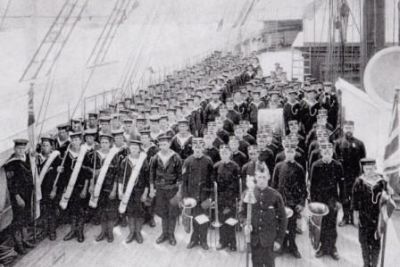 The Royal Navy boosted its presence on the river but Fodi Kabba, operating from the village of Marige, continued to generate problems for the British authorities. On 29th December 1891 another four officers and 120 men of 2WIR arrived at Bathurst, enabling a joint naval and military force to advance into Fodi Kabba's territory.

The force consisted of:

305 Naval personnel with two naval 7-pounder field guns
165 men of 2nd West India Regiment under Major T. Claridge
30 Gambia Police
13 Colonial administrators and officers.

Above: Royal Naval Shore Party

The British surrounded Marige on 2nd January 1892 but with insufficient troops, as there was a gap of seven paces between each man in the cordon. Fodi Kabba took advantage of this, suddenly breaking through the cordon on horseback with a band of his men and crossing into French territory where the British could not follow. Marige and a few other villages were burned but there were no decisive military confrontations. Skirmishes continued but by now the sailors and marines, sweating in their thick uniforms, were going down with fever. Operations were terminated in early February as 2WIR were rotating back to the Caribbean and being replaced by 1st West India Regiment (1WIR).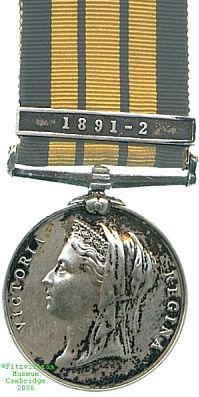 Although the campaign was not a success participants received the East & West Africa Medal with clasp "1891-2".

The East and West Africa Medal with clasp 1891-2 seen here was awarded to Private G. Gooding of the 2nd West India Regiment. It is shown by kind permission of the copyright holders, The Fitzwilliam Museum, Cambridge.

1WIR now arrived on the West African coast and a detachment under Major George Madden was deployed to Bathurst. In March 1892 Madden and twelve of his men were sent 80 miles up the Gambia River to the village of Toniataba. The purpose of this journey was to escort the village chief Suleman Santu to Bathurst to acknowledge British authority. However Suleiman was one of Fodi Kabba's henchmen and he did not intend to submit easily. The West Indians arrived at Toniataba to find it stockaded and the gates barred, but there were no armed Africans in sight so Madden did not suspect danger.

The West Indians found a beam of timber and started using it as a battering ram against the south gate of the town. The story can be continued using the citation from the London Gazette for a Victoria Cross to No 2829 Lance Corporal William James Gordon, a 28-year old Jamaican of The West India Regiment:

"During the attack on the town of Toniataba, Major G.C. Madden, West India Regiment, who was in command of the troops, was superintending a party of twelve men who were endeavouring with a heavy beam to break down the south gate of the town, when suddenly a number of musket muzzles were projected through a double row of loop-holes which had been masked.

Some of these were within two or three yards of that Officer's back, and before he realized what had happened Lance Corporal Gordon threw himself between Major Madden and the muskets, pushing that officer out of the way, and exclaiming 'Look out, Sir!' At the same moment Lance Corporal Gordon was shot through the lungs. By his bravery and self-devotion on this occasion the Lance Corporal probably saved the life of his Commanding Officer."

Right: Sgt W.J. Gordon VC

Major Madden and his twelve men withdrew to Bathurst where Lance Corporal Gordon was treated for his severe wound. Suleman Santu had to be punished and when the 1WIR troops in Sierra Leone had concluded operations against the Tambi region in that country, Lieutenant Colonel Alfred Ellis and 349 men, armed with rifles and rockets, sailed for Bathurst. They were joined by a Naval Brigade of 336 men with field guns and 9 Gambia Police. On approaching Toniataba Lt Col Ellis did not waste time. An account published in The Graphic on 4th June 1892 stated:

"We were received with much beating of war drums and a shower of slugs; these continued while our small force quietly took up a position nearly surrounding the place, and about 200 yards from it. At 3.30 we opened fire, the guns and rockets being directed on the fort, which was soon in flames; then, with a cheer, the West Indian Regiment carried the stockaded village, driving the enemy in great numbers across the front of the Naval Brigade."

Left: Battle of Toniataba

Toniataba was burned to the ground and Suleman Santu killed. Captain Roberts, West India Regiment, was killed and five men were wounded. Enemy casualties were not recorded. The British force now embarked on Royal Navy vessels on the Gambia River and returned to Bathurst, Lt Col Ellis and his main body of West Indians sailing back to Sierra Leone. In due course all participants in the Toniataba operation received the East and West Africa Medal with clasp "1892", or if they already possessed the medal they received the clasp to add on. (Refer to the article The Jebu War, Nigeria, 1892 for a sight of this medal and clasp.) Lieutenant Henry Douglas Wilkin, Royal Navy, received a Distinguished Service Order with the citation:

"In recognition of his services in the recent operations on the West Coast of Africa, resulting in the capture of Tambi and Toniataba."

William James Gordon VC never fully recovered from his wound but he attained the rank of Sergeant before his discharge in 1902. Back in Jamaica he spent some time with the Kingston Militia before employment on the West India Regiment Depot Recruiting Party in Up Park Camp, Jamaica. He spent his final years in charge of the camp firing range, living in an adjacent "grace and favour" property. He died in August 1922 and was buried with full military honours. He is remembered as a much-esteemed and respected soldier. His Victoria Cross is in the Jamaica Defence Force Museum, Kingston.

(Both the medal reference books African General Service Medals and British Battles and Medals Seventh Edition incorrectly locate Toniataba as being in Sierra Leone when in fact it is in The Gambia.)

SOURCES:
The Empty Sleeve: The Story of The West India Regiments of the British Army by Brian Dyde.
The Graphic dated 4th June 1892.
The London Gazette Number 26532 dated 9th December 1892.
African General Service Medals by R.B. Magor.
The VC and DSO Book Volume II.
The Victoria Cross Awards page of Channel 4's Black and Asian History Map website.

To return to Harry's Africa go HERE