The 1st Cape Corps in German East Africa: 17th February 1916 to 20th December 1917


The raising of the Cape Corps

When South Africa entered the First World War internal politics dictated that only white men would be armed; the Africans and Coloureds (people of mixed race) would be recruited in their thousands but only as unarmed railway labourers or transport workers. However the large Cape Coloured community wished to send men to fight, and after the conclusion of the successful campaign in German South West Africa (now Namibia) the South African government offered to raise an infantry battalion of Coloured men for overseas service. The British government accepted the offer and agreed to class the men as Imperial Troops, which meant that Britain would pay the costs. Terms of service were equated with those of the black British West Indies Regiment and the rate of pay was one shilling per day, similar to the rate for British soldiers but much less than the rates paid to white colonial troops. The unit establishment was fixed at 30 officers and 995 other ranks organized into four double-companies.

A Cape Corps War Recruiting Committee was formed with its headquarters at Cape Town and on 25th October 1915 it called for volunteers throughout South Africa; interestingly the one place where sufficient volunteers were not immediately found was in Cape Town. The recruits had to meet stringent physical and medical requirements and were based for training in barracks at Simons Town on the Cape Peninsula. Lieutenant Colonel George A. Morris was selected to command the unit and was given a free hand in choosing his officers. Major C. N. Hoy was appointed Second in Command. Nineteen European Warrant Officers and senior ranks were recruited to fill key appointments such as Regimental and Company Sergeant Major, Regimental Quarter Master Sergeant, and Platoon, Signals, Medical and Machine Gun Sergeants.

For the Maps of the Campaign please click HERE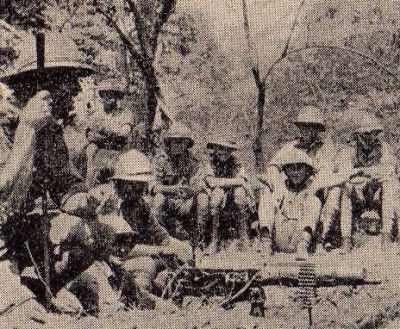 Right: Cape Corps Machine gun instruction.

East Africa

The battalion sailed from Cape Town on 9th February 1916 aboard HMT Armadale Castle, disembarking at Kilindini, Mombasa eight days later. Two troop trains carried the men to Kajiado south of Nairobi. What remained of February was spent in marching down across the German East Africa border to Longido West where a temporary camp was made. The Cape Corps was now part of Major General J.M. Stewart's 1st East Africa Division that was tasked with advancing south whilst the theatre commander, General J.C. Smuts, advanced the bulk of his forces from the east.

General Stewart moved off on 5th March and his divisional column including the transport was several kilometers long. The Cape Corps, as yet untried and untested, was nominated to be the rearguard. Because of the 'stop-start' nature of long military convoys the first leg of 50 kilometres took 16 hours of marching to complete, under a hot sun and over dusty, dry ground. Two days later the withdrawing German rearguard inducted the battalion onto the battlefield by firing a few shots towards the evening camp site.

The Cape Corps was brought forward on 9th March to advance on and attack Ngare Nairobi where a German post was thought to be located, but on arrival the enemy had gone. The battalion then commenced what was to be a long spell of duties as Lines of Communication troops.


Work on the Lines of Communication, April to November 1916

For the next nine months of 1916 the Cape Corps was employed on routine but necessary duties behind the advancing British troops. Men guarded bases, patrolled roads, built bridges and provided individual officers and soldiers for posts on administrative, transport and provost staffs, and for duties in hospitals. During this period many members of the battalion, as in all other British units, went down with a variety of tropical ailments which killed some of them. Due to General Smuts' preoccupation with offensive tactics and his total lack of interest in logistical requirements, rations were often in short supply and sometimes were not issued at all. Locally recruited undernourished and overworked African porters were literally dropping dead on the march as they carried supplies to the forward troops over very difficult and often swampy, crocodile-concealing terrain. This shortage of decent food caused debilitation amongst the Cape Corps which resulted in a loss of resistance to diseases.

In late July the South African General Louis Botha and an entourage visited East Africa to see General Smuts. German stay-behind troops were active in the area of Kangata, and a Cape Corps road-clearing party swept the roads on the day before Botha's visit. An enemy mine was located and 220 Private D. Demos dug the mine out and demolished it. Demos received a Military Medal for this act, the first award that was made to the Cape Corps. Duties on the Lines of Communication held their own dangers, especially when enemy groups were mounting attacks. Lieutenant J.C. Hosack was shot one night when out on patrol, but his death was the result of friendly fire from a British unit that had not been informed of Hosack's patrol. Another member of another patrol, 672 Private I.C. Solomon, went missing, presumably taken by a lion.

The Cape Corps' smartness, diligence and willingness to tackle any duties had favourably impressed Smuts and Botha, and the unit establishment was increased up to six double-companies. A training camp was opened at Tanga where men discharged from hospital treatment, plus drafts of new arrivals sent up from the Depot at Cape Town, were field-trained prior to being sent forward to the battalion.

Neue Tabelle
Above: Berthon boats being carried by porters to the Rufiji River
Fighting on and near the Rufiji River, December 1916 to March 1917

In December 1916 the Cape Corps marched south towards the Rufiji River leaving a unit Depot at Morogoro. The Depot's task was to feed replacement men forward as casualties occurred in the battalion, which was now a part of General P.S. Beves' Force Reserve. Infantry action was imminent and eagerly awaited. On 2nd January 1917 Beves ordered Lieutenant Colonel Morris to cross the Rufiji near Makalinso. Morris was allocated 500 of his own Cape Corps men with four machine guns, a two-gun Section of the Kashmir Mountain Battery, and a detachment of the Faridkot Sappers & Miners with six collapsible Berthon boats. The guide was the famous South African Major P.J. Pretorious DSO, who before the war had owned a nearby farm.

Setting off at 1400 hours Morris' men marched hard through the night for nearly 50 kilometres, cutting a route through the bush for the gun-mules to use and laying a telephone cable as they moved. Three of the boat porters collapsed and died on the journey. As dawn approached Pretorious advised moving the crossing point four kilometers westwards to Kipenio as his scouts suspected that the Germans occupied Makalinso. At the river the Cape Corps secured the area, the Kashmiri guns were positioned for action, and the boats were silently assembled and launched. By 0700 hours Morris was able to report by telephone that his whole force was across the river and entrenched. The battalion signalers tapped into a nearby enemy telephone cable discovered by Pretorious' Scouts and intercepted useful information.

One exciting event was the charge of a herd of hippopotami through the Cape Corps position. The men stood-to assuming that an enemy attack was in progress, but the only casualties were amongst the small herd of meat-on-the-hoof cattle that stampeded into the bush. As only three or four beasts were found again the soldiers had even less rations than usual. A dawn bayonet attack was then launched by 100 Cape Corps soldiers under Captain Cunningham on the German position at Makalinso. This took the enemy by surprise and 4 Europeans, 10 Askari and 19 porters in the position were killed, wounded or captured without loss to the Cape Corps.

The fight at Kibongo

The British advance followed-up the withdrawing enemy. The German formation commander tasked with delaying the British was Captain Ernst Otto and he positioned the 25th Field Company in the Mkindu area; this company was tasked with fighting a delaying battle. The Cape Corps, less 'A' Company, was sent forward to reinforce elements of the Nigerian Brigade that had advanced to Mkindu. 'A' Company under Major C.G. Durham with two machine guns and two Kashmiri mountain guns was sent to attack an enemy position at Nyakisiki.

Whilst searching for the enemy position south of Mkindu one of the few British aeroplanes in the theatre was brought down when a German bullet punctured its fuel tank. Both sides attempted to seize the plane but the undamaged pilot walked through the bush in the right direction and reached safety with the Nigerians.

On 20th January 1917 Lieutenant Colonel Morris was appointed commander of a column consisting of the Cape Corps (under Major Hoy), the 2nd Nigeria Regiment and a two-gun section of the Kashmir Mountain Battery. The column was to attack the enemy position that had been located at Kibongo. Meanwhile the 1st Nigeria Regiment and two Nigerian mountain guns marched to outflank the enemy position and block the withdrawal route. The 3rd Nigeria Regiment was held back as a reserve.

Right: Lt WS Heaton MC

Morris placed the 2nd Nigeria Regiment as his reserve and advanced with the Cape Corps in the lead deployed into bush formation – two platoons abreast leading, a platoon guarding each flank with two machine guns in support, and the main body in the centre. From first light enemy outposts opened fire before hurriedly withdrawing to the main German position on a ridge. The enemy troops withdrew from their first trench line but sat tight on their second one, delivering counter-attacks on the Cape Corps flanks that were beaten off after stiff fighting.

The key to the German position was a small hill which Lieutenant Hayton of 'B' Company successfully attacked with a section of his platoon. The remainder of 'B' Company and two machine guns joined Hayton and dug-in under hot fire. The enemy mounted two counter-attacks on the hill but both were driven off by the Cape Corps machine guns and the Kashmiri mountain artillery. During this fighting for the hill Major F.E. Bradstock commanded the firing line and was severely wounded. The Battalion Medical Officer, Captain R.P. McNeil, South African Medical Corps, assisted by the Padre, Captain Alan Earp-Jones, and Medical Sergeant Cairns evacuated wounded men whilst under heavy enemy fire.

By 1200 hours the Germans had withdrawn as their flank and rear were being threatened by the 1st Nigeria Regiment. The Cape Corps counted the cost which was 4 men killed, 2 other men dying of wounds and 2 officers and 6 men wounded. Lieutenant W.J. Allen, East Africa Intelligence Department and working with the battalion, was also killed. Both Frederick Edgar Bradstock and Robert Patrick McNeill were awarded the Military Cross.

1144 Sergeant F.J.C. Cairns received the Military Medal, as did machine gunner 1179 Private E. Le Brun.

The Distinguished Service Order was awarded to George Abbott Morris and Charles Norman Hoy.

Meanwhile Major Durham's attack on Nyakisiki had proved to be a hard fight, and reinforcements were sent forward from the 30th Punjabis and the 130th Baluchis, whilst heavy artillery support was provided by 4-inch ex-naval guns positioned 12.8 kilometres to the rear. Under pressure the Germans withdrew leaving behind a fully-equipped field hospital containing 16 European and 200 African sick and wounded men, plus 5 uninjured German female nurses.

For gallantry displayed in the action at Nyakisiki 480 Sergeant P.D. Schoor was awarded a Distinguished Conduct Medal:

For conspicuous gallantry and devotion to duty. During an advance this N.C.O. rendered valuable assistance to his officer. He showed a total disregard for his own safety under fire, and set a splendid example He took charge of several important patrols up to the time he was wounded.

The seasonal heavy rains then descended very heavily and were more intense than they had been during the previous nine years. Tactical military movement ceased as the priority now was survival. Convoys of porters carrying rations struggled through swamps and along flooded trails, but could never deliver sufficient food forward. As the Cape Corps history states: Practically naked they (the porters) toiled with their loads through torrents of rain, slimy, sticky clay and mud often to their middles, and sometimes up to their necks in it. They died like flies . . . .

The bad weather did not stop parties of Germans appearing and mounting minor attacks, as they knew the best routes to take, and so constant alertness was required. But the sickness rate increased so much that by the time the Cape Corps was ordered back to Morogoro in late March only 5 officers and 165 half-starved men were fit for duty. Nearly 50 men had died of disease and nearly 300 officers and men had been medically repatriated to South Africa. Over 1,000 men were being treated or were convalescing in East African military hospitals, or had been detached to perform Lines of Communication duties. Clothing and boots had been worn out and not replaced due to transport difficulties, and many of the soldiers were dressed in rags.

Operations against German raiding parties, April to September 1917

The Cape Corps, now called the 1st Cape Corps as a 2nd battalion had been raised in South Africa, was given four weeks to re-organise and re-train at Morogoro before it was called upon to deal with a serious situation. The German Captain Max Wintgens had decided to break away from his higher command in the south east of German East Africa, and he took his formation of field companies back into the central part of the country where many of his Askari had been recruited.

Four hundred men and 4 machine guns of the 1st Cape Corps under Major Hoy were sent to join the British and Belgian troops that pursued Wintgens, his successor Captain Heinrich Naumann and Lieutenant Joseph Zingel. Lieutenant Colonel Morris and more men followed. The Germans raided as far north as the Moshi area and even threatened to cross into British East Africa. The last band of raiders was not finally eliminated until 1st October 1917, and the Cape Corps was in at the kill. During this hectic period the Cape Corps enhanced its growing reputation as one of the toughest and hardest-marching British units in the theatre.

Awards to the 1st Cape Corps for actions on these operations included a Companionship of the Order of St Michael and St George for Lieutenant Colonel G.A. Morris; a Bar to the Distinguished Service Order for Major C. N. Hoy; two Distinguished Conduct Medals and Military Medals for 829 Corporal H.J. Fredericks and 980 Corporal F. Schroeder.

The recipients of the Distinguished Conduct Medals were:

278 Sergeant H.W. Abrahams:
For conspicuous gallantry and devotion to duty. During the attack on a difficult and important objective he displayed great courage and initiative, and in the consolidation of the same showed marked qualities of skill and leadership, rendering valuable assistance.

1134 Sergeant S.W. Dunn:
For conspicuous gallantry and devotion to duty. As interpreter and organiser of runners he has performed excellent work during operations, which resulted in the surrender of an enemy officer and his party. He has shown marked ability, and has carried out his several duties in a most praiseworthy manner.

(The Wintgens-Naumann-Zingel raids will be the subject of a separate article.)


Operations in the Lindi area, October to December 1917

By October the 1st Cape Corps had re-built its strength to over 1200 men and the battalion was ordered to join the British troops fighting in the Lindi area in south-east German East Africa. The heaviest and most intensive and costly fighting of the campaign had recently occurred in the Mahiwa-Nyangao area, and the strong, fit Cape Corps soldiers provided a welcome boost to the battle-weary British columns advancing westwards.

The 1st Cape Corps joined No 3 Column commanded by Brigadier General H. de C. O'Grady. Also in the column was the 1st 2nd King's African Rifles (KAR) which had absorbed the remnants of the 3rd 2nd KAR as both units had taken heavy casualties in the recent fighting. Other column troops were a Stokes Trench Mortar Section, an Ammunition Column, a Signal Section and an Indian Field Ambulance. Because No 3 Column contained only two battalions this placed a lot of strain on the infantrymen, as each day they were either leading the advance or acting directly in support of it.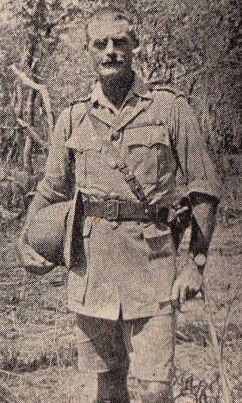 The action at Mkungu

On 6th November 1917 1st Cape Corps was leading No 3 Column's advance from Nyangao when at Mkungu contact was made with enemy troops under the very capable leadership of Major Georg Kraut. The forward companies were 'A' on the right and 'B' on the left. The Germans aggressively attacked 'A' and 'B' Companies through dense bush and then worked around the battalion's flanks. The Cape Corps began to lose men. The Mortar Officer Lieutenant Charles Frederick Abbott and Platoon Commander Lieutenant Ivor Arthur Melville Guest were killed, whilst Lieutenant John Zuill McNeil was mortally wounded and Lieutenant R. Colson was severely wounded. 'D' Company was moved forward to support the left flank and saw some desperate fighting.

Right: Lt CF Abbot killed in action at Mkungu

2nd Lieutenant Sivert Vause Samuelson earned an immediate Military Cross with the citation:

For conspicuous gallantry and devotion to duty. He, though severely wounded, beat off a strong enemy attack, reinforced by several machine guns, and remained fighting with his platoon until relieved. He showed great determination, and his courage and cheerfulness afforded an excellent example to his men.

On the other flank 'B' Company called for support from 'C' Company and Lieutenant William Smith Heaton was also awarded a Military Cross: When in command of a platoon he kept his men under splendid control, and showed great devotion to duty. Later, he rushed and captured an enemy machine gun. He has at all times set a most inspiring example, and has rendered services of the greatest value.

Lieutenant G.L. Ware's platoon was detailed to be the column commander's body guard, and during the fighting the Brigadier ordered Ware, along with Lieutenant W. Power, to take an enemy-held ridgeline. Ware achieved this but Walter Power was killed. This was the hardest day's fighting that the 1st Cape Corps had yet seen. Apart from the previously named officers 3 others were wounded; 11 soldiers were killed or mortally wounded, 46 were wounded and survived and 13 were missing. Other more exhausted and weakened units may have crumpled or broken under Kraut's continuous probing and attacks, but the Cape Corps men wanted to be where they were and the battalion fought back and held its ground. In mid-afternoon the Germans used their remaining heavy artillery which caused most of the unit's porters to drop their loads and run to the rear. The fighting continued until nightfall when the battalion withdrew 50 metres and dug-in on a ridge.

Six of the senior ranks later received Distinguished Conduct Medals:

607 Lance Corporal I.W. Arendse:
For conspicuous gallantry and devotion to duty. This N.C.O., when his officer and a machine-gun crew had been either killed or wounded, and the gun out of action and left dangerously near the enemy exposed to heavy machine-gun fire, made gallant attempts to recover it, ultimately succeeding in doing so, and thereafter efficiently handling it against the enemy. Every time this N.C.O. has been in action he has been highly spoken of.

152 Company Sergeant Major C. Calvert:
When in command of a platoon he kept his men under splendid control, and showed great devotion to duty. Later, he rushed and captured an enemy machine gun. He has at all times set a most inspiring example, and has rendered services of the greatest value.

1465 Sergeant Henry P. Damon:
Under heavy machine gun and rifle fire he rendered great assistance in placing his men, and in controlling the fire in the most effective manner. On this occasion he displayed marked resource and initiative, and on all previous occasions his fine soldierly spirit and example have proved a great incentive to his men.

331 Sergeant Swartz was in charge of 'D' Company's Lewis Gun Section:
This N.C.O. has accomplished sterling work. He has displayed great devotion to duty, and has always set a fine example. On one occasion his officers having been wounded, he helped to consolidate the line at a critical time, bringing up ammunition under heavy fire. His patrol work has been splendid.

9 CSM D.J. Brown:
This warrant officer has shown great devotion to duty. He took the place of a wounded officer, and coolly and efficiently commanded a machine-gun section, during a day's fighting, and subsequently he set a splendid example to his men, whom he has always had under excellent control. He is a very valuable warrant officer.

688 Corporal C. Carelse:
When severely wounded he remained with and kept in action his machine gun until relieved, and when his comrades wanted to carry him out of action he refused their assistance, telling them to remain with the gun.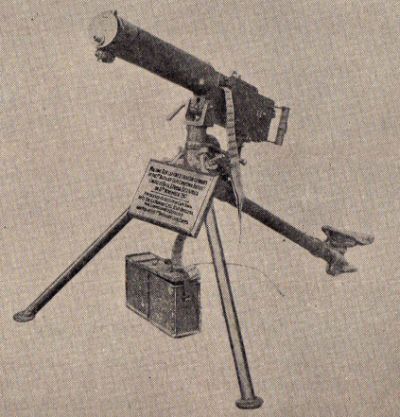 Left: German machine gun captured by the Cape Corps in the Lindi area

Continuing the advance

Next morning Lieutenant G.R. Barnard took out a 20-man patrol but was hit and badly wounded. The Nigerian Brigade then came up on No 3 Column's right, and an attack was planned for the 8th November which the Nigerians would lead. But the Germans were not going to relinquish ground easily and the Nigerian attack was repulsed with the loss of 150 casualties.

The 1st Cape Corps was then relieved by the 2nd 2nd KAR and warned-off for an evening attack westwards. This time the Kashmiri guns and the Stokes Mortars were deployed in support and these weapons killed many enemy as they withdrew before the Cape Corps assault. During this attack Lieutenant Heaton captured the machine gun that is mentioned in his citation. The attack succeeded; 2nd Lieutenant J. McNeil and 4 men were killed or died of wounds and Major Hoy and 6 other men were wounded. Major Bradstock took over command of the battalion until the Second in Command, Major W.R. Cowell, came forward.

On 11th November it was the turn of the Cape Corps to lead the column and Nangoo was seized without a fight, but well-camouflaged enemy snipers continually caused casualties behind the forward companies. At Nangoo there was a German hospital with 28 patients, most of them casualties from bombing raids mounted by the few British aeroplanes in the Lindi area.


The Makonde Plateau

News of a German airship on its way to re-supply the enemy on the Makonde plateau drove the British command to get troops quickly up the 600-metre high escarpment and onto the plateau. (The airship, Number L.59, had flown from Bulgaria but was ordered to return to base when over the Sudan.) At Tschiwata on the plateau a German hospital containing over 1,000 sick and wounded Europeans and Askari surrendered to the column. Thirty three British European prisoners of war were released here, mostly non-commissioned officers. Three of them had been in German hands for three years. Forty four Indian and African prisoners of war were also released.

Although the Germans were retreating they stood and fought where it was advantageous to do so, and on the 15th November 2nd 2nd KAR was leading the column and advanced into an enemy position and had a tough fight. The column, led by 1st Cape Corps, energetically fought the Germans back to Namwindingis on 18th November where another big hospital was seized containing around 1,000 of the enemy. Many of the 272 enemy Europeans were unwounded and glad to be out of the war. By now the German commander, General Paul von Lettow-Vorbeck, had shed the sick and the faint-hearted from his ranks, and he was moving with a dedicated hard-core of 2,000 Europeans and Askari towards Portuguese East Africa (now Mozambique). Also in the hospital were 25 British, 5 Portuguese and 2 Belgian officer prisoners of war, left behind by von Lettow.

No 3 Column was then given a rest, but patrolling continued. On 21 November a Lieutenant E.P. Stubbs took the surrender of an enemy party led by Max Loof, the Captain of the Konigsberg, who had been fighting in the infantry role with his men since their cruiser had been sunk in the Rufiji Delta. Loof's men had destroyed and abandoned the last of their Konigsberg guns three days previously. Edgar Percival Stubbs was later awarded a Military Cross.

The 1st Cape Corps continued mopping-up enemy stragglers until the end of November. Then at Lieutenant Colonel Morris' request a Medical Board examined the battalion and recommended that it be repatriated to South Africa. Battle casualties in the Lindi area had not been high, but around 100 men per week had been admitted into hospital, mostly with malaria. The 1st Cape Corps was moved back to Dar Es Salaam from where it sailed aboard HMT Caronia to South Africa on 20th December 1917.

But another and more distant battlefield was waiting over the horizon for the 1st Cape Corps.

Casualties in German East Africa

During its service in German East Africa the 1st Cape Corps lost 5 officers and 31 men killed in action or died of wounds. One officer and 126 men died of disease or through accidents. Twelve officers and 94 men were wounded in action. The dead are buried in Commonwealth War Graves Commission cemeteries along their line of march and in Dar Es Salaam, Tanzania, where many British human remains were centralised after the war. Those with no known grave are named on Memorials in Nairobi, Kenya and Dar Es Salaam.

Awards
Apart from those already mentioned in the text these awards were made for the fighting in November 1917:

Major William Ralph Cowell (Battalion Second in Command) was awarded a Distinguished Service Order. Captains J.V. Harris (OC 'B' Company) and J.H. Tandy (Adjutant) received the Military Cross. 278 Sergeant H.W. Abrahams DCM received the Military Medal, as did 161 Lance Corporal M.C. Le Roux.

Two men who held the Regimental Sergeant Major's appointment were awarded Distinguished Conduct Medals:

1049 Sergeant Major F.W.E. Betts:
As Sergeant-Major he has rendered conspicuous good service, and displayed great devotion to duty on all occasions throughout the campaign.

1092 Company Sergeant Major (Acting Regimental Sergeant Major) D.F. Twynham:
He has always carried out his duties as Sergeant-Major with consistent determination, has rendered valuable service throughout the operations, and is in no small measure responsible for the high efficiency of his battalion.

SOURCES:


· The Story of the 1st Cape Corps (1915-1919) by Captain Ivor D. Difford. (Downloadable HERE )


· The Empire at War, Volume IV by Sir Charles Lucas KCB KCMG.


· Official History. Military Operations, East Africa August 1914 – September 1916 compiled by Lieutenant Colonel Charles Hordern.


· With The Nigerians In German East Africa by Captain W.D. Downes MC. (Downloadable HERE )


· Draft Chapter XIV of the unpublished Official History. Military Operations, East Africa Part II.


· The History of the Indian Mountain Artillery by Brigadier General C.A.L. Graham DSO OBE DL psc.


· The War History of the 1st/2nd King's African Rifles. (WO161/75).


Website: HERE



To return to Harry's Africa please Click HERE