Within five months of my assumption of duty, administration had to be established in Eritrea and Somalia for a territory about 720,000 square miles in extent, containing 119,000 European civilians and about twelve million Africans. At no time was there more than a handful of trained staff available for the purpose, particularly for administrative, legal, financial and political duties, and even by the end of June 1941 the total number of officers employed under me, in occupied enemy territories and at my headquarters, amounted only to 268, which is almost the exact strength of European Italian staff of the Post Office at Asmara.

Written by the Chief Political Officer of the Occupied Enemy Territories Administration in 1941 and quoted in Gandar Dower's booklet The First to be Freed.



The Somalia Gendarmerie

In 1941 as British troops advanced into Italian Somalia the Italians frequently opened armouries to local tribesmen and irregular troops who were then told to harass the British for a few months until the war in Europe was won and the Italians returned. Having rifles, hand grenades and sometimes light machine guns in their possession some tribes set upon each other and groups of former irregulars became shifta, or bandits. This collapse in security became a problem that the British had to solve as regular troops could not be spared for internal security duties.

Left: Somalia Gendarmerie NCO

A British Military Administration was introduced into the former Italian Somalia and to replace the previous Italian security forces the Somalia Gendarmerie was formed based on advice received from the Palestine Gendarmerie. The Somalia Gendarmerie was put under the command of Colonel P.R.M. Mundy DSO OBE MC (ex-4 KAR) who had recently gained a Bar to his DSO whilst commanding 21 (East African) Brigade at the battle of Soroppa in southern Abyssinia. Initially Askari from British East Africa were posted into the Gendarmerie to provide a manpower framework but soon Somalis and local Yemeni Arabs, many of them being former Italian Askari, were recruited and at its peak the Gendarmerie employed over 3,000 men and 120 officers.
Weapons issued were former Italian rifles such as the .256 short carbine, hand grenades and light automatics. Later a mounted infantry squadron riding ponies was raised for border patrol duties, and an armoured car squadron was formed equipped with South African Marmon Herrington vehicles. Initially officers were sourced from an Officer Cadet Training Unit in Kenya and later a large draft of young officers was sent out from the United Kingdom.

The Somalia Gendarmerie is not mentioned in many military histories but luckily we have available autobiographies written by three young officers who served in the unit, Gerald Hanley, John Golding and Tim Moore.


Making it work

To begin with resources within the Gendarmerie were negligible, and John Golding remembers:

. . . I was told I was going up country to a place called Ishia Baidoa with the object of enlisting a platoon of gendarmes, from among those who had, a few weeks before, been the enemy. I was to restore law and order and start a civil administration. Such minor matters as pay, rations, armaments would all be decided later, but I must be ready to leave as soon as possible, in fact two days later, for the company of Royal West African Frontier Force occupying the place wished to catch up with the war.

This immediate immersion into operational soldiering in an isolated, often bleak former Italian fort in the bush opened many young officers' eyes, and sometimes led to mental health breakdowns and suicides. Askari already in service were being paid late and often had leave owing to them. Transport for the Gendarmerie was scarce and worn out, and outposts had often to fend for themselves until an old lorry arrived one day with the rations, and perhaps some pay, on it. Outposts did not have radio communications.

When disarming the tribes a mixture of ingenuity, tribal considerations and rough justice had often to be applied, with the seizure or killing of stock sometimes being used as an incentive. When applying the military law Gendarmerie officers had to use common sense and their own ideas of basic justice, as sending accused men and witnesses back to the nearest District Officer was impracticable. In disputes between Somalis the best method was to ask tribal elders to adjudicate, and to ensure a speedy result stock could be temporarily seized from the contesting individuals.

Patrolling was generally on foot as vehicles were both scarce and noisy; camels were usually used to carry supplies. Tribal irregulars named Illaloes were raised to be scouts and to be a low-level form of police when dealing with tribes. Disarming the tribes was achieved to a satisfactory extent but this itself led to a greater problem emerging – well-armed groups of Abyssinian raiders crossed the border and started rounding up herds of stock from the now unarmed tribesmen. These fast-moving raiders could not be apprehended on their way into Somalia but they could be on their return journey, (as far as the border which could not be crossed), as their captured stock could not move quickly and needed to water and graze. Gendarmerie patrols had to know their own territory so that they could predict bottlenecks on the raiders' return routes, such as river crossings, where ambushes could be laid. Tim Moore's book contains an Appendix describing an operation during which Tim laid a successful ambush on a ford in the Webi-Shebeli (Leopard) River in which he recovered 800 stolen stock. By this time the Gendarmerie was being re-equipped with British infantry rifles, grenades, light mortars and light machine guns.

Gerald Hanley (who later moved on to be a War Correspondent with 11 (EA) Division in Burma, which led to his book Monsoon Victory) served further north towards the Horn and his masterpiece Warriors and Strangers describes some of his operations against former Italian troops who acted as internal bandits, preying on civilian stock owners. The further north you were posted in Somalia the harder it was to be administered and managed effectively, and this isolation mentally affected several of Gerald's colleagues. Many officers routinely sent requests for posting out of the unit back to base with their monthly accounting returns, but it was rare for an officer to be allowed to leave Somalia without valid health reasons for the move.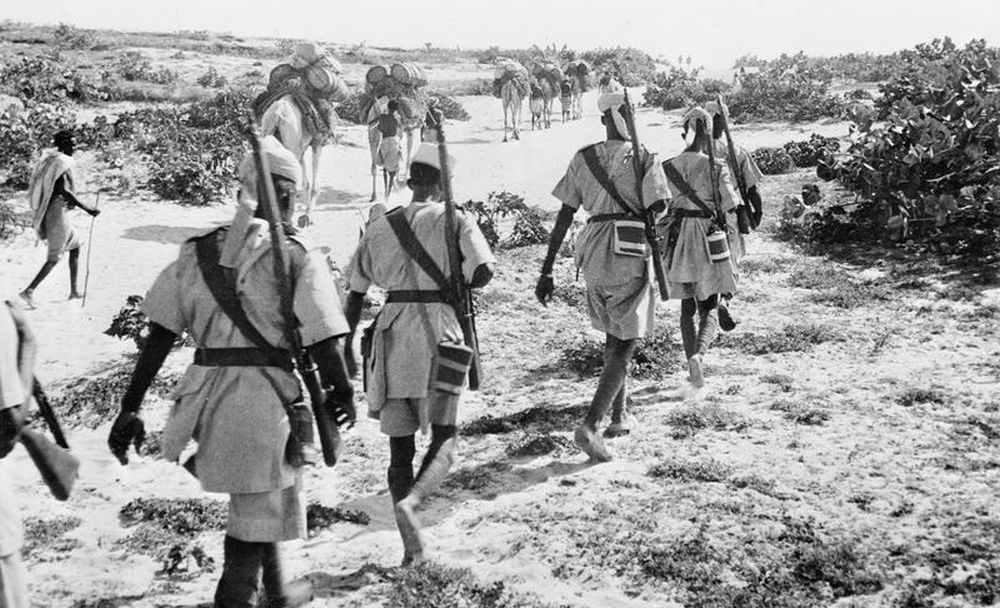 Above: Somalia Gendarmerie on patrol (IWM photo)


Acts of gallantry

A good sense of the type of fighting that occurred in the Somalia bush can be gleaned from citations for gallantry awards. This is the citation for a Military Cross awarded to Captain Ian McDowell (Royal Scots attached to Somalia Gendarmerie):

This officer has served continuously from June 1943 to 12 September 1944 and is still serving on the Abyssinian-Somalia frontier, at the present time; through this period his Company has been under active service conditions and in continual contact on patrol with Shifta raiders.

During this year alone the determination of this officer to close with the foe has resulted in some 10 Shifta killed, 15 wounded and the recovery of 1700 looted stock, which have occurred in 10 separate actions with the armed raiders who have invariably outnumbered the Force under his command.

His energy and keenness have been the mainspring of success in these fights. Invariably well to the front, his courage and leadership have been an inspiration for all ranks, who follow him with gusto in any affray. Owing to the thickness of the bush the actions have taken place at close range, where his coolness under fire has been most marked.

In these operations, carried out in a harsh and arduous climate where many nights' marches have had to be undertaken and risks encountered, his judgment has always proved sound and his splendid spirit of determination has evinced itself both in the planning and in the carrying out of his combats.

A Military Medal was awarded to No. 3313 Sergeant Ibrahim Gurrach, Somalia Gendarmerie, for coming to the rescue of the commander of the mounted infantry squadron (Shifta enjoyed severely mutilating any prisoners that they took):

This non-commissioned officer has served on the Abyssinia-Somalia border since January 1942 to the present date, where he has taken part in numerous actions against Shifta raiders. On three separate occasions he has been specially recommended for his gallantry and skill under fire, by his immediate Commanders. His obvious determination to attack the enemy has raised the spirit of his men and his success in battle combined with staunch courage has always been an example, meritorious and inspiring.

On the night of June 21st to 22nd 1944, a message had been received that Major R. MAYERS with a party of Illaloes in the vicinity of El Carre had been cut off and were likely to be overwhelmed by superior numbers. Sergeant Gurrach and his section were despatched at 0200 hrs to the assistance of Major Mayers. By moving at the double for some four hours through thick and difficult country, contact was made with the latter. Major Mayers was at that time being heavily attacked and was almost surrounded. Sergeant Gurrach made a brilliant and rapid appreciation of the situation and then executed a masterly flank attack on the enemy which resulted in their complete defeat and the killing of 19 men.

Throughout the action this non-commissioned officer retained a close grip on the fight, giving his orders in a calm and imperturbable manner. Major Mayers has asseverated that it was the skill and bravery of this Sergeant and his well led Section that saved his life and those of the Illaloes.

Another Military Medal was awarded to No. 2825 Lance Corporal Ibrahim Abdi, Somalia Gendarmerie, for rescuing a wounded officer:

On 16 November 1943 an action occurred in the vicinity of DANANE DERE between a platoon of the Gendarmerie and shifta raiders estimated to number 150. In the course of this action, in which the Gendarmerie suffered casualties of 1 officer killed and 3 askaris wounded & 3 killed, Captain TAYLOR was leading a section to combat an encircling movement by the enemy when his force was strongly attacked at close range by about 20 men. A brisk fire was opened by both sides as the range was only some 20 to 30 yards. Several of the enemy fell and Captain TAYLOR was wounded in the chest from a burst of a sub-machine gun. Some of the Gendarmerie also became casualties.

The raiders advanced towards Captain TAYLOR, who was by then unconscious, but IBRAHIM ABDI at once directed his fired against them for a period which enabled Captain TAYLOR to be moved to a lorry which was close at hand. Throughout this period IBRAHIM ABDI displayed the utmost coolness and inflicted several casualties on the raiders.

It was undoubtedly his determination and bravery which saved the life of Captain Taylor. Whilst Captain Taylor was being evacuated in the lorry IBRAHIM ABDI continued to shoot at the raiders and threw hand grenades which enabled the vehicle to be driven through a large party of the enemy, who directed a hot fire against it.

On a previous occasion Captain TAYLOR had reported IBRAHIM ABDI as displaying courage in action with shifta raiders.

Problems with wild animals

Whenever the local people lost stock or villagers to lion or crocodile, or had gardens destroyed by elephant, the nearest Gendarmerie officer was expected to solve the problem, and John Golding describes killing both a man-eating lion and marauding elephant. After one occasion during a hunt for lions eating local stock No. 6312 Gendarme Jama Farah, Somali Gendarmerie, was awarded the George Medal for his bravery and prowess with the bayonet:

Near AFMADU on the 5th September 1944, a detachment of Gendarmes under the command of an officer went into the bush to attack some lions who had been killing stock near this place. The officer had instructed the Gendarmes that in the event of a lion charging a man, fire would not be opened as this might endanger the life of the man underneath the lion.

During the course of operations a Sergeant was charged by a lion, who stood over the man, mauling him. Another Gendarme at once attacked the lion with his club rifle whereupon the animal hit him with his fore-paw, killing him outright. Jama Farah, regardless of the imminent danger, rushed upon the beast, bayonetting it through the neck and the right fore-leg. By this gallant action the lion was driven off the Sergeant, whose life was undoubtedly saved. Immediately afterwards the lion was shot.



An incident in the Mogadishu Headquarters of the Gendarmerie

In late 1944 a tragic incident occurred in Mogadishu that led to the posthumous award of the George Cross, Britain's highest non-combat gallantry award, to No. 242974 Captain Simmon Latutin (Left), Somerset Light Infantry attached to the Somalia Gendarmerie. His very descriptive citation reads:

On 29th December 1944, a fire occurred in the Training School Store, Somalia Gendarmerie, MOGADISHU, while some Italian rockets and explosive were being taken out destined for another unit about to hold a New Year's entertainment. Captain LATUTIN, together with one officer, a Company Sergeant Major and a personal boy were in this store selecting the explosives, the first-named standing in the main doorway; for some unexplained cause a fire commenced and almost simultaneously a great number of rockets commenced to explode and burn – there were some 170 cases in the store; with the force of the explosion and the fire, the store became an inferno of danger.

Captain LATUTIN, regardless of the detonating rockets, the intense heat generated by the fire and the choking clouds of smoke, plunged into the store-room and succeeded in dragging out the officer who was almost unconscious owing to his burning injuries.

By this time Captain LATUTIN was himself alight, but without an instant's hesitation he again rushed into this seething holocaust of flames and rescued the Company Sergeant Major, who by this time, owing to the fierce nature of the fire was quite naked. The body of the personal boy was later recovered, but was unrecognisable, owing to the charred condition of his corpse.

The heroism of Captain LATUTIN was superb as he fully recognised the acute danger, which he must incur in entering the building, ablaze with explosives and flames; his unquenchable determination to succour the injured is evinced by his second entry into the store, though himself and his clothes already alright. His action was illustrative of the finest degree of British courage and a magnificent example of undaunted selflessness. Captain LATUTIN died as a result of his injuries on the following day.

(Simmon Latutin was of the Jewish faith and was born in London. On mobilisation he joined the Auxiliary Military Pioneer Corps but volunteered for the infantry. He was accepted and commissioned into the Somerset Light Infantry and later was posted to the Somalia Gendarmerie where he became a Training Officer. It appears that at the time of the accident one of his legs was in plaster due to a tropical ulcer forming on the leg, and that prevented him from being out on training duties at that time. It also appears that the rockets in the store were unstable and should have been condemned and destroyed and it is likely that the hobnailed boots of the Officer and Sergeant Major, who were from the Royal Military Police, could have caused sparks and started the fire; both of these men, like Simmon, did not recover from their injuries. Simmon is buried in the British War Cemetery on Ngong Road in Nairobi, Kenya. Simmon's George Cross is on permanent loan to the Somerset Light Infantry Museum, Taunton.)



The end of the Somalia Gendarmerie

The Gendarmerie soldiered through the war and on until 1950 when the Italians returned to Somalia under a United Nations mandate tasked with preparing the territory for independence in ten years. This resulted in the disbandment of the British Military Administration and the Somalia Gendarmerie.

Tim Moore described what faced a young newly-commissioned officer on being posted to the Somalia Gendarmerie:

So these officers, straight out from the UK not knowing a word of the local language, were expected to take over a band of half-trained, locally enlisted gendarmes and to go into the hinterland. There they would continue to train their troops on the job, to keep order in their district, capture Italian troops still at large and disarm the local population.

They would be in sole charge of hundreds of square miles of territory, with their nearest British neighbour at least ninety miles away and an interpreter who knew some Italian and practically no English. Some knew a few words of that despised 'slave' language KiSwahili. The country was mostly desert, dry, harsh and inhospitable.

It is not surprising that some officers suffered from insanity or killed themselves, but they were by far the minority – the majority adapted, came to terms with their situation, established a rapport with their men, and learned to ably perform the varied tasks that they were given. All ranks of the Somalia Gendarmerie can rightly feel pride in having served in that Regiment.







ENDNOTE
A paragraph from General Wavell's Despatch on Operations in East Africa, November 1940 to July 1941 is pertinent:

At this period considerable trouble was still being given over most of the occupied area by the many armed deserters from the Italian Army who had formed themselves into marauding bands. It was clear that my main object was the defeat of the Italian forces, and therefore I was quite unable to provide the large number of troops which would have been required in the vast area under my control, to establish law and order with efficiency and despatch. I explained to my political officers that they would have to do the best they could with the few garrison battalions I could spare and what they could raise in the way of gendarmerie and police from local resources, and that I quite appreciated I would have to accept a degree of lawlessness until such time as I could spare troops to enforce the law. I have to thank them for the loyal way in which they accepted this position, and the efficiency with which they established a considerable degree of law and order with the assistance of the small military resources available.

The names of 169 men of the Somalia Gendarmerie are commemorated on the East Africa Memorial located within the Nairobi War Cemetery.



SOURCES:

K.C. Gandar Dower. First to be Freed: The record of British Military administration in Eritrea and Somalia, 1941-1943. (HMSO 1944).

J.A. Golding. Colonialism. The Golden Years. (Birlings (Kent) Ltd. 1987).

Gerald Hanley. Warriors and Strangers. (Hamish Hamilton Paperback 1987).

Tim and David Moore. Books, Bandits and Guns. One Man's War in Somalia. (The Choir Press paperback 2017).

Malcolm Page. KAR. A History of the King's African Rifles. (Leo Cooper 1998).

Jewish Virtual Library web page: https://www.jewishvirtuallibrary.org/simmon-latutin

To return to "Harry's Africa" click HERE