Military Operations in Northern Frontier District

Background

Throughout colonial times the administration of the vast Northern Frontier District of the British East Africa Protectorate, later named Kenya, was not a priority. Administrative attention and commercial development were concentrated in the highland regions that were populated by white settlers, and at a few locations on the Uganda Railway that ran from Mombasa to Lake Victoria.

In 1963 the Earl of Lytton in an address to the British House of Lords made the following comment:

'The Northern Frontier district is half Kenya. It is twice the size of England. It is virtually a desert. It is inhabited by one-thirtieth of the population. One-thirtieth of the population inhabit half the country, and nine-tenths of the population occupy one-fifth. That is not a sign of maldistribution, because one is desert and the other is well-watered Highlands. This desert is so poor and so unimportant that it is called a District only. It is not even a Province. The Province of which it is a part is so unimportant that it is not given a separate map in the Kenya atlas. The whole population is regarded as of such small account that it is not summarised in the main tribes in the Kenya Statistical Abstract of 1960. It is one of the poorest places that people have ever quarrelled about.'

For a Map of the Area please click HERE


Above: A KAR party on trek near the Abyssinian border
Pastoral tribes traditionally inhabited this arid land and their herds of livestock were always a target for both neighbouring tribes and rapacious raiders from Abyssinia to the north, Somaliland to the east and from Uganda and Sudan to the west and north-west. Illegal gangs of ivory hunters crossed the unmarked borders at will.

British administration

In 1908 a survey of the border between British East Africa and Abyssinia (now known as Ethiopia) was conducted, leading to a British decision the following year to administer the tribes in the District. At that time much of the land to the west of Lake Rudolf was Ugandan territory so the Nairobi based administrators moved into the area east of the lake. The first post was established at the mountain oasis of Marsabit by the Political Officer F.J.E. Archer, formerly Norfolk Regiment and 4th King's African Rifles (4 KAR).

A second was built on an escarpment at Moyale on the Abyssinian border by Lieutenant L. Aylmer, King's Royal Rifle Corps and 3 KAR. Each post was garrisoned by half a rifle company of KAR Askari whose initial tasks were to observe tribal practices and movements. It was soon noted that whilst the tribes people in the District were innoffensive, they were frequently disturbed by raiders from Ethiopia and also by herdsmen from Somalia seeking fresh pastures and access to wells.


Above: The post at Loiyangalani
After an Abyssinian raid on the Samburu and Rendile tribes near Lake Rudolf a new post was constructed in 1910 at Loiyangolani near Mount Kulal. Providing logistical support to these outposts was not easy. Marsabit was 13 days' march from Nairobi, and the trek on to Moyale took a further 10 days or more. It took three weeks of marching to move between Nairobi and Loiyangolani. Life was tough for the garrisons, as it was for the nomadic inhabitants of the district. Any illness or injury had to be treated on the spot by a medical assistant or a willing infantry officer. The Askari patrolled countless miles on foot, knowing that they might suddenly encounter well-armed raiders or poaching gangs.

The KAR officers had cash 'floats' and rolls of Americani cloth to purchase or trade for meat, eggs and milk. A sheep cost four hands of cloth or about one Indian rupee (worth about one old British shilling and four pence – severn modern pence - in the currency of the day). One sheep would feed a half-company for a day, whilst a camel, costing 20 rupees, would feed the Askari for five or six days. However the tribes people often preferred to keep hold of their stock rather than have cash or trade items that were of little practical use to them. Loiyangolani was perhaps the best located post for self-provision as fish and hippo could be taken from Lake Rudolf and waterfowl, sand grouse, guinea fowl, partridge and gazelle could be culled.

Exploration of Mount Kulal proved that there was permanent water and good grazing there, but that raiders and poachers had driven nearly all the local Samburu away. In 1912 a post was established on Mount Kulal and the Askari soon had to discourage Abyssinian predators with bursts of Maxim machine gun fire. Another post was opened at Wajir, inbetween Marsabit and the Somali border, where Abyssinian raiders had allied with the local Garre tribe to take 2,000 camels from the Yaben tribesmen's herds.

Left: Leycester Aylmer's memorial tablet

The Aylmer contact

On 1st May 1913 Leycester Aylmer, now a Political Officer, with ten Askari of 'D' Company 3 KAR came across 13 armed Abyssinian outlaws amongst a rocky outcrop at Gudderh near Moyale. Aylmer attempted to parley with the intruders but when they refused to talk Aylmer ordered his Askari to open fire at around 200 metres range. The Abyssinians returned fire and one of them shot Aylmer through the chest, killing him. KAR Askari 2719 Private Matata bin Kupass was hit badly and died later; three others were wounded. One of the wounded, 1670 Private Amri bin Juma, probably crawled off into the bush as he was never seen again. The other casualties, Privates 2792 Abdalla bin Athman and 2816 Kirumbwo, received flesh wounds and quickly recovered.

Lance Corporal Hamis bin Juma took command of the patrol, sent a warning to the pack camels in the rear, and defended Aylmer's body until the Abyssinians withdrew. For this action he was immediately promoted to Sergeant and awarded an African Distinguished Conduct Medal with the citation:

No 64 Lance Corporal (now Sergeant) Hamis Bin Juma 3 KAR.

Captain Aylmer, Political Officer on the Abyssinian Frontier, who was on his way from Derkali to Moyali with an escort of ten KARs came across a party of twenty five Abyssinian outlaws. Aylmer called on these men to surrender, but they refused to do so, and accordingly directions were given for fire to be opened. The Abyssinians occupied an almost impregnable position among some rocks which completely commanded the ground over which Captain Aylmer had to advance. When he first opened fire Captain Aylmer was 200 yards away from the position, and was killed soon after the firing commenced. In holding his ground and keeping his men together in exceptionally difficult circumstances, Lance Corporal Hamis Bin Juma prevented the Abyssinians from taking possession of Captain Aylmer's body, which was undoubtedly their object for it is an Abyssinian custom to mutilate corpses. Eventually the Abyssinians were driven off after twelve of them had been killed.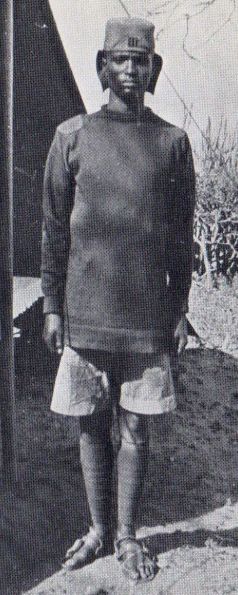 Leycester Aylward's body was taken by camel to Kuffa where he was buried. A large brass memorial plate in Nairobi's Protestant Cathedral commemorates his death. Private Matata bin Kupass was a single man and so his personal effects and balance of pay were handed over to his brother and fellow Askari 2725 Private Lhanga Lhanga Mybiamwezi. The family of Private Amri bin Juma would have been given his balance of pay.

Right: Askari Dasalin Walde DCM, Lloyd-Jones' orderly

The Lloyd-Jones contact

Four months later, on 3rd September, another contact occurred. Half of 'A' Company 3 KAR was garrisoning the post on Mount Kulal. The commander, Lieutenant William Lloyd-Jones, Middlesex Regiment and 3 KAR, accompanied by a Political Officer took out a patrol of 25 men along the eastern shore of Lake Rudolf. Whilst searching for raiders about 60 kilometres north of Mount Kulal one of Lloyd-Jones' scounts discovered an occupied zareba (defensive circle of cut thorn trees) hidden in a valley.

Lloyd-Jones approached the entrance to the 2.5 metre high zareba with four Abyssinian and twelve Wakamba Askari, and through one of his Abyssinian non commissioned officers he called on the raiders to surrender. There was no response so the KAR Askari fired volleys into the zareba. Lloyd-Jones saw the entrance being closed and decided to attack; his bugler sounded the charge. The enemy, shouted 'Shoot the white man!', and a bullet from a Le Gras-1874 rifle shattered Lloyd-Jones' left ankle. The bugler and another Askari were also down with wounds. The Wakamba members of the patrol were newly-joined and they took cover and fired into the zareba. However three Abyssinian Askari up with Lloyd-Jones charged into the zareba shouting the name of their Coptic Church patron saint.

Lloyd-Jones heard shots, shouts and groans from within the zareba and feared the worst for his men. Preparing to shoot himself rather than be taken he was then surprised and gratified to see his three men stumble out dragging a raider with them. Identifying the raider as the one who had shot their officer, the Askari finished the culprit off with a rifle butt. All the other raiders were already dead.

Not knowing if other outlaws were in the vicinity Lloyd-Jones directed his Askari to picquet the area until the Political Officer returned from a survey patrol and took command.


Lloyd-Jones (Left) now began a nightmare-journey back to Nairobi, being carried on a stretcher for the first 43 days. He survived but was not fit enough to serve operationally in Africa again.

Awards

William Lloyd-Jones received the last Distinguished Service Order to be awarded before the Great War broke out, his citation reading:

. . in recognition of his services whilst in command of a party of 25 rank and file of the 3rd Battalion , King's African Rifles, on the occasion of a reconnaissance on the 3rd of September, 1913, on the East shore of Lake Rudolph, East Africa Protectorate.



2537 Sergeant Gizau Walde Marium, 2574 Private Abdul Gadir and 2596 Private Dasalin Walde each received an African Distinguished Conduct Medal with the citation:

Lieutenant Lloyd-Jones and his party charged a thorn Zariba containing a party of Abyssinian outlaws who had refused to surrender. Lieutenant Lloyd-Jones fell severely wounded at the first volley, the two men next to him were shot down; the three Abyssinians then rushed the gate alone and killed all the defenders, and afterwards carried their officer to a place of safety.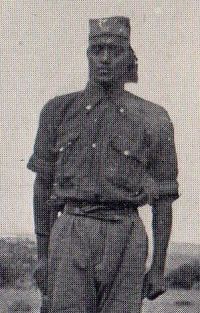 Right: Askari Abdul Gadir DCM

Conclusion

Life in the early days of the Northern Frontier District was a rugged experience for everyone located there. Military leadership needed to be delivered from the front and that exposed the leaders to great risks. Swift decisions had to be taken, particularly about whether to talk or shoot first. Unless they had served in the District the military headquarters staff in Nairobi had little concept of the conditions under which the garrisons of their outposts operated. (It appears that it was not until the introduction of the motor car in the late 1920s, and the construction of roads to drive it on, that regular inspection visits were made to outposts – see Sandy Curle's Letters from the Horn of Africa 1923-42.)

In August 1914 William Lloyd-Jones DSO was transferred from KAR convalescence to duties in the War Office. In March 1917 he was deployed to France where he received a Brevet promotion to major, the French Legion of Honour 5th Class, the Order of the Crown of Italy 5th Class, the Order of the Crown of Roumania 4th Class with swords, and the Serbian Order of the White Eagle 5th Class with swords.

SOURCES:

The King's African Rifles by Lieutenant Colonel H. Moyse-Bartlett.
Havash and K.A.R., two books by W. Lloyd-Jones.
3rd Battalion King's African Rifles Historical Records 1895-1928 (National Archives file WO 106/270).
Report and Enquiry into the death of Captain L. Aylmer (National Archives file CO 534/18).
The African D.C.M. compiled by John Arnold.
London Gazette dated 4 August 1914 pp 6071-72.
Hansard 3 April 1963.
War Services 1922.

To Return to Harry's Africa click HERE