Bush Scout and Intelligence Officer

Early days and the South African War

Arnold Wienholt was an Australian, born in Queensland in 1877, and in the Great War East African campaign he became an outstanding British intelligence officer. His father was a farmer who sent him to Eton for his education and then employed him on the family estates. During the South African (Boer) War Arnold enlisted in the 4th (Queensland Imperial Bushmen) Contingent, serving from May 1900 until August 1901. He was soon promoted to the rank of sergeant and established a reputation for firmness and fairness.

Right: The last photograph taken of Arnold Wienholt shortly before he was killed.

Lion hunting in Angola

He then resumed life as a farmer and also entered politics in 1909, holding a seat in the Legislative Assembly until 1913. That year he failed to win a political position and decided to visit Portuguese West Africa (now Angola) to hunt lion. Sailing to Capetown in South Africa he then took a coastal boat to Luderitz in German South West Africa (now Namibia). From there he used the German rail system to the northern inland town of Grootfontein and then trekked north with a wagon to the Okavango River and crossed over into Angola. Arnold spent nearly a year north of the Okavango hunting for food and attempting to track lion, something which his African helpers could not understand – food yes, but lion, why? Finally Arnold shot and wounded a lion but on following it up next day the lion charged and savaged him, biting and breaking his right wrist and damaging his shoulder before leaving him. When he had persuaded his Africans to come down from the trees that they had climbed Arnold got back to camp, cleaned his twelve wounds with carbolic soap and set his broken wrist and injured arm on a piece of pine board.

Arnold then withdrew across the Okavango and through the Caprivi Strip, learning that war had been declared in Europe. At Schuckmansburg in the east of the Caprivi Strip he met a party of Rhodesian troops who had occupied this former German post. A military doctor there operated on his wounded hand, and Arnold continued to Livingstone in Northern Rhodesia (now Zambia) where a railway line led south to Southern Rhodesia (now Zimbabwe) and South Africa. Arnold offered his services as a scout as he had recent knowledge of northern German South West Africa, which South African troops were shortly to invade, to both the Southern Rhodesian and South African authorities. However his application was dismissed by General Smuts in South Africa and Arnold returned to Australia.

Enlistment as a Rhodesian Border Scout

After being told by an eminent surgeon that his right wrist and arm could not be improved (pieces of splintered bone kept working out) Arnold returned to South Africa seeking military service. He failed again, but moving up to Salisbury in Southern Rhodesia he was successfully enlisted as an Intelligence Scout along with three other men that he knew. They were all signed on as special service troopers in the British South African Police and tasked with scouting the Rhodesian, Angolan and German South West African borders. Arnold was now squeezing his rifle trigger with his second finger. The four men split into pairs but unfortunately one man in the other pair named Sinclair shot a charging lion and wounded it, but it attacked again and killed him just as Sinclair himself killed the lion with his knife.

Arnold worked north of the Okavango River again and struck up a good relationship with the Portuguese authorities in their isolated posts. Although Portugal was at that time neutral German troops crossed the Okavango and destroyed several Portuguese forts. The reason for this seemed to be retaliation because the Portuguese authorities were not allowing (at the request of the British) any kind of supplies to cross their border into German South West Africa. The Scouts collected information from the Portuguese and from friendly Chiefs and Headmen in African villages. German patrols in Angola were not the only enemy as some South African Afrikaaner rebels who had joined the Germans also crossed into Angola as the South African invasion force pushed its way northwards through German South West Africa.

On 9 July 1915 the enemy forces in German South West Africa surrendered to the South African General Botha. A number of German soldiers and more South African rebels crossed the Okavango to seek sanctuary and internment with the Portuguese and Arnold and the other Scouts managed to capture some of the rebels. However the Scouts also gathered information about a group of eight Germans who were planning to ride camels (the Germans had used an effective Camel Corps in German South West Africa) across Northern Rhodesia to join the German forces in German East Africa (now Tanzania). Major Robert Gordon DSO, the Head of Rhodesian Intelligence (and himself a Queenslander from Australia), came to join Arnold as they tracked the enemy party for eight days across 135 miles of bush. The Germans were surrounded and captured on 17 September 1915 and taken as prisoners to Livingstone. For his duties as a Border Scout Arnold received a mention in the Despatch sent by Lord Buxton, the High Commissioner for South Africa.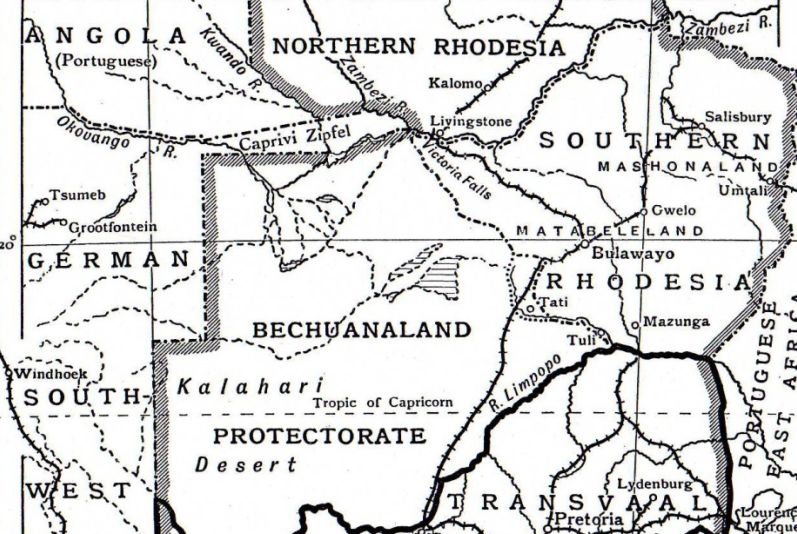 Now that all the former enemy troops in German South West Africa had been accounted for Arnold was discharged from the Rhodesian forces and he sailed from Cape Town to Bombay, India. From there he took the train to Delhi to seek military employment in Mesopotamia (now Iraq) where British and Indian troops were fighting the Turks. But the recruiters at Delhi only wanted men for Mesopotamia who were able to navigate and manage river-boats and motor launches, so Arnold was advised to go to East Africa where a hard campaign was being fought against determined German forces under the command of Colonel Paul Von Lettow-Vorbeck.
Left: Oberst Paul von Lettow-Vorbeck, commander of the German Troops in German East Africa

Enlistment in the East African Mounted Rifles

Sailing to Mombasa in British East Africa (now Kenya) Arnold enlisted in the East African Mounted Rifles. This was a volunteer unit of Europeans who had settled in British East Africa and it was based at Longido, a mountain in German East Africa positioned just across the border to the south of Nairobi. Arnold was serving in the Scout Troop of the East African Mounted Rifles and on 5 March 1916 he took part in the advance of the British 1st Division from Longido to Moshi, and then moved on to observe some stiff fighting at Kahe, a few miles to the south. Here, after defending well from good entrenched positions in thick bush, the Germans skilfully broke contact and withdrew, a tactic that the British were to see repeated time after time. The East African Mounted Rifles then rode to Arusha and the Scouts assisted in forcing the surrender, on 6 April 1916, of over 130 Germans and their Askari (African soldiers) plus 300 porters at Lolkisale, a hill on the route to Kondoa Irangi. The seasonal and extremely heavy rains now set in and the East African Mounted Rifles went into camp until mid-May.



Transfer into the East African Intelligence Department




At this point, May 1916, Arnold and five other Scouts were posted to the East African Intelligence Department as Warrant Officers Class I. He subsequently wrote: '. . . for then began the happiest and most interesting part of our war service in East Africa'. Arnold was teamed up with another Australian Ivan Lewis who had been accompanying him and with an East African settler Scout called Buster Brown (who later wrote a book about his intelligence exploits under the name of Christopher J. Thornhill). These three, along with a small party of armed African Intelligence Scouts, would ride ahead of the British advance down the Pangani River, seeking information about German dispositions and movements from local villagers. Regular return visits were made to the vanguard of the British advance to report useful information and observations. This was dangerous and also hungry work. Ration supplies were generally inadequate as the British commander General Smuts took no interest in logistics, and shooting game was not possible without alerting the enemy. Most supplies were carried from the nearest railhead on African porters' heads and there were never enough porters as their work was hard and dangerous. The tsetse fly also killed a massive number of British animals. During 1916 the British lost many thousands of horses, whilst oxen and mules in tsetse fly areas were expected to live only six weeks. The animals died from disease, overwork and from lack of proper fodder and oats. The Scouts themselves regularly contracted malaria, and health conditions were so bad that for every British soldier killed ten others needed hospitalisation for tropical diseases. During the last four months of 1916 around 12,000 white troops were medically evacuated to South Africa, seriously weakening the strength of the British forces in East Africa.

Left: German Schutztruppe marches through Portuguese East Africa.

A bonfire and a capture

In June 1916 the trio of Scouts set off on mules across the Wami River and patrolled towards the German Central Railway that ran from Dar Es Salaam on the Indian Ocean to Lake Tanganyika in the interior. The Germans were still using the railway to move troops and supplies and the Scouts were in an exposed situation. In mid-July they came across a main track upon which hundreds of African porters were carrying loads for the Germans, who were once again skilfully fighting rear-guard actions and withdrawing ahead of the British advances. Arnold decided that he must break cover and take direct action. The three Scouts approached the endless line of porters, and posing as Germans, ordered the porters and the handful of Askari with them to drop their loads onto a bonfire. The Africans were allowed to take whatever they wanted for themselves first. Arnold reckoned that around 200 loads were burned: clothing, cases of schnapps and vinegar, bags of rice, beans and flour and 20 loads of sugar. The Scouts had taken the precaution of cutting the enemy telephone wire that ran along the road and were able to withdraw from the scene without meeting a German.

The Germans were not amused, particularly at losing a consignment of trousers that was urgently needed because of wear and tear on clothing due to thorn trees in the bush. The enemy tracked the Scouts and attacked their camp from two directions. Lewis and Brown got away unscathed and six days later arrived back at a British position. Arnold was wounded in the hip and jumped in a nearby river to escape. Having avoided the attentions of crocodiles he got out of the river lower down, meeting one of his Intelligence Scouts, and they walked through the bush by night taking vegetables from villagers' patches of farm land. On the fifth night they entered a small village mid-way between the British and German lines and were given food by the headman who promised to guide them to the British forces. However the headman alerted the Germans instead who ambushed the British pair next day, killing the Scout whilst Arnold bolted into the bush. He kept going although his wound was now slowing and fatiguing him, and that evening, after following the guidance of African villagers again, he walked into another enemy ambush and was captured by local Afrikaaner settlers who had enlisted with the Germans.

Above: The Scouts who tracked the German Camel Corps Wienholt 3rd from right, Gordon 4th from right, Lewis 2nd from left.
An escape and a gallantry award

Arnold was taken to the main German camp where a doctor dressed his wound. He was fed well and introduced to Colonel Von Lettow-Vorbeck who was affable towards him. Then followed four days of marching under escort to the Central Railway and a rail journey to Dar Es Salaam. This was followed by a march down the coast to Kilwa and then a twelve-day march inland was made to Liwale where a camp had been established for Allied officer prisoners of war. A German doctor here healed Arnold's wound, but the British occupation of Kilwa led to all prisoners being marched for 14 days to a more distant camp at Mangangira on the Luwego River.

By January 1917 Arnold was fully fit and on a night of very heavy rain and thunderstorms he led three other escapees out of the camp. A Royal Navy officer in the camp had donated a compass that the Germans had failed to find on him, and with this a route was struck hopefully to hit the coast north of Kilwa. After 15 days of marching and this time helped by villagers who could see that the Germans were losing in East Africa, the escapees reached a post held by the British force based at Kilwa. Arnold was awarded a Military Cross and his citation read:

For conspicuous gallantry and endurance as leader of a patrol. The patrol covered some 200 odd miles of the most difficult country and obtained valuable information. He was subsequently separated from his patrol, severely wounded and captured by the enemy. He ultimately escaped, and made his way back to our lines across 100 miles of unknown bush.

Arnold was weakened by his privations in the bush and became seriously ill with dysentery. After initial treatment at Kilwa he was moved back to Nairobi for convalescence. In mid-1917 he was passed fit and was back in the bush again near Kilwa, tasked with tracking German movements and with destroying enemy stores and food dumps that had been sited in the bush to sustain enemy companies as they withdrew south. By this time most Africans in German East Africa were actively helping the British forces, and so reliable information could be obtained. Arnold and his Scouts had several contacts during which a number of German European prisoners were taken. For this work Arnold was awarded a Bar to his Military Cross but a citation was not published.

Above: German Askari listen to the news.
Portuguese East Africa

Colonel Von Lettow Vorbeck was determined to keep fighting as long as the war in Europe lasted. His refusal to surrender had tied up over 100,000 Allied troops in East Africa, plus the large tonnage of shipping that was required to supply them. Slimming down their forces the Germans crossed the Rovuma River into Portuguese East Africa (now Mozambique) in late 1917 and immediately began raiding Portuguese forts to obtain weapons, ammunition and supplies (Portugal was now one of the Allies). Portuguese rule was rough on the Africans under them and the Germans went out of their way to be friendly to villagers, obtaining food by paying for it with bolts of cloth seized from Asian-owned village stores.

By early 1918 nearly all British white and Indian infantry units had been posted out of the East African theatre for health reasons. The local British black regiment, The King's African Rifles, had been rapidly expanded as Africans could put up with the climate and bush conditions relatively easily, and their logistic requirements were simple when compared with the requirements of European and Indian troops. Columns of King's African Rifle Askari, and the Gold Coast Regiment from West Africa, now concentrated in Portuguese East Africa to try and track the Germans down.

Right: Arnold Wienholt's Intelligence Scouts and porters in November 1918.

Arnold, now a Lieutenant, took a group of 40 Intelligence Scouts into Portuguese East Africa and began scouting. However the local villagers strongly supported the Germans and would not supply information. One day the location of the Scouts' camp was advised to the Germans who immediately attacked it with two rifle companies and two machine guns. Arnold and his men had to abandon everything except their rifles and sprint into the bush to get away. The Scouts withdrew towards the Indian Ocean coast to obtain fresh supplies from the British base at Pemba.

The German resistance lasted until late November 1918 (two weeks after Armistice Day in Europe), and by that time Colonel Von Lettow Vorbeck had marched his remaining men out of Portuguese territory back into German East Africa around the east of Lake Nyasa, and he had invaded Northern Rhodesia. If news of the Armistice had not arrived from Europe then the Germans were in a strong position to destroy the Northern Rhodesian and Belgian Congo Katangese copper mines, and march on into Portuguese Angola. During the last half of 1918 Arnold had been scouting for the most active and successful British column in Portuguese East Africa and for that work he received a promotion to Captain and was awarded a Distinguished Service Order. His citation read:

For continuous gallant conduct and endurance under most trying circumstances during a period of six months in the bush. He performed a most arduous march, during which his party were more than once attacked by superior enemy forces, through the unknown country which he had to reconnoitre and report on; and finally succeeded in gaining touch with a column as ordered. He performed many other successful reconnaissances during which he had several encounters with the enemy, and furnished valuable information with regard to their movements. Throughout he showed great courage and endurance, and rendered most valuable service.

Australia, and then back to Africa

On demobilisation Arnold returned to Australia in early 1919, became married, and resumed farming and political activities. When Italy invaded Ethiopia in 1935 Arnold went to Addis Ababa as a war correspondent but he soon joined the Ethiopian Red Cross as a front-line transport officer. After the Italians had conquered Ethiopia Arnold went back to Australia and publicised Ethiopia's plight, but failed to change any political opinions in Britain or Australia. When the Second World War broke out Arnold sailed to Aden where he waited for Italy's entry into the war by learning the Amharic and Arabic languages.

Military Mission 101

After Italy declared hostilities against Britain in June 1940 Arnold was called to Sudan and commissioned at the age of 62 as a Second Lieutenant. He and a few other British and Australian officers were recruited into Mission 101 (later re-named Gideon Force). The task was to march small units named Operational Centres into Ethiopia to foster rebellion against the Italians. Each Operational Centre consisted of a commander, four British Non-Commissioned Officers and around 30 Ethiopians.

Arnold was the Mission Intelligence Officer and he led the third Operational Centre across the border, using mules to carry heavy equipment and supplies. However the Italian border troops had received information about Mission 101's activities, and Arnold's group was tracked by Italian troops using local Gumz tribesmen as irregular scouts. Probably on 10 September 1940 the enemy attacked as Arnold's group packed up its camp. Two versions of what happened next exist. One states that Arnold was severely wounded and scrambled into the bush where he died of wounds, and the second states that Arnold was captured and executed by the Italians.

Whichever version is correct, we do know that a very courageous and uncompromising Australian intelligence officer and bush fighter was killed in enemy territory when he was at an age that exempted him from active service. The Commonwealth War Graves Commission commemorates Arnold on the Khartoum Memorial, Sudan.


Further reading and present-day comparisons

There are two excellent books on the Great War Campaign in East Africa: Battle for the Bundu by Charles Miller and a more recent one Tip & Run – the untold tragedy of the Great War in Africa by Edward Paice. The latter book provides significant detail on what the human cost was to the Africans whose lives were affected by the war.

Some commentators have suggested that Colonel von Lettow-Vorbeck was an outstanding guerrilla leader, particularly Major J.R. Sibley in a well-illustrated paperback book titled Tanganyika Guerrilla – East African Campaign 1914 – 1918. Others have seen similarities with today's conflict zones where small numbers of insurgents can effectively engage much larger conventional forces. However Colonel von Lettow-Vorbeck was a conventional but inspired commander, who practised sound tactics especially in rearguard actions and withdrawals, and who always retired along prepared interior lines of communication. Every time the Germans moved they moved nearer to their replenishment dumps whilst the Allies moved forward and extended their already long lines of communication.

One aspect of the Great War East Africa campaign that has a parallel today is the use of ground. When terrain prevents the unrestricted use of conventional forces, then the enemy who chooses the ground on which the next action will be fought has a decided advantage. In East Africa the Germans were adept at occupying vital ground for a limited period of time in order to cause attrition amongst the Allied forces. This attrition disrupted Allied progress whilst casualties were evacuated and water, supplies and reinforcements were brought forward, much of this being achieved by the efforts of vastly over-worked African porters. This was often the moment when the Germans would break contact and slip away through the bush to the next piece of vital ground to be temporarily defended.

SOURCES:

Official History Military Operations East Africa August 1914 – September 1916 compiled by Lieutenant Colonel Charles Hordern.
The Story of a Lion Hunt by Arnold Wienholt.
Taking Tanganyika – Experiences of an Intelligence Officer 1914-1918 by Christopher J. Thornhill.
The Despatch from the High Commissioner for South Africa in the London Telegraph Second Supplement dated Friday 13 July 1917.
The Australian Dictionary of Biography Online.
My Reminiscences of East Africa by General Paul Von Lettow-Vorbeck.
General Smuts' Campaign in East Africa by Brigadier General J.H.V. Crowe.
An Improvised War – The Abyssinian Campaign of 1940 – 1941 by Michael Glover.
The Life Of My Choice by Wilfred Thesiger.
The Eccentric Mr. Wienholt by Rosamond M Siemon.
History of the Second World War. Volume 1. The Early Successes against Italy by Major General I.S.O. Playfair CB DSO MC.

(This article appeared in a recent issue of The Rose and the Laurel, the Journal of the Intelligence Corps.)

To return to "Harry's Africa" click HERE