The Final Great War Battle for the 1st Battalion of the 1st Regiment of the King's African Rifles

In late August 1918 British columns were pursuing Paul von Lettow-Vorbeck's Schutztruppe through Portuguese East Africa. The most aggressive and fastest-marching column was named KARTUCOL and was commanded by Lieutenant Colonel G.J. Giffard DSO. The units in KARTUCOL were the first, second and third battalions of 2 KAR (1/2 KAR, 2/2 KAR, 3/2 KAR). The first battalion of 1 KAR (1/1 KAR) was operating in another column commanded by Lieutenant Colonel G.L. Baxter DSO. 1/1 KAR was commanded by Temporary Major Alexander Charles Masters MC and Baxter ordered Masters to occupy a blocking position near the Portuguese military post of Lioma. The plan was for 1/1 KAR to block the German move northwards in a narrow valley, allowing KARTUCOL to move in and destroy the Schutztruppe.

Major Masters, assisted by his Adjutant Lieutenant F.R. Robertson, moved the battalion from Muletere towards Lioma on 27 August using mechanical transport (this had helpfully been provided by and was under the personal supervision of the Assistant Director Mechanical Transport, Lieutenant Colonel T.W. Armitage DSO). By the evening of 28 August 1/1 KAR was complete at Lioma and there entrenched itself on the west side of the valley in the shape of a square, with sides about 400 yards long. The position dominated the road that the Germans were expected to use. The small Luala River ran parallel to the road. The battalion dug a new type of rifle pit that was designed to hold four or five men lying down. The pits had no parapet or parados (mound along the rear of the trench), all the loose soil being used at the sides of the pits to block enfilade fire.


To see a Map of the Area of Operations please click HERE


With the aim of deterring the Germans from diverting around his position Masters placed three platoon posts outside his perimeter. The posts to the South and West were about 1000 yards away and the post to the East, which contained a Maxim gun, was about 400 yards away and across the river. Two strong patrols were then sent out to try and locate the Germans and observe their movements. This left 10 and a half platoons within the defensive perimeter. The southern post exchanged shots with some enemy on 29 August, but otherwise that day was quiet.

On 30 August the first KARTUCOL battalion, 3/2 KAR under Lieutenant Colonel Charles George Phillips MC, arrived at Lioma at about noon. Lieutenant Colonel Phillips liaised with Major Masters and 3/2 KAR took up a position about three miles north of 1/1 KAR, taking responsibility for the ground from the Luala River eastwards to nearby hills. Meanwhile the 1/1 KAR post to the East observed enemy movement and opened fire with the Maxim. The enemy dispersed and withdrew southwards. However two hours later, at about 1500 hours, the post was attacked by overwhelming numbers of enemy and at that moment the Maxim jammed. The post commander, Lieutenant A.C. Goldrick, was killed and the Maxim captured. The officer commanding 'D' Company, Captain George Vincent Sibary, came out of the perimeter with a platoon to assist the survivors from the post back across the river and into the battalion position.

Above: KAR Askari in defensive trench
For this action Captain Sibary later was awarded a Military Cross with the citation:

For gallantry and ability whilst commanding a company. He attempted to relieve a detached post which was heavily attacked, and after the post had been overwhelmed, showed great coolness and skill in reoccupying his position and organising two platoons to defend it. He inspired his men with confidence, and had previously distinguished himself in action.

Then a determined German attack began on the 1/1 KAR square, first from the East, then the North, and finally from the South and West as well. All the German Feldkompagnie were committed – about 1,000 rifles and 30 machine guns. The frequent blowing of German bugles and the shouting that accompanied the enemy's violent rushes unnerved 800 British carriers, who bolted out of the perimeter. However the 1/1 KAR Askari stood firm in their positions and kept breaking up the enemy attacks. At one stage a German and half a dozen Askari broke into the northwest corner of the square but they were all killed by Sergeant Price. Other British senior ranks who displayed gallantry that afternoon were:

200173 Serjeant W. Cartmell who gained a Distinguished Conduct Medal (DCM):

For conspicuous gallantry in action at Lioma, Portuguese East Africa. He worked his machine gun under very heavy fire, until it was so damaged by bullets as to it being rendered useless, he then collected a number of rifles and silenced the fire of an enemy machine gun at close range. Later he took over a Lewis gun and inflicted many casualties.

Another British DCM winner was 910 Serjeant A.H. Thomson:

For marked gallantry in action and devotion to duty at Lioma, 30th August, 1918. He kept his Lewis guns in action by moving from one to the other under heavy fire directing and encouraging the native teams. Later he took charge of a platoon and directed its fire to good effect. He also carried a wounded man to safety under heavy fire.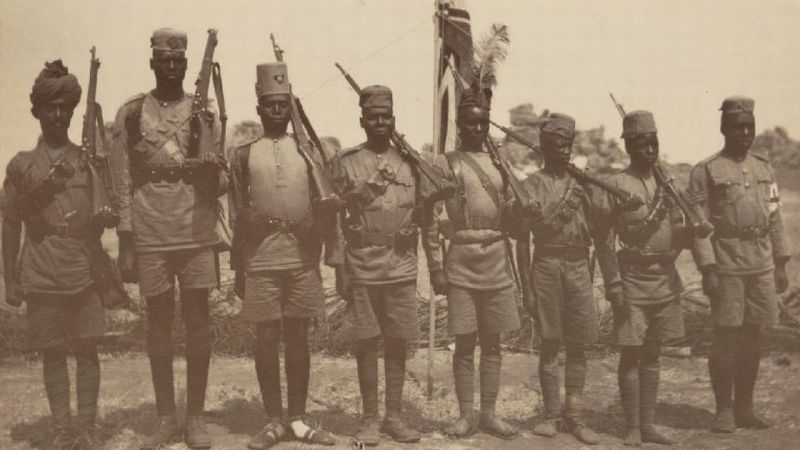 Above: KAR Askari group

The battalion used its Stokes Guns (trench mortars) to good effect, and for this Temporary Lieutenant Cecil Stewart Scarth later received a Military Cross with the citation: To get targets for his Stokes guns from his entrenched position, he took his guns into the open under heavy fire, moving them from point to point to obtain direct fire as any target offered. Later, when his ammunition was expended, he took charge of a company whose officers were casualties. He displayed great gallantry throughout. But the concentrated German fire caused many British casualties. Captain Peter Graham, who would shortly have become Adjutant, was killed. Major Masters was shot and wounded through the chest at around 1645 hours and Captain Stanley Conway John MC, OC 'C' Company, took over command of the battalion. Seven other officers were wounded. Four British senior ranks were killed: Company Serjeant Majors J. Plows and James Malcolm, Serjeants J.W. Garrow and J. Tolson. Six others were wounded.

Askari casualties in the battle were 28 killed and 53 wounded with 15 more men missing believed killed.

The medical dressing stations within the 1/1 KAR perimeter were busy and Corporal (Dresser) March of the Nyasaland Medical Service, attached to 1/1 KAR, received an African Distinguished Conduct Medal (ADCM) for:

Lioma 30/8/18. For conspicuous gallantry in action and devotion to duty. Throughout the action he attended to the wounded in the trenches and in the open with utter disregard to his own safety. He brought forward stretcher bearers under fire and moved wounded back to the dressing stations. He undoubtedly saved the lives of several badly wounded men. Was later dangerously wounded.

702 Bugler William also received an ADCM for:
Lioma. 30/8/18. He set a splendid example of coolness and disregard of danger. When his company commander was severely wounded he removed him to the dressing station under heavy fire. He has consistently distinguished himself in action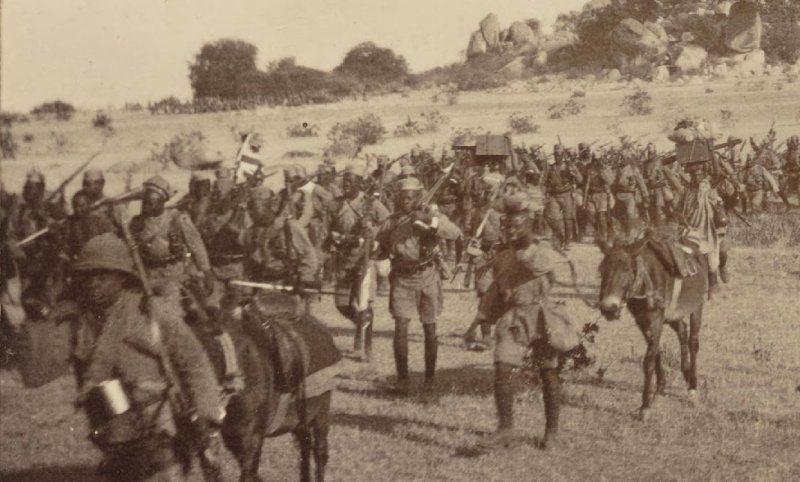 Above: KAR marching column
Examples of ADCMs won in the trenches give a good indication of how the 1/1 KAR African Non Commissioned Officers reacted during the battle.

797 Corporal Kachepa and 875 Corporal Momadi were both cited for:

Lioma. 30/8/18. For conspicuous gallantry and devotion to duty in action. They took command of their respective platoons after their officers had been wounded, and with complete disregard of danger moved about encouraging and directing their men under very heavy fire at close range.

595 Sergeant Julius received his ADCM for:

Lioma 30/8/18. He took command of his platoon after his officer had been wounded, and by his example and gallantry contributed largely to the repulse of the enemy who were pressing the attack with great determination.

618 Sergeant Blaimu was cited:

For conspicuous gallantry in action at Lioma, PEA, on 30th August 1918. He rallied his men at a very critical time causing the repulse of a sudden attack. His behaviour throughout the action was conspicuous. He inspired his men with confidence and exposed himself fearlessly to control the fire of his platoon.

Neue Tabelle
Above: The Schutztruppe marches through Portuguese East Africa
A German sniper positioned himself outside the perimeter and twice shot Captain William Fairley, Officer Commanding 'A' Company, before the sniper was killed by Private Chizalila. Another hero was Stokes Gun Porter Peter who, although severely wounded in the thigh and ordered to the dressing station, went on carrying ammunition until he collapsed from loss of blood.

The rapidity with which the Schutztruppe had surrounded the 1/1 KAR perimeter had cut off the detached posts to the South and West. Also the two patrols under Lieutenants Hector Finlayson Frew and John Cunor Prain, each of one platoon, were prevented from re-joining although John Prain and a few men forced their way through the enemy attackers and ran into the square.

As dusk fell a final German assault was launched that was repulsed by the defenders. Then von Lettow knew that his force could not break into the 1/1 KAR square (by now the total Schutztruppe strength was reduced to 200 Europeans and 1400 Askari), and also that other British battalions were in the vicinity. When darkness had fallen the Germans withdrew, re-grouped and marched north leaving many of their wounded groaning and crying out in the bush around the square. Captain John re-organised his battalion within the perimeter and distributed the ammunition reserves that remained.

To the north 3/2 KAR had been fighting with elements of the Schutztruppe that had bypassed 1/1 KAR's square. The next morning, after extremely hard marching, Lieutenant Colonel Giffard arrived at Lioma with the remainder of KARTUCOL, 1/2 KAR and 2/2 KAR. If these battalions had managed to arrive a day earlier then the Schutztruppe could have been trapped and decimated in the narrow Luala valley. KARTUCOL followed the Schutztruppe's trail, made aggressive contact and had some success as the citations to these two ADCMs show:

2365 Sergeant Paulo 1/2 KAR.

For conspicuous gallantry in action at Lioma on 31/8/18. He showed great bravery and initiative in handling his platoon, there being no officer or British NCO in command. He kept his platoon in touch with his Company, and assisted materially in the advance, driving back the enemy and capturing several prisoners and a quantity of Small Arms Ammunition: Also a complete enemy hospital, and about 300 porter loads of kit etc. The work of this NCO has been consistently good.

2483 Corporal Maliana 1/2 KAR.

On 1/9/18 near Lioma when in charge of his section in an advance guard, this NCO displayed great courage, showing complete disregard of personal danger when advancing under heavy fire. By his example he encouraged the whole platoon to advance rapidly thus embarrassing the enemy and machine gunners and saving casualties. After being severely wounded he remained in the firing line commanding his section until carried out.

Two British senior ranks in 1/2 KAR also were awarded DCMs for gallantry during the fighting on 31 August:

200055 Sergeant A. Hemdry for:

On 31st August, 1918, at Lioma, he was conspicuous for cool gallantry while acting regimental sergeant-major in steadying his ammunition porters, who were shaken by heavy enemy machine-gun fire, and so maintaining a constant supply of S.A.A. for the firing line.

38 Sergeant F. Egan:

For great courage and coolness on 31st August, 1918, at Lioma. He was for a time left by himself with his two guns and a native sergeant, and got both guns into action, and held off the attack until the disorganisation caused by bolting porters had been overcome.

Von Lettow knew that he had been lucky to avoid being trapped at Lioma. He recorded his losses on 30 and 31 August as:

"6 Europeans and 23 Askari killed; 11 Europeans, 16 Askari wounded; 5 Europeans, 29 Askari missing; 5 Askari taken prisoner; 48,000 rounds of ammunition, important medical and surgical stores, a considerable number of rifle parts and the whole transport of one detachment had been lost."

However after withdrawing south he then marched north, had a sharp fight with the pursuing KARTUCOL at Pere Hills but then broke away and crossed the Rovuma River back into German East Africa.

Meanwhile 1/1 KAR, with borrowed carriers and ammunition, moved to the British supply base at Muletere to replenish and receive new carriers. But 1/1 KAR had fired its last shot in action at Lioma, as it did not meet the Schutztruppe again before von Lettow surrendered at Abercorn, Northern Rhodesia, on 25 November 1918.

In the London Gazette of 3 June 1919 the Commanding Officers of 1/1 KAR (Alexander Charles Masters MC), 1/2 KAR (Edward Beckford Bevan) and 3/2 KAR (Charles George Phillips MC) were each awarded the Distinguished Service Order for:

Distinguished Service in connection with military operations in East Africa".

The British European dead lie in Lumbo British Cemetery, Mozambique. The dead British Askari, all from Nyasaland battalions, lie somewhere in the Mozambique bush near Lioma.

Above: Lumbo British Cemetery, Mozambique (CWGC photograph)
SOURCES:

An Account Of The Part Played By The First Regiment Of The King's African Rifles In The Conquest Of German East Africa by Colonel H.P. Williams.

The King's African Rifles by Lieutenant Colonel H. Moyse-Bartlett.

Battle For The Bundu by Charles Miller.

Tip & Run by Edward Paice.

The Forgotten Front by Ross Anderson.

My Reminiscences of East Africa by General Paul von Lettow-Vorbeck.

The African DCM compiled by John Arnold.

The London Gazette.

Medal Index Cards.


To Return to Harry's Africa Click HERE