German East Africa 24th July 1916

The Union Central African Imperial Service Contingent and the 1st King's African Rifles fight the Imperial German Navy

The Central African Imperial Service Contingent

On the outbreak of war in East Africa in August 1914 the military commander in German East Africa (now named Tanzania), Colonel Paul von Lettow-Vorbeck, ordered aggressive action to be taken against the adjacent British and Belgian territories. On the borders in Nyasaland (now named Malawi) and Northern Rhodesia (now named Zambia) local British units assisted by Belgian Congolese troops repulsed German intrusions. The British troops then had to dig-in and defend their borders as they were not strong enough to move into German territory.

After the conclusion of the successful South African invasion and seizure of German South West Africa (now named Namibia) in 1915, which was assisted by small numbers of British artillery guns, armoured cars and aeroplanes plus the Royal Navy, Britain asked South Africa for help on the 'Northern Borders' of Nyasaland and Northern Rhodesia. There had also been an African uprising in Nyasaland in January 1915 and that concerned the British authorities in the region who needed more troops in the Protectorate. South Africa concurred and a group of 264 men, many of them being military tradesmen from logistical and support units, was sent to Nyasaland. The group was titled the Nyasaland Imperial Service Contingent.

This action was followed by the raising of two new infantry regiments in Johannesburg named the 1st and 2nd South African Rifles. These were also classed as Imperial Service units which meant that Britain paid for them. Many white South Africans and Rhodesians who had served during the German South West Africa campaign and been subsequently discharged now volunteered for the new regiments. Both regiments of the South African Rifles were organised into four squadrons sub-divided into troops; each squadron contained 110 men. Although they were infantrymen and not mounted units they drilled in a single rank. They were issued with a Short Magazine Lee-Enfield rifle and wore either shorts or trousers, although some officers were allowed to wear the uniform of the Imperial Light Horse. The badge was a springbok's head facing to its right.

| | |
| --- | --- |
| | |
| Above: South African troops assemble a captured German 75mm Mountain Gun in 45 seconds | |
An artillery battery had been formed in Karibib, German South West Africa, using six captured German 75mm Quick Firing mountain guns. The personnel in the battery were volunteers from the Artillery Brigade of the South African Mounted Rifles. Originally named the 1st Mountain Battery the title was changed to 5th Battery, South African Mounted Rifles (the Official History refers to the unit as the 5th South African Mounted Rifles). Pairs of guns were allocated to Right, Centre and Left Sections of the battery. Mules pulled the guns and carried ammunition. Around 100 Herero tribesmen from German South West Africa plus some Cape Coloured (mixed-race) animal handlers from the Cape were attached to the battery and accompanied it on operations. The Hereros were to stand up well to the rigours of the campaign but the Cape Coloured men were to suffer from poor health.

The two infantry regiments and the battery plus Medical, Supply and Signals detachments were formed into the Union Central African Imperial Service Contingent. These men were to experience hard conditions and tough fighting and were to serve longer in the field than most of the thousands of South African troops that served under General Smuts further north in British East Africa.


Local health and safety hazards

Throughout German East Africa attacks from tropical insects were the most immediate and serious problem for the white troops. Malarial mosquitoes were ever-present near water, and jigger fleas burrowed under toe nails and laid their offspring. The eggs of putsi flies penetrated the skin to incubate into maggoty worms, and bees swarmed and stung viciously when they felt threatened. Lion, rhinoceros, elephant, crocodile and snakes could and did fatally attack unfortunate soldiers and porters. Legions of red ants would quickly race up a man's body and painfully bite him, whilst if a soldier brushed against a plant known as the 'Buffalo Bean' the fluff released from the bean settled on and severely stung exposed skin. Meanwhile the tropical sun and violent downpours of rain combined to weaken the constitutions of men who rarely received full rations because of logistical difficulties. Having survived these hazards the British soldier then had to confront Germans who wanted to kill him.

The situation on the 'Northern Borders' On 12th November 1915 the 47-year old British Brigadier General Edward Northey (Right) was appointed as 'Commander of the Combined Forces on the Rhodesia-Nyasaland Frontier of German East Africa'. His command was titled the Nyasaland-Rhodesia Field Force and it numbered around 2,600 men. The major units were:

· the Northern Rhodesia Police – African armed policemen.

· the 1st King's African Rifles – African infantrymen based in Nyasaland.

· the British South Africa Police – a predominantly European regiment from Southern Rhodesia.

· European Volunteers – the Northern Rhodesia Rifles, the Nyasaland Volunteer Force and the Southern Rhodesia Volunteers.

· the 1st and 2nd South African Rifles

· the 5th Battery, South African Mounted Rifles

· Royal Navy detachments on Lakes Tanganyika and Nyasa.

A new African infantry regiment, the Rhodesia Native Regiment, had recently been formed in Southern Rhodesia and was in training.

The German troops facing Northey's command numbered around 1,500 with 3 field guns and 14 machine guns. German defended posts were located from east to west at Ipiana (5 Field Company under Hauptmann W. Falkenstein), Igamba (a detachment of 5 Field Company under Leutnant R. Nave), Luwiwa (L Company under Hauptmann H. Aumann) and then further west at Namema near Bismarckburg on Lake Tanganyika (29 Field Company under Oberleutnant G. Franken). Most of the Europeans carried modern rifles but the Askari carried the older black-powder rifles.


The arrival of the German blockade-runner Marie

In April 1915 a German ship the Rubens had successfully landed war material for von Lettow's forces near Tanga, despite being chased and attacked by the Royal Navy. This delivery of badly needed cargo had been a massive morale-booster for the Schutztruppe, as the German colonial army was called. New Field Companies had been formed with the delivered weapons. Almost a year later another German ship the Marie evaded the Royal Navy blockade of the German East African coast and landed a further supply of arms, ammunition and military stores at Sudi Bay just north of the German border with Portuguese East Africa. Whilst under inneffective fire from three British warships the Marie successfully unloaded her cargo and passengers and slipped out to sea again.

An important part of the Marie's cargo was an artillery consignment of four 10.5-cm howitzers and two 7.5-cm mountain guns, plus ammunition for those guns and for the guns that the Germans had recovered from their sunken cruiser the Konigsberg. Also a group of German artillery specialists had landed from the Marie, and the Union Central African Imperial Service Contingent was soon to discover how lethal the new guns could be when handled professionally.

Above: Sketch map showing the eastern area of the British advance in 1916
General Northey's deployments

In preparation for his advance General Northey placed columns in British bases opposite the four enemy defended posts.

At Karonga under Lieutenant Colonel G.M.P. Hawthorne (Kings Liverpool Regiment and 1KAR):
Two hundred men of the 1st South African Rifles.
'AR', 'CR', 'F' and 'H' companies and the Head Quarters of 1KAR commanded by Major G.L.Baxter (Cameron Highlanders).
Two 12-pounder naval guns salvaged from HMS Pegasus. (Part of the KAR Artillery Section and manned by 1KAR.)
One 7-pounder muzzle-loading gun (KAR Artillery Section).
Eight machine guns.
A Field Wireless Section.

At Fort Hill under Major R.L. Flindt, (2nd South African Rifles):
Two squadrons 2nd South African Rifles.
'BR' and 'D' companies of 1st King's African Rifles.
Two guns of the 5th Battery, South African Mounted Rifles (now pulled by oxen as several mules had died of sickness).
Two 7-pounder muzzle-loading guns (KAR Artillery Section).
Two machine guns.
A Field Wireless Section.

At Fife under Lieutenant Colonel E. Rodger, (2nd South African Rifles):
Two squadrons and the Head Quarters of the 2nd South African Rifles.
'E' Company of the Northern Rhodesia Police.
Two guns of the 5th Battery, South African Mounted Rifles.
Two 7-pounder muzzle-loading guns.
Six machine guns.
A Field Wireless Station.

At Abercorn under Lieutenant Colonel R.E. Murray DCM (British South Africa Police):
Two companies of the British South Africa Police.
'A', 'B', 'C', and 'D' companies of the Northern Rhodesia Police.

(The letter 'R' in a 1KAR company title showed that it was composed of mobilised reservists.)

The British logistical arrangements

To support the columns thousands of local African porters named 'Tenga Tenga' were recruited to carry supplies forward. The effective provision of supplies at the right place at the right time was to be a continual problem for the staff, just as it was for the staff of General Smuts' far larger force that was simultaneously invading German East Africa from the north. A porter ate the equivalent of his own load – 25 or more kilograms – within three weeks if full rations were issued, so supplies had to be sent forward for the porters as well as the troops. The porters sang a long marching song that went: 'We are the porters that carry the food for the porters that carry the food for the porters that carry the food . . . . for the Askari'.

The British line of communications started in Durban port, South Africa; went by sea to Chinde port in Portuguese East Africa via Beira; then went up the Zambezi River to Chindio where a railway was used to reach Blantyre in Nyasaland. Lorries were then used to Zomba where porters carried loads to Fort Johnston; from there steamers went up Lake Nyasa to its head, where porters took over again. The distance from Durban to Karonga was over 2,600 kilometres. South Africa sent military engineers to construct motorable roads and to bridge or run ferrys across rivers in German East Africa after the British advance. However there were some steep and high mountain ranges to be crossed in German territory, and so there was a never-ending demand for more 'Tenga Tenga' to be provided.

Crossing the border


General Northey waited until the heavy seasonal rains were nearly over, moved his head quarters up to Karonga, and ordered his four columns to advance during the last week of May 1916. All of the four enemy posts were occupied without a fight as the enemy either withdrew beforehand or exfiltrated through the surrounding British cordons. This was not part of the General's plan, as he had hoped to inflict heavy defeats at each location and especially at Luwiwa. Hoping for a decisive battle at New Langenburg Hawthorn's and Flindt's columns were ordered to march there. The oxen being used to pull the Section of 5th Battery guns with Flindt could not manage the rough terrain facing it, and so it was withdrawn and sent round to join Hawthorn's column.

New Langenburg was occupied by Flindt on 29th May, but again without a fight as the enemy had slipped away leaving civilians behind to be interned. Trenches had been dug around the town, protected by fields of sharpened bamboo stakes, densely packed together. Northey now reduced his area of operations by ordering Murray to leave garrisons in Bismarckburg and Namema and to march the 320 kilometres to Rungwe. Telegraphic discussions with Smuts decided Northey to advance on Iringa, as denying that town to the enemy would assist British operations to the north.

Rodger's and Flindt's columns combined into one and advanced northwards into the Poroto mountains. This involved steep ascents for the marching troops and porters as the hills rose up to 2,000 metres above the level of Lake Nyasa. This climbing was very hard on the 'Tenga Tenga' whose actual rather than theoretical daily ration was usually 0.6 kilograms of rice and a pinch of salt. Meat was issued when available, and this usually occurred when unfit oxen had been condemned or a hunting party had shot game. Strips of elephant meat were dried in the sun to provide easily-packed protein that could last some time before becoming unpalatable. Many 'Tenga Tenga' were not initially issued with blankets, and they suffered severely from cold in the mountains; this led to desertions and reduced volumes of supplies moving forward.

Union Central African Imperial Service Contingent early casualties

During the first week of June 1916 there were three recorded deaths in the 2nd South African Rifles.

562 Sergeant (Signals) John Morgan Evans.
57 Private F. Nicholson
301 Private J. Ramsay
These deaths must have been linked to a contact that Rodger's enlarged column had in the Poroto mountains on 6th June. A German rearguard was overtaken and 4 Germans captured along with a field gun and camp equipment. There were no recorded deaths amongst the white members of the 5th Battery, South African Mounted Rifles or in the 1st South African Rifles.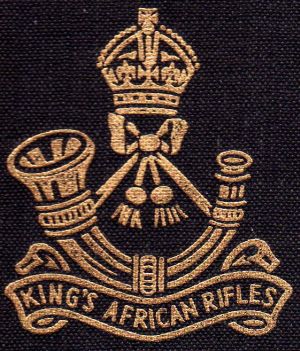 1KAR Skirmishes


In the mountains 'BR' Company 1KAR under Captain A.C. Masters (South Wales Borderers) attacked and routed the rearguard of a German force under Oberleutnant Falkenstein, capturing a light field gun for a loss of 2 Askari killed. Hawthorn was ordered to advance north from Neu Utengule on a track leading to Tabora on the German Central Railway. On 10th June his advance guard caught up with and destroyed the enemy rearguard that Rodger had already clashed with. Four Germans, two of them wounded, and 12 enemy Askari were captured whilst 5 enemy Askari were killed. 1KAR lost Lieutenant A. D. Powley (Nyasaland Volunteer Reserve) and 2 Askari killed and 5 Askari wounded.

656 Lance Corporal John, 1KAR, was later awarded an African Distinguished Conduct Medal:
For conspicuous bravery at Hyamanga, 22 miles north of New Utengule, German East Africa, by carrying messages from his company to column headquarters, a distance of 300 yards over flat open ground, under close fire of the enemy at 200 yards range. Previously mentioned in despatches for gallantry in action.

By now the supply chains of 'Tenga Tenga' porters were unable to keep contact with the fighting columns. Northey reconstituted Flindt's column and decided to build-up supplies before advancing again. This allowed the withdrawing Germans to make a clean break. Having discerned Northey's intentions of seizing Iringa the enemy prepared defensive positions at Madibira and Malangali. The ground chosen at Malangali was on a broad ridge about five kilometres long lying between parallel streams. At the eastern end rose the Pakene rocks which provided excellent observation posts over the undulating bush-covered ground below them. A strong defence was arranged around the rocks which were about 450 metres north of the road to Iringa.

The action at Malangali

The German commander at Malangali was Hauptman Braunschweig. He had under his command 5 and 10 Field Companies, L Company, a 100-man detachment of German sailors from the crew of the sunken cruiser Konigsberg; and one of the 10.5-cm guns recently landed at Sudi Bay. Braunschweig's men had a total of 9 machine guns. The German manpower figures were 250 men with modern rifles (10 Field Company and the sailors) and 450 men with black-powder rifles.

British Intelligence Agents learned of the enemy preparations and Northey ordered Murray's Column to march on Madibira to the north, whilst two columns advanced on Malangali:

Rodger's Column
'BR' company of 1KAR.
Two squadrons of the 2nd South African Rifles.
Two Sections (4 guns) of the 5th South African Mounted Rifles.
Six machine guns.

Hawthorn's Column
The remaining 5 companies of 1KAR.
One squadron of the 1st South African Rifles.
Two squadrons of the 2nd South African Rifles.
One Section (2 guns) of the 5th Battery South African Mounted Rifles.
Four 7-pounder muzzle-loading guns.
Eleven machine guns.

The British plan was that Rodger would advance east along the road from Buhora whilst Hawthorne moved south of the enemy to attack Braunschweig in the rear. Both columns were to attack at 0800 hours on 24th July 1916. Unknown to the British Braunschweig had issued orders to start a withdrawal from Pakene rocks that same morning. It may be that this occurred because of a revolt of Wahehe tribesmen in the German rear area, and also because of Murray's advance towards Madibira to the north.

Hawthorn had planned a night-march to take him to his attack start line by 0800 hours, but the ground his men traversed was so broken by ravines and the night was so black that he was compelled to halt until dawn approached. He then resumed his journey but came under enemy artillery fire that killed porters and wounded South Africans. As the pieces of the mountain guns were being transported suspended from poles, each pole-end being on the shoulder of a porter, confusion reigned for a time until the gunners and porters were re-organised. The British advance was led by Baxter who arrived at the Iringa road after 1100 hours, when at least one Field Company had left the enemy position. Baxter established a block on the road with companies covering both approaches.

Rodger attacked on time from the west and got up onto the ridge, but could not cross open ground to press home an assault on the Pakene rocks position because of effective enemy fire, particularly from the German howitzer. Hawthorne ordered Baxter to attack the rocks from the rear with the 1st South African Rifles and 'CR' Company 1KAR. Baxter halted a strong German counter attack but could not move forward because of heavy enemy machine gun fire.

George Lewis Baxter was later awarded a Distinguished Service Order:
At the engagement at Malangali on the 24th July, this officer was in command of part of the force which was attacked by the enemy in far superior numbers. He showed great ability in the disposition of his forces, and by his coolness under heavy and accurate maxim and rifle fire, maintained the confidence of his men and repulsed the enemy with considerable losses. He also assisted No. 108 Rifleman A.A. Vial (1st South African Rifles) to bring off 2nd Lieutenant McKenzie, who was severely wounded, under a heavy and accurate machine-gun fire.
Rifleman A.A. Viall received a Distinguished Conduct Medal:
For gallantry and devotion to duty in assisting Major Baxter to bring in a wounded officer under heavy rifle and machine-gun fire.

A Section of the 5th Battery's mountain guns came into action against the enemy machine gunners, but it was very swiftly out-gunned by the German 10.5-cm howitzer. Some of the German artillery specialists that had landed from the Marie in Sudi Bay were either with Braunschweig or had trained his gunners. The German gun quickly hit a South African Rifles machine gun team and both of the 5th Battery guns, killing or wounding the crews and putting the weapons out of action.

3081 Corporal M.C. Henry, South African Mounted Rifles, received a Distinguished Conduct Medal:

For gallantry and devotion to duty. Although severely wounded he helped a comrade away under heavy shell fire which had hit all his detachment.

An enemy attack was now mounted from the east onto 'AR' Company of 1KAR that was blocking the Iringa road. German troops who had withdrawn earlier from the rocks had turned around on hearing the gunfire and retraced their steps to attack the British. During this very heavy fighting several KAR officers were killed or wounded. At one point an enemy machine gun team of seamen infiltrated between 'H' and 'AR' Companies.

Lieutenant E.K. Borthwick (Nyasaland Volunteer Reserve and 1KAR) responded and was awarded the first of his two Military Crosses:

For gallantry and determination when in command of a machine gun engaged in thick bush fighting. An enemy gun was brought 25 yards in rear of him, but he switched on his gun, killing four of the team and capturing the gun. He later gave excellent supporting fire to our advance.

The German sailors were very aggressive but understandably lacked the infantry bush-fighting skills possessed by the Askari of both sides. Two 1KAR Askari with Borthwick were awarded African Distinguished Conduct Medals.

666 Private Chilingi.
Seeing a body of the enemy advancing and fearing they might recapture the machine gun captured by Lieutenant Borthwick's team, asked leave to charge, and fixing bayonets led the remainder of the team and drove back the enemy. The country being thick and broken he could not see the strength of the enemy and might well have been going to certain death.


496 Corporal Gowani.
This Non-Commissioned Officer brought Lieutenant May, when wounded, away under a heavy fire. He then returned to 2nd Lieutenant Borthwick's machine gun and behaved with conspicuous gallantry and by his example encouraged the team to advance under heavy fire to an advanced position.

The Germans were now ordered to charge 'AR' Company but the men refused to get up and face the British fire that was being placed upon them. One enemy officer was observed riding down the road to Iringa at full speed on a donkey. By now the dry grass underfoot was alight, creating smoke and burning the casualties that were unable to move. Ammunition began exploding as the flames burned into the pouches of the dead and wounded lying on the ground.

After some delay Flindt arrived with more riflemen to strengthen the road block position, allowing Baxter to continue his fight against the enemy in the rocks. To the west Rodger remained inactive. Two more Distinguished Conduct Medals were awarded to the South African Rifles for gallantry displayed:

18 Rifleman H. Cairnduff:

For gallantry in action. When his troop was ordered to retire from a position enfiladed by machine-gun fire, he returned and brought in two wounded men.


105 Rifleman J.E. Thomas:


For gallantry in bringing the Medical Officer to the firing line under heavy fire at close range, and under similar conditions assisting to bring in a wounded comrade.


At around 1700 hours Rodger sensed that the Germans may have gone, and he ordered Master's 'BR' Company 1KAR, his usual advance guard, to advance into the rocks. Masters did this, finding only dead Germans, but then for an inexplicable reason Rodger's mountain guns shelled the position. Whilst Masters and his Askari took cover Hawthorne thought that the rocks must still be occupied by the enemy, and so he dug-in to await the next dawn. Early-morning patrols found Rodger, who had followed-up Masters, in possession of the Pakene rocks. The Germans had slipped away to the north, leaving behind the 10.5-cm howitzer which had lost a wheel. The howitzer's breech block had been removed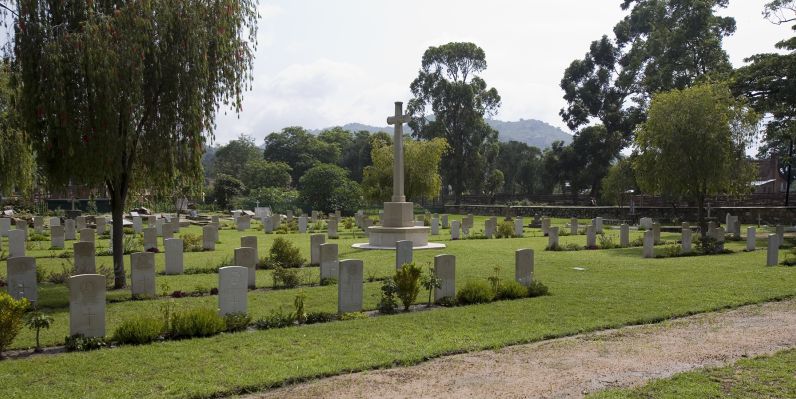 Iringa War Cemetary
Aftermath of battle

The action fought at Malangani was inconclusive but both sides paid a price. Twelve British Europeans were killed in action or died of wounds:

Captain D.B. Mackintosh, Black Watch and 1KAR.
Captain R.J.R. Hearn, South African Rifles.
2nd Lieutenant H. V. Petherbridge, Nyasaland Volunteer Reserve and 1KAR.
295 Private S. Beeston, South African Rifles.
161 Private E.V. Burton, South African Rifles.
65 Private W.K. Lynn, South African Rifles.
695 Private E. Mills, South African Rifles.
513 Private H. Elford, South African Rifles.
616 Private E. Frost, South African Rifles.
Sergeant W.R.V. Wray, 5th Battery, South African Mounted Rifles.
534 Bombardier A. Lammas, 5th Battery, South African Mounted Rifles.
532 Gunner E.V. Pinnock, 5th Battery, South African Mounted Rifles.

Eight 1KAR Askari were killed and 27 were wounded.

The 1KAR wounded officers were:
Lieutenants J.I.C. May and F. Mackenzie, (Nyasaland Volunteer Reserve), and Major C.W. Barton CMG, DSO (Northamptonshire Regiment, Column Staff Officer).

The wounded from 5th Mountain Battery were: Corporals O. Turner and M.C. Henry; Gunners J.R. Heath, W. Fisher, O.F. Nash, F.W.E. Tothill and J.A. Swanepoel.

At least 1 officer and 10 men of the South African Rifles were wounded.

Two Germans and 6 Askari were taken prisoner;

13 Germans and 19 Askari were found dead.

Total German casualties were estimated to be well over 100 all ranks.

Many of the enemy dead could not be easily located for burial in the densely-covered and broken ground. A stench of putrefaction remained in the area for some time.

Re-grouping

Malangali had been the first serious experience of combat for the Union Central African Imperial Service Contingent. A halt was made whilst 'Tenga Tenga' parties evacuated the wounded and replenished all the columns. Northey was concerned about Hawthorn's exposed right flank, and Masters was sent with his 1KAR 'BR' Company, two machine guns and four 7-pounder Muzzle-loading guns south to Njombe to "keep the enemy (2 Field Company) in the Lupembe area occupied".

But the Germans needed to be respected. On the 4th August 1916 Masters unsuccessfully attacked a German position near Lupembe that contained 250 of the Schutztruppe. Lieutenant E.G. Cooper (King's Liverpool Regiment and 1KAR) and 6 Askari were killed, and Masters, along with a white Nyasaland Volunteer and 27 Askari were wounded. Northey halted further British movement northwards and sent Hawthorn and his column to remove the enemy from Lupembe. After medical treatment the wounded Alexander Charles Masters returned to the battlefield and was later awarded a Military Cross and a Distinguished Service Order.

Commemoration of the dead

British Europeans were buried on the spot and after the war their remains were moved to Iringa Commonwealth War Graves Commission Cemetery, Tanzania.

Dead Askari and 'Tenga Tenga' plus any Hereros and Cape Coloured men who may have died lie in unmarked graves in the Tanzanian bush and their names are not recorded.

SOURCES:

Ø Official History. Military Operations East Africa August 1914-September 1916 compiled by Lieutenant Colonel Charles Hordern.

Ø The King's African Rifles by Lieutenant Colonel H. Moyse-Bartlett.

Ø Cohort of the Tropics. A Story of the Great War in Central Africa by Owen Letcher.

Ø They Fought for King and Kaiser. South Africans in German East Africa 1916 by James Ambrose Brown.

Ø A Narrative of the Right Section, 5th Mountain Battery, South African Mounted Riflemen by Battery Quartermaster Sergeant J.G. Maker. (Article in the Journal of the South African Military History Society, Volume 4 No 1.)

Ø An Account of the Part Played by The First Regiment of the King's African Rifles in the Conquest of German East Africa by Colonel H.P. Williams.

Ø Cinderella's Soldiers – the Nyasaland Volunteer Reserve by Peter Charlton.

Ø Die Operationen in Ostafrika by Ludwig Boell.

Ø My Reminiscences of East Africa by General Paul Von Lettow Vorbeck.

Ø General Northey's Despatch in the London Gazette dated Tuesday 25 September 1917.

Ø Military Badges of the British Empire 1914-1918 by Reginald H.W. Cox.

Ø The Armed Forces of South Africa 1659-1954 by Major G. Tylden.

Ø http://www.sacktrick.com/igu/germancolonialuniforms/militaria/mountaingun.htm


(Gratitude is expressed to Per Finsted of Denmark who accurately translated the German details from Boell's book.)

To Return to Harry's Africa go HERE