5th Indian Division and the Sudan Defence Force in action against Italian Forces


East Africa in 1940

When Italy declared war on Britain and France on 10th June 1940 a serious threat confronted British Somaliland, Kenya and the Sudan, as the Italians had built up large forces in Eritrea, Abyssinia and Italian Somaliland. A strong air force of over 200 aeroplanes in Italian East Africa supported an estimated 30,000 European and 100,000 locally enlisted colonial troops who possessed 400 artillery guns, 200 light tanks and 20,000 lorries. In comparison British forces were very weak and generally had been trained and equipped for Internal Security duties.

British Somaliland was successfully invaded by Italy in August 1940, the British defenders fighting a withdrawing action before evacuating themselves to Aden (1). Italian units crossed into the Northern Frontier District of Kenya, occupying British border posts at Moyale and El Wak, and sending irregular troops to raid further into the District; the three battalions of the King's African Rifles in the District could only watch, harass and withdraw as the enemy advanced.


For the maps relating to this Campaign please go here

Above: Officers of 4-10th Baluchis in 1940
In the Sudan, as in Kenya, the three British Army battalions there and the units of the Sudan Defence Force – a total of 9,000 men - could only offer a mobile defence against enemy intrusions, and by the end of July Italian troops were in possession of British frontier posts at Karora, Kassala, Gallabat and Kurmuk. However, having crossed the British frontiers the Italians did not take advantage of British weaknesses and they remained static instead of exploiting military opportunities further inside British territory (2). This pause in enemy activity allowed British reinforcements to arrive. Indian troops were landed in the Sudan whilst West and South African troops moved into Kenya. In the Sudan this reinforcement allowed aggressive British action to be mounted but initial military encounters with the Italians were not as successful as had been anticipated, and some hard military lessons were learned.



British forces in the Sudan

On the outbreak of hostilities with Italy the British military commander in the Sudan, Major-General W. Platt CB, DSO, had under command the British Army 21st Brigade, an administrative rather than a tactical formation, which consisted of three pre-war Regular Army battalions: the 2nd Battalion The West Yorkshire Regiment (Prince of Wales' Own), the 1st Battalion The Worcestershire Regiment, and the 1st Battalion The Essex Regiment. He also commanded the locally-enlisted Sudan Defence Force (SDF) whose units were battalion-sized but named as Corps: the Camel Corps, the Eastern Arab Corps, the Western Arab Corps and the Equatorial Corps. These Corps were organized into a total of 20 Companies, six of them being Motor Machine Gun (MMG) Companies that were small mobile units whose main weapon was the light machine gun. A unit titled the Sudan Horse was in the process of being converted into a 3.7-inch howitzer battery.

Right: the badge of the Sudan Defence Force


The MMG Companies of the SDF contained tough individuals who wanted to fight and kill Italian troops as the following citations for two awards of the Military Medal show. Both men served in 3MMG Company, Western Arab Corps, Sudan Defence Force.

No. 45230 Shawish (Sergeant) Gubartalla Yassin.

On October 19th 1940 Shawish Gubartalla Yassin was in command of a patrol of a sub-section of a Bren Gun Platoon. On approaching Jebel Gulsa he was informed that a large number of enemy were lying in ambush for him about one mile to the North. He immediately decided to attack. Having made his plan he led his patrol against the enemy. Fire was opened on him at 30 yards range and the Bren gun on his own car was quickly put out of action but notwithstanding this he displayed great coolness and decision in the manner in which he led his patrol so that the other Bren gun was able to engage the enemy and inflict heavy casualties. Having withdrawn his platoon safely to some distance he attacked again from another direction and inflicted further casualties on the enemy. Fifty enemy dead were counted while several others must have been wounded. The patrol had two men slightly wounded.

Again on October 20th 1940 Shawish Gubartalla Yassin was in charge of the Bren guns which attacked about 1,000 enemy near Jebel Gulsa inflicting very heavy losses on them without loss to themselves. At all times this Non-Commissioned Officer has shown skilful and determined leadership and a desire to close with the enemy. Throughout he has set an example of disregard of danger which has inspired his men.


No. 45324 Shawish Dekheir El Deif.


On October 20th 1940 Shawish Dekheir El Deif was in command of a mixed patrol of a section of armoured cars and a sub-section of a Bren gun platoon. He was ordered to seek out the enemy who was suspected of being in ambush near Jebel Gulsa, to engage and to inflict as many casualties as possible. Owing to this Non-Commissioned Officer's determination, foresight and initiative in leadership and coolness in action the encounter was a complete success, very heavy casualties were inflicted on the enemy without any loss to the patrol. On all occasions Shawish Dekheir El Deif has shown courage and cheerfulness in the face of the enemy.

The Royal Air Force (RAF) in the Sudan supported General Platt with three squadrons of obsolete Wellesley bombers and six Gladiator fighter aircraft, plus a few army co-operation planes for liaison duties.


British reinforcements for the Sudan

The first reinforcing unit to arrive was the 2nd Mahratta Light Infantry from Aden. The 4th Field Regiment, Royal Artillery, left Egypt in August for the Sudan. Then in early September 'B' Squadron 6th Royal Tank Regiment also arrived from Egypt with a mixture of Cruiser and light tanks, but the tanks could have done with an overhaul and the drivers were used to open desert conditions rather than the scrub and long grass of the Sudan which often concealed boulders and other impediments. Later in the month the 5th Indian Division, less one brigade, arrived from India having been diverted from Basra, Iraq, its original destination. General Platt made up the Division to full strength by reorganising it so that his three British battalions were each in an Indian brigade alongside two Indian battalions; this resulted in the Division containing the 9th Indian Brigade (Brigadier A.G.O. Mayne DSO (3); the 10th Indian Brigade (Brigadier W.J. Slim MC (4); and the 29th Indian Brigade (Brigadier J.C.O. Marriott CVO, DSO, MC (5). The Divisional Commander was Major General L. M. Heath CB, CIE, DSO, MC (6). Divisional Troops included the 25th and 28th Field Regiments, Royal Artillery, and the 2nd and 20th Field Companies Royal Indian Engineers.

Some air reinforcements also arrived from Egypt and Kenya and at the end of September the RAF had a first-line strength in the Sudan of 38 bomber and 19 fighter aircraft; facing the RAF was an Italian force of about 160 serviceable aircraft out of 260 that were in the theatre.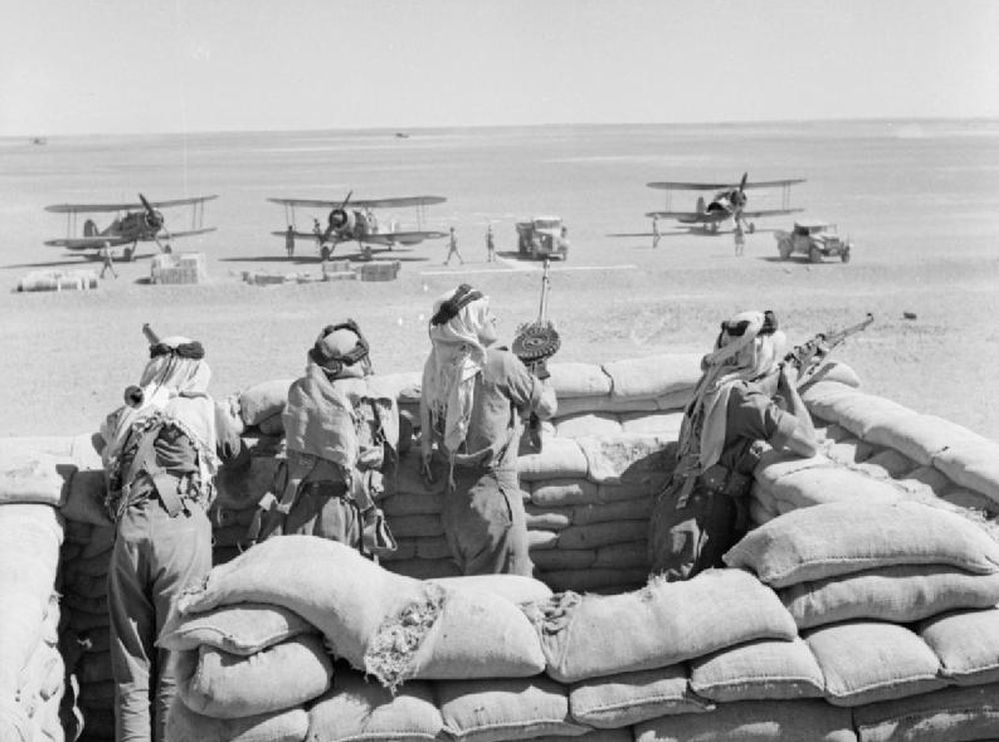 Above: Gloster Gladiators in the Middle East, 1941.


Gazelle Force

On the arrival of 5th Indian Division the British were able to form Gazelle Force which was designed to patrol long areas of the Sudan-Italian border, principally in the area of the Gash Delta in the Kassala area, and to deliver a punch when it made contact. The Gash Delta was a fertile region with crops and tree growth that allowed Gazelle Force vehicles to conceal themselves from Italian aviators. The GSO I (senior staff officer) of 5th Indian Division, Colonel Frank Messervy (7), was selected to command Gazelle Force. The principal unit in the Force was the Divisional Reconnaissance Regiment, 1st Duke of York's Own Cavalry, Skinner's Horse (abbreviated to 1 Horse), which was accompanied by No. 1 MMG Group of the SDF that contained Nos. 2, 4 and 6 MMG Companies. Fire and logistical support was provided by a troop of 'P' Battery Royal Horse Artillery, a troop of 28 Field Regiment Royal Artillery, a section of No. 4 Ordnance Workshop and No. 170 Cavalry Field Ambulance (less a detachment). Infantry support was attached as and when needed.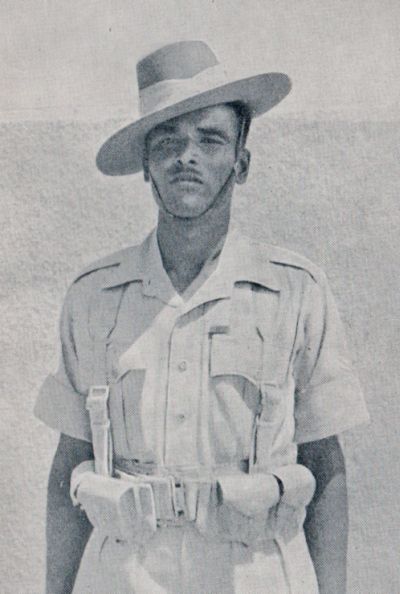 Left: A Garhwali Senior NCO wearing his slouch-hat



Gazelle Force justified its existence by successfully harassing and ambushing enemy convoys and by raiding enemy outposts, and its strenuous activities multiplied the British strength in the Sudan in the minds of Italian intelligence officers. During the first eleven days of November 1940 Gazelle Force was engaged with parties of Italian troops totalling 900 men or more in the area of Temahiyam Wells. During this operation infantry support was provided by 'A' Company 3rd Royal Battalion (Sikhs), 12th Frontier Force under Major H.M. de V. Moss, and by two companies of the 3rd Battalion 2nd Punjab Regiment under Major T. Mainprise-King. Sometimes the fighting was heavy and three acts of gallantry resulted in the Indian Distinguished Service Medal being awarded.

Risaldar Amar Singh of Skinner's Horse fought hard when he was heavily outnumbered by an enemy force that was escorting a camel convoy:

This Indian officer was commanding a camp picquet of eleven men when, at 2240 hours on the 5th November 1940 it was attacked by a very superior enemy force estimated to number 300 men. Throughout the attack, which lasted over an hour, Risaldar Amar Singh showed great coolness and courage under very trying circumstances and set a fine example to his men. Later, when he was running short of ammunition and when two out of his three Light Machine Guns had jammed he withdrew to another position where he was reinforced by another section. He maintained this position which was in close contact with the enemy throughout the next day and his resolute and skilful leadership was instrumental in paving the way for the subsequent defeat of this enemy detachment.


Two days later Subedar Bela Singh fought his Frontier Force Regiment Sikhs up onto a ridgeline in the Tendelai Hills against heavy machine gun fire. The result was the capture of three heavy machine guns, the death of around 50 enemy troops and the surrender of the remainder. Only 3 men in 'A' Company 3rd Sikhs were wounded.


Subedar Bela Singh was the senior Indian Officer of 'A' Company, 3rd Royal Bn (Sikhs), 12th Frontier Force Regiment which, on the 7th November 1940, attacked a much superior enemy force in the Tendalai Hills. It was largely by his personal example and initiative that the action was brought to such a successful conclusion, that 241 prisoners were taken and the remainder of the force of nearly 300 were killed. On the 11th November at Khor Yodrub Subedar Bela Singh, who was in command of his company, displayed resolution and soldierly qualities of a high order.

Major Moss was later Mentioned in Despatches.

In the Mekali Wells area on 11th November No. 12223 Lance Naik Udho Ram, 3rd Battalion 2nd Punjabis, displayed rare courage and leadership ability in a rapidly deteriorating situation:

During operations in which this Non-Commissioned Officer's (NCO's) Company was taking part with Gazelle Force in the Mekali Wells area on 11 November 1940, he displayed great bravery and devotion to duty. Under pressure of enemy counter attack, heavy machine gun and small arms fire, his platoon was forced to withdraw. This NCO after his section commander had been killed took command of the Section and kept his gun in action throughout the withdrawal, being the last to leave the position. By this time most of his section had been killed or wounded and he himself was firing the gun. On his way back he found No. 11451 Sepoy Munshi Ram lying badly wounded. Lance Naik Udho Ram without thought for his personal safety carried Munshi Ram, his rifle and equipment back to cover. He then returned and brought back his own light machine gun and whilst doing so fell and dislocated his knee but in spite of this handicap and considerable pain, he managed to get back with his gun. This NCO's bravery and devotion to duty was outstanding.

Right: Italian Caprioni Ca 133 light bomber and transport plane


However Gazelle Force in its attack on 11th November had bitten off more than it, a light reconnaissance force, could chew. Although Gazelle Force had encircled the opposition the Italians fought back, infiltrating men in and around the British positions. Meanwhile the Italian air force was dropping supplies to its encircled men without interference from British aeroplanes, and there were no compelling reasons to make the Italians surrender. Colonel Messervy called off the operation and Gazelle Force withdrew to its operational area in the Gash Delta on 12th November.




Gallabat and Metemma Forts

Gallabat was a British fort on the border with Abyssinia and it directly faced a strong Italian fort at Metemma. The international boundary between the two forts ran along a deep khor (dry watercourse). The Italians had attacked Gallabat Fort in mid-June and they finally captured it on 4th July. However the SDF platoon defending the fort had fought hard, as this citation for a Military Cross awarded to Mulazim Thani Abdulla Effendi Mohammed Mustafa shows (8):

At Gallabat Fort at about 1000 hours on 17th June 1940 El Mulazim Tani (2nd Lieutenant) Abdulla Effendi Mohammed Mustafa of the Sudan Defence Force was commanding the covering platoon when the enemy opened heavy fire on our forward positions. Under cover of this fire the enemy, about 150 strong, supported by machine guns advanced on the Fort. Some of his men were unsteadied by the density of the fire but this officer by his personal example and leadership rallied them, continuing fire with Bren guns until the enemy retreated inside their wire.

On a second occasion on July 4th 1940 El Mulazim Tani (2nd Lieutenant) Abdulla Effendi Mohammed Mustafa was again commanding the covering platoon at Gallabat Fort. At dawn, after the bombing of the Fort itself, 500 enemy Colonial troops attempted to attack from both flanks under cover of smoke and bombardment. This officer's coolness of action and disregard of danger caused the enemy to lose one aircraft from Anti-aircraft fire and some 60 casualties before he finally withdrew his platoon in good order with the loss of one killed, two wounded and five missing. This officer on both occasions set a fine example to the men under his command.


Left: Italien troops in East Africa

One of Abdulla Effendi's soldiers, No. 33751 Nafar (Private) Ali Abdulla Hassan, Sudan Defence Force, displayed gallantry on the 4th July that earned him a Military Medal:

At Gallabat Fort on the 4th July 1940 this soldier was No. 2 of a machine gun post when the enemy launched an attack in superior numbers under cover of an air bombardment which destroyed part of the gun post equipment. In spite of a determined attack from both flanks Nafar Ali Abdulla Hassan continued to serve the gun coolly and heavy casualties were inflicted on the enemy. The post was finally ordered to withdraw and it was then found that the gun mules had bolted. Under continual fire this soldier then carried the gun back to the main position 1½ miles in rear, suffering severe burns from the heat of the gun in doing so. The conduct of this soldier is deserving of high praise.

Having seized Gallabat the Italians strengthened the defences with a zareba (thorn hedge), a wall of logs and stones and barbed wire entanglements; outside the zareba all vegetation was cut down for hundreds of metres around the Fort, to give clear fields of fire for the defenders. The surrounding area was very rocky but elephant grass grew to a height of over two metres, hindering the visibility of attackers, especially those in vehicles. Metemma Fort was also surrounded by strong defensive wire obstacles.

The British decided to re-take Gallabat Fort and to capture Metemma Fort in one operation; with the two forts in British hands camel convoys of weapons and supplies could be sent through Metemma to the Abyssinian Patriots who were fighting the Italians in an intense guerrilla warfare campaign inside Abyssinia.

The Italian commander in Metemma was Lieutenant Colonel Castagnola and it was estimated that his troops holding the two forts were:

§ 27th Colonial Battalion (regular African troops) in Gallabat Fort.
§ 25th and 77th Colonial Battalions bivouacking adjacent to Metemma Fort.
§ Bande (irregular) troops garrisoning Metemma.
§ up to 6 pieces of pack artillery.
§ two companies of Blackshirt (9) machine gunners.
§ one company of mortars.
§ one anti-tank platoon using British anti-tank rifles captured in British Somaliland.
§ moving from Gondar to Metemma was a column of reinforcements believed to include a Blackshirt battalion and a number of anti-tank guns.


Neuer Absatz

The British 10th Indian Infantry Brigade was selected to make the attack. Because of the Italian reinforcements moving towards Metemma the date of the British attack was moved forward a couple of days to 6th November. 10th Indian Infantry Brigade and its supporting troops were:


· Brigade Headquarters with a RAF squadron commander attached for liaison.


· 1st Battalion the Essex Regiment.


· 4th Battalion 10th Baluch Regiment.


· 3rd Battalion 18th Royal Garhwal Rifles.


· 'B' Squadron 6th Royal Tank Regiment (6 medium and 6 light tanks).


· 28th Field Regiment Royal Artillery (1/5th and 3/57th Field Batteries – both equipped with 18-pounder guns).


· 7/66th Battery Royal Artillery (4 x 18-pounders and 4 x 4.5-inch howitzers).


· 21 Field Company, Sappers and Miners, Indian Army.


· 20 Indian Field Ambulance.


· one company of the Sudan Defence Force.




Above: 18-pounder gun towed by Morris Tractor (IWM photo)

The British 10th Indian Infantry Brigade was selected to make the attack. Because of the Italian reinforcements moving towards Metemma the date of the British attack was moved forward a couple of days to 6th November. 10th Indian Infantry Brigade and its supporting troops were: · Brigade Headquarters with a RAF squadron commander attached for liaison.

· 1st Battalion the Essex Regiment.
· 4th Battalion 10th Baluch Regiment.
· 3rd Battalion 18th Royal Garhwal Rifles.
· 'B' Squadron 6th Royal Tank Regiment (6 medium and 6 light tanks).
· 28th Field Regiment Royal Artillery (1/5th and 3/57th Field Batteries – both equipped with 18-pounder guns).
· 7/66th Battery Royal Artillery (4 x 18-pounders and 4 x 4.5-inch howitzers).
· 21 Field Company, Sappers and Miners, Indian Army.
· 20 Indian Field Ambulance.
· one company of the Sudan Defence Force.



Due to the very honest account of the battle written by Brigadier Slim in his book Unofficial History supported by the detailed information given in A.J. Barker's Eritrea 1941 we can follow the fighting stage by stage. The Brigadier was concerned that in the recent Divisional reorganisation he had lost an excellent Punjabi battalion (10) and had gained a British battalion of unknown capability; events proved his concern to be well-founded.

To deceive enemy observers the tank squadron had not moved to Gallabat wearing their regimental insignia and black berets but had worn ordinary Wolsely cork helmets. On coming into action the tank crews had put on their black berets, but this action was to prove dangerous if not fatal for some of those soldiers. As a deception measure the British guns and tanks were only brought forward under cover of darkness in the hours preceding the attack.

This attack was the first offensive action by a British formation in the Second World War and the plan had two phases. Firstly the Garhwalis and the tanks were to attack and seize Gallabat Fort, exploiting up to the boundary khor to establish a bridgehead; secondly the Essex and the tanks were to attack across the khor and capture Metemma Fort. The Baluch and the Sudanese were to remain in reserve, holding an outpost line to prevent enemy interference from the flanks and rear. Phase 1 was to be preceded by a British bombing raid and an artillery barrage.


The British attack on Gallabat Fort

At 0530 hours on 6th November 1940 British air (11) and artillery bombardments commenced, but the RAF advance landing ground at Saraf Said had received rain during the night and this made it unserviceable for fighter aircraft until 0900 hours. The bombardments ceased at 0615 hours and the Garhwalis advanced with six Cruiser and four light tanks; most of the tanks quickly lost tracks or were otherwise damaged on concealed boulders in the undergrowth or on mines, and only four Cruiser tanks got up to Gallabat Fort. The Garhwalis had expected the tanks to cut the wire surrounding the Fort and when that did not immediately happen the advance was held up. No. 6620 Rifleman Indar Singh Rawat, 3/18th Royal Garhwal Rifles, then displayed courage and initiative for which he received the Indian Distinguished Service Medal:

On 6th November 1940 during the assault on Galabat, his platoon was held up by a machine gun firing from behind a double apron fence of barbed wire. With an utter disregard to danger, this rifleman dashed forward and cut the wire. His prompt action undoubtedly saved a number of casualties and made a gap through which his platoon was able to pass and rush the post. His courage and determination were of the highest order.


The remaining tanks continued to develop problems but No. 7887112 Sergeant Charles Stanley Elliott, 6th Royal Tank Regiment, gallantly continued fighting and was later awarded the Distinguished Conduct Medal:

This Non-Commissioned Officer having got called into Gallabat while working round inside the Fort with his tank broke a track and became immobile. Soon after he saw another of our tanks commanded by Sergeant Manders about 40 yards to his left that was on fire. He got out of his tank although still surrounded by enemy and rescued Sergeant Manders and Lance Corporal Wood who had been seriously wounded by an Anti-Tank Rifle fired from the top of a building 15 yards from Sergeant Manders' tank. He laid the two wounded men between his tank and a bank and dismounted a machine gun and went into action with it, as owing to the position of his tank he found it impossible to man his guns properly from his tank. I consider that this Non-Commissioned Officer behaved with great coolness and resource.

An unfortunate result of the tank crews exchanging their Wolsely helmets for black berets during the attack was that when their tanks broke down or hit mines and the crews dismounted to survey the damage, other members of 10th Indian Infantry Brigade did not recognise the crews and thought that they were Italian Blackshirts, and fired at them. One man killed in this way was the Squadron Sergeant Major, Warrant Officer Class III Robert Yeeles, Royal Tank Regiment, Royal Armoured Corps.

Whilst some Garhwalis cleared and captured the Fort others seized and held ground outside it, and during these operations an Indian Order of Merit, (2nd Class) was won by No. 5108 Havildar Balwant Singh Qusain, 3/18th Royal Garhwal Rifles, who displayed bravery and fortitude:

On 6th November 1940 this Non-Commissioned Officer's company which had been ordered to exploit north of Gallabat was heavily counter attacked and he himself was shot through the thigh. In spite of his wound he refused to go to the rear and continued to command his section with great gallantry, and his skilful control of light machine gun fire was responsible for inflicting a considerable number of casualties on the enemy. Later on, seeing that the number of stretchers available was insufficient to carry all the wounded he, he insisted on walking and continued to command his position. It was only when his company had been withdrawn into battalion reserve that he eventually went back to the Regimental Aid Post. His conduct throughout the operation was of the highest order.

Meanwhile the commander of the only remaining mobile tank, No. 3447153 Corporal W. Dunning, 6th Royal Tank Regiment, carried out his mission to the letter and received a Military Medal (downgraded from an application for a Distinguished Conduct Medal):

This Non-Commissioned Officer after going through the wire broke into the Fort at Gallabat. He went round the right hand half of the Fort as ordered three times, putting out of action two enemy machine gun posts and firing at enemy running away from the Fort. He then went out of the back of the Fort and with his single tank advanced downhill towards the Boundary Khor. As he was passing the Jail between Gallabat and the Boundary Khor he was fired on by machine guns from the Jail, he silenced these and continued his advance. When about 100 yards from Boundary Khor he was fired on by an Anti-tank Gun from 300 yards on the Metemma side of the Khor. This he knocked out with his two-pounder and killed or wounded six men that ran from the Anti-tank Gun post after his first shot had landed in it. He then withdrew to a hull-down position 300 yards to the rear and for 20 minutes shelled and machine gunned all obvious machine gun posts near Metemma. As he found no other tanks near him he returned to Gallabat where he found four Cruiser tanks immobile with broken tracks. He and his crew spent the remainder of the day helping to tow tanks and to refit them for action.


Right: British Cruiser Tank Mark 1 with 2-pounder (40-mm) gun

So far Phase 1 of the attack plan had succeeded and 10th Indian Infantry Brigade held Gallabat Fort, however Brigadier Slim saw that Phase 2 of the plan was in doubt as he had insufficient tanks in action to force ways through the wire into Metemma Fort. A pause was necessary whilst the damaged tanks were repaired. Slim decided to consolidate his gain and 1st Essex was ordered forward into and around Gallabat Fort, where the battalion found it extremely difficult to dig slit trenches in the hard and rocky ground. The two Garhwali companies that had exploited forward to the khor were withdrawn onto the high ground near the Fort.

Then the Italian air force, having been alerted by wireless messages from the enemy commander in Metemma Fort, began a series of heavy bombing raids on Gallabat Fort that changed the whole course of the battle. British Gladiator planes arrived in dribs and drabs to challenge the Italians but this was contrary to the agreed air plan which had stipulated a concentration of British fighter aircraft before engaging the enemy. The result of this piecemeal approach was that five Gladiators were soon shot down by Italian Fiat CR 42 fighters flying from Gondar; it was believed later that the Italians were using new incendiary bullets that quickly set the British planes alight.

The commander of the 1st South African Air Force Squadron, Major Schalk van Schalwyk, was seen to bail out of his plane with his clothes alight, but he did not survive. Lieutenant B.J.L. Boyle of the same squadron attempted to protect his squadron commander but was wounded in the hand and leg and shot down, crash-landing between the lines; later Brian "Piggy" Boyle was awarded the Distinguished Flying Cross for his gallantry in going to van Schalwyk's assistance:

In October, 1940, Captain Boyle led three aircraft in an attack on an enemy aerodrome 100 miles within Eritrea. Owing to his care in studying the approaches complete surprise was achieved, three enemy fighters being destroyed and six bombers severely damaged.
In November, 1940, when his squadron commander was engaged by eight enemy fighters, Captain Boyle alone succeeded in taking off from a waterlogged aerodrome, and attacked in an attempt to extricate his comrade. Though wounded and covered with oil he continued to fight, after his squadron commander had been shot down, until his engine was so damaged that he was compelled to land, being rescued from his wrecked aircraft by the front line troops. Captain Boyle has repeatedly led his flight into action over enemy territory and against superior enemy forces with skill, courage and determination.

The Italians had air superiority and used it to effect, calling in Caprioni Ca 133 bombers from across their East African territories. No British anti-aircraft guns were available for the Gallabat operation, and the soldiers being pounded from the air only had light machine guns with which to engage the enemy aeroplanes. The hard ground around Gallabat multiplied the effects of bomb splinters causing deaths and serious injuries and the casualty figures increased with each enemy air attack. This imposed nervous strain on the Essex and Garhwali soldiers around Gallabat in their inadequate trenches. Whilst those men in contact with the enemy in Metemma Fort remained stoic and professional, despite the incoming Italian machine gun, mortar and artillery fire, soon some of the Essex Regiment men in the rear positions panicked and cracked. This was partially due to an Italian bomb hitting a British ammunition truck and detonating the cargo of small arms ammunition; to the inexperienced this sounded as though an Italian counter-attack had got into the heart of the British position.



Most of these men had never before been in combat or experienced aerial bombardment. An Indian officer from the Baluchis ran to Brigade Headquarters to advise Slim that British soldiers were fleeing from Gallabat, having commandeered their battalion's First Line Transport. Slim was disinclined to believe this until he went down and witnessed it for himself; he was particularly incensed at seeing a British officer joining in the panic-stricken rush. The Essex could not be easily stopped, as they shouted that the enemy was attacking, and when their transport halted the British soldiers jumped off and fled into the bush. At one point Slim found a Royal Artillery battery commander with pistol drawn threatening to shoot any man who took another step towards the rear.


Some bewildered Garhwalis also retreated, stating that the Essex had said that a withdrawal was ordered, these men were quickly turned around and returned to their positions. The bulk of the Garhwalis had remained in action at their posts. Meanwhile the Baluch and Sudanese were holding their outposts as ordered, having had to fight for some of them, and they watched in amazement as the fleeing rabble streamed past their positions.



Not all the Essex ran, and No. 6012035 Lance Corporal Robert Clarkson, 1st Battalion the Essex Regiment, was later awarded a well-deserved Military Medal:

6th November 1940, Gallabat. During a bombing attack on Gallabat Fort when this Non-Commissioned Officer and his men were taking cover in a slit trench, he jumped out and maintained his Bren gun in action in the open, firing continuously, and shouting words of encouragement to his section. He continued to fire his gun, in spite of the fact that bombs were dropping as near as 30 yards from him. Prior to this when volunteers were called for by his Company Commander to provide protection for Officer Commanding Tank Squadron who had three disabled tanks well to the right flank and in front of the front of the Fort, Lance Corporal Clarkson's section killed two snipers whilst affording protection to the tanks, subsequently returning with the enemy rifles. Throughout the action this Non-Commissioned Officer displayed great courage and coolness in action and set a fine example to his section.

Two Royal Artillery signallers in Forward Observation parties on Gallabat Hill, No. 856160 Signaller James McMullen and No. 843911 Signaller Cyril Moore, both of 3/57th Field Battery, each received the Military Medal. Both men had similar but slightly different citations (12). Cyril Moore's read:

On November 6th at Gallabat this Signaller was continually under small arms and machine gun fire and was on several occasions under heavy aerial bombing and field gun fire; he never the less remained at his work keeping his Forward Observation Officer telephone line "through". He was on several occasions observed by officers lying on his stomach working on the line with great cheerfulness during intense bombing. He was eventually wounded by enemy shrapnel while at his work. His devotion and disregard to his personal safety were most praiseworthy.


Brigadier Slim then received a report from the tank squadron commander who advised that the squadron workshop truck carrying all the spares had received a direct hit from an enemy bomber and had been destroyed; three fitters had been wounded and there was now no possibility of repairing the disabled tanks quickly as it would take a few days to bring spares forward.

Slim wrestled with the tactical problem of seizing Metemma Fort. At first he believed that his only option was to give up and withdraw, but then, appreciating the position from Lieutenant Colonel Castagnola's point of view in Metemma Fort, he thought that the enemy commander might himself crack mentally if he awoke next morning to find the British occupying Jebel Mariam Waha which lay behind and above Metemma Fort. Slim decided to task the Baluchis and the Sudanese to occupy Jebel Mariam Waha during the night and to attack the Italians from the rear at daybreak; the Baluchis under Lieutenant Colonel B.L. Sundius-Smith planned a route from Baluch Hill across the khor and then eastwards behind Metemma to the Jebel.




However when posing this aggressive option to the senior officers in Brigade Headquarters and seeking their opinion, Slim was told by them all that such an attack was too risky, especially with one battalion incapable of fighting and most of the tanks needing repairs, as failure would leave the Italians free to advance into the Sudan. Slim took heed of this and ordered 10th Indian Infantry Brigade to withdraw from Gallabat to a location within artillery range of Metemma Fort, and from where aggressive patrolling could dominate the Gallabat area. British artillery fire was effective and the enemy petrol dump in Metemma Fort was spectacularly destroyed. When Brigadier Slim later received British intelligence intercepts of enemy signals stating that the Italian commander at Metemma had indeed been extremely concerned and that he had demanded immediate reinforcement (13), Slim knew that he should have disregarded the doubts and fears of his staff and that he should have chosen the boldest option and attacked.


The domination of the Gallabat area

The Baluch were now tasked with patrols and ambushes in the Gallabat area and they quickly dominated the ground, reoccupying Gallabat during the night when the Italians withdrew to Metemma. No. 15649 Naik Zari Marjan, 4/10th Baluch Regiment, was awarded an Indian Distinguished Service Medal for leadership displayed in a night ambush:

On the night of the 10th November at Gallabat this Non-Commissioned Officer who was in command of a section forming part of a company which laid an ambush for the enemy, found himself almost encircled by the enemy who were in unexpected strength. Although his left flank and rear were threatened, he by his example and steadiness maintained his section in action and even after being given permission to retire remained in position "as good targets were presenting themselves". When his ammunition was almost expended he skilfully extricated his section intact. He inflicted heavy casualties and contributed notably to the success of the ambush.


The commander of the company laying the ambush, Major Lancelot Vincent Stoneham Sherwood, 4/10th Baluch Regiment, was later awarded the Distinguished Service Order and part of his citation referred to the Gallabat operations:

Previously at Gallabat on 5th November 1940 Major Sherwood led the successful dawn attack on Zariba Hill. On November 10th he took his company to ambush the enemy at Gallabat Fort. By his skilful handling of the situation the ambush was successful and severe casualties were inflicted on the 77th Colonial Battalion with small loss to himself. (14)



Above: The Keren Cremation Memorial (CWGC photo).


The casualty figures for the British attack on Gallabat Fort were:

British: 33 killed; 154 wounded and nil captured.

Italian: 189 killed; 231 wounded and 214 captured (15). The Italian 27th Colonial Battalion that defended Gallabat Fort was destroyed and did not fight again during the East African campaign.

The British dead are buried or commemorated in the Keren War Cemetery, Eritrea, on the Keren Cremation Memorial within that cemetery, or on the Khartoum Memorial within the Khartoum War Cemetery, Sudan.

Above: The Khartoum Memorial (CWGC photo).


Lieutenant Colonel Skipwith Edward "Snap" Tayler, commanding the 3rd Battalion of the 18th Royal Garhwal Rifles was awarded the Distinguished Service Order:

Lieutenant Colonel S.E. Tayler commanded the assault on Gallabat Fort and throughout the attack displayed courage and leadership of the highest order. The success of the attack was largely attributed to his personal example. Later he was placed in command of all troops on the Gallabat position. Subjected to prolonged and intensive air bombardment he invariably remained cool and imperturbable. He displayed at the time they were most needed outstanding qualities as a commander.

Sadly Colonel Tayler was not destined to live much longer as he was killed in action at the age of 42 on Mount Sanchil which lay before Keren, Eritrea, on 17th March 1941. He is buried in Keren War Cemetery.

10th Indian Infantry Brigade remained facing Gallabat for a month living in bunkers and tukls (small grass shelters), always concealing its locations and movements from Italian pilots and observers. Guns and vehicles were screened from view by camouflage netting. Vultures circled overhead, packs of baboons disturbed sentries, the occasional lion made an appearance, and snakes sometimes slithered into the shelter of bunkers and tukls along with scorpions; mosquitos were amongst the myriads of insects attracted to the sepoys. However rations were enhanced with privately shot gazelle, guinea fowl and duck. The Baluchis and the Sudanese dominated Gallabat and the boundary khor area with their patrols and ambushes. The 1st Essex was withdrawn from the Order of Battle and given time to re-compose itself, which it did.

On 15th December 1941 the 9th Indian Infantry Brigade took over the 10th Brigade's tasks before Gallabat. Metemma had not been taken and the camel supply convoys to the Patriots were not moving as anticipated, but British commanders had learned that air superiority had to be gained and maintained whilst troops attacked in daylight, and that strong enemy defences needed to be reduced by groups of tanks before the infantry could force a way in. And a British Brigadier who was to rise to be one of the most popular and successful wartime Army Commanders had learned to believe in his own judgement and military instinct rather than to subordinate himself to a Counsel of Fears (16).

Brigadier Slim and the 2nd Battalion the Highland Light Infantry

When 1st Essex had left 10th Indian Brigade it was replaced by the 2nd Battalion the Highland Light Infantry. The following paragraph is taken from the book Ball of Fire. The Fifth Indian Division in the Second World War:

'The celebrated tale is told of Slim's first visit to the Highland Light Infantry, who joined Ten Brigade after Gallabat. At the end of the Brigadier's talk to the officers and NCOs of the battalion, a Jock jumped to his feet and cried: "Don't you worry, sir! We'll follow you anywhere." Like a flash came the retort from Slim: "Don't you be so bloody sure about that. I'm going to follow you!"

(1) Refer to: http://www.kaiserscross.com/188001/492443.html and http://www.kaiserscross.com/188001/502022.html

(2) One reason for this inactivity was the shortage of petrol in Italian East Africa.

(3) Later Sir Mosley Mayne, GCB, CBE, DSO, ADC (6th Duke of Connaught's Own Lancers and Royal Deccan Horse).

(4) Later Field-Marshall Sir William Slim, GCB, GBE, DSO, MC, ADC (6th and 7th Gurkha Rifles). The only Indian Army officer to become Chief of the Imperial General Staff.

(5) Later Major-General J.C.O. Marriott, CB, CVO, DSO, MC.

(6) Later Lieutenant-General Sir Lewis Heath, KBE, CB, CIE, DSO, MC (14th Punjab Regiment and Sikh Regiment).

(7) Later General Sir Frank Messervy, KCSI, KBE, CB, DSO (Hodson's Horse and 13th Duke of Connaught's Own Lancers).

(8) This was the first gallantry award made to a Sudanese soldier in the Second World War

(9) Blackshirt units were composed of fascist-orientated European soldiers who wore black uniforms.

(10) The 3rd Battalion of The Second Punjab Regiment – 3/2nd Punjabis.

(11) The British bombers were Vickers Wellesleys and Vickers Vincents.

(12) James McMullen's citation read: On November 6th and 7th at Gallabat this Signaller was continually under small arms and machine gun fire and was on several occasions under heavy aerial bombing. He never the less remained at his work keeping his Forward Observation Officer telephone line "through". He was on several occasions observed by officers lying on his stomach working on the line with great cheerfulness during intense bombing. His devotion to duty and disregard of his personal safety were most praiseworthy.

(13) The Italians at Metemma believed and reported that Gallabat had been attacked and captured by an Australian division. This was because the Italians mistook the Garhwali slouch hats for Australian military headdress.

(14) Major Sherwood's full DSO citation read: For conspicuous gallantry and dash in the fighting in Sudan & Eritrea. Major Sherwood is again recommended for the award of the Distinguished Service Order, particularly for his gallantry in the fighting at Barentu. On 30th January 1941 on Five Tebaldi Ridge when 90 men of 4 Baluch in a temporary defensive position were twice strongly attacked by greatly superior enemy forces, Major Sherwood was instrumental in organizing the defence and beating off the first attack. He then with great dash and determination, led a counter attack which drove off the enemy and though himself wounded continued to direct operations on his sector of the front. During the second enemy attack Major Sherwood in one of the foremost posts, was again wounded. This officer displayed a complete disregard for his personal safety and was an encouraging inspiration to his men. Previously at Gallabat on 5th November 1940 Major Sherwood led the successful dawn attack on Zariba Hill. On November 10th he took his company to ambush the enemy at Gallabat Fort. By his skilful handling of the situation the ambush was successful and severe casualties were inflicted on the 77th Colonial Battalion with small loss to himself.

(15) Many other wounded Italian soldiers retreated into Metemma Fort.

(16) Counsel of Fears is the title of the chapter describing the Gallabat attack in Unofficial History.




SOURCES:

· Ahmed, Major General Rafiuddin. History of the Baluch Regiment 1939-1956. (Naval & Military Press reprint).
· Barker A.J. Eritrea 1941. (Faber & Faber, London 1966).
· Betham, Lieutenant Colonel Sir Geoffrey and Geary, Major H.V.R. The Golden Galley. The Story of the Second Punjab Regiment 1761-1947. (Oxford University Press 1956).
· Brett-James, Anthony. Ball of Fire. The Fifth Indian Division in the Second World War. (Gale & Polden Ltd 1951).
· Condon, Brigadier W.E.H. The Frontier Force Regiment. (Gale & Polden 1962).
· Director of Public Relations, India (Compiler). The Tiger Strikes. (Thacker's Press & Directories Ltd, Calcutta 1942).
· Farndale, General Sir Martin. History of the Royal Regiment of Artillery. The Years of Defeat, Europe and North Africa, 1939-1941. (Brassey's 1996).
· Jackson, H.C. The Fighting Sudanese. (Available on-line at: https://digitalt.uib.no/handle/1956.2/2899 ).
· Mackenzie, Compton. Eastern Epic. Volume I. September 1939-March 1943. Defence. (Chatto & Windus, London 1951).
· Playfair, Major-General I.S.O. History of the Second World War. The Mediterranean and Middle East. Volume I. The Early Successes against Italy (to May 1941). (Naval & Military Press reprint).
· Prasad, Bisheshwar (General Editor). Official History of the Indian Forces in the Second World War 1939-45. East African Campaign 1940-41. (History Division, Ministry of Defence, Government of India. 2012 Reprint).
· Shores, Christopher. Dust Clouds in the Middle East. The Air War for East Africa, Iraq, Syria, Iran and Madagascar, 1940-42. (Grub Street, London 1996).
· Slim, Field-Marshall Sir William. Unofficial History. (Cassell, London 1959).
· Sutherland, Jon and Canwell, Diane. Air War East Africa 1940-1941. (Pen & Sword Aviation 2009).
· Wavell, General Sir Archibald P. Despatch: Operations in the Middle East from August 1939 to November 1940. (London Gazette No. 37609 pages 2997-3006).
· The National Archives. Citations under WO 373.
· Commonwealth War Graves Commission on-line records.