September to December 1914

When war was declared in August 1914 British East Africa (BEA), now Kenya, was immediately threatened by military aggression from the adjacent colony to the south, German East Africa (GEA), now Tanzania. The indigenous regular troops in BEA were the King's African Rifles (KAR) who were nearly all deployed on the northern and eastern borders with Abyssinia and Somalia. In any case the KAR, although a formidable force against tribal insurgents and cattle thieves, was not equipped or supported to tackle military operations against another European power.

The BEA Governor, Sir Henry Belfield, sent a telegram on 4th August to the Colonial Office (1) describing the defenceless condition of his Protectorate. India was considered to be the guardian of the British Protectorates in eastern Africa, and in all previous emergencies (2) Indian troops had been dispatched to supplement the various Protectorates' forces. The Colonial Office turned to India for military support, but India was by this time also arranging support for operations in France and Belgium and she referred the request to the Committee of Imperial Defence. This Committee formed a sub-committee titled the Offensive Sub-Committee which immediately addressed the East African situation.

On 5th August a recommendation was made to send an Indian Expeditionary Force to attack Dar Es Salaam, the GEA capital located on the Indian Ocean coast. The following day saw a further recommendation made to dispatch another Indian force of two, quickly increased to three, battalions to safeguard internal security in BEA. Both recommendations were approved and implemented. The Dar Es Salaam expedition, later diverted to Tanga, was named Indian Expeditionary Force 'B', and the second Indian expedition to BEA was titled Indian Expeditionary Force (IEF) 'C'.



The composition of Indian Expeditionary Force 'C'

Army Headquarters in India received its instructions for the two forces on the 8th and 9th August and acted immediately. Colonel J.M. Stewart CB ADC was appointed to command IEF 'C'. The 29th Punjabis, commanded by Lieutenant Colonel A.B.H. Drew, was allocated to IEF 'C' and two Imperial Service battalions from the state forces of Bhurtpore, Jind, Kapurthala and Rampur were also allocated; each princely state provided a half-battalion. The 27th (Bengal) Mountain Battery joined the Force. An oxen-drawn artillery battery of the Cossipore Artillery Volunteers with six 12-pounder guns was allocated (3), as was the pack-mule Indian Volunteer Maxim Gun Company (4). Ancillary units were also added.



Above: 29th Punjabis in the KAR lines, Nairobi,1915

By 19th August Headquarters of IEF 'C' (5), the 29th Punjabis, a Section of 120th Field Ambulance, a Second Class Post Office, a detail from the Military Accounts Department and a Field Supply Post had boarded the transport SS Nairung at Karachi which sailed for East Africa. The Punjabis were by now urgently needed as German units were attacking across the southern BEA border.



Above: The upper Tsavo Valley

The 29th Punjabis embark and deploy

The 29th Punjabis, located in Hyderabad, Sind, was initially warned to prepare for the European theatre but that order was altered to read East Africa. The 29th was a Class Company Regiment containing 4 companies of Sikhs, 2 companies of Dogras and 2 companies of Punjabi Mussalmans. The battalion was brought up to war strength by a draft of 250 men from the 30th Punjabis which had an identical class composition; 3 British and 3 Indian officers and 4 buglers accompanied this draft from the 30th Punjabis. The battalion entrained on 16th August and after a 7 hour overnight journey reached Karachi the following morning to embark on SS Nairung.

Reaching Mombasa on 1st September the Punjabis were split in two, battalion headquarters and two double companies with the two battalion machine guns entrained for Nairobi with HQ IEF 'C' whilst the other two double companies went up the Uganda Railway line only as far as Voi, less than a third of the distance to Nairobi (6). West of Voi the Tsavo River valley ran up to the border with GEA. The valley was covered in a dense bush of thorn-trees and the only routes in it were game trails made by animals. Nevertheless the valley was an attractive route eastwards for German raiding parties because of the abundant water supply in the river bed. By now KAR companies and BEA Volunteer units were already intercepting German intrusions from across the border.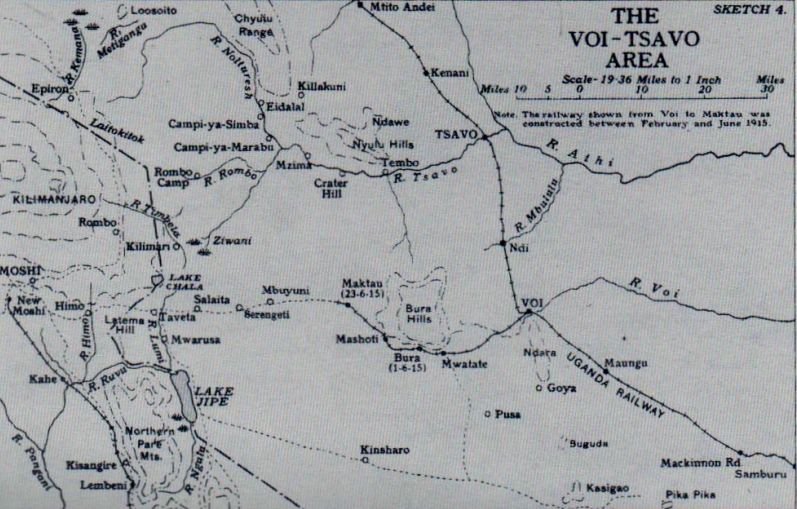 The Voi party, 8 Indian officers and 351 sepoys of Numbers II and III Double Companies, 8 Regimental Scouts under Havildar Wazir Singh and the section of the Field Ambulance, was commanded by Major A.A. James. The British officers with him were Captain H.T. Skinner, Captain J.A. Pottinger (30th Punjabis attached) and Lieutenant C.E.U. Bremner. Each man carried 400 rounds of ammunition; 14 days rations were sent to Voi after being unloaded, but all the battalion horses went to Nairobi to avoid the diseases prevalent in the Voi area. The only information given to Major James was that small isolated enemy parties were attempting to attack the railway line.

James detrained at Voi during the hours of darkness and set up camp nearby. He learned that an armoured train was being constructed in the Nairobi railway workshops and it would soon appear to help defend this stretch of the railway, and that a strong blockhouse was being built to guard the vital Tsavo River rail bridge, 50 kilometres north-west of Voi.

Meanwhile the remainder of the Punjabis detrained at Nairobi where Colonel Stewart was promoted to Brigadier General and placed in charge of all troops in BEA and Uganda. The British officers with Colonel Drew were Major G.W. Haslehurst, Captains H.A. Murray and Captain W.K.P. Wilson (both 30th Punjabis attached), Captain C.R. Cleaver, Lieutenants G.N. Bignell and H.R. Stranack, 2nd Lieutenant E.K. Bird and the Medical Officer Captain J.V. MacDonald, Indian Medical Service (IMS). Nine Indian officers, 1 Sub-Assistant-Surgeon, IMS, and 384 sepoys comprised Numbers I and IV Double Companies at Nairobi. The KAR had laid out a camp in preparation for the Punjabis' arrival.


Initial operations in the Voi area

The German commander at Moshi, just west of the GEA-BEA border south of Mount Kilimanjaro, had sent out a small detachment under Lieutenant von Oppen on 27th August with orders to "destroy or interrupt the railway and telegraph line at Tsavo". Two days later in the area between Mzima and the Rombo River von Oppen successfully ambushed a British mounted infantry party of Abyssinians and Somalis that was accompanied by local Masai tribal auxiliaries. Von Oppen had not taken casualties but he realized the vulnerability of his small party and so he halted and asked headquarters at Moshi for a machine gun and reinforcements. Captain Hans Schulz and his 13 Field Company – over 200 Askari with 4 machine guns – came and took over the von Oppen mission on 1st September. Schulz moved cautiously forward through very dense and difficult bush down the Tsavo Valley.

On 3rd September a small 1st (Nyasaland) KAR observation post at Mzima Springs was engaged by Schulz's men and the KAR Askari under Lieutenant R.C. Hardingham withdrew eastwards. On getting this news the following day Major James, now commanding all troops in the Voi area, moved the bulk of his troops to Tsavo and ordered detachments outside the valley to move closer in an attempt to trap the enemy party. It has to be said that at this stage of the campaign the Punjabis had no concept of local tactical conditions and considerations, particularly the time needed for messages to be passed by runner through thick bush, but Indian Army officers took control of operations because of their seniority. This often dismayed the KAR officers and Askari who understood the reality and savagery of close-contact bush warfare.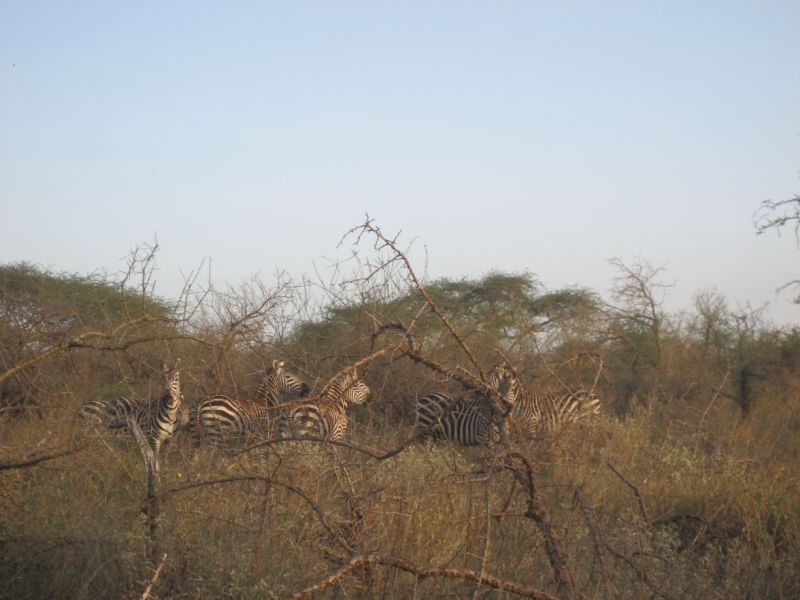 Above: Thick bush in the Tsavo area
On 5th September James ordered Captain Skinner to advance up the valley with two companies; Skinner met Hardingham withdrawing and it became Skinner's opinion by nightfall that the Germans were now east of him, having slipped past in the thick bush. On hearing this James ordered Skinner to turn around on 6th September and attack the Germans from a flank. In fact Schulz was still west of Skinner and trailing him. As Skinner's sepoys left a low ridge the Germans occupied it and took the Punjabi rearguard by surprise with rifle fire. A brief fire fight started and a group of 4th (Uganda) KAR under Lieutenant G.C.O. Oldfield joined in. German machine guns came into action and Oldfield was soon killed whilst 8 of his Askari were wounded. It is quite probable that these 4th KAR Askari held the line whilst the Punjabis regrouped.

Naik Gul Mohamed brought up reinforcements to support the rearguard, and he, Subadar Sher Baz, Captain Pottinger and a few sepoys charged an enemy machine gun. Gul Mohammed was twice wounded and Sher Baz attempted to recover him, but Sher Baz was himself severely wounded whilst in this act and he died soon afterwards. When trying to deploy in the thick bush many sepoys became totally disorientated and lost. Pottinger, assisted and doubtless guided by a 1st KAR party under Lieutenant C.G. Phillips, enfiladed the German right flank, forcing Schulz to abandon the ridge. The German commander then withdrew having completed one of his tasks. A British follow-up was considered to be impractical at that moment, especially as the Punjabi machine guns were elsewhere.

Above: The railway bridge over the Tsavo River
Killed along with Subadar Sher Baz were: Sepoys 4324 Mahomed Din; 3711 Mirza Khan; 4811 Mahomed Zaman; 4968 Ghulam Hussein (all of 'F' Company); 4504 Amrita ('C' Company); and 4396 Dido ('D' Company). Eight sepoys were wounded; they were stretchered back to Voi with the wounded Askari and then moved by train to Nairobi where they were treated in the civil hospital (7).

Three gallantry awards were later made for the action in the Tsavo Valley:

Military Cross: Captain John Ashton Pottinger, 30th Punjabis, (his first of two in this theatre). The citation cannot be located.

Indian Order of Merit (IOM) (2nd Class): 4050 Naik Gul Muhammad and Subadar Sher Baz (posthumous award). These were the first awards of the IOM in the Great War and the citations read:
Naik Gul Muhammad. For the conspicuous resourcefulness and pluck displayed by him during the action at Tsavo River, British East Africa, on the 6th September 1914, in bringing up reinforcements, in the course of which he was twice wounded.

Subadar Sher Baz. For conspicuous courage and gallantry during the action at Tsavo River, British East Africa, in attempting, though wounded himself, to drag under cover Naik Gul Muhammad of the same regiment who was severely wounded. During this brave attempt to save a comrade, Subadar Sher Baz lost his own life (8).

Battle-inoculation into East African conditions had started for the 29th Punjabis, but there was still much to learn about this hot, wet, densely-vegetated, fever-ridden theatre where as well as ferocious bayonet-wielding German Askari, carnivorous animals and snakes could suddenly attack whilst jigger-fleas burrowed under men's toenails and incapacitated them.

As a consequence of the Tsavo action Colonel Drew brought Numbers I and IV Double Companies and the machine guns down from Nairobi to Mackinnon Station, located 65 kilometres south-east of Voi. However the now-concentrated battalion was immediately divided into small detachments guarding railway stations and bridges, whilst other parties garrisoned Tembo in the Tsavo Valley, Kasigau Hill to the south, and other locations such as Bura on the trade route south of the Tsavo Valley that ran from Taveta to Voi. This route had no rivers on it, but the Germans quickly established and replenished dumps of water in the thick bush en route, allowing their patrols to reach the railway line with relative ease. The Punjabi signalers were located in small detachments on high features to maintain a heliograph system on sunny days, which were now becoming less frequent.

By the end of September the 29th Punjabis, headquartered at Tsavo, had adopted the 8-single company system and company locations were:


· 'A' and 'B' Companies at Magadi Junction, south-east of Nairobi, where a branch line ran west to Lake Magadi, near the GEA border.
· 'C' and 'F' Companies at Tembo in the Tsavo Valley.
· 'D' Company at Tsavo Bridge.
· 'E' Company and the two machine guns at Mazeras, 25 kilometres from Mombasa.
· 'G' Company en route to Gazi, on the coast 35 kilometres south of Mombasa.
· 'H' Company at Bura, 32 kilometres south-west of Voi.




The arrival of the remainder of IEF 'C'

In early October 1914 the remainder of IEF 'C' arrived bringing two reinforcing drafts for the 29th Punjabis. Captain E. Edwards, Subedar Rai Singh and 73 Rank & File arrived from the 29th Punjabis' Depot, whilst Captain T.R.H. Keppel, Lieutenant N.L. Mitchell-Carruthers, Subadar Waryam Singh, Jemadar Alla Ditta and 81 Rank & File arrived from the 30th Punjabis' Depot. As a result of the arrival of the Imperial Service infantry units many of the garrison locations on the railway line were handed over by 29th Punjabis, but on the coast at Gazi 'E' and 'G' Companies and the machine guns were in contact with a German force probing towards Mombasa. One sepoy was wounded during this contact. As October developed the 29th Punjabis were warned to be ready to form a Flying Column (8) and half of the battalion began to concentrate again in the Nairobi and Kajiado areas.

The action at Longido in support of the landing of IEF 'B'

The landing place of IEF 'B' had been changed from Dar Es Salaam to Tanga, a port just south of the GEA-BEA border. IEF 'C' planned an operation from the border post of Namanga, south of Kajiado, towards Moshi designed to draw German troops away from Tanga at the critical time. However the British had not correctly appreciated the usefulness to the enemy of the German Usumbara Railway that ran from Moshi, where most of the Schutztruppe (9) was located, down to Tanga on the Indian Ocean coast. The German theatre commander, Colonel Paul von Lettow-Vorbeck, was to make maximum use of this railway as he reacted to the Tanga landing. A British breach of this line would have been the best support that IEF 'C' could have given to IEF 'B'.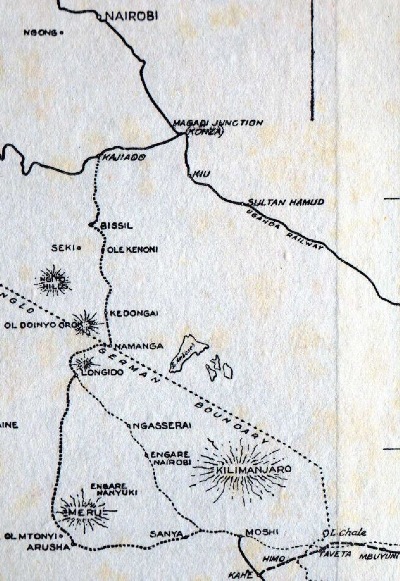 Instead General Stewart decided to attack the German posts on Longido Mountain which lay 20 kilometres south of Namanga and well north of the Usambara Railway terminal at Moshi. This was a reasonably healthy area for the troops, although short of water sources, and the ground was rolling and open allowing for good use of mounted infantry. Colonel Drew was placed in charge of the operation and the troops allocated to him were:

· Four companies, 'A', 'B', 'D' and 'H', of The 29th Punjabis (10).
· Four companies of The Kapurthala Infantry.
· Two Sections (4 screw guns (11)) of the 27th (Bengal) Mountain Battery.
· One Section (2 Machine Guns) of the Indian Volunteer Maxim Gun Company.
· Five Squadrons of The East African Mounted Rifles (EAMR), a BEA wartime Volunteer unit.
· A Detachment of Masai Scouts, a BEA irregular wartime unit.
· Elements of 120th Indian Field Ambulance.
· 100 mules to carry water in tins.


British intelligence believed that the enemy had around 200 German white troops and up to 300 Askari on and around Longido Mountain. In fact the German commander, Major Georg Kraut, had Numbers 10, 11 and 21 Field Companies and Number 9 Schutzen Company (12) under command, a total of 86 Europeans, 583 Askari and 6 machine guns.

After making a reconnaissance Colonel Drew decided upon a three-pronged attack. The Decisive Attack Column, which was the main body under Major Haslehurst, was to attack up the eastern face of the mountain to destroy the enemy troops camped there whilst a holding attack was mounted against the northern face, and a third column was to seize a known water source on the southern slopes. Like most military plans it could have worked but the enemy interfered with it.

The Tanga landing of IEF 'B' had been planned to take place on 3rd November, so on the preceding night Colonel Drew's three columns marched out from Namanga. The holding attack column consisted of three EAMR squadrons, a Kapurthala single company and a section of mountain guns, and was commanded by Major H.S. Laverton, EAMR. At first light when the column approached the north face it was met with accurate machine gun fire from an estimated four German guns. Laverton did not feel like risking casualties in a dismounted attack and so he remained bogged-down until late afternoon when he withdrew on his own initiative to a spur on the route back to Namanga.

The third column, two EAMR squadrons under Captain A.C. Bingley, had difficulty in finding the water source and the enemy was alerted to its presence. It found the hidden spring by observing German troops riding up to it, but when Bingley's men advanced enemy firepower was concentrated upon the EAMR troopers both from the area of the spring and from the rocks above it. Bingley lost eight men killed and two wounded who had to be left behind, and he withdrew on his own initiative to Namanga (13).

Only Major Haslehurst's Decisive Attack Column got anywhere near achieving its objectives. Colonel Drew's force headquarters accompanied this column. Mountain warfare was something that the Punjabis understood, and they advanced well up the mountain accompanied by three companies of Kapurthalas, two mountain guns, the two Indian Volunteer Maxims, the field ambulance sepoys and the mule convoy. At first light Haslehurst thought that he was on a dominant ridge, but thick mist impeded his view and in the mist a Punjabi patrol blundered into a German picquet, alerting it to the British presence. As the mist lifted Haslehurst saw that he was not on dominant ground and that enemy troops were advancing to attack him. A successful Punjabi counter-attack halted the enemy, but the firing stampeded the mules down the hill and the column was without water.

In the afternoon a strong German attack forced back the two forward companies, but this was again halted by a vigorous Punjabi counter-attack. By then Colonel Drew could see Laverton's men riding away from the action and he realized that he was on his own and in a precarious position without water. At dusk a final enemy attack was beaten back and a night-time fighting withdrawal commenced down the mountain side; problems were compounded by panic setting-in amongst the Followers (14). However the Punjabi rearguard fought well supported by the two Maxim gun teams (16). Colonel Drew marched his force back to Namanga having lost one British officer (17), nine EAMR troopers and nine sepoys killed, and one British officer (18) and 32 sepoys wounded; two sepoys were missing. German casualties were reported as five Europeans and 11 Askari killed and five Europeans and 19 Askari wounded, but Georg Kraut retained possession of the mountain and all the water sources. The attack on Longido had failed, as co-incidentally had the attack of IEF 'B' on Tanga. British morale fell to an extremely low ebb (19).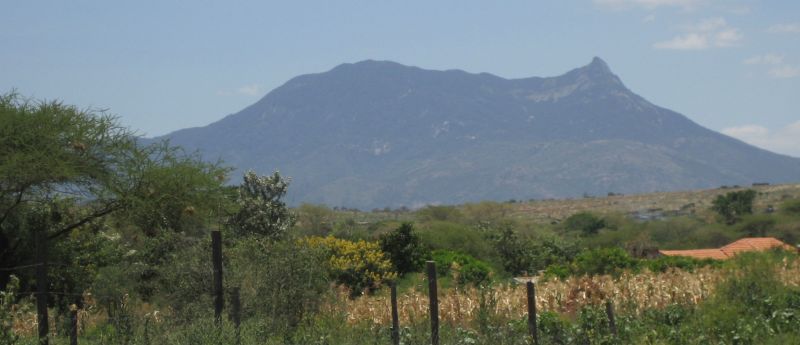 Above: Longido Mountain from Namanga
Ironically, if a giraffe had not knocked down the German telephone line between Moshi and Longido Colonel Drew would have found Longido vacated. Von Lettow-Vorbeck had sent a message to Kraut ordering him to march to Moshi and entrain for Tanga – but the giraffe prevented that message from reaching Longido. Georg Kraut stayed put and won a battle of his own.


The remaining weeks of 1914

In mid-November Kraut's force withdrew from Longido and dug-in at Engari Nairobi, a location 50 kilometres closer to Moshi. When Masai scouts reported this Major Haslehurst took a column back down to Longido and occupied the mountain. The Punjabis began to concentrate their battalion again at Namanga and Longido, supported by machine gunners from the 2nd Battalion The Loyal North Lancashire Regiment (20), and from the Indian Volunteer Maxim Gun Company. The EAMR and the Punjabis continued to patrol the area but so did the Germans who were aggressive wherever possible. Meanwhile back in Hyderabad, Sind, Captain C.W.J. Smith took over command of the 29th Punjabis' Depot from Captain J. Campbell, and commenced moving the Depot to Delhi.

1914 drew to a close with several sepoys suffering from either scabies or jigger fleas under their toe nails; the latter was probably caused by the men when off-duty walking barefoot around their locations. The King-Emperor sent a greetings telegram on Christmas Day. Colonel Drew and his 29th Punjabis prepared for a new year of operations against a tough, determined foe in a theatre where the terrain, vegetation and climate demanded constant vigilance plus high levels of physical fitness and stamina. A challenging time lay ahead.

(An edited version of this article has appeared in a recent edition of Durbar, the journal of the Indian Military Historical Society: http://imhs.org.uk/ )



Above: The inscription of Sher Baz IOM on the Nairobi B&I Memorial
SOURCES: (most economical shown)

Hordern, Lieutenant Colonel Charles. Official History, Military Operations East Africa August 1914 – September 1916. (Battery Press, Nashville 1990.)

29th Punjabis War Diary, August to December 1914. (WO95 5340).

Duckers, Peter. Reward of Valour. The Indian Order of Merit 1914-1918. (Jade Publishing, Oldham 1999.)

Paice, Edward. Tip & Run. The untold tragedy of the Great War in Africa. (Weidenfeld & Nicholson, London 2007.)

Graham, Brigadier General C.A.L. The History of the Indian Mountain Artillery. (Gale & Polden Limited, Aldershot 1957 and on-line at: https://archive.org/details/IndianMountainArtillery )

Wilson, C.J. The Story of the East African Mounted Rifles. (Leonaur paperback 2006.)

Head, Richard and McClenaghan, Tony. The Maharajahs' Paltans. A History of the Indian State Forces (1888-1948), Part I. (Manohar, Delhi 2013.)

Hart's Annual Army List 1915.

[1] At this time the Colonial Office was responsible for all matters in East Africa; the War Office only provided officers to serve with locally recruited formations.

[2] BEA, Uganda, British Central Africa (later named Nyasaland and now Malawi) and British Somaliland had all benefited in the past from support provided by Indian troops.

[3] This battery was commonly known as the Calcutta Volunteer Battery.

[4] The operations of these two Volunteer units have been described in the article titled 'Indian Volunteers in the Great War East African Campaign' that appeared here: http://www.westernfrontassociation.com/great-war-on-land/other-war-theatres/1072-indian-volunteers-in-the-great-war-east-african-campaign.html

[5] Colonel Stewart, his Brigade Major Captain J.G. Cadell, 45th Rattray's Sikhs, and Aide-de-Campe Lieutenant Kassim Shah.

[6) Voi is around 360 kilometres from Nairobi, and the rail journey between the two locations took over 12 hours.

[7] One week later Major James was admitted to hospital in Nairobi and the following month he was detached to become Base Commandant; in December 1914 he escorted German prisoners to Bombay.

[8] Subedar Sher Baz IOM is commemorated on the Nairobi British and Indian Memorial in the Nairobi (South) Commonwealth War Graves Commission Cemetery.

[9] A Flying Column moved rapidly without being encumbered by a slower-moving administrative tail. However Flying Columns could only quickly react to situations and could not stay on operations very long, as supplies, water and ammunition soon ran out.

[10] The name for a local German colonial force.

[11] 'C' and 'F' Companies were at Tembo in the Tsavo Valley and 'E' and 'G' Companies were at Gazi on the coast.

[12] Mule-packed 10-pounder guns that could be broken down into single mule loads. The barrels could be unscrewed into two pieces.

[13] Field Companies each contained up to 200 Askari and 20 Germans whilst Schutzen Companies were composed only of German or Austro-Hungarian reservists (or seamen stranded in GEA). The Schutzen Companies varied considerably in strength.

[14] Two of the EAMR troopers were later awarded Distinguished Conduct Medals.

[15] Unarmed non-combatants who nevertheless had important tasks to perform such as carrying ammunition and equipment or driving mules.

[16] Two of these Volunteer machine gunners were later awarded Distinguished Conduct Medals.

[17] Captain H.H. Sandbach, EAMR, who was acting as a staff officer with the Decisive Attack Column.

[18] Lieutenant D.D. Haskard, 27th (Bengal) Mountain Battery.

[19] After Longido many disillusioned EAMR troopers received the permission of the Governor, who was outspokenly anti-war, to return to their farms and civil occupations.

[20] This battalion, in IEF 'B', was the only British infantry unit in either of the IEFs. When IEF 'B' sailed away from Tanga it docked at Mombasa where all its troops were merged with IEF 'C'.

To return to Harry's Africa click HERE