The Suez Canal 1914-15

Part II: The Indian Army gallantry awards

To Read Part One

Thanks to the very detailed Despatch written by Major General A. Wilson CB, Commanding the Suez Canal Defences, forwarded to the General Staff, Headquarters, Cairo on 11th February 1915, and subsequently included in Despatch No I of Lieutenant General J.G. Maxwell, Commander of the Force in Egypt, dated 16th February 1915, it has been possible to identify the gallantry attributed to nearly all the following awards.

This list is confined to combat-unit members of the Indian Army who were in close contact with the enemy or under effective enemy fire, and whose gallantry resulted in their eligibility for medals or emblems. Where citations were not published extracts from General Wilson's and General Maxwell's Despatches are used. At the time of the consideration for these awards the Military Cross had only recently been introduced, and so it does not feature here. General Maxwell's Despatch No I was special in that it named several Indian Army officers and soldiers individually; future despatches covered more and larger aspects of warfare with less reference to individuals.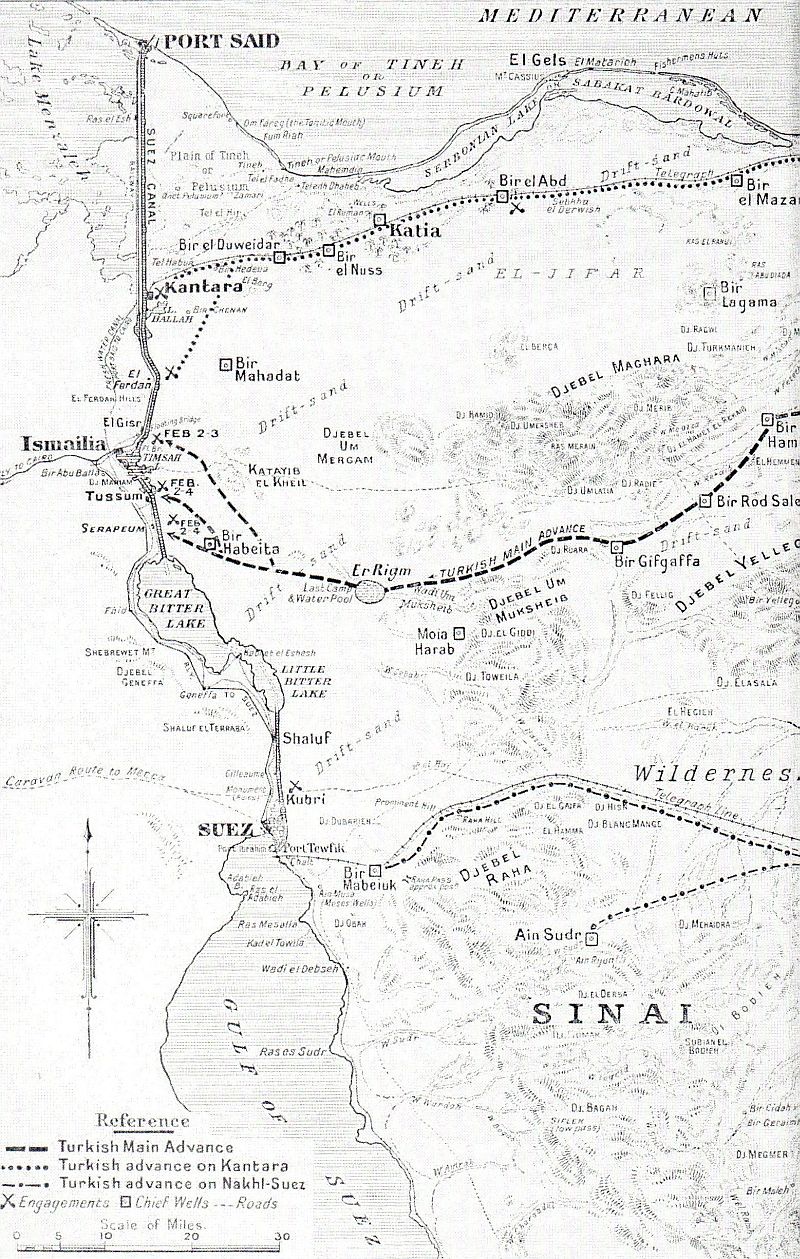 Above: Turkish routes and attacks on Canal


Companion of the Most Honourable Order of the Bath (CB)

Lieutenant - Colonel (Temporary Colonel) Stannus Geoghegan, Indian Army (formerly 74th Punjabis ).

At 8.40 a.m. Colonel S. Geoghegan, commanding 22nd Brigade, after a personal reconnaissance of the enemy's positions, sent a detachment consisting of four double companies drawn from the 2nd Rajputs and the 2/10th Gurkha Rifles to clear the east bank. As this counter-attack developed, the enemy fled in large numbers from the broken ground whence they had made their attempt to cross.


Companion of the Order of Saint Michael and Saint George (CMG)

Lieutenant-Colonel (then Major) Thomas Robertson Maclachlan, 92nd Punjabis.


On the 4th February, as some firing had taken place from the east bank during the night, two companies of the 92nd Punjabis were sent out at 8 a.m. to clear that bank, and located a body of some 200 to 250 men still entrenched there. On the approach of this detachment the enemy made signs of surrender, but subsequently reopened fire. Supports of one double company each of the 27th and 67th Punjabis and 128th Pioneers were despatched under the command of Major Maclachlan, 92nd Punjabis, who concentrated his men, opened a heavy fire, and then charged. This time the enemy threw away their rifles and surrendered, six officers, 251 men, and three machine guns being captured; 59 men, including a German officer (Major von den Hagen), were found killed at this point.


Companion of the Distinguish Service Order (DSO)

Captain Arthur John Herbert Chope, 2nd King Edward's Own Gurkha Rifles (The Sirmoor Rifles) (attached Bikanir Camel Corps).

A patrol of the Bikanir Camel Corps under Captain A. J. H. Chope, 2nd Gurkha Rifles, consisting of one Indian officer and twenty other ranks, encountered a force of some 200 Bedouins and Turks on the 20th November, 1914, near Bir-el-Nuss, and in spite of the enemy's treacherous attack, due to the abuse of the white flag, extricated itself successfully from a somewhat difficult position. Our patrol, which lost one Indian officer and twelve other ranks killed and three Sepoys wounded, inflicted some sixty casualties on the enemy.

Major Oliver St. John Skeen, 62nd Punjabis.


The enemy made three distinct attempts to cross the Canal at points between miles 47'4 and 48'4. One boatload of the enemy landed opposite mile 48'3, and were charged by a small party under Major O. St. J. Skeen, 62nd Punjabis. All were killed or wounded. His skilful leading in the attack of the 4th February was instrumental in causing the surrender of the enemy, upon whose trenches he brought to bear an effective enfilading fire.


Captain Mountiford Hickman Llewellyn Morgan, 62nd Punjabis.


By his exertions and example frustrated a very determined attempt of the enemy to effect a landing. Though wounded early on the 3rd, he continued in command of his double company throughout the day.

Captain Gerald Charles Wale Willis, 31st Duke of Connaught's Own Lancers (attached to an Imperial Service unit).

Captain G. C. W. Willis, 31st Lancers, Special Service Officer, has displayed energy and enterprise, his reconnaissance work being particularly valuable.

Major Robert Welland Knox, M.B., Indian Medical Service, 137th Field Ambulance.

Major R. M. Knox, I.M.S., and his officers were energetic and expeditious in the disposal of the large number of wounded on their hands.

Above Left: Havildar Muhammad Afzin IOM, 92nd Punjabis
Above Right: Jemadar Indar Singh IOM & Havildar Ganda Singh IOM, 128th Pioneers


Indian Order of Merit, 2nd Class.

1543 Sepoy Ali Khan, Bikaner Camel Corps.

For conspicuous conduct and gallantry throughout the engagement at Bir-el-Nuss, Egypt on the 20th November 1914, during which he displayed self-reliance and power of command of a very high order and by his example encouraged his comrades, all of whom were young soldiers.

762 Havildar Suba Singh, 56th Punjabis.

For conspicuous gallantry and devotion to duty when in command of a patrol of nine men on the Suez Canal on the 22nd March 1915. Havildar Suba Singh surprised and engaged a strong raiding party of Turks estimated at 400, under German officers and in the fight that ensued, he showed a determined front and fought with great gallantry. Although severely wounded Havildar Suba Singh continued to lead and encourage his men and extricated his patrol from a very difficult situation with a loss of two killed and three wounded, whilst the losses to the enemy were estimated at 12 killed and 15 wounded.

279 Naik Safdar Ali (Posthumous) and 1878 Sepoy Sher Khan, both 62nd Punjabis.

For conspicuous bravery in the action near Tussum in the Suez Canal operations on 3rd February 1915. These two men led their comrades down a steep sandy bank practically to the water level, under a particularly hot fire, to charge the enemy who were landing from a boat. Sepoy Sher Khan was severely wounded six yards from the boat. In the final advance to the boat, Naik Safdar Ali was again in advance of his comrades and was hit one yard from the water's edge. He died a few minutes later.

1753 Havildar Muhammad Azim, 92nd Punjabis.

For conspicuous gallantry near Serapeum in operations on the Suez Canal on the 4th February 1915. He was wounded in the side when close to the trench of the enemy, who had made signs of surrender and apparently treacherously fired on the company he was with. He remained with his section, though wounded and when his company took up a position to re-engage the enemy he kept his men steady under a hot fire and directed their fire with coolness and pluck. He was present at the final surrender of the enemy and marched back with the prisoners to camp, refusing any attention to his wound until he arrived there.

| | |
| --- | --- |
| | |
Above Left:Naik Nihan Singh IOM, 92nd Punjabis.
Above Right: Naik Safdar Ali IOM & Sepoy Sher Khan IOM, 62nd Punjabis

Naik Nihan Singh, 92nd Punjabis.

For conspicuous gallantry at Tussum during operations on the Suez Canal on the 3rd February 1915, when his company moved out to counter-attack some of the enemy in a trench close to the post. Naik Nihan Singh, alone, worked his way to a point whence he shot one of a group of the enemy who were firing on and had wounded some of his company, the remainder of the group rushing back to their trench. On being joined by other men of his squad, he kept up a fire on the enemy in the trench and enabled his company to get to a point from which they could enfilade the trench, after which the enemy surrendered. During the remainder of the day's fighting, Naik Mihan Singh led his sqad with coolness and pluck.

Sepoy Dasunda Singh, 89th Punjabis.

For conspicuous gallantry in the operations on the Suez Canal on the 3rd February 1915. He brought up ammunition under a heavy fire and each time on the return journey carried back a wounded man to the ambulance which was about 800 to 1,000 yards in rear. He also carried Sepoy Hakim Singh, who was killed and Sepoy Sucha Singh, who was wounded, from the firing line, removing his boots in order to perform the journeys quicker.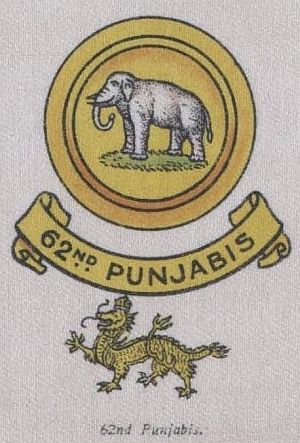 Jemadar Indar Singh, and 3397 Havildar Ganda Singh, both 128th Pioneers.


For gallant conduct and good work at Tussum on the 3rd February 1915 in the operations on the Suez Canal. When Lieutenant Fitzgiggon, who commanded a platoon, was killed, the command of the platoon devolved upon Jemadar Indar Singh who continued the fight until relieved by the 2nd Rajputs. Jemadar Indar Singh and Havildar Ganda Singh behaved gallantly in charging a number of the enemy, who had landed, with fixed bayonets.


805 Rifleman Joglai Rai, 2-10th Gurkhas (Posthumous).


For conspicuous bravery on the 3rd February 1915 in the operations on the Suez Canal, in responding to a call for volunteers to carry a message along the firing line to 2nd Lieutenant Scott. Rifleman Joglai Rai ran along the firing line with the message and was wounded twice before he delivered it to 2nd Lieutenant Scott, who had him attended to. This rifleman showed great pluck in returning to the firing line after he was wounded and until the order was received to retire, when he went back with the company. He had to be ordered to go to hospital and died of his wounds six days later.

Indian Distinguished Service Medal.

115 Sepoy Faiz Ali Khan, Bikaner Camel Corps (Imperial Service Troops). For gallant conduct on the 20th November 1914 in the engagement at Bir-el-Nuss.

2062 Driver Abdulla, 33rd Mule Corps. Carried a box of ammunition into the firing line, and walked up and down the latter, under fire, distributing ammunition.

2393 Lance Naik Badan Singh, 2nd Rajputs. Showed great coolness as No 1 of his Maxim gun detachment when under fire from hostile machine guns which could not be located.

Subadar Major Farman Ali, 92nd Punjabis. Led his men very gallantly and ably assisted Lieutenant Thomson-Glover.

Risaldar Subbaraja Urs, Mysore Imperial Service Lancers. This award was gazetted alongside the preceding three awards and is assumed to be for gallantry associated with the defence of the Suez Canal. (Perhaps for reconnaissance duties.)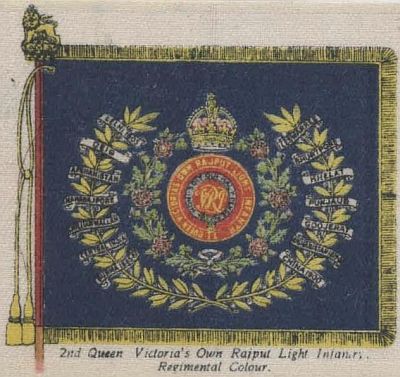 Mentioned and Brought to Notice in Despatches. (Those listed above for medals have been omitted from this list.)

Captain R.T. Arundell, 2nd Queen's Own Rajput Light Infantry.
The advance northward on the east bank of the two platoons, 2nd Rajputs, was checked short of the broken ground by fire from1 the enemy posted there, aided by the fire of small parties which were still hidden at the foot of the west bank. It was here that Captain R. T. Arundell was killed while gallantly leading his men.

Lieutenant J.W. Thomson-Glover, 35th Sikhs (attached 92nd Punjabis).
In the attack on the Toussoum post, about 350 of the enemy managed to establish themselves during the night in some of the outer trenches which are only occupied by the garrison by day. A number of this party were killed as soon, as it was light by the fire of our machine guns, and the remainder were either driven out or killed, and some 80 prisoners captured by a local counter-attack which was skillfully led by Lieutenant J. W. Thomson-Glover, 92nd Punjabis. Seven Turkish officers and 280 other ranks, with much material, were taken on this occasion.

Captain L.F.A. Cochran, 72nd Punjabis (attached 92nd Punjabis).
The enemy held up a white flag and made signs of surrender, whereupon Captain Cochran and some of his party advanced towards them. After three Turks had surrendered, fire was re-opened by the enemy, and our troops had to fall back. Major-General Wallace then ordered out reinforcements . . . it was in this second attack that Captain Cochran was killed.

Major A.K. Rawlins, 24th Punjabis, Special Service Officer with Imperial Service Troops.
Has displayed energy and enterprise, his reconnaissance work being particularly valuable.


Captain W.H. Hastings, 92nd Punjabis.
As machine-gun officer at Toussoum, rendered valuable service in stopping the enemy's attempts to bring boats on to the Canal and in preventing the retreat of the enemy when they were turned out of the trenches which they had occupied.

Lieutenant H. Greene, 92nd Punjabis.
Took over the command of Captain Cochran's double company after the latter was killed, and handled it very well.

Lieutenant R.A. Fitzgibbon, 128th Pioneers.
Behaved with conspicuous gallantry. When severely wounded he ran a considerable distance under fire with a message to the 5th Egyptian Battery. He has since died of his wounds.

Captain H.E. Weekes, 2nd Battalion, 10th Gurkha Rifles.
Led his double company skillfully and displayed promptitude and initiative in supporting the double company of the 2nd Rajputs after Captain Arundell had been killed.

Captain G. Channer, 14th (King George's Own) Ferozepore Sikhs.
In the attack of the 28th January, the enemy advanced along the telegraph line on one of our piquets, consisting of a detachment of the 14th Sikhs under Captain Channer, which they attacked about 2.45 a.m. The action continued for about half an hour, and the enemy attempted to advance, but was unable to do so.

Lieutenant Colonel F.G.H. Sutton, 2nd Battalion, 10th Gurkha Rifles.
Our troops, delivering a counterattack, now occupied a ridge about half a mile north-east of Serapeum, and formed a line facing the enemy with their left flank drawn back to the Canal. They consisted of two double companies 92nd Punjabis facing northeast, two platoons 2nd Rajputs facing north, with six platoons 2/10th Gurkha Rifles in support. The whole was under command of Lieutenant Colonel F. G. H. Sutton, 2/10th Gurkha Rifles.

1397 Havildar Hira Singh, 2nd Rajputs.
Showed great coolness and volunteered for several missions which entailed his coming under a heavy fire.

284 Havildar Muhammad Khan, and 1618 Lance Naik Muhammad Khan and 1686 Sepoy Bahadur Ali, 62nd Punjabis.
Showed exceptional pluck under fire.

1675 Sepoy Amir Khan, 62nd Punjabis.
Commended for bravery in action.

Sepoys 2121 Pala Singh and 1343 Mehr Singh, both 89th Punjabis.
Brought up ammunition to the firing line several times under a heavy fire.

Jemadar Partab Singh, 2nd Queen Victoria's Own Rajputs.
Proved himself a cool and capable leader in trying circumstances.

Jemadar Assa Singh, 2nd Queen Victoria's Own Rajputs.
Held an exposed position throughout the day, and the skill with which he controlled and directed a covering fire proved of great assistance to troops crossing gullies where they were exposed to the enemy's fire.

Subadar Kalu Khan and Jemadar Sher Zaman Khan, 62nd Punjabis.
Subadar Kalu Khan and Jemadar Sher Zaman Khan supported Major Skeen very pluckily on the 3rd, and Jemadar Sher Zaman Khan again distinguished himself in the action of the 4th February.



(An edited version of this article appeared in a recent edition of Durbar, the journal of the Indian Military History Society – see: http://imhs.org.uk/ )


Footnote:

No. 762 Havildar Suba Singh, 56th Punjabis, Indian Order of Merit award

A recent perusal of Forty Years a Soldier – a volume of recollections by Major-General Sir George Younghusband (G.P. Putnam's Sons, New York 1923) discovered the background to this award.

After the failed Turkish attack on the Suez Canal in February 1915 the Turks left groups of soldiers near the east bank of the Canal. The mission of these groups was to block the Canal. Several large mines were actually rolled into the water in an attempt to sink Allied ships and whilst at least one of these submerged mines was hit by a ship, none of them detonated successfully. In fact the Turks and their German and Austro-Hungarian advisors were quite active in the Sinai Desert, dominating the wells in the interior (see article: HERE)

The British tactics were to build fortified posts on the east bank and to daily use camels to drag logs three metres long length-ways between posts. The logs were wrapped in canvas and left smooth, wide trails of sand behind them. Morning foot patrols checked the trails for signs of enemy parties having crossed during the night. The inland areas of the Sinai were only penetrated by short-duration Camel patrols because of water-supply problems. Air reconnaissance was used during daylight hours when the weather permitted, but the enemy was skilled at moving by night and camouflaging his position by day.

On the 22nd March 1915 the 56th Punjabi Rifles (Frontier Force) was manning posts on the east bank of the canal and Havildar Suba Singh was leading a dawn patrol from post to post when suddenly he observed Turkish heads appearing over a nearby sand dune and his patrol came under effective fire. Five Allied ships were approaching through the Canal and the enemy had covertly brought two field guns forward from Beersheba, 280 kilometres away, in an attempt to sink one or more vessels in the canal. Suba Singh, although badly wounded, got a warning message across to the west bank which halted the ships, and he recovered his wounded sepoys and fought a withdrawal action until support arrived. The Turks then withdrew.

Younghusband comments:

'When Lord Kitchener, who was then War Secretary, received the telegram giving an account of this gallant little affair, he at once wired out that the Havildar was to be promoted from the ranks and given a commission, and also that he was to be decorated with the Indian Order of Merit. I took this news down to him in hospital, and he was for jumping out of bed at once and going round to tell all his friends what the Great War Lord had done for him.'

Sadly the name of Jemadar Suba Singh IOM, 56th Punjabi Rifles (Frontier Force) appears on Panel 53 of the Basra War Memorial, Iraq (formerly Mesopotamia), with the date of death being 7th January 1916. He was the son of Amlu Singh, of Saddasingh Wala, Moga, Ferozepore, Punjab.


SOURCES:

-London Gazette No 29632, Supplement dated 21st June 1916, pages 6163-6168.
-London Gazette No 29180, Supplement dated 3rd June 1918, page 5364.
-London Gazette No 29344, Supplement dated 29th October 1915, pages 10727-10729.
-Duckers, Peter. Reward of Valour. The Indian Order of Merit, 1914-18. (Jade Publishing.)
-Chhina, Rana. The Indian Distinguished Service Medal. (Invicta, India, 2001.)

To Return to Harry's Africa go HERE