The 1st Battalion The Loyal Regiment (North Lancashire) in Action During April 1943

The Germans counter-attacked very quickly with infantry and tanks under heavy mortar bombardment. 2nd Brigade lost some ground then retook it, but at length was pressed backward along the ridge. The fighting was heavy and the casualties amounted to 57 killed, 262 wounded, and 190 missing, while 142nd Royal Army Corps which had come up in support ended the day with only 16 undamaged tanks out of 45, although only 8 men were killed and 11 wounded. Lieutenant W.A.S. Clarke, 1st Loyals, won a posthumous Victoria Cross, dying within a few feet of a machine-gun after destroying several others single-handed.

From the British Official History (page 437).


Algeria and Tunisia in 1943
The 1st Battalion The Loyal Regiment (North Lancashire) (1st Loyals), a battalion in the 2nd Infantry Brigade of the British 1st Division, sailed from Britain to North Africa and landed at Algiers in early March 1943. The situation in North Africa was that the British 8th Army had attacked the Germans and Italians from Egypt in the east and had pushed them across Libya into Tunisia. Meanwhile American and British troops had landed in Morocco and Algeria and were pushing German troops eastwards; the Germans as usual reacted professionally and on their western front the fighting had stabilised near Medjez-el-Bab in northern Tunisia.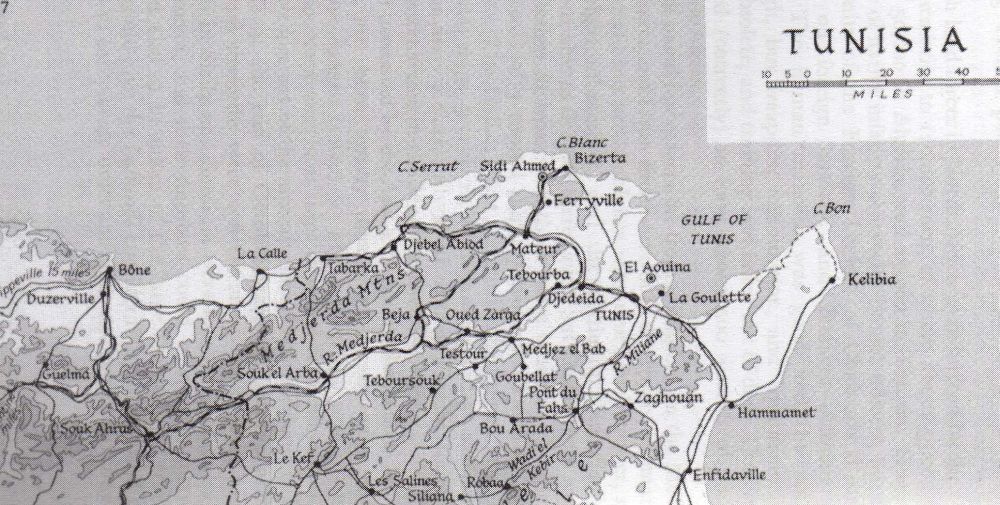 Above: Sketch map of Northern Tunisia
The defence of Medjez-el-Bab

On the night of 21st March 1943 1st Loyals, commanded by Lieutenant Colonel G.W. Gibson, marched 20 miles through bare, hilly farm and grazing land to a feature named the Basin, four miles south-east of Medjez-el-Bab, and took over positions from the 2nd Lancashire Fusiliers. On its right flank 1st Loyals had 6th Gordon Highlanders and beyond them the 2nd North Staffords. To the left the Loyals were protected by minefields and then a hill held by the 24th Guards Brigade. But facing the British troops was an excellent German formation, the Herman Goering Division.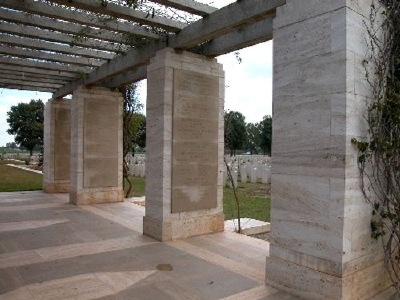 Left: Medjez El Bab Memorial for the Missing

Initially the Loyals worked at night, sending out reconnaissance patrols and also determining where minefields were, marking them, and laying new ones. The Battalion took its first casualties both from enemy ambush and friendly fire. The British were preparing an attack when on 21st April the Herman Goering Division, reinforced by the German 334th Division, forestalled them and attacked, pushing troops into the Basin. The Battalion came under effective enemy fire and replied with mortars and machine guns. The carrier platoon, driving open-topped tracked light vehicles, was commanded by Lieutenant D. Povey who worked well in going forward under fire to extricate some of the attached battery's anti-tank guns that needed re-positioning. Denis Povey later received a Military Cross and the section referring to this action read:


FOR CONSPICUOUS GALLANTRY AND DEVOTION TO DUTY

During an enemy tank and infantry attack on BANANA RIDGE area in the early hours of 21 Apr 43, a Battery of Anti-tank guns while deploying to deal with the attack, became involved with the enemy, and as a result, the leading Quad (towing vehicle) of the Battery and a truck were set on fire and the road blocked.

The Battery Commander was anxious to turn the guns around and get then into action by another route, but was unable to do so because his guns and vehicles were under enemy fire and crews and drivers had taken a position to defend them.

At this time Lieutenant Povey arrived with two carriers. He promptly got into action with his 2-inch mortars and light machine guns and kept the enemy engaged until all guns and vehicles had been turned round and were clear of the area.

It was Lieutenant Povey's complete disregard of his own safety, his coolness and initiative, and the speed with which he brought his small force into action, that made it possible for these guns to deal successfully with the enemy tanks later.

Above: Medjez El Bab area
From their new positions these guns worked well, knocking out six German tanks whilst 14 German prisoners were taken. The Germans then withdrew under British mortar and tank fire, but left defenders on a feature just forward of the Basin named Djebel Kesskiss. Colonel Gibson tasked his 'C' Company, commanded by Major G.A. Bouch, to attack and capture the djebel (hill).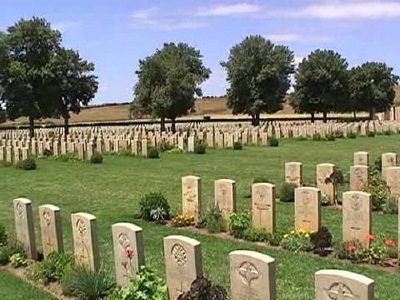 Right: Medjez El Bab War Cemetery

The result of the attack is best described by using two citations for gallantry awards. Major George Albert Bouch was awarded a Military Cross:

On 21 Apr 43, Major Bouch commanded 'C' Company during the attack on Point 250 of the KESSKISS feature. His fine leadership enabled his Company to capture its objective in spite of heavy opposition. For two hours whilst his Company was under heavy fire from tanks and machine gun posts overlooking the feature, Major Bouch held on, encouraging his men and manoeuvring his Company into a position to attack. It was Major Bouch's example and disregard for personal safety which inspired his men to go for the enemy and clear him out.

I strongly recommend the award of the Military Cross to this officer, whose fine leadership and example enabled his Company to recapture a position in spite of heavy opposition and in most difficult circumstances. From personal knowledge of this officer, I know him to be an outstanding leader, and to be at his best when things are at their worst. (Remarks of the Brigade Commander.)

No. 3861072 Corporal Adam Leyland was awarded a Distinguished Conduct Medal, and the part concerning the Kesskiss attack read:

On 21st Apr 43, Corporal Leyland took part in a counter-attack on Point 250 of the KESSKISS feature. Through his leadership, example and agressiveness he inspired his section to capture its objective, and seek out, kill or capture 10 Germans and at least one Machine-Gun 34 (MG Type 34 was very effective German machine gun).

'C' Company did well on Djebel Kisskiss, taking 62 prisoners; 1 LOYALS had lost two officers and three soldiers killed, 15 men wounded and one office and four soldiers taken prisoner.




The battle of Gueriat El Atach

Four miles east of the Basin was a hill named Gueriat El Atach that was defended by three German battalions whose theatre commander, General Von Arnim, had decreed: "The enemy is in front, the sea is behind, there must be no more retreat". A fourth German battalion with some tanks was held in reserve ready to counter-attack any British assault.

At 0200 hours on 23rd April 1st Loyals with 2nd North Staffords on its right crossed the start line to attack the enemy position. The Loyals frontage was 600 yards wide. Company guides under Major E. Fulbrook led the companies forward. The whole of the British 1st Division advanced on either side of the Loyals' attack. The British artillery barrage included 5% smoke shells which obscured view and hindered maintenance of direction, but by 0400 hours 'B' Company, who had kept up with the barrage, unwittingly advanced through a gap in the enemy defences, and was on the reverse slope of the djebel where it took its objective and 16 prisoners, having lost one man killed and six wounded.

'A' Company was delayed by having to capture a strong point containing enemy mortars and machine guns; the capture was achieved and 40 prisoners were taken but then the Company was well behind the barrage when it advanced into an enemy minefield and took casualties when four mines exploded. The Company then struggled to advance up the hill because of effective enemy fire.

On the left flank 'D' Company was prevented from advancing by a German mortar and six machine guns and took heavy casualties. The Loyals Tactical HQ advanced on a compass bearing and walked into a minefield where Colonel Gibson was mortally wounded and Major H.D. Oclee, who went to assist his Colonel, and the Intelligence Sergeant were killed. Only the Adjutant, the Intelligence Officer and a radio operator were unwounded; Major Bouch left his 'C' Company to temporarily command the Battalion and pulled the Tactical HQ back into safer ground, but men continued to be wounded by mines. Through some misunderstanding Colonel Gibson was left in the minefield but the Royal Army Medical Corps Medical Officer attached to the Loyals, Captain J.D. Dow, heard the Colonel calling out and went into the minefield to rescue him. For this and other gallant acts during the battle Captain Dow was awarded a Military Cross, and his citation is displayed later.

Major Bouch ordered 'C' Company to reinforce 'D' Company but ammunition was running out. A carrier vehicle came forward under fire to replenish the Companies with ammunition and Captain Denis Povey again displayed gallantry, the second part of his citation for the Military Cross explaining why:

On 23 Apr 43, during an attack on the GUERIAT-EL-ATACH feature, forward companies of the Battalion reported that they were running short of ammunition. At this time the Battalion gained a precarious foothold on the feature but the enemy was holding the dominating parts of it, and subjecting the whole of the Battalion front to very heavy machine gun and mortar fire.

Lieutenant Povey, realising the gravity of the situation, volunteered to take the ammunition forward in a Bren Carrier. He successfully completed two journeys in spite of the heavy fire, but in attempting the third journey, he was wounded. Nevertheless he completed the journey and, and it was largely due to Lieutenant Povey's coolness, courage and initiative that the forward Companies were able to maintain their hold on the feature.

The fine example set by Lieutenant Povey was reflected in the efforts made by the Battalion in subsequent incidents during the action even after he had been evacuated.


REMARKS OF BRIGADE COMMANDER

Strongly recommended. The initiative and immediate reaction of this officer in an obscure situation came to my personal notice. Consequent on action outlined in paragraph 1 (the action on 21 April) when enemy had penetrated to within a short distance of Brigade HQ, he positioned without hesitation two sections of Carriers the crews of which killed or captured a number of enemy.

To quote from the Loyals' regimental history:

Assisted by some tanks of the 142nd Regiment, Royal Armoured Corps, which had come up, 'A' and 'D' Companies, under Captain A.L. Knowles, succeeded by 0330 hours in taking Point 156. They were joined there soon afterwards by fifty men of the Scots Guards, who were without officers and had diverged from their own area. Thus at this hour the 1st Loyals had gained their objectives on both flanks, but were held up in the centre. Al four companies were now under mortar fire, and snipers hidden in the corn were also causing trouble. Casualties had already been high.

At 0545 hours Major Bouch was relieved by Major E. Fulbrook, who on hearing of the catastrophe at Tactical HQ had obtained his brigadier's permission to hand over his duties as route controller. It was on these very adverse circumstances that Major Fulbrook succeeded to the command of the Battalion in which he had served for thirty years, during which he had held every rank from that of Drummer upwards.

Once the British artillery barrage ceased at 0410 hours the Loyals and North Staffords were heavily mortared by the Germans who attacked the North Staffords soon after 0500 hours, driving that British battalion back one mile, where, because of heavy casualties it was reorganised into two rifle companies instead of four. This meant that the Loyals' right flank was exposed and the Germans soon exploited this, attacking 'B' Company, killing the company commander, Captain H. Grant, and pushing the Company back over the crest of Gueriat El Atach.




The award of a posthumous Victoria Cross

The only remaining officer in 'B' Company was Lieutenant Willward Alexander Sandys Clarke. He believed that he could re-take his objective with his men, and this official notice in the London Gazette described his extremely courageous actions:

The KING has been graciously pleased to approve the posthumous award of the VICTORIA CROSS to: — Lieutenant Willward Alexander Sandys Clarke (86517), The Loyal Regiment (North Lancashire) (Egerton, nr. Bolton).

For most conspicuous gallantry in action at Guiriat El Atach on the 23rd April, 1943. By dawn on that date, during the attack on the Guiriat El Atach feature, Lieutenant Clarke's Battalion had been fully committed. " B " Company gained their objective but were counter-attacked and almost wiped out. The sole remaining officer was Lieutenant Clarke, who, already wounded in the head, gathered a composite platoon together and volunteered to attack the position again.

As the platoon closed on to the objective, it was met by heavy fire from a machinegun post. Lieutenant Clarke manoeuvred his platoon into position to give covering fire, and then tackled the post single-handed, killing or capturing the crew and knocking out the gun. Almost at once the platoon came under heavy fire from two more machine-gun posts. Lieutenant Clarke again manoeuvred his platoon into position and went forward alone, killed the crews or compelled them to surrender, and put the guns out of action.

This officer then led his platoon on to the objective and ordered it to consolidate. During consolidation, the platoon came under fire from two sniper posts. Without hesitating, Lieutenant Clarke advanced single-handed to clear the opposition, but was killed outright within a few feet of the enemy. This officer's quick grasp of the situation and his brilliant leadership undoubtedly restored the situation, whilst his outstanding personal bravery and tenacious devotion to duty were an inspiration to his Company and were beyond praise.



'C' Company continues the fight for Gueriat Al Atach

Whilst the other Companies in 1st Loyals were evacuating casualties and holding ground so far gained, 'C' Company went into the attack, and the citation for the award of a Military Cross to Lieutenant Douglas Wilfred Pastore is explanatory:

On 23 April 43, during the attack on the GUIRIAT EL ATACH feature, the Officer Commanding 'C' Company (Major Bouch) took over temporary command of the Battalion, the Commanding Officer having been mortally wounded.

Lieutenant Pastore, the sole remaining officer of 'C' Company, took, command, and at about 0600 hours was ordered to counter-attack Point 156 of the feature. The Company came under concentrated machine gun fire from Point 156 almost at once, but Lieutenant Pastor continued to lead his men forward to the final assault where there was bitter fighting. Nevertheless, with the Company Commander foremost in the fight, encouraging and leading his men, the objective was captured. Only 20 men remained by this time, and Lieutenant Pastore himself was wounded but he remained with his Company, and it was due entirely to the manner in which he handled his small force that it was able to clear and establish itself on this feature.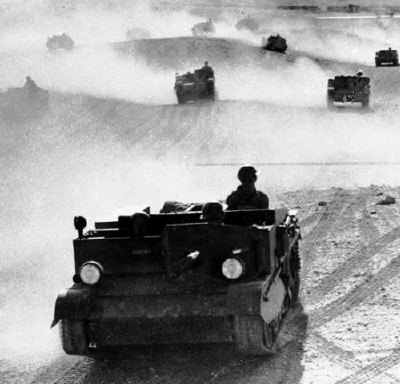 Left: British Universal (Bren) Carriers in North Africa

For the next 12 hours the hill was mortared and machine gunned incessantly, but Lieutenant Pastore moved amongst his men encouraging and inspiring them by his own fine example. It was undoubtedly due to his magnificent leadership and personal courage that the feature remained in our hands and a very serious situation averted.
I most strongly recommend the award of the Military Cross to this officer. It was due to his courage and fine example that a serious situation was averted and the position subsequently consolidated. (Brigade Commander).

I strongly recommend an immediate award in this case, this officer displayed great gallantry and great tenacity under mortar and machine gun fire. (Divisional Commander).

The Loyals' regimental history omits to mention Douglas Pastore by name when describing this action, despite the Brigade and Divisional Commanders being impressed by his professional and gallant performance. But bravery was also displayed by junior ranks of 'C' Company on Point 156. Corporal Adam Leyland was in action again and the remainder of the citation for his Distinguished Conduct Medal read:

On 23rd April 43, during a counter-attack on Point 156 of the GUIRIAT EL ATACH feature, Corporal Leyland led his section through intense mortar and machine gun fire. He captured the position on the slope facing the enemy, and for nearly 12 hours all attempts to dislodge his Section failed. On several occasions he crawled over the hill under machine gun and mortar fire to give information to his platoon commander. He was wounded three times, and refusing offers of help, led his Section back in good order when relieved by another company.

The gallantry and leadership displayed by this Non-Commissioned Officer on 21st April and 23rd April, materially affected the success of the operations in which his Battalion was concerned. I consider his action an outstanding example of leadership and inspiration to all.

Sidney Williams, a Private in 'C' Company, displayed the sterling qualities that Lancashire soldiers can produce on the battlefield and was awarded a Military Medal:

On 23 Apr 43 Private Williams was foremost in his platoon in the counter-attack on Point 156 of the GUIRIAT EL ATACH feature. His courage and dash was an example to all his platoon.

When his Section captured their objective, finding his Section Commander had been killed, he took charge and held on for nearly 12 hours. When relief arrived, he helped his section (nearly all of whom were casualties) to withdraw in an orderly manner.

I recommend the award of the Military Medal to Private Williams whose courage and leadership under most difficult circumstances, when his Platoon and Section Commanders had been killed, enabled the Section of which he assumed command to maintain its position. (Brigade Commander). Strongly recommended. (Divisional Commander).

During the 12-hour period mentioned above the Loyals were heavily mortared, machine gunned and bombed by German planes; fifteen officers and 244 soldiers became casualties. Some British tanks and the 1st Battalion The Duke of Wellington's Regiment were sent forward to take over the Loyals' positions on Gueriat El Atach but they could not withstand the fierce firepower of the Herman Goering and 334th Divisions and their supporting aircraft, and all British troops were withdrawn from the Djebel by nightfall. The 1st Loyals' strength was reduced by around 30% to 14 officers and 520 men. Seven officers and 21 soldiers had been killed and one officer and 82 soldiers were missing. The wounded and evacuated figure appears below in Captain Dow's citation.

The hardest-worked man in 1st Loyals had been the Medical Officer attached from the Royal Army Medical Corps, Captain John Dickson Dow and his Military Cross citation describes his saga:

During the attack on the GUIRIAT EL ATACH feature in the early hours of the morning of the 23rd April 1943, Captain Dow, without hesitation, entered a minefield in the dark (knowing it existed) to render first aid to his Commanding Officer and those who were lying there mortally wounded.

For the next 24 hours he repeatedly went to forward areas under heavy mortar fire and machine gun fire, to give treatment and to evacuate badly wounded men.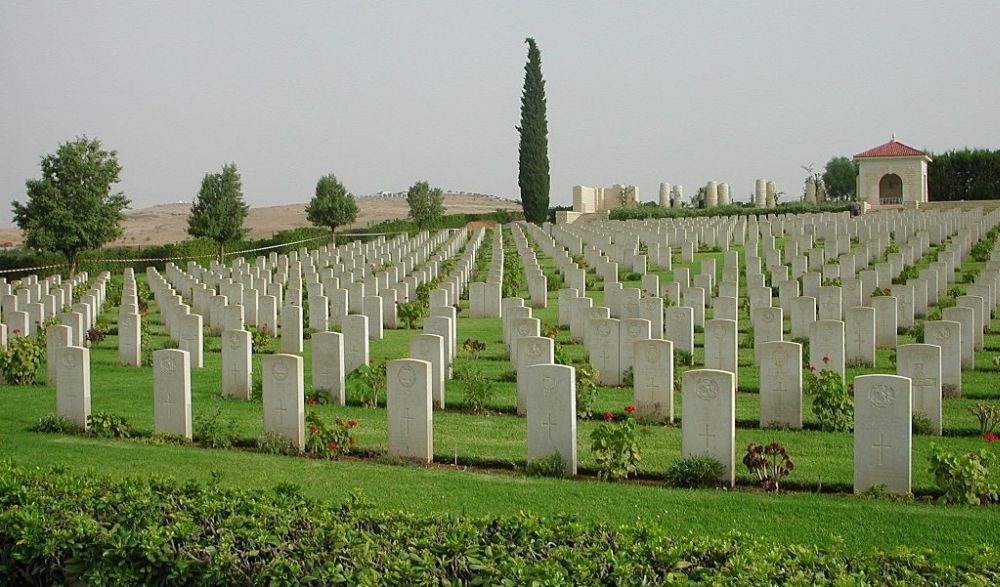 Above: Massicault War Cemetery Tunisia
He undoubtedly saved the lives of many who would have died but for his trepidation in going to their assistance. His example kept the morale of the Stretcher Bearer Section to the highest pitch, and during the next 24 hours, 181 casualties were evacuated to the Advanced Dressing Station.

I strongly recommend the award of the Military Cross to this officer. Without regard for his own personal safety he entered a minefield, beset with booby traps, in which his Commanding Officer and other officers and men had been severely wounded. He set a fine example throughout the course of the action. (Brigade Commander).

On the following day the 3rd Infantry Brigade of the 1st British Division, supported by artillery and tanks, renewed the attack and in an overnight battle seized and held Gueriat El Atach, whose German defenders had suffered heavily from attacks delivered by 1st Loyals during the previous night and day.



The action at the Gabgab Gap

1st Loyals absorbed 29 soldiers as reinforcements and was in action again on 28th April, positioned to repel a German attack through the Gabgab Gap which was located around three miles east of Gueriat El Atach. At 1700 hours enemy machine guns, mortars and tanks engaged the Loyals' positions; British tanks sent to assist the Battalion unfortunately shot-up 'C' Company's vehicles by mistake. The Germans withdrew under pressure from other units in the British 1st Division. The Loyals had been been located in a reserve position but even so took casualties from enemy fire, as six men were killed, 18 were wounded and 25 were missing.

On the following day the British higher command, who were focused on the fighting to the north-west, failed to mine Gabgab Gap or position anti-tank guns there, and the Germans took advantage of this by pushing over 20 tanks through the Gap. The British response was to fire a concentrated artillery barrage onto positions held by 1st Loyals. Colonel Fulbrook was not made aware of this until the last minute, but he managed to get the Battalion out of the target area except for 'C' Company who were hit badly by British shells and then overrun by German tanks; for all practical purposes 'C' Company ceased to exist.



Above: Oued Zarga War Cemetery

The remaining Companies in the Battalion formed tight perimeters of their own but Support Company and most of the Battalion transport were overrun from all angles by enemy tanks and the Battalion's anti-tank guns were destroyed. That night was confused but rations were brought forward just before dawn by the Transport Officer, Captain B.H. Cumberland, who was then killed by enemy mortar fire. The Germans as usual diligently recovered all their knocked-out tanks under cover of darkness.
On 30th April both sides regrouped and searched for casualties but at 1000 hours 'D' Company, who had reinforced 1st Battalion The Irish Guards, was attacked and when it ran out of ammunition some men of the Company were taken prisoner. But No. 3853118 Sergeant Edward Murphy made a name for himself in 1st Loyals by refusing to give up the fight and he was awarded a Distinguished Conduct Medal:

For conspicuous gallantry on 29th April 1943 on Point 212 of the Djebel-el-Asouid feature. (The regimental history infers the date as 30 April.)

On 29th April 1943, Serjeant Murphy commanded 18 Platoon, 'D' Company, when the Company reinforced the Irish Guards on Point 212 in order to hold the position against tank and infantry attacks.

During the whole of the day Serjeant Murphy displayed great personal gallantry and magnificent leadership.

Point 212 was attacked five times by enemy infantry supported by tanks and heavy mortar fire. Again and again Serjeant Murphy, by his example and leadership, inspired his platoon to beat off the attacks. At one stage 18 Platoon temporarily ran out of ammunition, but Serjeant Murphy not to be outdone, hurled stones at the enemy, and his men seeing this astonishing sight again beat off the attack, with stones and rifle butts.

Apart from his personal courage and tenacity, it was Serjeant Murphy's example which enabled his men to hold fast, and at no time did they yield an inch of ground.

I was present on Point 212 during the action in which 'D' Company reinforced the Irish Guards, and I could not help noticing the magnificent manner in which Serjeant Murphy led his platoon.

At all times he showed exceptionally good leadership and held his platoon together by his devotion to duty under heavy mortar and machine gun fire in the face of repeated and determined attacks by the enemy. His manner was a fine example to the men under his command. At one time during the action his platoon were short of ammunition, but Serjeant Murphy carried on the defence by throwing stones at the enemy until more ammunition was available.

At all times he showed complete disregard for his own safety and was a shining example to his platoon.

Later in the day 'D' Company was relieved by two companies of the 6th Gordon Highlanders and it moved back to join the Battalion which was placed in reserve. Once again around 30% of the men who had taken to the battlefield on 28th April were casualties, two officers and 21 men had been killed, two officers and 100 men wounded, and 59 men were reported missing; the Battalion strength was reduced to less than 400 all-ranks.

On 1st May the Battalion marched back to the neighbourhood of Crich El Ouad to be held in Divisional Reserve and 89 replacements from the Royal Inniskilling Fusiliers and London Irish were absorbed into 1st Loyals. The Battalion now had only eleven officers, but the Canadian Army quickly temporarily loaned two Majors, three Captains, two Warrant Officers and five Sergeants to fill gaps in the company establishments.
Left: Destroyed British Artillery Quads

On 4th May the Germans made their last counter-attack through the Gabgab Gap but the British defences, now strengthened, held and although the Loyals were stood-to they were not used. Apart from minor mopping-up operations 1st Loyals was not involved in further fighting in North Africa as the Germans and Italians in Tunisia surrendered on 13th May – but another grim series of battles lay ahead in Italy.
Colonel Fulbrook's courage and decisive leadership in action resulted in his being appointed a Companion of the Distinguished Service Order (DSO) with this citation:

On 24 April 1945 at the time of the initial attack on the GUERIAT-EL-ATACH, East of MEJDEZ-EL-BAB, Major Fulbrook was in command of the Traffic Regulating Point in rear of the objective. On hearing that the Commanding Officer and Acting Second-in-Command of his Battalion had become casualties, as his task was completed, he went forward immediately and assumed command of the Battalion. The situation was serious, as a result of enemy counter-attack, and the Battalion, which had suffered heavy casualties, was scarcely able to hold the objective which it had seized.

Major Fulbrook was imperturbable. The calm and collected manner in which he immediately dealt with this confused situation was highly commendable. It was due to his inspiration and leadership that the remnants of the Battalion were so disposed that they retained and bettered their hold on the objective and consolidated their position.

On 29 April Lieutenant Colonel Fulbrook's Battalion was in position on Point 171 when the enemy attacked South of DJEBEL-BOUAOUKAZ, East of MEJDEZ-EL-BAB. Although the position included Battalion HQ it was over-run by enemy tanks. Lieutenant Colonel Fulbrook gallantly held on and it was due to his courage, determination and control that his Battalion maintained their position in spite of casualties and a tense situation.


Commonwealth War Graves Commemorations of men of the 1st Loyals in Tunisia.

· Medjez El Bab War Cemetery – 23 Burials.

· Medjez El Bab Memorial to the Missing – 20 Names.

· Massicault Cemetery – 58 Burials including Colonel Gibson and Lieutenant Sandys-Clarke VC.

· Oued Zarga War Cemetery – 6 Burials.

TOTAL = 107 Commemorations.

Endnotes.

§ Anti-personnel mines were (and still are) designed to maim rather than kill as that demoralises an enemy and often leaves him with difficult casualty evacuation situations.

§ When used effectively in hilly country mortars are decisive weapons as they are usually deployed on or just behind reverse slopes, making counter-bombardment against them difficult as the fall of shot cannot be seen by opposing observers. But as mortars cannot use overhead protective cover because of the high trajectory of the weapon they are vulnerable to variable time (airburst) fuzed bombs and shells.

§ Many wounded die of their wounds, and many missing men are either found dead or never seen again. Other missing men may have been taken prisoner.

§ Death or wounding from friendly fire is not an unusual occurrence.

§ When fighting aggressively against professional well trained and motivated troops such as the Germans, the life expectancy on the battlefield for teeth-arm officers, particularly infantrymen, was limited.


SOURCES:

Captain C.G.T. Dean. The Loyal Regiment (North Lancashire) 1919-1953. (Regimental Headquarters, The Loyal Regiment (North Lancashire), Preston, 1955).

Major-General I.S.O. Playfair. British Official History. The Mediterranean and Middle East. Volume IV. The Destruction of the Axis Forces in North Africa. (Naval & Military Press softback reprint).

Citations from The British National Archives.

Commonwealth War Graves Commission on-line records.

The London Gazette No. 36071, page 2937.