The Fighting in November 1918



Northern Rhodesia in late 1918

Northern Rhodesia, now named Zambia, saw a flurry of military activity in the early months of World War I as enemy troops from German East Africa (GEA), now Tanzania, threatened the northern border. Askari from the Belgian Congo, now the Democratic Republic of the Congo, crossed the border from Katanga to give timely assistance in repelling German raids. In May 1916 columns of troops from Northern and Southern Rhodesia, now Zimbabwe, invaded GEA across the northern border in concert with Allied invasions from British East Africa, now Kenya, and from Uganda and the Belgian Congo; the Congolese crossed Lake Tanganyika to enter GEA.

But since then there had been no fighting on Northern Rhodesian soil and the war effort consisted of recruiting Askari for the Northern Rhodesia Police (NRP) and the King's African Rifles (KAR); KAR recruitment in Northern Rhodesia was concentrated in areas adjacent to Nyasaland, now Malawi. As there was no permanent infantry unit in Northern Rhodesia the NRP had a proficient military wing that fought as infantry. Alongside the recruitment of Askari Northern Rhodesia had mobilised over 30,000 men to transport military supplies from the railway line to and beyond the northern border, using canoes on the waterways in the northeast of the country and thereafter porters who carried loads to tactical dumps from where other parties of porters carried the supplies forward to the troops fighting in GEA. This activity had slackened off somewhat by 1918 as the British troops in GEA were then receiving most of their supplies from northern Nyasaland, but the tactical dumps remained in Northern Rhodesia at locations such as Kasama and Fife.

To the east in Portuguese East Africa (PEA), now Mozambique, enemy troops from GEA known as the Schutztruppe had been leading the Allies a merry dance during 1918. The German commander, General Paul Von Lettow Vorbeck (right), raided Portuguese military bases for arms, ammunition and most importantly for bolts of trading cloth. With the cloth he purchased his food supplies from friendly villagers who were more used to Portuguese troops just requisitioning food without payment. British columns followed or tried to intercept the German trail and they initiated some fierce battles but the Schutztruppe always broke free relatively intact and continued zig-zagging across northern PEA. The German key to success was simplicity of military thought and action; General Von Lettow Vorbeck had no higher headquarters dictating his movements and actions, and no massive and ponderous supply chain bringing forward his ammunition and food, as the British had. German decision making was completely flexible.



The Schutztruppe leaves Portuguese East Africa

On the 28th September 1918 the Schutztruppe left PEA and entered GEA. The Allies expected von Lettow to march northwards where he could recruit more Askari and obtain food, but the German General had a different plan as his thoughts and ambitions were centred on the vast unguarded territories to his west. The Germans marched up the east side of Lake Nyasa and then moved along the border between GEA and Northern Rhodesia; two Ugandan battalions of the KAR followed them whilst companies from the NRP tried to intercept them.

The NRP Service Battalion did make an interception at Fusi, fifteen miles west of Songea in GEA on 4th October 1918. The NRP held a good position that the Germans were unable to break through; after fighting all day both sides withdrew but von Lettow out-flanked the NRP, who were now desperately short of ammunition, and continued his march.

Several Northern Rhodesia policemen fought well at Fusi and received gallantry awards. No. 229 Serjeant Chichasi was awarded an Imperial Distinguished Conduct Medal with the citation: For Conspicuous gallantry and devotion to duty at Fusse's Village on 4th/5th October 1918. This non-commissioned officer set a fine example to his section under heavy machine-gun fire and rifle fire at close range, and by encouraging the young Askari was largely instrumental in breaking off the enemy attack.

Military Medals were awarded to No. 451 Colour Sergeant Yasi for carrying orders across the battlefield under fire, to No. 421 Private Kunenga for carrying ammunition to troops under fire, and to No. A/205 Sergeant J. Kohr, British South Africa Police (BSAP) attached to NRP.

At Fusi NRP Privates No. 1699 Siyeya and No. S/33 Mwanabamba were killed in action, whilst Lieutenant N.J. Champion died of wounds. Thirteen policemen were wounded in action and one man was missing believed killed. Administrative difficulties then overtook the British caused mainly by their porters deserting whilst under fire at Fusi; one KAR battalion followed the Schutztruppe whilst the NRP and the other KAR battalion withdrew to Lake Nyasa where steamers were bringing up supplies.

Above: Von Lettow's sketch map


The action at Fife

The British soon realised that their supply dumps at Fife would attract the Germans, who also were troubled by the desertion of porters, and two NRP companies marched to Fife, arriving there on 31st October and 1st November. The Schutztruppe arrived on the afternoon of 1st November with around 1,200 Askari and immediately attacked the vastly outnumbered NRP who were positioned on a ridge overlooking the dumps. General von Lettow was advancing behind his leading troops when accurate bursts of NRP machine gun fire forced him to lie down with the bullets almost parting his hair. He afterwards recalled this as his most dangerous moment of the war, but he was able to safely withdraw after 30 minutes when the British fire subsided.

The Germans deployed a captured Portuguese trench mortar against the British position but fortunately for the NRP the second round exploded prematurely in the barrel and destroyed the mortar. When his troops had plundered some British supply dumps and set fire to others, von Lettow again out-flanked the NRP and marched his men and 400 cattle deeper into Northern Rhodesia towards Kasama via Mwenzo Mission, where the Germans were able to replenish their stocks of quinine.

During the fighting at Fife bravery was again displayed by NRP personnel and three men were awarded the Imperial Distinguished Conduct Medal. No. 640 Colour Sergeant Tegete repeated gallantry previously displayed at Fusi and his citation read: At Fusi Village on 4 October 1918. While under heavy machine-gun fire he set an outstanding example to all present, showing complete disregard of danger by walking up and down the line giving the men targets and controlling their fire. At Fife, 1st/2nd November 1918, he showed conspicuous gallantry and devotion to duty.


Machine gunner No. A/327 Private A.G. Charters, BSAP attached to NRP, was cited: For conspicuous gallantry in action and devotion to duty at Fife, 1st/2nd November 1918. He handled his gun with great ability and coolness, and although under heavy machine-gun fire, continued to search the enemy's position, and succeeded in temporarily silencing the enemy's fire.

Telegraphist No. A/325 Private G.S. Bouwer, BSAP attached to NRP and a member of the small Fife garrison, was employed in the dangerous task of a forward scout observing the German advance. He had apparatus to allow him to tap into telephone wires and his citation read: For gallant conduct and marked devotion to duty, 30 October 1918. When the post was evacuated he remained in close proximity, and with a vibrator tapped in until he saw an enemy patrol approaching. He retired three miles to a position overlooking Fife, and although his carriers deserted, he remained and gave valuable information.

After the German departure the 1st Battalion of 4th King's African Rifles (Uganda) arrived in Fife and on 4th November the KAR marched south after the Germans with two NRP companies attached. One of the NRP companies was then ordered to break away and march to secure Abercorn, now Mbala, at the southern end of Lake Tanganyika, but the battalion and its attached 'B' Company of the NRP marched in pursuit of the enemy.


The action at Tumba

On 6th November the KAR Askari under the command of Lieutenant Colonel E.B.B. Hawkins DSO, caught up with the German rear guard, commanded by Captain Franz Koehl, at Tumba water holes. The Ugandans pushed forward but the Germans were deployed on a wide front and one KAR company was sent to turn a flank whilst another charged forward. The charge succeeded and two enemy machine guns were captured, but a wide dambo then impeded the attackers, and the defenders were able to break contact and move south, leaving one dead German and 11 dead Askari behind. The British casualties were two Askari killed in action, one severely wounded British officer, two Askari wounded and missing and 23 Askari lightly wounded.

No. 5800 Acting Lance Corporal Lapach Oluwar of 4 KAR was awarded an African Distinguished Conduct Medal: For conspicuous gallantry in action and devotion to duty at Tumba, north-eastern Rhodesia on 6th November 1918. Subjected to a galling machine gun fire, he located the guns and crawled with two men to the flank, shot two enemy gunners and captured the gun, continuing throughout with marked dash and determination.

No. 5627 Corporal Amusi Lwanga, 4 KAR, also received an African Distinguished Conduct Medal: He acted as Company Serjeant Major in a most masterly manner, his cool soldierly leading setting a fine example. He took his platoon forward with the greatest elan. The conduct of this young non-commissioned officer has always been in accordance with the best traditions.




Left: Schutztruppe porters

The other enemy machine gun was captured by No. 8932 Company Sergeant Major T.F. Melhuish, 3rd Battalion Devon Regiment attached to 1st Battalion 4th KAR. He received an Imperial Distinguished Conduct Medal: At TUMBA on the 6th November 1918. Under heavy rifle and machine-gun fire this Warrant Officer led his men with conspicuous gallantry, resulting in the capture of an enemy maxim gun. He set a splendid example to his men.
The NRP company remained in support throughout the Tumba action but on 7th November it led the way forward to Kayambe Mission, having two men wounded by enemy fire. The Germans had left at the Mission a British prisoner that they had taken at Fife and four Askari and two porters wounded in the Tumba fight; two of these German Askari died of their wounds. An unfortunate incident occurred at Kayambe for the British when one of their Stokes guns (a trench mortar) burst its barrel when being fired. No. 5782 Sergeant Henry John Grimbeek, South African Mounted Rifles attached to 4 KAR, and one Askari were killed and 6 KAR Askari and one NRP Askari were wounded. The following day a local farmer and ex-NRP officer, Lionel Smith, appeared and offered to guide the British down an old disused post road that would cut 14 miles off the journey to Kasama; as 4 KAR had no maps the offer was accepted gladly but the battalion had to wait until its hospital and supply columns caught up with it. More porters deserted after each action making the logistical situation precarious.


The action at Malima River

By using the old post road the KAR got south of the German rear guard that was lining the Malima River with all its machine guns facing north. On 12th November, whilst soldiers in Europe were enjoying the Armistice, Colonel Hawkins charged the Germans from the south with eight platoons including the NRP in the line. The charge was over 600 yards and caught the enemy completely by surprise, dispersing the three enemy companies on the south bank of the Malima. The other three enemy companies on the north bank, where all the German maxims were located, were able to fire effectively at the KAR and NRP whilst the Schutztruppe troops there withdrew in reasonable order to Kasama which lay five miles to the south. German casualties were unknown, only two corpses being found, but the KAR and NRP lost eight Askari killed and 14 wounded, most of them seriously. Thirty head of cattle were captured and used to supplement rations.

Two 4 KAR company commanders who already held the Military Cross were awarded a Bar. The citations read:

Captain Thomas Jarvis Murray MC: For marked gallantry and splendid leadership, with which he inspired the whole battalion, at Tumba, 6th November 1918 and Malima River, 12th November 1918. Though twice wounded at Malima River he insisted on returning to command his company, remaining until dark. He has at all times rendered invaluable service.

Captain William Mackay Sparke MC: At Tumba, 6th November 1918, and Malima River, 12th November 1918. With no other officers of his company left, he led his men with marked ability and courage, and by rapid advances each day completely routed the enemy with the bayonet. He has always shown the greatest initiative and devotion to duty.

Lieutenant John Pollock, 4 KAR, was awarded a Military Cross with the citation: For conspicuous gallantry and devotion to duty at MALEMA RIVER, North-eastern Rhodesia on 12 November 1918. With great coolness under heavy Maxim fire he remained behind with his platoon until long after dark covering the movements of two platoons on his right flank and preventing them from being outflanked while important movements were being carried out. He has previously performed splendid patrol work.

No. 5463 Corporal Wombeda, 4 KAR, received an African Distinguished Conduct Medal: For conspicuous gallantry and initiative in action at Malema (Malima) on 12th November 1918. He led his men under heavy machine gun fire controlling their fire with great effect. Although wounded, he refused to leave the firing line until assured that his officer was safe.

No. 5500 Corporal Mustapha Ajib Sidu, 4 KAR, was also awarded an African Distinguished Conduct Medal: TUMBA 6th November 1918 and Malemba (Malima) River 12th November 1918. For marked gallantry and devotion to duty. The manner in which he handled his gun in both actions contributed greatly to the success attained.

Above: Map of the Kasama area


The Germans in Kasama


On 9th November, after some skirmishes the previous day, the German advance guard under Captain Walter Spangenburg seized Kasama without a fight, as the handful of troops there and most of the dumped supplies had been moved further south by the energetic activities of the senior civil authority, Hector Croad, and other stalwarts including government porters. Local inhabitants had looted government buildings and stores in between the British leaving and the Germans arriving.

Morale amongst villagers and the very few KAR and NRP Askari in and around Kasama was understandably low as it looked as though the British had abandoned Northern Rhodesia to the Germans. Several Askari deserted. The problem for the Allies was that there were no troops in Northern Rhodesia who could stop von Lettow from marching his men down to Broken Hill, now Kabwe, up to Ndola and into the Belgian Katangese mines, and then westwards into Angola. Once in Angola the Germans could repeat their PEA activities by raiding Portuguese bases for arms, ammunition and trading cloth which they would convert into rations.

Von Lettow arrived at Kasama with the main body of his troops on 9th November; he was pleased with the European food stocks that his men had seized which were useful for feeding his 155 Europeans, but he needed much more local food to sustain his total of over 4,200 African Askari, porters, followers and wives. Local informers indicated that he could find what he needed further south in the Chambezi Rubber Factory, where large food stocks had been brought by canoe.


The action at Chambezi River

On 13th November at 0800 hours Captain Spangenburg's advance guard approached the Chambezi River and fired across the water into the Rubber Factory with rifles and captured British Lewis guns. The few Askari in and around the factory fired back blindly as the enemy troops were concealed by trees; the Germans withdrew after about fifteen minutes of firing. One version of events states that a local farmer was positioned inside the roof of the factory with an elephant gun and when he fired the sound was magnified by the structure to resemble an artillery piece, causing the Germans to withdraw. But it is more likely that the Germans went to find a safe crossing of the river for their Main Body with its porters, wives and cattle.

Around noon that day Hector Croad heard of the Armistice in Europe and received a message to be given to the German commander; Captain Spangenburg was located and given the message to deliver to his General. On the following day at 0800 hours Hector Croad and General Paul von Lettow-Vorbeck met on the north bank of the Chambezi. After accepting Croad's assurances that the Armistice news was genuine the General agreed to free all Allied prisoners that he was holding and to march his Schutztruppe to Abercorn, as requested, where the Askari could be rationed and administered and they could lay down their arms.

The German Askari were pleased that they were going home and they danced well into that night. The Europeans with von Lettow were not happy and many wished to continue the campaign – they had shed too much blood and lost too many companions during the last four years and they had never been beaten in the field; they did not wish to surrender when they could plainly see that Northern Rhodesia, Katanga and Angola were theirs for the taking. Luckily for Britain and the Allies German discipline prevailed and von Lettow's orders were obeyed – the war had ended.

On his march to Abercorn von Lettow met up with Colonel Hawkins of 4 KAR who had fought the German rear guard at Tumba and Milima. Hawkins admitted that he could not have pursued the Schutztruppe very far across the Chambezi as logistically he had out-distanced his battalion's supply column which needed replenishing anyway. In a fraternal gesture of respect between battlefield adversaries the Schutztruppe gave the KAR some of their cattle so that the British Askari did not go hungry.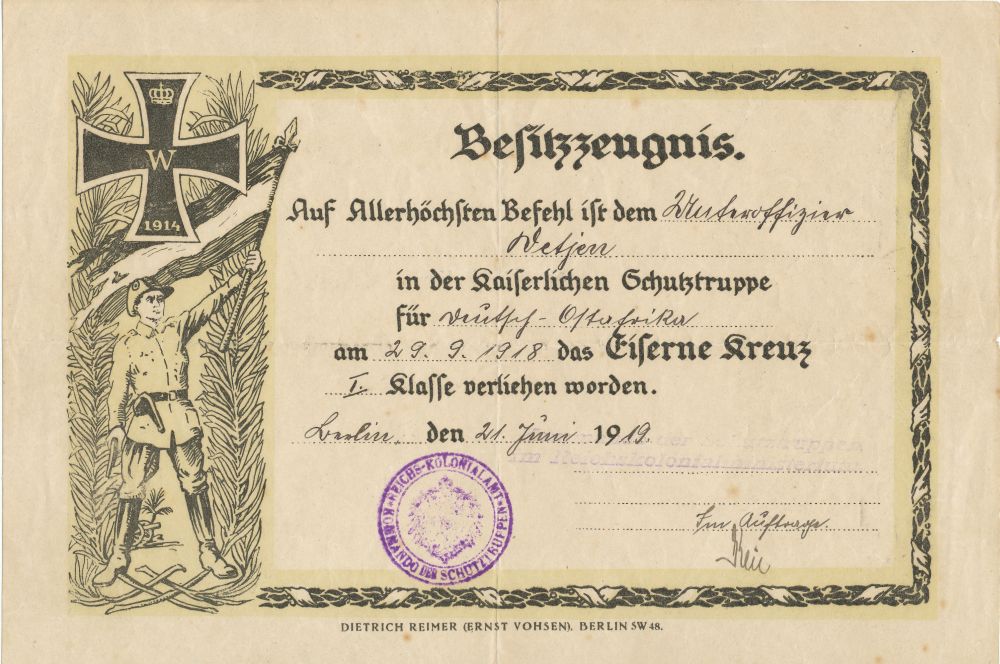 Above: On 28 September 1918, Lettow-Vorbeck crossed the Rovuma River and returned to German East Africa. With him was Unteroffizier Wetjen, one of von Lettow's "bitter enders". A day after the crossing he was awarded the Iron Cross 1st Class, the award document can be seen above.



SOURCES:


· W.V. Brelsford. The Story of the Northern Rhodesia Regiment. (Government Printer Lusaka 1954.)

· Sir Charles Lucas KCB KCMG. The Empire at War. Volume IV. Africa. Section IV. Northern Rhodesia and the last phase of the war in Africa. (Oxford University Press 1925).

· Lieutenant Colonel H. Moyse-Bartlett. The King's African Rifles. (Naval & Military Press softback reprint).

· Edward Paice. Tip & Run. The Untold Tragedy of the Great War in Africa. (Weidenfeld & Nicholson 2007).

· General Paul von Lettow Vorbeck. My Reminiscences of East Africa. Chapter VIII. The Advance into British Rhodesia. (Battery Press reprint).

· Tim Wright. The History of the Northern Rhodesian Police. (British Empire and Commonwealth Museum Publishing 2001).

· War Diary from the UK National Archives. 1st Battalion 4th King's African Rifles, October-November 1918. File Reference WO95/5331.

· Extracts from copies of the Northern Rhodesia Journal.

Above: The Chambeshi Monument (photo by Carroll Fleming)